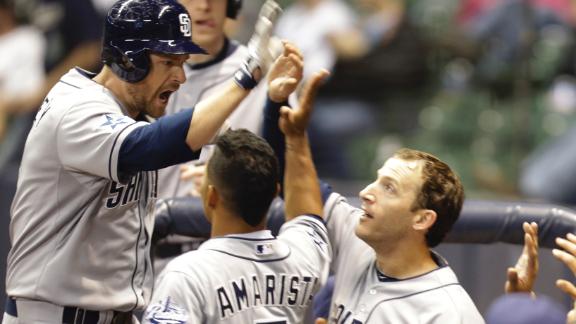 Pitching prospect Hellweg has torn elbow ligament

MLB.com

10 hours ago

Right-hander Johnny Hellweg, the Brewers' No. 7 prospect according to MLB.com, was diagnosed Tuesday with a torn ulnar collateral ligament in his right elbow.

Upvote Share Tweet

MLB.com nytimes.com yahoo.com ESPN.com

14 hours ago

The Pirates' Travis Snider and Russell Martin are appealing the suspensions handed down to them on Tuesday by Major League Baseball for their involvement in Sunday's altercation with the Brewers.

Upvote Share Tweet

MLB.com

16 hours ago

Suspensions were handed down Tuesday to those involved in the fracas that took place between the Pirates and Brewers on Sunday following a Carlos Gomez triple that he watched travel to deep center field. For Milwaukee, catcher Martin Maldonado received …

Upvote Share Tweet

We're still awaiting official word from MLB on all the fallout from Sunday's brawl between the Pittsburgh Pirates and Milwaukee Brewers. But ESPN's Buster Olney is reporting one of the suspensions. Martin Maldonado, the Brewers backup catcher who was se…

Upvote Share Tweet

nytimes.com MLB.com

Apr 21 (yesterday)

Aramis Ramirez homered, Ryan Braun drove in two runs and the Milwaukee Brewers beat the San Diego Padres 4-3 Monday night.

Upvote Share Tweet

Brewers to unveil last-row statue of Uecker

ESPN.com

Apr 21 (yesterday)

The Milwaukee Brewers plan a private unveiling Friday of a last-row statue paying tribute to broadcaster Bob Uecker.

Upvote Share Tweet

yahoo.com

Apr 21 (yesterday)

Five Big Things is Big League Stew's look at the week ahead in MLB action, examining storylines and matchups you should keep an eye on. 1. CAN THE BREWERS KEEP THEIR HOT STREAK GOING? If you're one of those people looking at the Milwaukee Brewers and th…

Upvote Share Tweet

deadspin.com yahoo.com

Apr 21 (yesterday)

Hank the dog has been having a swell time acting as the Milwaukee Brewers' unofficial mascot, but there's something he's been missing: a place to lay his little Hank head at night. Hank no longer has to worry about that, though, because the Brewers gave…

Upvote Share Tweet

yahoo.com

Apr 21 (yesterday)

Before all the ugliness of a benches clearing brawl in Sunday's Milwaukee Brewers-Pittsburgh Pirates game, Andrew McCutchen, the reigning NL MVP, played Easter Bunny for young Pirates fans. Instead of a pre-game autograph signing, McCutchen handed out a…

Upvote Share Tweet

deadspin.com

Apr 21 (yesterday)

As much as I love baseball, no sport gets farther up its own ass when it comes to players being allowed to look like they're having fun. Take the bench-clearing brawl in yesterday's Brewers-Pirates game, sparked by Carlos Gomez taking time to admire wha…

Upvote Share Tweet

Four Suspended For Brewers-Pirates Brawl

Apr 22

Rick Sutcliffe reacts to the suspensions handed down by Major League Baseball after the Brewers-Pirates brawl on Sunday and discusses which team it affects more.

Padres Top Brewers In 12

Apr 22

Chase Headley's homer in the 12th inning lifted the Padres past the Brewers 2-1.

Brewers Hold Off Padres

Apr 21

The Brewers picked up their 15th win of the season, beating the Padres 4-3.

MLB Daily Download: Monday

Apr 21

Antonietta Collins recaps Sunday's action from around the league, including a brawl in Pittsburgh and an emotional night at Fenway.

Sports Columnists

2014 NBA playoffs - Chicago Bulls couldn't buy a basket in Game 2, need to…

Apr 23

Joakim Noah is a very worthy defensive player of the year, but he still needs to play alongside a true offensive star.

2014 NBA draft - ESPN Insider's 360-degree NBA draft prospect profiles

Apr 22

ESPN Insider's NBA draft experts offer a guide to their 20-plus prospect draft profiles.

NFL schedule to be released Wednesday night

Apr 22

The NFL schedule is going to be officially announced and released at 8 p.m. ET Wednesday.