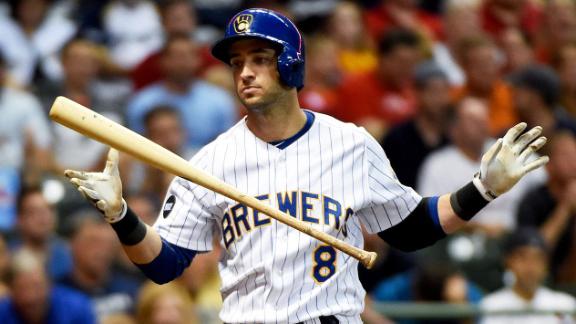 It is not Ron Roenicke's fault that the Brewers went 9-22 in their last 31 games of this season. But when blamed is placed, the manager is often the first in line.

Upvote Share Tweet

MLB.com nytimes.com

Sep 28 (4 days ago)

Anthony Rizzo hit his 32nd home run, a two-run blast in the first, and scored on Arismendy Alcantara's tie-breaking two-run double in the sixth to lift the Cubs to a 5-2 victory over the Brewers in the season finale on Sunday in front of 33,837 at Mille…

Upvote Share Tweet

Jonathan Lucroy's run-scoring two-bagger snapped a fifth-inning tie with the Cubs on Saturday and gave Lucroy 53 doubles this season, tying the Brewers' record, including 46 doubles this season while playing catcher, breaking the Major League mark he'd …

Upvote Share Tweet

MLB.com

Sep 27 (5 days ago)

As weeks go, this surely has been among the best Commissioner Bud Selig has ever had. In addition to honoring Yankees icon Derek Jeter with the Commissioner's Historic Achievement Award, Selig had the No. 1 retired in his honor by his hometown Brewers.

Upvote Share Tweet

nytimes.com ESPN.com MLB.com yahoo.com deadspin.com

Sep 27 (6 days ago)

Chris Coghlan hit a leadoff homer in the first and Javier Baez had his second career three-hit game, leading the Chicago Cubs to a 6-4 victory over the Milwaukee Brewers on Friday night.

Upvote Share Tweet

Baez, Soler push Cubs past Brewers

MLB.com

Sep 26 (6 days ago)

Javier Baez, who had four hits in his last 10 games, collected three hits and two RBIs, Jorge Soler drove in two runs and Chris Coghlan smacked a leadoff home run to spark the Cubs to a 6-4 victory on Friday night over the Brewers at Miller Park.

Upvote Share Tweet

ESPN.com

Sep 26 (6 days ago)

The playoff-bound San Francisco Giants blew a six-run lead and then rallied for a 9-8 victory over the San Diego Padres on Thursday night to stay within one game of Pittsburgh for the top spot in the NL wild-card standings.

Upvote Share Tweet

It's fitting that the fates of the San Francisco Giants and Milwaukee Brewers are tangled this way – two teams whose 2014 seasons will most likely be remembered for collapsing out of first place in grand fashion. That is, of course, unless the Giants go…

Upvote Share Tweet

Votto's status for final three games up in air

MLB.com

Sep 25 (7 days ago)

Bryan Price said before Thursday's series finale against the Brewers that Joey Votto is "feeling better," but the manager didn't say whether Votto would play in any of the remaining three games this season.

Upvote Share Tweet

MLB.com

Sep 25

Reds center fielder Billy Hamilton added to his already impressive portfolio of highlight-reel plays with a spectacular catch against the Brewers during Cincinnati's 5-0 loss on Wednesday night at Great American Ball Park, but he suffered a mild concuss…

Upvote Share Tweet

nytimes.com MLB.com

Sep 24

Kyle Lohse is making a habit of finishing strong. The Brewers hope against all odds that he's not done yet.

Upvote Share Tweet

Ned Yost, the Royals' Rugged Leader, Looks Inward

nytimes.com

Sep 24

Fired as manager of the Milwaukee Brewers in 2008, Yost now has the Kansas City Royals in position to make the playoffs for the first time since 1985.

Upvote Share Tweet

MLB.com

Sep 24

Mike Fiers surrendered back-to-back home runs in the first inning and the Brewers couldn't answer against Johnny Cueto, who logged his 19th victory in the Reds' 3-1 win at Great American Ball Park on Tuesday. With the loss, the Brewers are on the brink …

Upvote Share Tweet

yahoo.com

Sep 24

After enduring two decades of futility, the Pittsburgh Pirates are making a habit of making the playoffs. Pittsburgh beat the Atlanta Braves 3-2 at Turner Field on Tuesday night, and with the Milwaukee Brewers falling 3-1 to the Cincinnati Reds, the Pir…

Upvote Share Tweet

SweetSpot TV: Braun To Have Surgery

Sep 29

Eric Karabell and David Schoenfield discuss the news that Ryan Braun will have surgery to fix a nerve issue in his right thumb.

Wild-Card Magic, Featuring Carlos Gomez and the Brewers

Sep 25

The Brewers will need some serious magic to make it to the NL wild-card game, so magician Justin Sight stopped by the Brewers' clubhouse to show the team some wild-card magic.

Brewers Shut Out Reds

Sep 24

The Brewers snapped their two-game losing streak with a 5-0 win over the Reds.

MLB Playoff Field Almost Set

Sep 23

Manny Acta breaks down what stands out to him from the 10-team MLB-playoff field and the biggest disappointments and surprises in baseball this season.