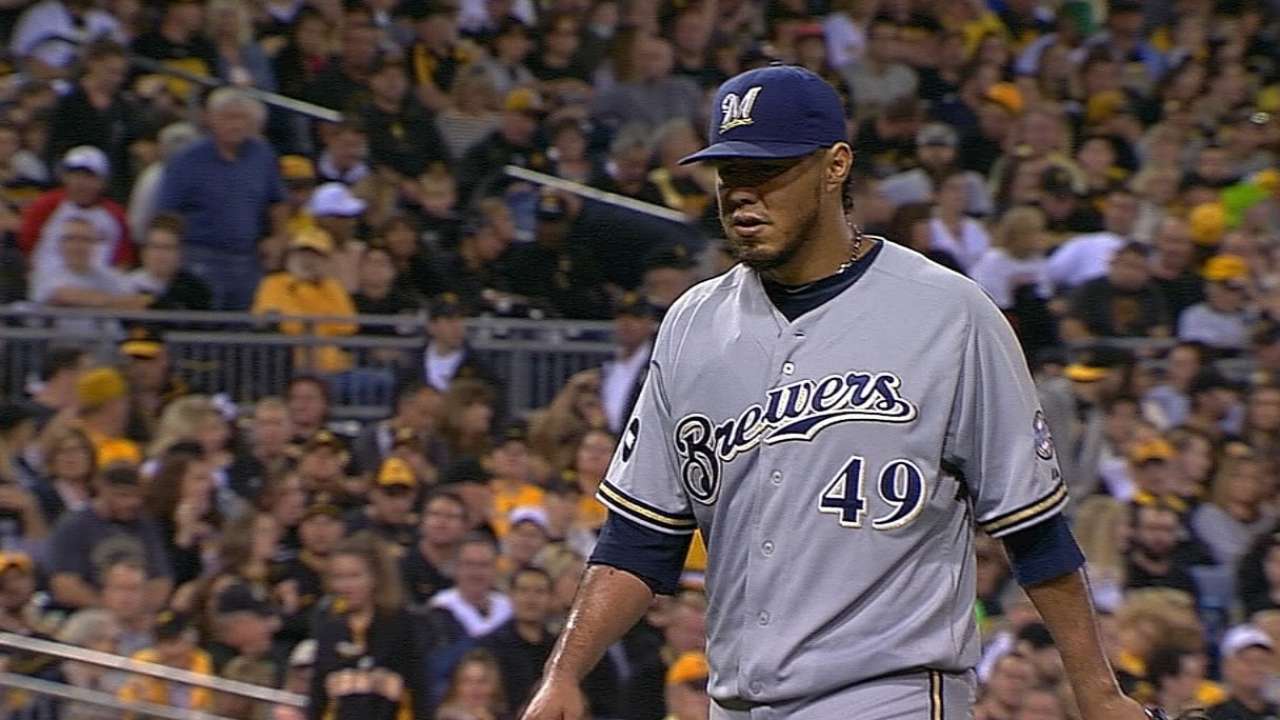 Brewers grab third baseman Jimenez off waivers

MLB.com

Oct 27 (4 days ago)

With Aramis Ramirez's future in limbo until after the World Series, the Brewers on Monday won a waiver claim for Angels third baseman Luis Jimenez, a 26-year-old coming off his first 20-homer season in the Minor Leagues.

Upvote Share Tweet

Darnell Coles is the new hitting coach for the Milwaukee Brewers, a team that missed the playoffs in large part because of problems at the plate.

Upvote Share Tweet

Braun feels good in first activity since thumb surgery

MLB.com

Oct 13

Brewers assistant general manager Gord Ash reported that Ryan Braun swung a bat Sunday, and Braun told club officials he felt "pretty good." It was Braun's first baseball activity since he underwent a cryotherapy procedure on Oct. 2.

Upvote Share Tweet

nytimes.com

Oct 11

The trade by the Kansas City Royals of Zack Greinke, a Cy Young Award winner, to the Milwaukee Brewers in 2010 paved the way for this season's postseason.

Upvote Share Tweet

Roenicke keeps job, but Brewers fire 2 coaches

ESPN.com

Oct 10

The Milwaukee Brewers have fired hitting coach Johnny Narron and first base-infield coach Garth Iorg after a late-season collapse.

Upvote Share Tweet

Miller Lite Just Won Gold At The Great American Beer Festival. How?

deadspin.com

Oct 6

The Brewers Association held their prom this past weekend, and in keeping with timeless prom tradition, I was left home alone while all the cooler boozers attended the Great American Beer Festival in Denver. (Incidentally, my invitation to the Spring Fo…

Upvote Share Tweet

Cryotherapy. It sounds like, but isn't, freezing someone in a tube in order to solve their complex medical problems in the future. And it isn't letting your emotions out with tears until you feel better. And yet, it's still a mystery as to what cryother…

Upvote Share Tweet

Brewers' Braun to undergo thumb surgery

ESPN.com

Sep 28

Milwaukee Brewers outfielder Ryan Braun is scheduled to have surgery this week to fix a nagging nerve problem near his right thumb.

Upvote Share Tweet

It is not Ron Roenicke's fault that the Brewers went 9-22 in their last 31 games of this season. But when blamed is placed, the manager is often the first in line.

Upvote Share Tweet

MLB.com nytimes.com

Sep 28

Anthony Rizzo hit his 32nd home run, a two-run blast in the first, and scored on Arismendy Alcantara's tie-breaking two-run double in the sixth to lift the Cubs to a 5-2 victory over the Brewers in the season finale on Sunday in front of 33,837 at Mille…

Upvote Share Tweet

Jonathan Lucroy's run-scoring two-bagger snapped a fifth-inning tie with the Cubs on Saturday and gave Lucroy 53 doubles this season, tying the Brewers' record, including 46 doubles this season while playing catcher, breaking the Major League mark he'd …

Upvote Share Tweet

MLB.com

Sep 27

As weeks go, this surely has been among the best Commissioner Bud Selig has ever had. In addition to honoring Yankees icon Derek Jeter with the Commissioner's Historic Achievement Award, Selig had the No. 1 retired in his honor by his hometown Brewers.

Upvote Share Tweet

Chris Coghlan hit a leadoff homer in the first and Javier Baez had his second career three-hit game, leading the Chicago Cubs to a 6-4 victory over the Milwaukee Brewers on Friday night.

Upvote Share Tweet

Baez, Soler push Cubs past Brewers

MLB.com

Sep 26

Javier Baez, who had four hits in his last 10 games, collected three hits and two RBIs, Jorge Soler drove in two runs and Chris Coghlan smacked a leadoff home run to spark the Cubs to a 6-4 victory on Friday night over the Brewers at Miller Park.

Upvote Share Tweet

ESPN.com

Sep 26

The playoff-bound San Francisco Giants blew a six-run lead and then rallied for a 9-8 victory over the San Diego Padres on Thursday night to stay within one game of Pittsburgh for the top spot in the NL wild-card standings.

Upvote Share Tweet

SweetSpot TV: Braun To Have Surgery

Sep 29

Eric Karabell and David Schoenfield discuss the news that Ryan Braun will have surgery to fix a nerve issue in his right thumb.

Wild-Card Magic, Featuring Carlos Gomez and the Brewers

Sep 25

The Brewers will need some serious magic to make it to the NL wild-card game, so magician Justin Sight stopped by the Brewers' clubhouse to show the team some wild-card magic.

Brewers Shut Out Reds

Sep 24

The Brewers snapped their two-game losing streak with a 5-0 win over the Reds.

MLB Playoff Field Almost Set

Sep 23

Manny Acta breaks down what stands out to him from the 10-team MLB-playoff field and the biggest disappointments and surprises in baseball this season.