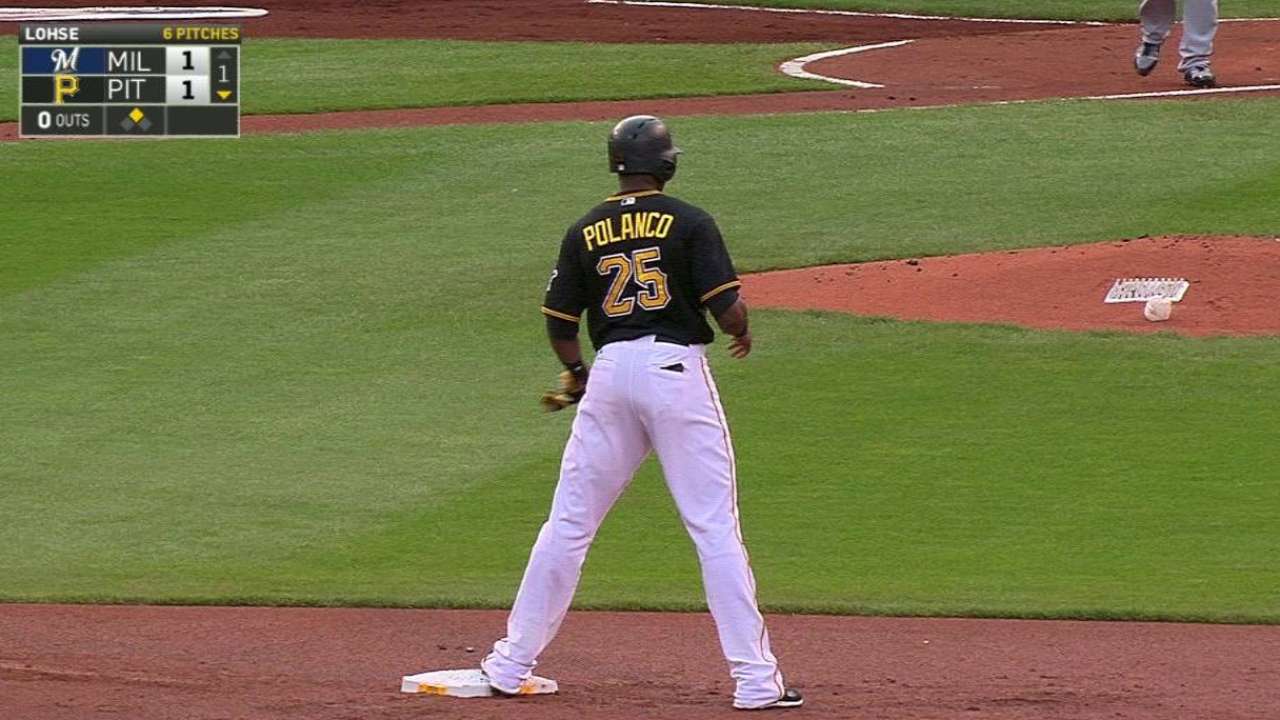 MLB.com
nytimes.com
Updated 17 hours ago
Starling Marte drove in a career-high five runs and left-hander Jeff Locke retired 23 of the last 25 men he faced Saturday, leading the Pirates to a 6-2 win over the Brewers.
Share
Tweet
Pittsburgh Snaps Out of Slump, Runs Away From Brewers 6-3

nytimes.com

Apr 17 (yesterday)

Vance Worley worked six effective innings and the Pittsburgh Pirates snapped out of a lengthy slump to top the Milwaukee Brewers 6-3 on Friday night.

Share Tweet

MLB.com nytimes.com

Apr 16 (3 days ago)

John Lackey and Mike Fiers locked up in a scoreless duel into the sixth inning before the Cardinals broke through for a 4-0 victory and a series win over the Brewers on Thursday at Busch Stadium. Lackey wound up working seven shutout innings, striking o…

Share Tweet

MLB.com

Apr 16 (3 days ago)

Carlos Gomez traveled back to Milwaukee on Thursday for an examination of his injured right hamstring while Brewers officials began to mull potential roster moves should Gomez require a stint on the 15-day disabled list.

Share Tweet

MLB.com nytimes.com

Apr 16 (4 days ago)

Behind two RBIs from Matt Holliday and three hits from Yadier Molina, the Cardinals displayed a steady attack against Brewers starting pitcher Wily Peralta to even the three-game series with a 4-2 victory on Wednesday. It was St. Louis' first win of the…

Share Tweet

Defensive execution lacking in Cards' home debut

MLB.com

Apr 13 (6 days ago)

Kolten Wong committed a pair of errors behind Adam Wainwright, who uncharacteristically had first-batter issues, as the Cardinals allowed the Brewers to walk away with a victory in the Busch Stadium opener.

Share Tweet

MLB.com nytimes.com

Apr 13 (6 days ago)

After going winless in five previous starts at Busch Stadium, Brewers right-hander Matt Garza picked up a victory Monday despite having to work around four walks and a series of defensive miscues behind him.

Share Tweet

Segura finds redemption with glove in ugly win

MLB.com

Apr 13 (6 days ago)

Jean Segura had a bad day on defense in the Brewers' 5-4 victory over the Cardinals on Monday, but the shortstop stayed at it and came up with a huge defensive play to help protect the lead.

Share Tweet

nytimes.com

Apr 12 (7 days ago)

Andrew McCutchen was back in the Pittsburgh lineup Sunday and he made quite a difference.

Share Tweet

Kang collects first big league hit after being robbed twice

MLB.com

Apr 12 (7 days ago)

Jung Ho Kang's first Major League hit was a soft line drive to center, but no one could deny that he had it coming after being robbed twice by Brewers third baseman Aramis Ramirez earlier in Sunday's game.

Share Tweet

Gennett ejection Friday lands him on bench Saturday

MLB.com

Apr 11

After expressing regret about the ejection which left his team in a tight spot Friday, and saying he would apologize to the umpire who ejected him, Scooter Gennett began Saturday's game against the Pirates on the Brewers' bench.

Share Tweet

MLB.com nytimes.com

Apr 11

The ranks of the Major League's winless teams were certain to shrink here Friday night. But, just as surely, one of the teams would be looking at an 0-4 opening hand -- and that's what the Pirates dealt the Brewers with a 6-2 victory in Miller Park.

Share Tweet

yahoo.com

Apr 10

Johnny Cash has got nothing on the Biloxi Shuckers. The Double-A affiliate of the Milwaukee Brwers is about to embark on a 55-game road trip through the Southern League, and by the end of it each of the players will be able to confidently say "I've Been…

Share Tweet

Cards to recognize past, present before home opener

MLB.com

Apr 9

Striking at the heart of their "Tradition Meets Today" season theme, the Cardinals will introduce their 2015 roster and recognize the organization's Hall of Famers during a ceremony prior to the team's home opener against the Milwaukee Brewers…

Share Tweet

Rockies bring boom, brooms to Milwaukee

Wilin Rosario launched a pinch-hit solo shot off Francisco Rodriguez in the 10th inning Wednesday to give the Rockies a 5-4 victory over the Brewers at Miller Park.

Share Tweet

Brewers sit Braun for finale vs. Rockies to rest rib cage

A team off-day Thursday helped drive the Brewers to give right fielder Ryan Braun at least one more day to rest the strained muscle along his right lower rib cage.

Share Tweet

Rockies tie record with 12 2Bs through 2 games

With six doubles in Tuesday night's 5-2 victory over the Brewers, the Rockies have 12 doubles through the season's first two games to tie the 1912 New York Giants for the Major League record.

Share Tweet

Segura OK after being hit in face by pitch

Brewers shortstop Jean Segura thought he had a broken nose. Instead, he suffered only a scare during Tuesday's 5-2 loss to the Rockies at Miller Park.

Share Tweet

Lyles Pitches Rockies to Another Win Over Brewers, 5-2

nytimes.com

Apr 7

Jordan Lyles pitched six effective innings and the Colorado Rockies hit six doubles for the second consecutive game in a 5-2 victory over the Milwaukee Brewers on Tuesday night.

Share Tweet

The Rockies Are Going To Sock Some Goddamn Dingers This Year

deadspin.com

Apr 7

Hey! The Colorado Rockies might be really fun this year. Take it from me, a Rockies fan who is super reasonable and not at all still riding the high of yesterday's 10-0 victory over the Milwaukee Brewers.Read more...

Share Tweet

The Art Of Pitch-Framing

Mar 21

Brewers catcher Jonathan Lucroy explains the finer points of pitch-framing

Former Biogenesis Owner Gets 4-Year Sentence

Feb 17

ESPN investigative reporter T.J. Quinn discusses the severity of the sentence handed down to former Biogenesis owner Anthony Bosch by a federal judge.

Prized Cuban Prospect Nearing MLB Decision

Feb 11

ESPN senior MLB writer Jerry Crasnick discusses potential MLB teams for Yoan Moncada.

Phillies Looking To Trade Papelbon To Brewers

Jan 23

ESPN senior baseball writer Jerry Crasnick discusses the Phillies' talks with the Brewers about a possible Jonathan Papelbon trade.