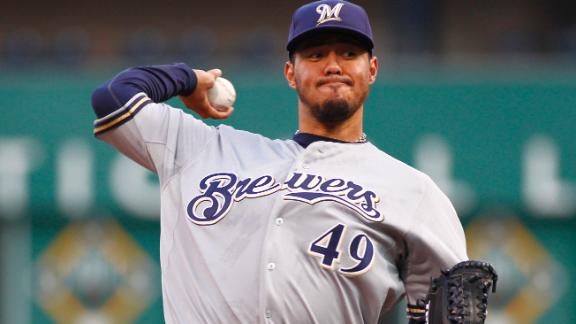 Cole can't get run support after shaky start

MLB.com

Aug 29, 2013

The offense couldn't build an attack against Yovani Gallardo, Gerrit Cole settled in too late and the Pirates are a game back in the division after Thursday's 4-0 loss to the Brewers.

Share Tweet

Triple Play: Make Your Picks for Week 23

nytimes.com

Aug 29, 2013

Put your predictive skills to the test each week of the baseball season.

Share Tweet

CNNSI.com

Aug 29, 2013

The AL MVP race is once again between Miguel Cabrera and Mike Trout, but this time Cabrera deserves to be in front.

Share Tweet

Sports Columnists

Don Banks: Former players: Devil is in the details with NFL concussion set…

Aug 29

Don't try telling former NFL players union president Kevin Mawae that Thursday's concussion litigation settlement was an even-handed resolution to the most contentious and significant issue facing the sport as the NFL's 2013 regular season looms.