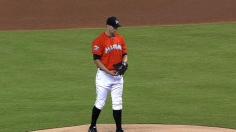 Here's The Latest Grown-Up To Steal A Baseball From A Sad Child

deadspin.com

Sep 6, 2012

We already know that the worst people ever live in Texas. But Miami has its share of oblivious adults too! Like this guy. Norichika Aoki flipped a ball into the stands, presumably on a vector toward of the two precious youngsters leaning over the dugout…

Share Tweet

Johnson snaps personal skid to lead Marlins

ESPN.com

Sep 6, 2012

Josh Johnson pitched seven solid innings and ended his career-worst four-game losing skid, leading the Miami Marlins past the Milwaukee Brewers 6-2 Thursday.

Share Tweet

Robbed! Girl keeps a stiff upper lip after grown man intercepts baseball from her grasp (Video)

yahoo.com

Sep 6, 2012

They say a screencap is worth a thousand words. Well, actually, I don't know if they - whoever they are - actually say that, but it really holds true with this freeze frame above. A little girl was upset during the eighth inning of Wednesday's Brewers

Share Tweet

Johnson Pitches Marlins Past Brewers

Sep 6

Josh Johnson allowed two runs over seven innings to end his career-worst four-game losing skid as Miami beat Milwaukee 6-2.

Sports Columnists

Sources -- Prospesctive Memphis Grizzlies owner recruits Justin Timberlake

Sep 6

Robert Pera, prospective new owner of the Memphis Grizzlies, has recruited a famous Memphian to be part of his ownership group: Justin Timberlake.

Clayton: Modell was a model owner in many ways

Sep 6

Art Modell was a titan of the game, but his franchise's move to Baltimore probably scuttled his chance at the Hall of Fame, John Clayton writes.