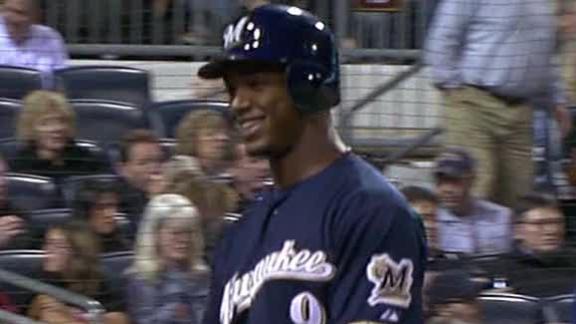 Estrada, Brewers stay hot, sink fading Pirates
Updated Sep 19, 2012
Share
Tweet
Marco Estrada pitched seven scoreless innings and rookie shortstop Jean Segura hit a double and a triple Wednesday night as the surging Milwaukee Brewers earned a 3-1 victory over the fading Pittsburgh Pirates.
Source:
ESPN.com
Exercising caution, Walker heads back to bench

Updated Sep 19, 2012

Share Tweet

The uncertainty of what he is dealing with hit Neil Walker right in the face when he awoke on Wednesday. The morning after he felt "great, the best I've felt yet," he didn't feel well enough to risk remaining in the lineup for the second game …

Source:

MLB.com

Updated Sep 19, 2012

Share Tweet

The Juice is back for its fifth season of fun! Stop by each weekday for an ample serving of news from the action, plus great photos, stats and video highlights. Racing Sausages: The Brewers stole seven bases - Ryan Braun had three of them - and Yovani

Source:

yahoo.com

Pirates Fall To .500 With Loss To Brewers

Sep 19

Brewers sink fading Pirates.