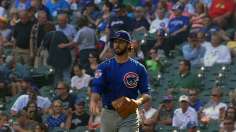 With full arsenal working, Arrieta baffles Crew
MLB.com
Updated Sep 19, 2013
Nate Schierholtz hit a two-run homer and Luis Valbuena and Brian Bogusevic each added solo shots to back Jake Arrieta, who gave up three hits over seven innings in the Cubs' 5-1 victory over the Brewers at Miller Park, snapping a five-game losing streak…
Share
Tweet
Racing Sausages ride Harley hogs as Jeff Samardzija warms up on their Miller Park turf

yahoo.com

Sep 19, 2013

That's right. Hog-riding Sausages. Wisconsin being the home of Harley-Davidson, sometimes the Milwaukee Brewers' Racing Sausages ride around Miller Park on motorcycles to intimidate the visiting team. Let 'em know whose turf it is. In this case, Monday …

Share Tweet
Cubs Halt Five-Game Skid

Sep 19

Luis Valbuena, Nate Schierholtz and Brian Bogusevic homered to power the Cubs to a 5-1 win over the Brewers.
Sports Columnists
Biggest NFL games of Week 3 -- John Clayton's First and 10

Sep 19

John Clayton's First and 10: Andrew Luck leads the Colts against his former Stanford coach, John Harbaugh.

Don Banks: NFL Week 3 picks

Sep 19

Well, now I've gone and peaked too soon. Viewing things realistically, a 14-2 record in Week 2 means I have nowhere to go but down. And from the looks of this week's tricky schedule, I might be nose-diving like a submarine on its maiden voyage.