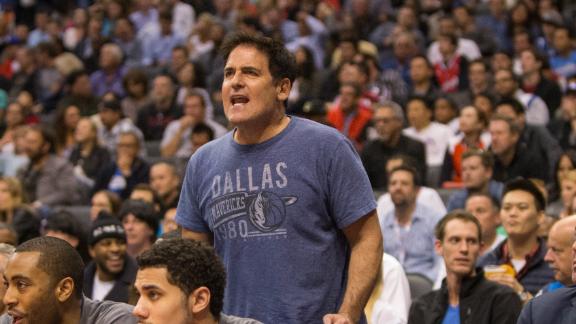 NBA could buy Milwaukee Bucks if no arena construction by 2017
ESPN.com
Updated Apr 21 (yesterday)
The NBA has the right to buy back the Milwaukee Bucks from incoming owners Wesley Edens and Mark Lasry if a deal to a bring a new arena to the city is not in place by November 2017, according to sources briefed on the situation.
Upvote
Share
Tweet
Who's got the edge in the NBA playoffs? We rank all 16 postseason teams

CNNSI.com

Apr 18 (5 days ago)

Sixteen teams still have a shot at the NBA title, although all of those shots aren't created equal. Unlike the upset-prone sprint of the one-and-done NCAA tournament, the NBA playoffs are a marathon of seven-game series that rarely produce massive surpr…

Upvote Share Tweet

Cuban: Bucks' new owners got 'a bargain'

ESPN.com

Apr 17 (5 days ago)

Dallas Mavericks owner Mark Cuban considers the sale price of approximately $550 million for the Milwaukee Bucks to be a bargain, suggesting the true value of NBA franchises is north of $1 billion.

Upvote Share Tweet

NBA Mock Draft 1.0: Lottery loaded with big names

CNNSI.com

Apr 17 (6 days ago)

The NCAA tourney didn't hurt Andrew Wiggins, but it helped Shabazz Napier. Here's our first mock.

Upvote Share Tweet

CNNSI.com

Apr 17 (6 days ago)

The Bulls needed Joakim Noah. The result? An MVP-worthy performance. The stage is now his.

Upvote Share Tweet

Hawks' Millsap sits out final game to rest

nba.com

Apr 16 (6 days ago)

Atlanta Hawks forward Paul Millsap will sit out the team's regular season finale Wednesday night against the Milwaukee Bucks to rest for the playoffs.

Upvote Share Tweet

nba.com yahoo.com dimemag.com deadspin.com ESPN.com

Apr 16 (6 days ago)

The future of the Milwaukee Bucks became a lot more stable Wednesday.

Upvote Share Tweet

Look out, Oprah: Bucks' Udoh has book club

ESPN.com

Apr 16 (7 days ago)

Ekpe Udoh will leave one positive lasting impression from this dreary season for the Milwaukee Bucks, and it has nothing to do with basketball.

Upvote Share Tweet

Tanking remains a concern for many NBA fans and analysts, but there's no question why teams consider it a useful plan. Strategic losing gives teams a chance to rebuild and reload their rosters through the draft. It's the most apparent way of landing a s…

Upvote Share Tweet

Buzzer-Beaters, Dunks & The NBA Season's Top 25 Plays

dimemag.com

Apr 14

Finally, at long last, the real season begins. But that doesn't mean we can't stop, look back, and appreciate the highlights and events that captivated us and stole our attention during the 2013-14 season. We've been treated to some great games, as rece…

Upvote Share Tweet

Bradley Beal scored 26 points, and the Washington Wizards moved a step closer to claiming the No. 6 seed in the Eastern Conference on Saturday night with a 104-91 win over the Milwaukee Bucks.

Upvote Share Tweet

Who's Better: Brandon Jennings Or Kemba Walker?

dimemag.com

Apr 10

Before Shabazz Napier, there was Kemba Walker. Walker came into the league with a lot of hype and not a lot of opportunity to grow and learn from his mistakes. Playing for Charlotte meant most fans were only going to associate him with the team's W/L re…

Upvote Share Tweet

yahoo.com

Apr 10

Larry Sanders became a Milwaukee Buck again on Wednesday night. Of course, he wasn't allowed to join the team at the Bradley Center, as the Bucks fell to the Indiana Pacers by a 104-102 score, but he was deemed medically cleared to play after a broken o…

Upvote Share Tweet

Dick Bavetta Is Too Old To Help Zaza Pachulia Up

dimemag.com

Apr 10

During a stoppage in play in last night's exciting game between Indiana's second team and the league-worst Bucks, Milwaukee center Zaza Pachulia reached out to septuagenarian referee Dick Bavetta for some help to his feet. As you'll see, Bavetta smartly…

Upvote Share Tweet

deadspin.com

Apr 10

When Pacers coach Frank Vogel announced he would sit all five starters for last night's game against the Bucks, it was like a thought experiment come to life. Can a good team's second unit beat the starters of a historically awful team? It was close, bu…

Upvote Share Tweet

Cuban: Price Tag For Bucks 'A Bargain'

Apr 17

ESPNDallas.com's Tim MacMahon breaks down Mark Cuban's reaction to the Milwaukee Bucks selling for just $550 million.

Bucks Sale Condition: Team Stays Put

Apr 16

Herb Kohl announces the sale of the Milwaukee Bucks to investors who will keep the team in Milwaukee.

Bucks Sold And Staying In Milwaukee

Apr 16

Marc Stein discusses Herb Kohl's sale of the Milwaukee Bucks to Wesley Edens and Marc Lasry.

Raptors Hitting Their Stride

Apr 14

Raptors forward Tyler Hansbrough says the Raptors are playing well heading into the playoffs.