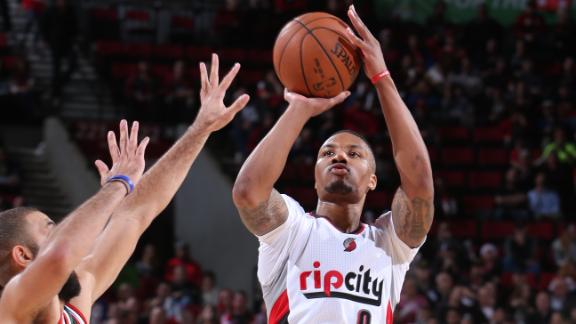 Brandon Jennings passed up an easy lay-up to miss a jumper

yahoo.com

6 hours ago

Detroit Pistons point guard Brandon Jennings has never been known as a guy who picks his spots. From his first games as a member of the Milwaukee Bucks in 2009, Jennings has stood out as someone who would not avoid taking a shot just because it wasn't s…

Upvote Share Tweet

Bucks' Antetokounmpo injures left ankle

nba.com

7 hours ago

Forward Giannis Antetokounmpo has left the Milwaukee Bucks' game at Portland with a sprained left ankle.

Upvote Share Tweet

nba.com yahoo.com dimemag.com ESPN.com

Dec 16 (yesterday)

Bucks rookie Jabari Parker will miss the rest of the season after tearing the anterior cruciate ligament in his left knee during Monday night's 96-94 win at Phoenix.

Upvote Share Tweet

yahoo.com ESPN.com dimemag.com deadspin.com nba.com

Dec 16 (2 days ago)

The Milwaukee Bucks have been impressive enough this season to have graduated from an early surprise team to genuine challengers for a postseason berth with the ability to surprise a favorite in the opening round. Yet if the basketball world has agreed …

Upvote Share Tweet

GIF: Blake Griffin Finds DeAndre Jordan For Reverse Alley-Oop Slam

dimemag.com

Dec 14 (4 days ago)

The Los Angeles Clippers lost to the Milwaukee Bucks on Saturday night. But highlights are highlights. In the highlight of a game filled with jams, watch Blake Griffin find DeAndre Jordan for an effortless reverse alley-oop. A Blake-DAJ pick-and-roll wi…

Upvote Share Tweet

Giannis Antetokounmpo Finds Jabari Parker With Sick No-Look Bullet For Jam

dimemag.com

Dec 13 (4 days ago)

Remember Giannis Antetokounmpo, experimental point guard? These must be the skills that briefly inspired Jason Kidd. Watch the Greek Freak run the break and find Jabari Parker with a no-look bullet pass for a dunk in the Milwaukee Bucks' 111-106 win ove…

Upvote Share Tweet

GIF: Giannis Antetokounmpo Fully Extends For Swooping Slam Versus Mavs

dimemag.com

Dec 7

Just Giannis being Giannis. Watch the Greek Freak, Giannis Antetokounmpo of the Milwaukee Bucks, exhibit his mind-bending blend of length and athleticism on this swooping, fully extended jam in his team's loss to the Dallas Mavericks. Wow. The incredibl…

Upvote Share Tweet

GIF: "Greek Freak" Goes Coast-To-Coast Despite McRoberts Groin Smack

dimemag.com

Dec 6

We already showed you Giannis Antetokounmpo thumping it on Chris Bosh, but he also found time to grab a rebound and go the length of the court on those insanely long gazelle limbs for the lay-in. Despite the bucket, it was all the more impressive becaus…

Upvote Share Tweet

yahoo.com dimemag.com

Dec 6

Milwaukee Bucks guard-forward-superhero Giannis Antetokounmpo is a fixture on our blog and others for one simple reason — he does things that few of us have ever seen before. He is still growing while playing games against adults, has the longest stride…

Upvote Share Tweet

dimemag.com yahoo.com ESPN.com

Dec 4

This was some J.R. Smith ish. Monta Ellis, who has played like an All-Star for the Mavs so far this year, hit one of the more remarkable and acrobatic buzzer beaters we've ever seen last night for the walk-off win over the Bucks, 107-105. Monta isolates…

Upvote Share Tweet

Parker, Wiggins named Kia Rookies of the Month

nba.com

Dec 3

The Milwaukee Bucks' Jabari Parker and the Minnesota Timberwolves' Andrew Wiggins today were named the Kia NBA Eastern and Western Conference Rookies of the Month, respectively, for games played in October/November.

Upvote Share Tweet

Milwaukee Bucks forward Ersan Ilyasova broke his nose in Tuesday's loss at Cleveland and is out indefinitely.

Upvote Share Tweet

dimemag.com

Dec 3

The Milwaukee Bucks fell just short of beating the Cleveland Cavaliers on the road last night, the their performance was hardly discouraging. In fact, Milwaukee's play in the 111-108 loss made it easy to imagine these teams battling for Eastern Conferen…

Upvote Share Tweet

Parker Expected To Miss Rest Of Season

Dec 17

Tim Legler discusses Jabari Parker's torn ACL and what the loss of the forward means for the Bucks' season.

Parker Injures Knee; Bucks Win on Buzzer-Beater

Dec 15

Jabari Parker suffered a sprained knee and had to exit in the third quarter as Khris Middleton saved the Bucks with a 3-pointer at the buzzer for a 96-94 win over the Suns.

NBA Top Plays

Dec 15

Khris Middleton's buzzer-beating 3-pointer to lift the Bucks past the Suns is the top play in the NBA.

Bucks' Buzzer-Beating Win

Dec 15

Bucks forward Khris Middleton hit a buzzer-beater to defeat the Suns 96-94.