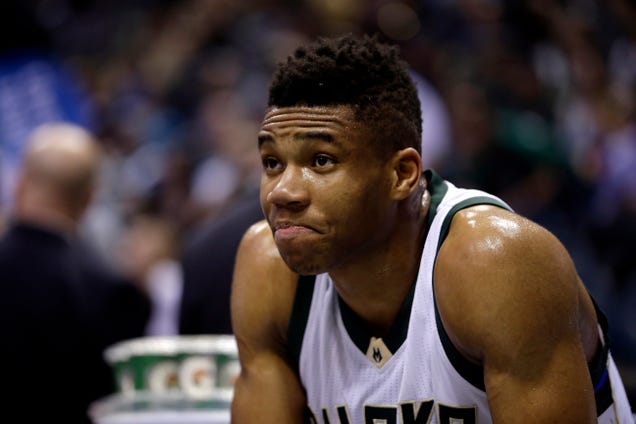 ESPN.com
nba.com
deadspin.com
Updated May 19
Bucks leak players' finances due to email scam
Share
Tweet
Giannis Antetokounmpo Wants A Kobe-Inspired 'Greek Freak Day' With The Bucks

dimemag.com

Apr 18

Getty Image Despite a disappointing season, Milwaukee Bucks fans have a lot to be optimistic about. They have a nice young core comprising Jabari Parker, Khris Middleton, and Giannis Antetokounmpo, and their first order of business this offseason will l…

Share Tweet

Bucks sign 30-year lease with arena owner

nba.com

Apr 13

The Milwaukee Bucks have signed a 30-year lease with the public entity that will own the team's new arena.

Share Tweet

dimemag.com

Apr 6

Getty Image It's nothing new to see LeBron James work with players on opposing teams during the offseason. But he may just have a new protege in the making. After Tuesday night's loss to the Cavaliers, Bucks guard/wing/point guard/man of many talents Gi…

Share Tweet

Ford's mock draft 5.0 (Insider)

ESPN.com

Apr 3

That's not a good decision. He's a scoring threat and brings energy to the lineup, and our Chad Ford sees San Antonio as a landing spot for Ben Bentil...

Share Tweet

Little Ronnie Price Exploded Out Of Nowhere For This Emphatic Put-Back Slam Against The Bucks

dimemag.com

Mar 30

Suns guard Ronnie Price has been known to show off his hops from time to time. That's exactly what he did on this explosive put-back slam against the Bucks Wednesday night. The 6'2 Price somehow managed to out-leap three of Milwaukee's front-court playe…

Share Tweet

Explaining The Bucks' Decision To Make Giannis Antetokounmpo A Long-Term Point Guard

dimemag.com

Mar 29

Getty Image This season hasn't exactly gone as planned for the Milwaukee Bucks, but one pleasant side effect of the team's poor record is that head coach Jason Kidd has had more flexibility to test out some unique lineups to try and find the right balan…

Share Tweet

LeBron James Just Won't Stop Dunking All Over The Milwaukee Bucks

dimemag.com

Mar 23

LeBron James is feeling very, very spry against the Milwaukee Bucks. How many 6'8, 250-pound players in basketball could finish a dunk like this in the half court? How many of those guys are 31 years old? Needless to say, The King can still get up with …

Share Tweet

LeBron James Gave Giannis Antetokounmpo A Taste Of His Own Medicine With This One-Handed Rim Rattler

dimemag.com

Mar 23

Giannis Antetokounmpo has recently made a habit of turning secondary transition opportunities into one-man highlights. LeBron James knows that full well, and perhaps planned to give The Greek Freak a taste of his own medicine when the Cleveland Cavalier…

Share Tweet

The Bucks GM Says Greek Freak Only Needs One More Skill To Become An All-Star

dimemag.com

Mar 22

Getty Image Giannis Antetokounmpo is having one heck of a season for a 21-year-old, but the third-year potential phenom is still inconsistent. Why? He doesn't shoot. He can dribble. He can pass. He can finish. But he isn't making shots away from the rim…

Share Tweet

dimemag.com

Mar 21

This is just a tremendous effort from Andre Drummond to lift the Detroit Pistons over the Milwaukee Bucks 92-91. Even with Giannis Antetokounmpo draped all over him, Drummond still manages to explode off the ground, extend his arms as far as they can po…

Share Tweet

nba.com dimemag.com

Mar 19

Memphis Grizzlies forward Matt Barnes was out of Saturday's game against the Los Angeles Clippers after the NBA suspended him one game, saying he tried to enter Milwaukee's locker room and verbally challenge Bucks forward John Henson after both players …

Share Tweet

yahoo.com ESPN.com dimemag.com deadspin.com

Mar 18

Wednesday's matchup between the Memphis Grizzlies and Milwaukee Bucks got awfully physical in the fourth quarter, with Bucks big man John Henson getting uncharacteristically wrestling-heelish on a pair of late-game plays that would lead to flagrants, te…

Share Tweet

Giannis Antetokounmpo Threw The Ball And Ryan Hollins To The Floor With This Devastating Block

dimemag.com

Mar 17

This is an incredible block by Giannis Antetokounmpo. How many players in the league could so devastatingly block a dunk attempt by a big man the size of Ryan Hollins? Few. Now ask yourself this: How many point guards could pull off the feat just accomp…

Share Tweet

yahoo.com dimemag.com

Mar 17

With the spring and summer saber-rattling over, and the battle for $250 million in public funding officially won, it's now time for the Milwaukee Bucks to proceed with plans for the construction of a new arena that will allow them to move out of the BMO…

Share Tweet

Short-handed Bucks sign guard Jared Cunningham

nba.com

Mar 16

The Milwaukee Bucks have used the NBA's hardship exception to sign guard Jared Cunningham to a 10-day contract, an addition that replenishes the team's injury-ravaged backcourt.

Share Tweet

dimemag.com

Mar 15

Bismack Biyombo has been a revelation for the Toronto Raptors this season, and Tuesday night he reminded everyone why. Early in the third quarter, he denied the Bucks' Jabari Parker not once, but twice, as he went strong to the rim for a pair of two-han…

Share Tweet

The Greek Freak etches himself into Bucks history with another triple-double

ESPN.com

Mar 14

The Greek Freak etches himself into Bucks history with another triple-double

Share Tweet

Nets Outlast Bucks

Mar 20

The Nets needed triple overtime to beat the Bucks 129-127 in Brooklyn.

Grizzlies Rock Bucks

Mar 14

The Grizzlies beat the Bucks 96-83 for their 25th home victory of the season.

Pacers Top Bucks In OT

Mar 12

The Pacers beat the Bucks 109-103 in overtime for their seventh straight win.

Middleton Fuels Bucks Past Magic

Mar 11

Khris Middleton scored 30 points for the second time in three games as the Bucks defeated the Magic 97-91.