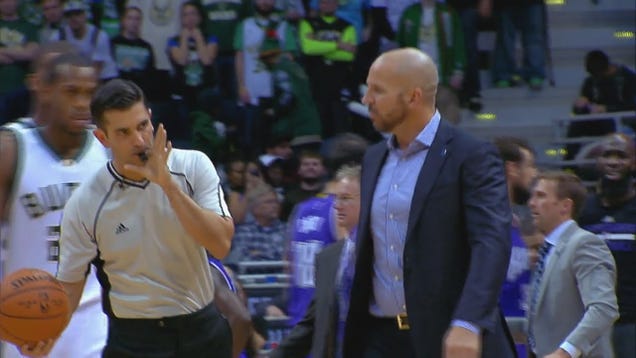 deadspin.com
yahoo.com
Updated Nov 26 (5 days ago)
The Milwaukee Bucks—a popular preseason pick to make some noise in the Eastern Conference after signing Greg Monroe—fell to 6-9 Wednesday night after losing to the DeMarcus Cousins-less Sacramento Kings at home. Late in the fourth quarter head coach Jas…
Share
Tweet
Bucks coach Kidd suspended 1 game without pay

nba.com

Nov 27 (4 days ago)

Milwaukee Bucks head coach Jason Kidd has been suspended one game without pay for aggressively pursuing and confronting a game official, slapping the ball out of his hands, and not leaving the court in a timely manner upon his ejection, it was announced…

Share Tweet

How To Get Four Offensive Rebounds In 11 Seconds, Starring Andre Drummond

deadspin.com

Nov 24 (7 days ago)

This sequence, from last night's Pistons-Bucks game, is just hilarious. That's Andre Drummond—the biggest, baddest rebounder in the league —deploying his brute strength, nose for the ball, and lack of finesse in a way that perfectly encapsulates him as …

Share Tweet

Giannis Antetokounmpo Just Keeps Getting Stronger

deadspin.com

Nov 20

The above play isn't the most remarkable moment from last night's game between the Cavaliers and Bucks, but it's one that says a lot about Bucks forward Giannis Antetokounmpo's continued growth as a player.Read more...

Share Tweet

ESPN.com

Nov 20

The Cavs piled up 29 assists on 40 baskets in their win vs. the Bucks, Thursday. "That's the style of ball they need to play," says Brian Windhorst. "...

Share Tweet

When the Milwaukee Bucks take the court at Quicken Loans Arena on Thursday to match up with the Cleveland Cavaliers in their first regular-season appearance on TNT in nearly 13 years, they'll have Jabari Parker both in uniform and in the starting lineup…

Share Tweet

Jabari Parker will miss the Milwaukee Bucks' upcoming three-game road trip because of a sprained right foot.

Share Tweet

Monta Ellis Absolutely Buckles Amir Johnson's Knees With This Killer Crossover

dimemag.com

Nov 11

Subscribe to UPROXX Share This Video Earlier on Wednesday, we showed you a crossover by Jabari Parker from Tuesday night's 99-83 Celtics win over the Bucks. It appeared as if Parker had yo-yo'd burrito inhaler extraordinaire Kelly Olynyk to the floor. E…

Share Tweet

Forward Jabari Parker has returned to the floor for the Milwaukee Bucks for the first time since tearing his left ACL more than 10 months ago.

Share Tweet

ESPN.com

Nov 3

With Bucks' future bright, Jason Kidd's move looks even better

Share Tweet

nydailynews.com

Oct 29

Phil Jackson's aching hips, knees and ego haven't felt this good in months.

Share Tweet

yahoo.com deadspin.com

Oct 28

Whitefish Bay, Wis., police have released recordings of the 911 calls made by an employee at Schwanke-Kasten Jewelers in the incident that prompted the Milwaukee Bucks' John Henson to claim he'd been racially profiled during a trip to the jewelry store …

Share Tweet

yahoo.com

Oct 28

We've been through this before. NBA cheerleaders are basically glorified interns, most of them working for wages that seem disproportionate for the billion dollar industry that they act as a major part of. For most of the dancers, once the final financi…

Share Tweet

The Milwaukee Bucks say the planned opening of their new downtown arena will be delayed by a year.

Share Tweet

Bucks exercise options on Carter-Williams

nba.com

Oct 26

The Milwaukee Bucks have exercised third-year contract options on forward Jabari Parker and guard Tyler Ennis and fourth-year options on guard Michael Carter-Williams and forward Giannis Antetokounmpo.

Share Tweet

nba.com

Oct 23

Player Name: Giannis Antetokounmpo (Milwaukee Bucks)

Share Tweet

Nets Outlast Bucks

Mar 20

The Nets needed triple overtime to beat the Bucks 129-127 in Brooklyn.

Grizzlies Rock Bucks

Mar 14

The Grizzlies beat the Bucks 96-83 for their 25th home victory of the season.

Pacers Top Bucks In OT

Mar 12

The Pacers beat the Bucks 109-103 in overtime for their seventh straight win.

Middleton Fuels Bucks Past Magic

Mar 11

Khris Middleton scored 30 points for the second time in three games as the Bucks defeated the Magic 97-91.