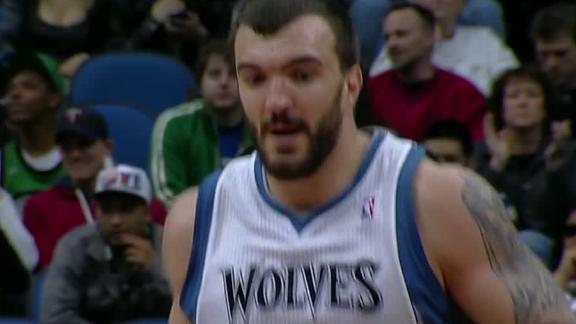 ESPN.com
timberpups.com
Updated Apr 1, 2013
Nikola Pekovic bruised and battered the overmatched Boston front line for 29 points to lead the Minnesota Timberwolves to a 110-100 victory over the Celtics on Monday night.
Share
Tweet
Verlander gets long-awaited Opening Day victory

MLB.com

Apr 1, 2013

The Tigers pulled out a 4-2 victory over the Twins on Monday afternoon at frigid Target Field, giving ace Justin Verlander a long-awaited Opening Day win.

Share Tweet

Celtics captain Paul Pierce did not accompany the team to Minnesota for the second night of a back-to-back and will sit out Monday's game against the Timberwolves, according to the team

Share Tweet

No fooling around on this April 1

So on the occasion of April Fools Day, the Twitter accounts of two NFC North teams engaged in a friendly exchange of images. The Minnesota Vikings started it with this suggestion and photograph of a gang-sack of Chicago Bears quarterback Jay Cutler: Pla…

Share Tweet

Minnesota Timberwolves Draft Prospect: Nerlens Noel

howlintwolf.com

Apr 1, 2013

Nerlens Noel, University of Kentucky First off, welcome to the first post of a new series at HTW. We will be covering the NBA Draft in depth and it begins with our Draft Prospect series. Every Monday and Wednesday, treat yourself to read about all the n…

Share Tweet

Quick Hits: Packers, Lions, Vikings

I usually try to post a "Quick Hit" item to catch up after missing some blog time, but the Chicago Bears' activity over the past week merits its own post. That item will publish shortly. For now, let's catch up on the other 75 percent of the d…

Share Tweet

Minnesota Twins Autograph Quiz: Whose name IS that?

startribune.com

Apr 1, 2013

Try to identify the Minnesota Twin behind each autograph we collected during spring training.

Share Tweet

Villaume: Searching for defensive backs 2013

startribune.com

Apr 1, 2013

Long criticized by fans, the 2012 secondary showed heart in Minnesota. But ultimately, they gave way in the stretch. Now Antoine Winfield is unsigned. Will defensive backs be drafted early?

Share Tweet

Fielder, Tigers Top Twins

Apr 1

Prince Fielder drives in a run in the Tigers' 4-2 win over the Twins.

Draft war room: Minnesota Vikings

Apr 1

The Minnesota Vikings have needs on both sides of the ball but will the Vikings look for Percy Harvin's replacement in the first round? NFL draft experts Daniel Jeremiah and Charles Davis reveal the ansewr.