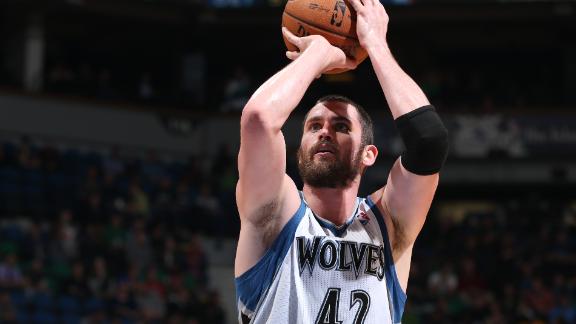 ESPN.com
howlintwolf.com
Updated Dec 7, 2012
Kevin Love had 36 points and 13 rebounds to lead the Minnesota Timberwolves to a 91-73 victory over the Cleveland Cavaliers on Friday night.
Share
Tweet
Wolves' Rubio knows great expectations await

nba.com

Dec 7, 2012

Ricky Rubio knows that there are a lot of expectations being put on his return to the Minnesota Timberwolves. He knows he is being cast as the missing piece that will magically make everything better as soon as he hits the court.

Share Tweet

Tramon Williams whacked with fine for whacking Toby Gerhart

Cornerback Tramon Williams is the latest member of the Packers to get hit with a hefty fine for a hit during a game. The NFL has confirmed that Williams has been fined $21,000 for a hit on Vikings running back Toby Gerhart that was deemed unnecessary ro…

Share Tweet

Minnesota Timberwolves president David Kahn is pouring cold water on the seemingly endless speculation surrounding the team's interest in Los Angeles Lakers big man Pau Gasol.

Share Tweet

ESPN.com profootballtalk.com

Dec 7, 2012

The Chicago Bears ruled cornerback Tim Jennings (shoulder) out, but wide receivers Alshon Jeffery and Devin Hester are expected to play against the Minnesota Vikings on Sunday.

Share Tweet

ESPN.com

Dec 7, 2012

Let's get inside the Friday injury report in the NFC North: Chicago Bears: Cornerback Tim Jennings (shoulder) was ruled out of Sunday's game against the Minnesota Vikings, joining linebacker Brian Urlacher (hamstring) and receiver Earl Bennett (concussi…

Share Tweet

Allen practices; Griffen, Brinkley fined

startribune.com

Dec 7, 2012

Except for Percy Harvin and Chris Cook, the Vikings are expected to have everyone who was on their opening day roster availble to them when they play the Bears on Sunday

Share Tweet

startribune.com ESPN.com

Dec 7, 2012

Vikings WR Percy Harvin has been placed on the IR with an ankle injury. How will this complicate contract negotiations? CineSport's Brian Clark & the Star Tribune's Dan Wiederer discuss this & the Bears.

Share Tweet

Jordy Nelson ruled out

The Packers will be down a receiver on Sunday against the Lions. Wide receiver Jordy Nelson has been ruled out for the contest with the hamstring injury he suffered in last Sunday's victory over the the Vikings. Nelson previously hurt the hamstring earl

Share Tweet

Groundbreaking for Vikings stadium set for October 2013

startribune.com

Dec 7, 2012

Officials project an October 2013 start for construction on the new 65,000-seat stadium; the project's biggest hire is the next major step.

Share Tweet

Season's Greetings……with MEAT!

timberpups.com

Dec 7, 2012

Early Holiday wishes from your favorite NBA squad the Minnesota Timberwolves. Check out the link below to the T-Wolves holiday card; it's got my new favorite Pek line, some awkward singing and the option to send your own card. What more could you want?

Share Tweet

Done Deals: Ben Revere trade to Philly caps winter meetings activity

yahoo.com

Dec 3, 2012

We kept a running list of trades and signings that went down during the winter meetings. Thanks for reading and come back for more signings and trades as the offseason continues! Thursday Twins send Ben Revere to Phillies for Vance Worley, Trevor May Fo…

Share Tweet

Chad Greenway: I should have been more responsible

Vikings linebacker Chad Greenway now says he regrets saying fans should get "super, duper drunk" on Sunday. Greenway, who has taken some criticism for saying he wanted to hear the home fans drunk, loud and raucous for Sunday's game against the Bears

Share Tweet

NFL Kickoff OT: Week 14 Predictions

Dec 7

NFL Live makes their predictions for Week 14's key matchups.

Week 13: FedEx Air and Ground winners

Dec 7

Seattle Seahawks QB Russell Wilson threw for nearly 300 yards and two touchdowns against the Chicago Bears, while Minnesota Vikings RB Adrian Peterson ran for over 200 yards and a touchdown against the Green Bay Packers.

'Playbook': Chicago Bears vs. Minnesota Vikings

Dec 7

Are the Minnesota Vikings using Adrian Peterson effectively? The "Playbook" guys discuss why the Chicago Bears' defense will need to rely on Major Wright to help stop Peterson and pick up the win.

Minnesota Vikings' light is Greenway

Dec 7

Minnesota Vikings linebacker Chad Greenway joins "Around the League" to discuss the loss of wide receiver Percy Harvin and sends a special message to Indianapolis Colts head coach Chuck Pagano.