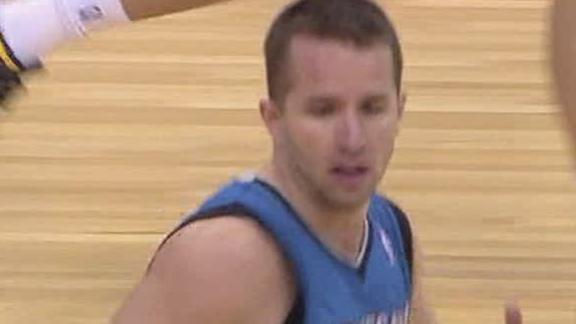 ESPN.com
Updated Jan 3, 2013
J.J. Barea scored 12 of his 17 points in the fourth quarter while All-Star forward Kevin Love sat on the bench with a sprained finger, lifting the Minnesota Timberwolves to a 101-97 win over the Denver Nuggets on Thursday night.
Share
Tweet
Savor the moment, veterans say

The longer players are in the league, the more they realize how hard it is to routinely make it to the NFL playoffs.

Share Tweet

startribune.com profootballtalk.com ESPN.com

Jan 3, 2013

There have been many outstanding performances by Minnesota sports stars -- Kirby Puckett, Kevin Garnett, Alan Page, to name but a few -- but the Vikings' phenomenal running back is eclipsing them with his 2,000-yard season.

Share Tweet

startribune.com profootballtalk.com

Jan 3, 2013

His teammates aren't bothered by his absence, but his future in Purple will spark a lively post-playoffs debate.

Share Tweet

The center, a leader both for the offensive line and the entire team, says Vikings players have always believed.

Share Tweet

Jordy Nelson has no doubts he'll play on Saturday

profootballtalk.com

Jan 3, 2013

Packers coach Mike McCarthy said Wednesday that the team's medical staff still had some doubts that wide receiver Jordy Nelson's knee would be well enough to allow him to play on Saturday night against the Vikings. Nelson progressed to a full practice

Share Tweet

timberpups.com howlintwolf.com

Jan 3, 2013

Setting the stage: For the third time already this season, the Wolves face the Nuggets on Thursday night in Denver. This will be the second game of a back to back and the Wolves will once again be without Ricky Rubio. The thin air of Denver for a team t…

Share Tweet

Vikings prepare for cold, windy football

The Minnesota Vikings players are preparing for the cold as they travel to Lambeau Field to take on the Packers in the first round of the playoffs.

Share Tweet

NBA Insider Says Minnesota Should Trade Kevin Love Right Now

dimemag.com

Jan 3, 2013

From the weird injuries to his awful shooting numbers to the reports of his unhappiness to even Minnesota's slow start, this year must be trying Kevin Love's patience. Coming off his best season, as well as his experience at the summer Olympics, pundi

Share Tweet

The Vikings need their veteran cornerback on the field in Green Bay to stabilize their pass defense. Finding ways to protect his fractured right hand has become a priority.

Share Tweet

ESPN.com startribune.com

Jan 3, 2013

The Minnesota Vikings and Green Bay Packers have essentially wrapped up their practice weeks in advance of Saturday night's wild-card playoff at Lambeau Field. There is a relatively short list of significant injuries in play this week, and by far the mo…

Share Tweet

Blair Walsh wins NFC special teams player of month

profootballtalk.com

Jan 3, 2013

Vikings kicker Blair Walsh keeps not missing, so he keeps winning awards. The rookie was named NFC special teams player of the month for December. He was actually 11-of-12 on field goals for the month, but hit all five attempts from 50 yards or longer. …

Share Tweet

timberpups.com howlintwolf.com

Jan 3, 2013

The Pups opened up an important back to back series against division rivals in Utah Wednesday night Andrei Kirilenko made his return to Utah for the first time since leaving the Jazz before last season's lockout. The bad news for the Wolves was that Ric

Share Tweet

Jamarca Sanford's investment, rapid growth typifies Vikings' resurgence

The fourth-year safety has come a long way this season. And he's seen the rewards of heightened preparation and dedication.

Share Tweet

Packers-Vikings III: Limiting alcohol (?!)

ESPN.com

Jan 3, 2013

Because I'm sure all of you make a daily habit of watching "Wonder Pets," as I do, I'm going to acknowledge I just said out loud: "This … is … serious." Is there any other way to react to the news that the Green Bay Packers have moved up last call at

Share Tweet

NFL32OT: A Tough Task Ahead

Jan 3

Episode 242: Chris Mortensen discusses which rookie quarterback will have a tougher task this postseason. Merril Hoge makes his pick for MVP. The NFL32 crew discuss Adrian Peterson's desire to play on special teams.

Countdown Daily Prediction: Vikings-Packers

Jan 3

The NFL Live crew makes their picks for Minnesota at Green Bay

Battle of the North: Vikings vs. Packers

Jan 3

Get ready for the Minnesota Vikings-Green Bay Packers wild card matchup with this "movie trailer."

Peterson Wants To Play On Special Teams

Jan 3

Adrian Peterson says he wants a shot to play on special teams.