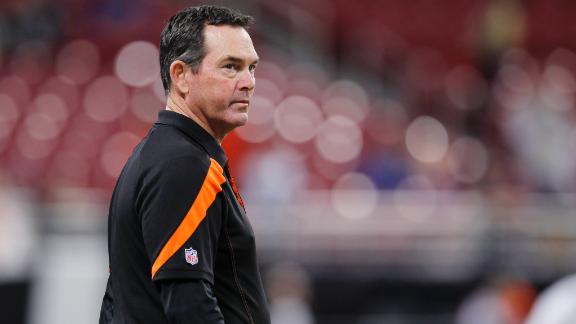 startribune.com
profootballtalk.com
ESPN.com
vikingsgab.com
yahoo.com
deadspin.com
Updated Jan 15, 2014
By hiring Mike Zimmer, the Vikings picked a coach who will bring verbal intensity and, yes, curse words — an approach unlike his predecessor's.
Share
Tweet
Mike Singletary to leave Vikings

Hall of Fame linebacker Mike Singletary has served as assistant head coach and linebackers coach for the Minnesota Vikings for the last three seasons Singletary will not return to the Vikings' staff next season. According to Chris Tomasson of the St. Pa…

Share Tweet

T.J. Brennan has a goal and three assists in Marlies 4-3 overtime win over Wild

NHL.com

Jan 15, 2014

DES MOINE, Iowa - T.J. Brennan had a hand in all of the Toronto scoring, and scored in overtime, to lead the Marlies to a 4-3 win over the Iowa Wild in American Hockey League action Wednesday. Brennan also had three assists for the Marlies (2...

Share Tweet

Hartman: Simpson has high praise for new Vikings coach

startribune.com

Jan 15, 2014

The wide receiver spent four years in Cincinnati and saw the respect Mike Zimmer commanded there.

Share Tweet

MLB.com

Jan 15, 2014

The Twins' Winter Caravan made a whirlwind journey on Wednesday, with stops in Iowa, Minnesota and South Dakota.

Share Tweet

A fighter, Pressly now fights on without his father

MLB.com

Jan 15, 2014

Ryan Pressly showed the Twins a lot last season. But in November, Pressly lost his father, who always was there to provide advice and support for his son. Pressly vows to keep fighting, and pitching in his father's honor.

Share Tweet

startribune.com

Jan 15, 2014

Turner has been the head coach of NFL three teams, and the offensive coordinator for four.

Share Tweet

profootballtalk.com ESPN.com

Jan 15, 2014

Former Vikings coach Leslie Frazier now works for the team that drafted most-likely-soon-to-be-former Vikings quarterback Josh Freeman. And while a return of Freeman to Tampa Bay remains extremely unlikely, Frazier had positive things to say about Freem…

Share Tweet

ESPN.com

Jan 15, 2014

In his first mock draft, ESPN NFL draft Insider Mel Kiper delivers a pick for the Vikings that fans -- and the team -- would likely love: Louisville quarterback Teddy Bridgewater. The 21-year-old quarterback, who has been mentioned as a possible No. 1 p…

Share Tweet

When Jay Gruden was hired by the Redskins as their head coach last week, the Bengals acted quickly to promote Hue Jackson to replace him as offensive coordinator. They've acted just as quickly now that defensive coordinator Mike Zimmer has taken the Vik…

Share Tweet

Eddie Lacy is headed to the Pro Bowl. Lacy, who rushed for 1,178 yards and 11 touchdowns in a sparkling 2013 season, has been selected to the NFL's all-star game, the Packers announced Wednesday. Lacy will take the place of Vikings tailback Adrian Peter…

Share Tweet

Fancystats quietly influencing NHL teams to change their styles

CNNSI.com

Jan 15, 2014

Advanced stats are transforming some NHL teams. Here's why the Wild may be a major test case.

Share Tweet

PFT Live: Vikings talk with Chris Tomasson, 49ers talk with Matt Maiocco

The Vikings have a new coach in Mike Zimmer and we'll be talking about that hire on Wednesday's edition of PFT Live. Chris Tomasson of the Pioneer Press will join Mike Florio to talk about the reasons why the Vikings felt that the time was right to give…

Share Tweet

yahoo.com

Jan 15, 2014

The Cleveland Browns haven't hired a coach yet. That's not the end of the world, but Browns fans are getting a bit anxious. There were seven openings and five are filled. The Vikings seem very interested in Bengals defensive coordinator Mike Zimmer, acc…

Share Tweet

NBA: Coast to Coast -- Boston Celtics, Los Angeles Lakers, Minnesota Timberwolves at a crossroads

ESPN.com

Jan 15, 2014

A few teams have tough calls. Which direction will they go? Israel Gutierrez and J.A. Adande discuss.

Share Tweet

NHL.com

Jan 15, 2014

ST. PAUL, Minn. - Now that the Senators have played themselves back into contention, the hard work really begins. Kyle Turris had a goal and an assist, Robin Lehner made 27 saves for his second career shutout and Ottawa beat the Minnesota Wil...

Share Tweet

What can head coach Mike Zimmer bring to the Minnesota Vikings?

Jan 15

Atlanta Falcons wide receiver Roddy White joins the "NFL Total Access" crew to discuss his team's former defensive coordinator Mike Zimmer, who is expected to be hired as the next Minnesota Vikings head coach.

Will Mike Zimmer be a good coach in Minnesota?

Jan 15

Brian Baldinger and Jamie Dukes analyze the Minnesota Vikings' decision to hire Mike Zimmer as their new head coach and gauge his chances at success in the role.

Zimmer A Good Fit For Vikings?

Jan 15

Trey Wingo, Mark Schlereth, Antonio Pierce and Ryan Clark weigh in on the Vikings' hiring of Mike Zimmer as their new head coach.

Latest on Cleveland Browns' coaching search

Jan 15

NFL Media Insider Ian Rapoport sheds some light on the final head coaching vacancy and explains why the Minnesota Vikings are going to hire Cincinnati Bengals defensive coordinator Mike Zimmer.