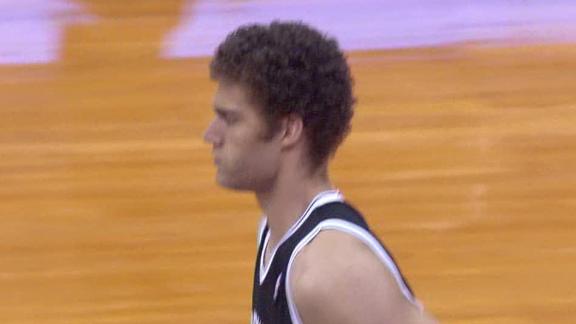 Updated Jan 23
Share
Tweet
Brook Lopez strengthened his push for a spot on the All-Star team with 22 points on 10-for-16 shooting, helping the Brooklyn Nets hold off the Minnesota Timberwolves 91-83 on Wednesday night.
Source:
ESPN.com
Updated Jan 23

Share Tweet

In his 15th season, the longtime Vikings stalwart finds himself in his first Super Bowl with the Ravens.

Updated Jan 23

Share Tweet

NEW YORK (AP) -- Delmon Young has some incentive to lay off the desserts: He can earn $600,000 based on his weight this season.

Source:

CNNSI.com

Jake Mauer excited to lead Twins' new Class A club

Updated Jan 23

Share Tweet

After going through candidates for their vacant Class A Cedar Rapids managing job, the Twins decided to stay in house and went with a familiar name in Jake Mauer -- Joe's older brother.

Source:

MLB.com

Updated Jan 23

Share Tweet

We're continuing to have NFC North movement on the Pro Bowl roster with the game just five days away. The latest includes the injury withdrawal of Chicago Bears receiver Brandon Marshall, the addition of Minnesota Vikings tight end Kyle Rudolph and the …

Source:

ESPN.com

Updated Jan 23

Share Tweet

Setting the stage: The Timberwolves host the Brooklyn Nets on Wednesday night, returning to Target Center after a very disappointing loss to the Atlanta Hawks on MLK Day.  After building an 18 point lead, the Pups slowly but surely fell apart at the sea…

Source:

timberpups.com

Study on NFL players gives hope for brain disease treatment

Updated Jan 23

Share Tweet

Researchers found tau protein in brains of five living retired NFL players with varying levels of cognitive and emotional problems.

Lopez, Nets Push Past Wolves

Jan 23

Brook Lopez scores 22 points as Nets improve to 12-2 under P.J. Carlesimo with 91-83 win over Timberwolves.