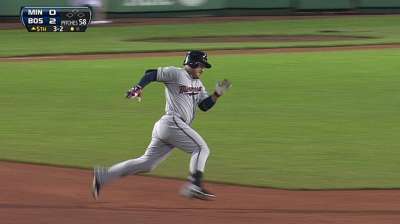 Sometimes a player exits the NBA on terms that in no way reflect his talent. As reported by Yahoo!'s own Adrian Wojnarowski on Friday, the Minnesota Timberwolves are formalizing the release of shooting guard Brandon Roy, effectively ending his career. A…

Share Tweet

Coach Is Back!: Hello Vikings Gab fans. This is Coach B, back fro…

vikingsgab.com

May 10, 2013

Hello Vikings Gab fans. This is Coach B, back from wherever it was I was at. Our fearless and omnipotent leader, Matt Loede, has (some might say foolishly) given me the keys to the Limosine by offering me the opportunity to become the new editor and adm…

Share Tweet

startribune.com

May 10, 2013

The NFL team will play at the U of M stadium in 2014 and 2015

Share Tweet

MLB.com

May 10, 2013

Rookie Oswaldo Arcia celebrated his 22nd birthday by tripling and hitting a two-run homer to lead the Twins to a 5-3 win over the Red Sox on Thursday night at Fenway Park.

Share Tweet

O's Rally To Top Twins In 10th

May 10

The Orioles score nine unanswered runs to defeat the Twins 9-6 in extras.

Sports Columnists

Don Banks: Now the NFL's lone iron man, Fletcher reflects on his past, fut…

May 10

With the retirement of Tampa Bay defensive back Ronde Barber this week, the NFL lost one of its consummate professionals and a player who had become a hallmark of consistency throughout his celebrated 16-year career.

2013 NBA playoffs: Golden State Warriors coach Mark Jackson has fresh appr…

May 10

Golden State coach Mark Jackson is succeeding with a fresh approach.