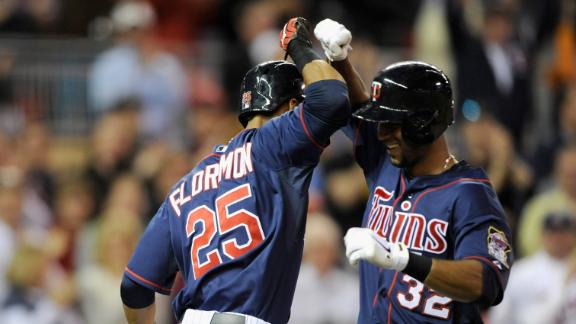 ESPN.com
Updated May 13, 2013
Rookie Aaron Hicks hit two home runs and made a leaping catch in center field to take a home run away from Adam Dunn in the Minnesota Twins' 10-3 win over the Chicago White Sox on Monday night.
Share
Tweet
Vikings stadium: Big, bold, glassy

startribune.com

May 13, 2013

The stadium will have giant pivoting glass doors that open to the downtown Minneapolis skyline.

Share Tweet

Vikes unveil glass-centric plan for new stadium

Opening the roof over the new home of the Minnesota Vikings would have forced planners of the $975 million project to eliminate some of the fancy features.

Share Tweet

Vikings stadium: Minnesota's ice palace

The Minnesota Vikings revealed the proposed design of their new stadium Monday night and, as promised, it included a fixed roof with "operable" doors and transparent technology designed to give a very Minnesota outdoor "feel" within …

Share Tweet

Monday night, the Minnesota Vikings will unveil their proposed new stadium design in a red-carpet affair at the Guthrie Theater in downtown Minneapolis. Among other things, we will get official word on whether owner Zygi Wilf has decided on a retractabl…

Share Tweet

profootballtalk.com

May 13, 2013

Earlier this offseason, the Chiefs hired former Vikings head coach Brad Childress and gave him the title of Spread Game Analyst/Special Projects. Does that mean that Chris Ault will be the Pistol Pundit? We'll have to wait to find out if there's an ex

Share Tweet

Geno Smith, Tim Tebow, Victor Cruz: Answers to Readers' Questions

nytimes.com

May 13, 2013

Judy Battista, the N.F.L. reporter for The Times, answers questions from readers.

Share Tweet

Rapid Fire With Nerlens Noel

May 13

If the projected #1 overall pick could draft any player but himself, who would he pick? And is his hair a competitive advantage?

'Top 100 Players of 2013': Chad Greenway

May 13

Minnesota Vikings linebacker Chad Greenway is voted the 70th-best player in the NFL, according to his peers, on the "Top 100 Players of 2013."

Hicks' Unbelievable Day Sparks Twins

May 13

Rookie Aaron Hicks hit two home runs and robbed Chicago's Adam Dunn of a homer in center field.