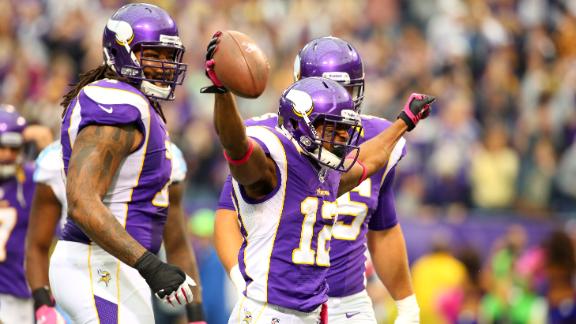 startribune.com
profootballtalk.com
ESPN.com
Updated Oct 7, 2012
The final minutes Sunday gave the Vikings an opportunity to take some chances and put an exclamation point on a lopsided victory over Tennessee.
Share
Tweet
startribune.com ESPN.com profootballtalk.com

Oct 7, 2012

The Vikings' edgy rookie safety showed contrition after his ejection.

Share Tweet

Hartman: Allen, Vikings simply take it week to week

startribune.com

Oct 7, 2012

The defensive end said the lack of outside pressure has enabled the team to have great focus on game days.

Share Tweet

ESPN.com startribune.com

Oct 7, 2012

MINNEAPOLIS -- One of the smartest moves we've seen in the NFL this season is arguably the simplest. It can be accounted for with six syllables. Let Percy do his thing. There are a number of reasons why the Minnesota Vikings are 4-1 after Sunday's 30-7 …

Share Tweet

Minnesota Vikings Beat Writer Wanted Mike Munchak To Sound The Rusty Trombone

deadspin.com

Oct 7, 2012

Matt Hasselbeck had kind of a rough day against the Vikings and probably deserved to get yanked, but I think we can all agree that Vikings beat writer Tom Pelissero was probably referring to the "sad trombone" or maybe the old vaudeville gimmi…

Share Tweet

Vikings go with five receivers, but Wright not active

startribune.com

Oct 7, 2012

Looks like it's going to be essentially a red-shirt year for a fourth-round pick that's not ready to help just yet.

Share Tweet

Kenny Britt a surprise activation for Titans

profootballtalk.com

Oct 7, 2012

Despite not practicing much for two weeks, Titans wide receiver Kenny Britt will be active today. Britt's been bothered by an ankle problem, but apparently did enough in pregame to convince coaches he's well enough to go today against the Vikings. Mid

Share Tweet

Sunday afternoon: Roster maneuvers

ESPN.com

Oct 7, 2012

MINNEAPOLIS -- Greetings from the Metrodome, where we're about an hour from kickoff here between the Minnesota Vikings and Tennessee Titans. The Vikings' list of inactive players had no real surprises. Linebacker Erin Henderson (concussion) is back afte…

Share Tweet

Sunday Blitz: Titans-Vikings Recap

Oct 7

Jim Basquil and Eric Allen break down the Vikings' 30-7 win over the Titans.

Vikings Surpass Win Total From Last Year

Oct 7

Vikings improve to 4-1 win 30-7 win over Titans.

Titans vs. Vikings highlights

Oct 7

Christian Ponder throws for over 250 yards and two touchdowns as the Vikings beat the Titans 30-7.

Peterson 34 yard run

Oct 7

Minnesota Vikings running back Adrian Peterson gashes the Titans defense for a gain of 34 yards in the 3rd quarter.