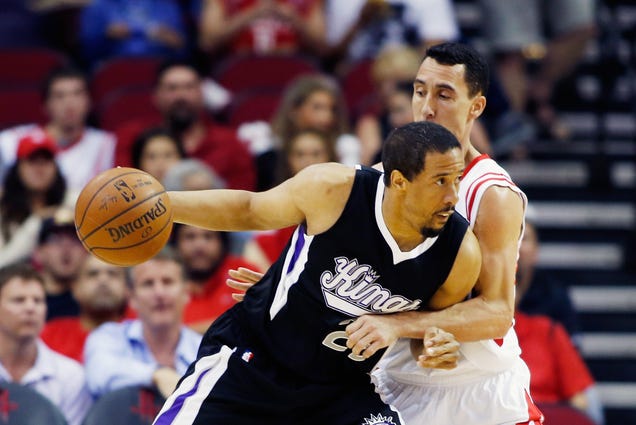 Awesome Old Dude Andre Miller Should Play In The NBA Forever
deadspin.com
Updated 11 hours ago
As you may have heard, cagey-ass old man Andre Miller has signed with the Minnesota Timberwolves for the 2015-16 NBA season. The Wolves have oft-injured, offensively challenged Ricky Rubio at the point, and down the roster they've got scrawny rookie Tyu…
Share
Tweet
nba.com howlintwolf.com

Jul 29 (yesterday)

The Professor will be holding office hours in Minnesota next season.

Share Tweet

Analysis Of Timberwolves Newest Additions

howlintwolf.com

Jul 20

The NBA's Summer League is short but sweet, and offers fans a chance to look at how their favorite teams are developing in the off season. More often than not, starters and regular rotation players sit out the Summer League, but bench players, prospects…

Share Tweet

Turnovers Hurt; Wolves 82 vs Jazz 91 in Summer League Game 3

timberpups.com

Jul 19

(Yes, it's late and I hope this is a great way to fill in the gaps in Wolves summer action.) After watching game 3, I wanted to share my thoughts on games from Vegas. Here's main impressions and how they impact the upcoming 2015- 2016 NBA season. Immedi…

Share Tweet

The Lynx are Not On, What Is?

timberpups.com

Jul 19

It's 3:30 pm Central on a Sunday. The Minnesota Lynx just tipped in Tulsa versus the Shock. Both teams are solid in the West and well, Sunday at 3 is the NFL's big time slot. So what channel is showing the WNBA? FSN is showing the Twins. I get it. CBS i…

Share Tweet

nba.com timberpups.com

Jul 15

Five years after Nemanja Bjelica's rights were acquired by Minnesota, the Timberwolves have finally added him to the roster.

Share Tweet

A Take on Karl-Anthony Towns' Summer League Debut

howlintwolf.com

Jul 15

Ask any Timberwolves fan that paid any attention to Summer League about Karl-Anthony Towns' debut to the NBA and they'll all answer in unison… It wasn't very good. But ask any Timberwolves fan about whether or not they need be worried about the lacking …

Share Tweet

Timberwolves Fall to Jazz, 91-82

howlintwolf.com

Jul 14

With Zach LaVine out of the lineup so he could chill out with Andrew Wiggins in a front row seat, it was up to another sophomore that had to step up for the Timberwolves. Adreian Payne took over as Towns struggled with fouls yet again. Payne had looked …

Share Tweet

NBA Summer League Dreams and Championship Wishes

howlintwolf.com

Jul 14

I've been watching a lot of basketball lately…I mean tons! I've made it through double-digit replays of NBA Summer League games and have enjoyed seeing our beloved Timberwolves again. This time the aura has changed. The positive buzz is real and the pla…

Share Tweet

What The Timberwolves Are Really Getting With Tyus Jones

howlintwolf.com

Jul 13

The Prodigal Son Returns The Timberwolves may have made the biggest splash on Draft night of any NBA team, snagging a potential franchise-changing center with the first overall pick and trading for the hometown kid from Duke. While Karl-Anthony Towns co…

Share Tweet

nba.com howlintwolf.com

Jul 12

The Indiana Pacers announced Sunday they have acquired forward Chase Budinger from the Minnesota Timberwolves in exchange for forward Damjan Rudez.

Share Tweet

Timberwolves Forget How to Shoot, Lose to Bulls 84-71

howlintwolf.com

Jul 12

This is what Summer League is all about. Heading into Las Vegas, a lot of these players haven't played competitive basketball for months, even the rookies working out before the draft. So once everyone converges onto Summer League, things tend to get a …

Share Tweet

Wolves' Shot is Off vs Bulls in #SummerLeague Game 2 (71-84)

timberpups.com

Jul 11

Tonight the Bulls simply shot better & boarded better (32% shooting by MN). The ball movement wasn't the same for the Wolves. The shot wasn't dropping, especially for Zach LaVine until a couple threes in the mid-4th (even his last shot after the buz…

Share Tweet

Timberwolves Beat Lakers in Summer League Opener, 81-68

howlintwolf.com

Jul 11

The Timberwolves are noted as have pretty unfortunate luck in the draft (AKA the wrath of Khan) but the first Summer League game in Vegas might be proof that lady luck is finally on their side. It was the much anticipated debut of Karl Anthony-Towns, AK…

Share Tweet

Wolves Impressive vs 'Hometown' Lakers in Vegas

timberpups.com

Jul 10

It's interesting to watch pro-Laker, I mean, NBA TV's Summer League broadcast. The crowd in Las Vegas was not surprisingly pro-Laker. Reggie Miller was also pro-Laker. But even in that, you listen to the commentators and you get a point of view on the W…

Share Tweet

Timberwolves Summer Showcase Recap

howlintwolf.com

Jul 10

Never in a million years would I have imagined more than 15,000 fans pack the Target Center on a Wednesday night for a Minnesota Timberwolves impromptu scrimmage. And it wasn't even the entire main roster. A mixture of Summer League invitees, Timberwolv…

Share Tweet

Report: Timberwolves Sign Garnett, 2 years, $16.5 mil

howlintwolf.com

Jul 9

AP Sources: Kevin Garnett's 2-year deal with the Timberwolves will be worth $16 million. — Jon Krawczynski (@APkrawczynski) July 9, 2015 Told the total guarantee on KG's contract is $16.5M. Negotiated it himself. Credit to @APkrawczynski on $16M. #twolv…

Share Tweet

nba.com howlintwolf.com

Jul 9

With a between-the-legs slam dunk and a 3-pointer from the top of the arch, No. 1 overall draft pick Karl-Anthony Towns made quite an impression in his first action in front of Minnesota Timberwolves fans.

Share Tweet

Timberwolves Summer League Preview

timberpups.com

Jul 7

The Timberwolves released their Las Vegas Summer League roster on Monday, full of some familiar names and sprinkled with several newbies. Take a look at the roster itself: As you may remember, a number of these players were on last year's roster as well…

Share Tweet

Only two players in NBA history have made it to season No. 21 in their careers. Kevin Garnett is about to become the third.

Share Tweet

Wolves, Euroleague MVP Bjelica agree to deal

nba.com

Jul 6

After a quiet start to free agency, the Minnesota Timberwolves are on the board with some much-needed experience for their bench.

Share Tweet

Timberwolves Announce 2015 Summer League Roster

howlintwolf.com

Jul 6

Today the Timberwolves announced the roster for the 2015 Las Vegas Summer League, which begins on July 10. They open with three games in the first round and move into a elimination style tourney after that.A couple of familiar faces fill out the roster …

Share Tweet

Hummel Offered Qualifying Offer; Hamilton Not Offered

howlintwolf.com

Jun 29

A couple of Timberwolves free agency news to report. The first being that Robbie Hummel will be back with the Timberwolves. Timberwolves have extended the qualifying offer to Robbie Hummel — Jon Krawczynski (@APkrawczynski) June 28, 2015 No real surpris…

Share Tweet

Timberwolves, Nemanja Bjelica Talking Deal

howlintwolf.com

Jun 29

Euroleague MVP Nemanja Bjelica and the Minnesota Timberwolves are discussing a deal and would bring the forward to the NBA for three years and something expected to be worth the around the full MLE ($5.305 mil/per year). The Timberwolves acquired Bjelic…

Share Tweet

NBA Top 3 Plays Of The Night

Mar 19

Check out the top three plays from the night in the NBA, including Archie Goodwin's big dunk.

Wolves Top Knicks In OT

Mar 19

Kevin Martin, Zach LaVine, Andrew Wiggins and Gorgui Dieng combined to score 81 of the Timberwolves' 95 points in an overtime win over the Knicks.

Ginobili Won't Be Rushed Back

Mar 16

ESPN NBA Insider Chris Broussard discusses why coach Gregg Popovich won't rush Manu Ginobili back, who sprained his right ankle during the Spurs' win over the Timberwolves.

Ginobili Isn't Ready

Mar 15

As San Antonio Spurs guard Manu Ginobili was preparing for a free throw, the referee passed him the ball unexpectedly and it bounced and hit Ginobili in the face.