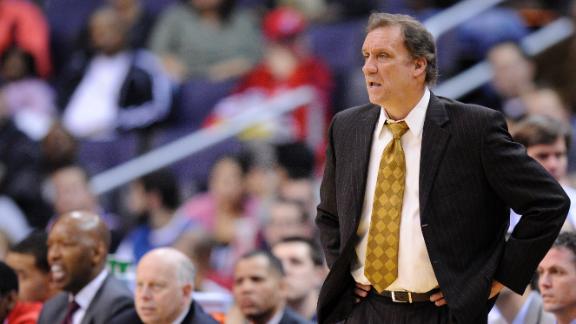 In an interview Wednesday morning with ESPN Radio's "Mike & Mike," Minnesota Timberwolves president of basketball operations Flip Saunders downplayed the idea he might return to the Wolves' bench after this week's retirement of Rick Adelman.
Upvote
Share
Tweet
It will come as no surprise that Rick Adelman stepped down as Minnesota Timberwolves coach on Monday, the longtime successful NBA sideline stalker was rumored to be considering a move along those lines last season, and the wear of losing seasons and ina…

Upvote Share Tweet

dimemag.com

Apr 17

The Minnesota Timberwolves finished exactly where many expected this season: on the outside looking in for a final playoff spot in the brutal Western Conference. They were one loss to the Jazz in their finale from going 41-41 on the year, but that recor…

Upvote Share Tweet

Snow Falls in Minneapolis, Wolves Fall to Jazz; 130-136

timberpups.com

Apr 17

Well, it's over now. Last night, the Minnesota Timberwolves dropped the season finale to the Utah Jazz, at home, and it was possibly Rick Adelman's last game as an NBA Head Coach. What you would think would be a passionate, emotional, send-off type of p…

Upvote Share Tweet

Ricky Rubio Behind-The-Back Dime For The Dieng Dunk

dimemag.com

Apr 16

Ricky Rubio might be shooting 38 percent on the season, which is actually higher than his first two seasons. His shooting distress might make him a liability at the point guard position, and he might gamble a little too much for steals and lack the size…

Upvote Share Tweet

As the clock ticks down on the Minnesota Timberwolves' regular season finale on Wednesday night, one of the most quietly successful coaching careers the NBA has ever seen could be coming to a close right with it.

Upvote Share Tweet

Entering Monday night's game against the Warriors, the Minnesota Timberwolves sat on the .500 hump with two games remaining in the season. Their final opponent, the Utah Jazz, will venture to Target Center and face the Wolves on fan appreciation night. …

Upvote Share Tweet

Stephen Curry Outduels Kevin Love As Warriors Secure The 6 Seed

dimemag.com

Apr 15

Kevin Love was 7-for-11 for 22 points in the first quarter Monday night, but Stephen Curry was right there with him, pouring in 15 points on 4-for-6 shooting. For the night, Love finished with 40 points, 14 rebounds and nine assists, but he had 26 of th…

Upvote Share Tweet

Kevin Love Gives Us One More Gorgeous Outlet Pass

deadspin.com

Apr 15

The Minnesota Timberwolves' season has been a big disappointment, and Kevin Love lost his spirit a long time ago . But Love played balls-out in a duel against Stephen Curry and the Warriors last night, posting a 40-14-9 stat line and launching another o…

Upvote Share Tweet

Brewer's 51: Basketball as it was meant to be

howlintwolf.com

Apr 15

Credit: Unknown. I know this is late. Like, five days late. But I still wanted to do something on the Rockets-Timberwolves game from Friday night. It was one of the weirdest games I had ever witnessed, and I was there for it no less. As weird as it was,…

Upvote Share Tweet

Kings Overcome Love's 43 points, Defeat Wolves 106-103

timberpups.com

Apr 14

The Kings held off a tremendous individual performance by Kevin Love and went on to defeat the Wolves in Sacramento, thanks largely to the play of their man in the middle, DeMarcus Cousins. Despite leading by as many as 11 in the third quarter and getti…

Upvote Share Tweet

yahoo.com

Apr 14

Sacramento Kings center DeMarcus Cousins entered Sunday's matchup with the Minnesota Timberwolves sitting on 15 technical fouls for the season. On one hand, that's a lot — more than anyone else in the league except Kevin Durant and Blake Griffin. On the…

Upvote Share Tweet

What The 2014 NBA Playoffs Would Look Like With The Best 16 Teams

dimemag.com

Apr 14

The playoffs are starting soon, and most teams have only one or two games left before the regular season ends on Wednesday, April 16. But the Conferences are still lopsided: a .500 team, the 40-40 'Wolves, would be the 8 seed in the East and challenging…

Upvote Share Tweet

Timberpups Weekly Preview 2014 – Final Week

timberpups.com

Apr 13

Setting the stage: Well, the end is near for our Timberpups. The Wolves will not advance to the NBA Playoffs for the tenth straight season. This is turning into quite the rebuild huh? The Wolves have three games this week counting tonight's match-up in …

Upvote Share Tweet

Timberwolves wing Corey Brewer isn't exactly a dominant scorer. He's averaging 12.2 points in 32.2 minutes a night this season (he was at 11.7 PPG before his outburst) and he's never averaged more than 13 PPG in his career. That's what made his 51-point…

Upvote Share Tweet

Minnesota forward Kevin Love missed the Timberwolves' game against Houston on Friday night because of a hyperextended right elbow.

Upvote Share Tweet

Wolves Fall to Bulls at Home 102-87

timberpups.com

Apr 11

With only 5 games remaining in their 2013-14 campaign and the playoffs out of reach, the Wolves hosted the Bulls on Wednesday night. Led by Joakim Noah's fourth triple-double of the season, Chicago had little difficulty putting away a lackadaisical Wolv…

Upvote Share Tweet

yahoo.com

Apr 11

On Wednesday, the Rick Adelman-led Minnesota Timberwolves fell to the Chicago Bulls by a 102-87 score. The loss dropped the Wolves to .500, a record that in most years prior to the post-Jordan era would earn a Western Conference team a playoff berth, an…

Upvote Share Tweet

Saunders On Timberwolves' Coaching Job

Apr 23

Flip Saunders talks to "Mike & Mike" about the rumors that he might return to the Timberwolves' bench after the retirement of Rick Adelman.

Adelman Announces Retirement

Apr 21

ESPN senior NBA writer Marc Stein comments on Timberwolves coach Rick Adelman's retirement and the early indications of who may take his place.

Timberwolves' Adelman Retires

Apr 21

Brian Windhorst discusses retired coach Rick Adelman's NBA legacy.

Will Wade, Nowitzki, or Duncan Fade First?

Apr 17

Jalen Rose insists that Kobe Bryant be discussed as he and Bill Simmons answer the question "Dwyane Wade, Tim Duncan or Dirk Nowitzki - which star is the closest to not being a star anymore?"