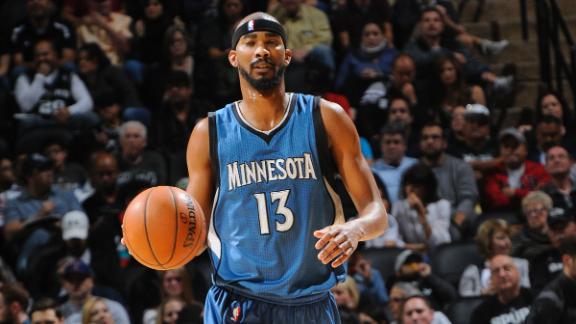 From Boys To Men: By: Kurt Johnson (@wolfpackasia) For the past dec…

howlintwolf.com

7 hours ago

By: Kurt Johnson (@wolfpackasia) For the past decade, I have approached the tipoff to every NBA season with optimistic (yet homerly unrealistic) expectations of what the Timberwolves could achieve in the months that followed. Alas, literally all of thes…

Upvote Share Tweet

Timberwolves Battle, Fall to Washington on the Road

timberpups.com

Dec 17 (yesterday)

In the first of two road games for Minnesota, the Timberwolves gave a valiant effort against the Wizards. In a game that stayed close in score for a majority of the contest, it was foul shooting that most hurt Minnesota, and Washington pulled away with …

Upvote Share Tweet

John Wall Is More Than A Wizard; Wolves lose 109-95

howlintwolf.com

Dec 16 (yesterday)

Throughout tonight's broadcast, Fox Sport North made it a priority to point out the connection between the Saunders father-son combo that now leads the Wolves and the Washington Wizards. Back in 2009, Flip was coming off his final run with the Detroit P…

Upvote Share Tweet

Videos: John Wall Cooks On Zach LaVine, Mo Williams En Route To 21 Points, 17 Dimes

dimemag.com

Dec 16 (yesterday)

If John Wall keeps this up, it's only a matter of time until he emerges as a legitimate MVP candidate. For the highlights of an utterly dominant 21-point, 17-assist outing in a win versus the Minnesota Timberwolves, watch the Washington Wizards supersta…

Upvote Share Tweet

Wizards' Pierce out with sore right toe

nba.com

Dec 16 (yesterday)

Washington Wizards forward Paul Pierce was declared out of Tuesday's game against the Minnesota Timberwolves with a sore right toe.

Upvote Share Tweet

nba.com

Dec 16 (2 days ago)

Minnesota Timberwolves backup center Ronny Turiaf will miss the rest of the season recovering from arthroscopic surgery on his right hip.

Upvote Share Tweet

Ricky Rubio Is Running On His Own, Progressing Ahead Of Schedule

dimemag.com

Dec 16 (2 days ago)

The Minnesota Timberwolves are going nowhere this season, but that doesn't mean it's not important. Crucial for the team's long-term prognosis is the daily development of youngsters Andrew Wiggins, Zach LaVine, Shabazz Muhammad, and Gorgui Dieng. And wh…

Upvote Share Tweet

howlintwolf.com dimemag.com timberpups.com

Dec 15 (3 days ago)

On a foggy Sunday night in Minneapolis the Los Angeles Lakers and Kobe Bryant were in town as 32,292 – the 'Jordan Number' was up for grabs. Bryant needed only 9 points coming into the evening to move into third on the NBA's all-time scoring list; behin…

Upvote Share Tweet

Timberpups Weekly Preview – Week 8

timberpups.com

Dec 14 (4 days ago)

Setting the stage: The Minnesota Timberwolves head into week eight with a 5-17 record before Sunday night's game against the Los Angeles Lakers at the Target Center. After Sunday's game the Wolves will head east for two games before returning home to wr…

Upvote Share Tweet

Just One Quarter Done

howlintwolf.com

Dec 13 (5 days ago)

By: Rob Hess Depending on whom you ask, you will hear different theories on how the current Timberwolves season has gone so far. A diehard might say it's a blessing in disguise, while the more prevalent fair-weather fan will say another lost season, and…

Upvote Share Tweet

timberpups.com howlintwolf.com

Dec 13 (5 days ago)

The Wolves weren't going to beat the Thunder. This much was clear after a disastrous first quarter put Minnesota in an early 18 point hole. After the Wolves forced a shot clock violation on their first defensive possession, Oklahoma City went on to scor…

Upvote Share Tweet

GIF: Watch Damian Lillard Jam The Inbounds Lob

dimemag.com

Dec 11

Tough Wednesday night for Damian Lillard, who shot an uncharacteristic 2-for-12 from deep against the lowly Timberwolves, and Portland was upset in Minnesota, 90-82. However, Dame showed off the hops when he threw down a two-handed jam after a pretty li…

Upvote Share Tweet

Timberwolves Break Losing Streak, Top Trailblazers 90-82

timberpups.com

Dec 11

The Timberwolves snapped a six-game losing streak and came away with the "W" over Portland Wednesday night. Rookie Andrew Wiggins led the team with 23 points and 10 rebounds, notching his first career double-double. Corey Brewer followed with 19 points.…

Upvote Share Tweet

dimemag.com ESPN.com howlintwolf.com

Dec 11

This is the type of game that will be commonplace for Andrew Wiggins in just a few years' time. Watch the Minnesota Timberwolves' prized rookie lead his team to a surprising victory over the Portland Trail Blazers with an energetic all-around effort hig…

Upvote Share Tweet

GIF: Shabazz Muhammad Throws Down Hammer On Chris Kaman

dimemag.com

Dec 10

The best thing about rookies? They become sophomores. Shabazz Muhammad is the latest example of that rule of thumb, and the Minnesota Timberwolves wing is showing it against the Trail Blazers. Watch Muhammad continue his strong play of late by rising fo…

Upvote Share Tweet

Warriors ride defense to 13th straight win

ESPN.com

Dec 8

Stephen Curry overcame a rare off night from long range to post 21 points and seven assists and help the Golden State Warriors to their 13th consecutive win with a 102-86 victory over the Minnesota Timberwolves.

Upvote Share Tweet

The Wolves' Super Sophomores

howlintwolf.com

Dec 8

Last Friday David Thorpe, a former coach and writer for ESPN, released his list of Best Second-Year Players in the NBA. Well, wouldn't ya know it, Thorpe ranked two of the Wolves' sophomores in his top three and another ninth with kind words to say for …

Upvote Share Tweet

Wolves "Out-Fundamentaled" by Spurs, Lose 123-101

howlintwolf.com

Dec 7

"They are who we thought they were." The Wolves had a quick turnaround after their hard fought, overtime loss against the Houston Rockets the night before. The team didn't arrive in San Antonio until nearly 5:00 a.m. to play the defending NBA champions.…

Upvote Share Tweet

It's amazing how much of a difference effort can make. Just 48 hours after a humiliating defeat at the hand of the previously winless Sixers, the Wolves found themselves with a four point lead over the Rockets in the final minute. Leading the charge was…

Upvote Share Tweet

yahoo.com

Dec 5

Kobe Bryant has been through quite a bit in his basketball career, but he's never been through anything like this. The Lakers are bad. Truly awful. The team has the worst defense in the league by far, worse than a Minnesota Timberwolves team that is pri…

Upvote Share Tweet

Who Will Be Rookie Of The Year?

Dec 18

With Jabari Parker out for the season, David Thorpe says it is Andrew Wiggins' award to lose.

Miller Putback Failure

Dec 16

Wizards guard Andre Miller tries to finish with a dunk off a missed shot and fails miserably.

Wall Leads Wizards Past Wolves

Dec 16

John Wall scored 21 points and had 17 assists in the Wizards' 109-95 win over the Wolves.

Kobe Passes Jordan In Lakers' Win

Dec 14

Kobe Bryant passed Michael Jordan on the all-time scoring list as the Lakers held off the Wolves 100-94.

Sports Columnists

Rajon Rondo trade from Boston Celtics to Dallas Mavericks 'on course' to h…

Dec 18

A source with knowledge of the Rajon Rondo trade talks say a "deal is on course to happen tonight."

Every NBA Team's Chance Of Winning A Title By 2019

Dec 18

I can see Madison Square Garden from my Manhattan apartment. This year, the arena installed along the exterior columns of the building -- blue, red a...

Rajon Rondo subject of Boston Celtics-Dallas Mavericks trade talks

Dec 17

The Boston Celtics, after years of flirting with potential Rajon Rondo deals, are in substantive discussions on a trade that would send Rondo to the Dallas Mavericks, according to league sources.