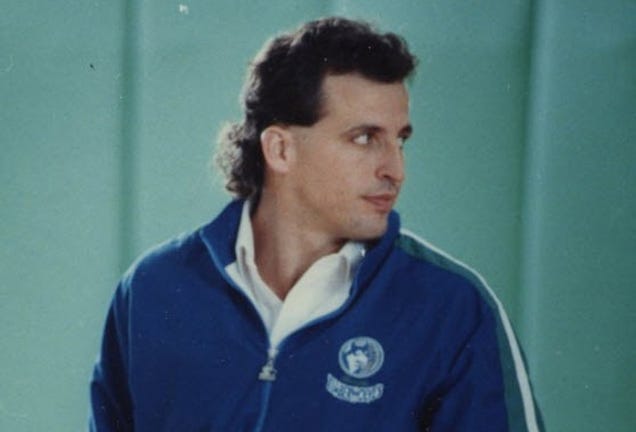 Tom Thibodeau Used To Be A Stud With A Gorgeous Mullet
deadspin.com
Updated Apr 27 (6 days ago)
Tom Thibodeau is the new president/coach of the Minnesota Timberwolves, but it's not the first time he's worked with the team. In 1989, he took a job with the T-Wolves as an assistant coach under Bill Musselman. At that time, Thibs also had some gloriou…
Share
Tweet
Thibodeau's role with Wolves: 'It's about alignment, not power'

nba.com

Apr 27

Tom Thibodeau came to Minnesota for the impressive young core of talent assembled.

Share Tweet

deadspin.com nba.com dimemag.com

Apr 20

The Minnesota Timberwolves have been flirting with mere mediocrity since Kevin Garnett left town nearly a decade ago. Their highest finish in the Western Conference in the past ten years was a tenth place in 2014, after which they traded Kevin Love and …

Share Tweet

Report: Wolves to interview Jackson for coaching positon

nba.com

Apr 19

After interviewing Tom Thibodeau and Jeff Van Gundy for their head coaching vacancy, the Minnesota Timberwolves plan to meet with Mark Jackson to continue the search, a person with knowledge of the process told The Associated Press on Tuesday.

Share Tweet

dimemag.com ESPN.com

Apr 18

Getty Image Focus of the NBA world has almost fully shifted to teams competing for the Larry O'Brien Trophy. And if the Minnesota Timberwolves get their man, Karl-Anthony Towns, Andrew Wiggins, and company could be in the postseason spotlight as soon as…

Share Tweet

Powell, Towns named Kia Rookies of Month for April

nba.com

Apr 15

The Toronto Raptors' Norman Powell and the Minnesota Timberwolves' Karl-Anthony Towns today were named the Kia NBA Eastern and Western Conference Rookies of the Month, respectively, for games played in April.

Share Tweet

The Minnesota Timberwolves have announced Sam Mitchell has been relieved of his interim head coaching duties, effective immediately, and the team will initiate a search for both a new head coach and a new head of basketball operations. Due to the sudden…

Share Tweet

The Wolves Officially Relieve Sam Mitchell Of Coaching Duties And Set Their Sights On Big Names

USA TODAY Sports The Minnesota Timberwolves' season came to an end on Wednesday night with the team's blindingly bright future on full display in a 144-109 drubbing of the New Orleans Pelicans. Karl-Anthony Towns had 28 points and 14 rebounds, while And…

Share Tweet

Zach LaVine Saved His Best In-Game Dunk Of The Season For Its Last Game

Our favorite aspect of this crazy alley-oop jam by Zach LaVine? That the two-time reigning Slam Dunk Contest champion leapt off 2 feet. For each of his insane slams at All-Star Weekend over the past two years, the Minnesota Timberwolves guard jumped off…

Share Tweet

Karl-Anthony Towns Might Be The Only Seven-Footer Capable Of This Crazy Coast-To-Coast Take

What else is there to say about Karl-Anthony Towns? The Minnesota Timberwolves big man and Rookie of the Year shoo-in had already drained a pair of triples against the New Orleans Pelicans before busting out his handle on this coast-to-coast take. Is th…

Share Tweet

ESPN.com

Apr 12

Dwight Howard gets involved as the Rockets beat Timberwolves

Share Tweet

Hawks' Millsap, Wolves' Towns named Players of Week

nba.com

Apr 11

The Atlanta Hawks' Paul Millsap and the Minnesota Timberwolves' Karl-Anthony Towns today were named NBA Eastern and Western Conference Players of the Week, respectively, for games played Monday, April 4 through Sunday, April 10.

Share Tweet

ESPN.com

Apr 9

Rookie of the Year: Karl-Anthony Towns, Timberwolves

Share Tweet

yahoo.com

Apr 8

The Golden State Warriors inspired rare doubt on Tuesday night after suffering an overtime loss to the lottery-bound Minnesota Timberwolves. While no 69-9 team can truly be in crisis, dropping a second home game in three tries in the midst of a string o…

Share Tweet

yahoo.com

Apr 7

We haven't seen Kevin Garnett take the floor since January 23, when he played nine minutes in the Minnesota Timberwolves' 106-101 win over the Memphis Grizzlies before bowing out of the Wolves' lineup due to right knee soreness. He's still been there on…

Share Tweet

No Losing Team Is As Fun Or As Intriguing As The Timberwolves

deadspin.com

Apr 6

It would be an overreaction to last night's overtime victory over the Warriors to proclaim that it heralds the Timberwolves' arrival. It was just one game, after all, and the team is still just 26-52, the fifth-worst record in the NBA. It also remains t…

Share Tweet

Steph Curry Finally Addresses At Least One Component Of North Carolina's Anti-LGBT Law

USA TODAY Sports With the Golden State Warriors' margin of error for hitting 73 wins now razor-thin after a shocking home loss to the Minnesota Timberwolves, they can't afford to lose focus if they want that record (or to return to the NBA Finals). Yet …

Share Tweet

Andrew Wiggins Gave What Marv Albert Calls 'The Delusional Interview Of The Season'

"We can win on any given night." What else is Andrew Wiggins supposed to say after his team just became the second squad to defeat the 69-9 Warriors in Golden State this season? That the Timberwolves got lucky? That they wouldn't win a seven-game series…

Share Tweet

The Warriors Are Ready For The Regular Season To End

deadspin.com

Apr 6

After a 124-117 overtime loss to the Timberwolves, the Golden State Warriors have lost two out of their last three, and looked rough getting there. They turned the ball over a season-high 24 times, saw Minnesota attempt 28 more free throws, and allowed …

Share Tweet

yahoo.com

Apr 6

The Golden State Warriors have cruised through the bulk of this regular season, logging highlight-filled blowouts and breaking NBA records as a matter of course. Suddenly, with just over a week left to play before the playoffs, they look tired, prone to…

Share Tweet

The Timberwolves Beat The Warriors In Overtime For The Season's Biggest Upset

Getty Image With three minutes and 21 seconds remaining in the second quarter, the Golden State Warriors led the Minnesota Timberwolves 25-10. There was ample time left in the game, of course, but its remaining 40 minutes seemed something like a formali…

Share Tweet

NBA Top 3 Plays Of The Night

Mar 19

Check out the top three plays from the night in the NBA, including Archie Goodwin's big dunk.

Wolves Top Knicks In OT

Mar 19

Kevin Martin, Zach LaVine, Andrew Wiggins and Gorgui Dieng combined to score 81 of the Timberwolves' 95 points in an overtime win over the Knicks.

Ginobili Won't Be Rushed Back

Mar 16

ESPN NBA Insider Chris Broussard discusses why coach Gregg Popovich won't rush Manu Ginobili back, who sprained his right ankle during the Spurs' win over the Timberwolves.

Ginobili Isn't Ready

Mar 15

As San Antonio Spurs guard Manu Ginobili was preparing for a free throw, the referee passed him the ball unexpectedly and it bounced and hit Ginobili in the face.