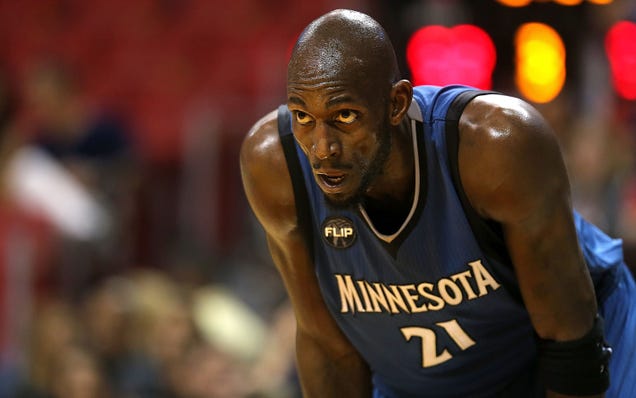 deadspin.com
Updated Nov 25 (6 days ago)
ESPN's Jackie MacMullan wrote an awesome story about Kevin Garnett, who at 39 years old has been called on by the Minnesota Timberwolves to mentor the team's crop of talented young players in his famously intense style. The story is great because it goe…
Share
Tweet
Wolves' Rubio expects to play Tuesday vs. Magic

nba.com

17 hours ago

Minnesota Timberwolves coach Sam Mitchell says he expects point guard Ricky Rubio to return from a two-game absence on Tuesday night against Orlando.

Share Tweet

deadspin.com

Nov 23

Reader Chris caught this odd moment during today's Sixers-Timberwolves matchup, as late in the game a play demanded review from the NBA's replay center in Secaucus. The live camera shot from inside that center showed, strangely, the movie Animal House s…

Share Tweet

Timberwolves moving Martin into starting lineup

nba.com

Nov 22

Minnesota Timberwolves coach Sam Mitchell is inserting Kevin Martin into the starting lineup in hopes of jumpstarting a struggling offense.

Share Tweet

yahoo.com deadspin.com

Nov 18

The young and exciting Minnesota Timberwolves have become darlings of the NBA over the season's first few weeks, making budding stars of Andrew Wiggins and Karl-Anthony Towns and playing with a passion that makes them very fun to watch. Wednesday's visi…

Share Tweet

yahoo.com

Nov 18

It takes a special performance to be the biggest story in a loss. What Miami Heat center Hassan Whiteside did Tuesday against the visiting Minnesota Timberwolves certainly qualifies. Whiteside blocked his 10th shot of the night with 2:04 remaining in th…

Share Tweet

Wolves' Rubio listed as questionable for Sunday's game vs. Grizzlies

nba.com

Nov 14

After Ricky Rubio missed so much time last season due to a severe ankle injury, the Minnesota Timberwolves knew he was susceptible to a few nagging muscle pulls and strains as he started his comeback.

Share Tweet

Report: Wolves owner negotiating to sell minority share

nba.com

Nov 13

Minnesota Timberwolves owner Glen Taylor has been searching for several years for an investor who would be willing to purchase a minority share of the team and let Taylor continue to run the show for a few more years before eventually taking over as the…

Share Tweet

deadspin.com yahoo.com

Nov 13

It's only taken eight games for Timberwolves rookie Karl-Anthony Towns to establish himself as one of the dopest young players in the league—seriously, go watch some KAT highlights right now if you haven't seen him play yet; he's extremely good—but not …

Share Tweet

yahoo.com

Nov 13

The Minnesota Timberwolves already knew they were facing an uphill battle entering Thursday night's nationally televised home game against the defending NBA champion Golden State Warriors. The task of defeating the league's last remaining unbeaten team …

Share Tweet

Wolves' Wiggins sits with sore knee vs. Hornets

Share Tweet

The T-Wolves Clobbered The Hawks And Slap-Happy Jeff Teague

deadspin.com

Nov 10

It had been a long and frustrating sequence for Jeff Teague. He'd had his shot blocked twice by terrifying rubber giant Karl-Anthony Towns. The refs had missed a possible eight-second violation on the Timberwolves. Andrew Wiggins hit a crazy and-one. A …

Share Tweet

For most of its runtime, Monday night's matchup between the Minnesota Timberwolves and Atlanta Hawks at Philips Arena looked headed for arguably the most unlikely result of the NBA season so far. The young and talented Wolves dominated the Hawks in the …

Share Tweet

Bulls hit early crossroads after loss to Timberwolves

ESPN.com

Nov 7

Bulls hit early crossroads after loss to Timberwolves

Share Tweet

yahoo.com

Nov 6

For all the undeniably excellent things about Dwyane Wade's game, he has often come under fire for his inability to develop a consistent long-range shot. He's a 29 percent 3-point shooter over the course of his 13-year career, and has never shot better …

Share Tweet

yahoo.com

Nov 4

Lottery prospect Emmanuel Mudiay went through a pair of pre-draft workouts with the Los Angeles Lakers, who held the No. 2 pick in June's 2015 NBA draft. After Karl-Anthony Towns went off the board to the Minnesota Timberwolves with the evening's first …

Share Tweet

yahoo.com deadspin.com

Nov 2

Before Monday's home opener against the Portland Trail Blazers, the Minnesota Timberwolves paid tribute to late head coach, president of basketball operations and part-owner Flip Saunders, who died on Oct. 25 at age 60 after a battle with Hodgkin lympho…

Share Tweet

NBA Top 3 Plays Of The Night

Mar 19

Check out the top three plays from the night in the NBA, including Archie Goodwin's big dunk.

Wolves Top Knicks In OT

Mar 19

Kevin Martin, Zach LaVine, Andrew Wiggins and Gorgui Dieng combined to score 81 of the Timberwolves' 95 points in an overtime win over the Knicks.

Ginobili Won't Be Rushed Back

Mar 16

ESPN NBA Insider Chris Broussard discusses why coach Gregg Popovich won't rush Manu Ginobili back, who sprained his right ankle during the Spurs' win over the Timberwolves.

Ginobili Isn't Ready

Mar 15

As San Antonio Spurs guard Manu Ginobili was preparing for a free throw, the referee passed him the ball unexpectedly and it bounced and hit Ginobili in the face.