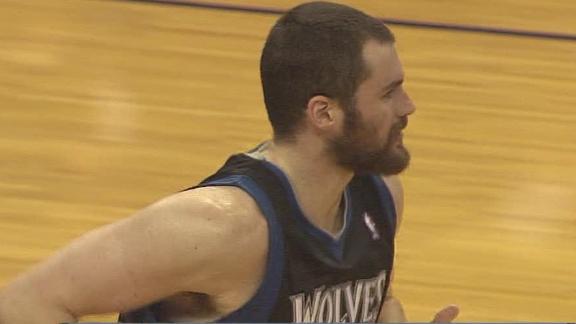 No Love, no problem; Wolves win 113-102

howlintwolf.com

Dec 14, 2012

The Wolves' guard play was outstanding tonight Two Positives: Jonah: It would be an utter insult if Andrei Kirilenko doesn't make it to this year's All-Star Game. Judging by the current voting trends, he won't but if anyone were to see tonight'

Share Tweet

Timberwolves coach Rick Adelman says guard Ricky Rubio worked out in Minnesota on Friday and is "very close" to returning from torn left knee ligaments that have sidelined him since March.

Share Tweet

Minnesota Timberwolves guard Malcolm Lee will be out indefinitely with an injury to his right knee.

Share Tweet

howlintwolf.com

Dec 14, 2012

Kevin Love and Anthony Davis chum it up with Team USA last summer, but face each other as opponents for the first time tonight. Where: New Orleans When: 7pm See It: FSN Hear It: WCCO-AM 830 I won't lie, I really don't feel like writing about baske

Share Tweet

Preview: Wolves at Hornets Featuring Christian Blanks of Swarmandsting.com

timberpups.com

Dec 14, 2012

For Friday night's game preview against the New Orleans Hornets (or Pelicans) we've partnered with Christian Blanks from Swarmandsting.com.  We've posed a few questions to one another on several hot topics for both teams. The Pups come into Fridayâ

Share Tweet

Wolves Top Hornets

Dec 14

With six players in double digits, Timberwolves defeat Hornets for their fifth win in six games.