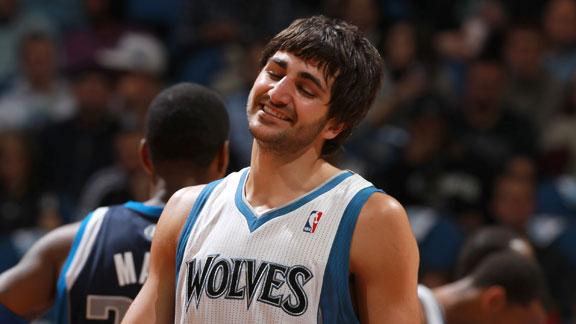 ESPN.com
nba.com
timberpups.com
Updated Dec 15, 2012
Ricky Rubio made a triumphant return to the court with nine assists and eight points in 19 minutes, energizing the Minnesota Timberwolves in a 114-106 overtime victory over the Dallas Mavericks on Saturday night.
Share
Tweet
howlintwolf.com timberpups.com

Dec 15, 2012

Ricky! Knock it off. I see what you're doing… Where: Target Center (Get your tickets!) When: 7pm See It: My29 Hear It: WCCO-AM 830 In European folklore, the unicorn is a mythical creature that was seen as a creature of purity and grace, and could

Share Tweet

deadspin.com

Dec 15, 2012

As Kelly Dwyer noted, Kevin McHale and Kevin Garnett have been intertwined for a long time: McHale retired from the NBA in 1993, and was GM of the Minnesota Timberwolves only two years later. In the 1995 NBA draft, he made the seemingly risky decision t…

Share Tweet

Trade ideas: Well, judging by the current state of the team an…

howlintwolf.com

Dec 15, 2012

Well, judging by the current state of the team and the number of DNP-CD's that Derrick Williams has recorded this season, it's about time to consider what will come of the former second overall pick just two summers ago. Here are some fun mock up trad

Share Tweet

Rubio Returns, Wolves Win

Dec 15

Ricky Rubio scored eight points and recorded nine assists in his return as the Timberwolves defeated the Mavericks in overtime 114-106.