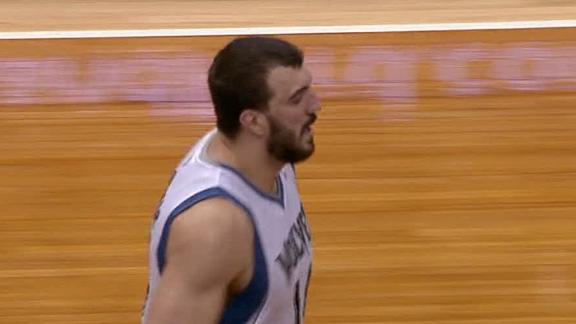 ESPN.com
nba.com
howlintwolf.com
Updated Jan 8, 2013
Nikola Pekovic had 25 points and a career-high 18 rebounds, Andrei Kirilenko added 21 points and the Minnesota Timberwolves beat the Atlanta Hawks, 108-103, on Tuesday night.
Share
Tweet
James Harden Does Whatever He Wants Against The Lakers; LeBron Loses A Battle With A Future Star

dimemag.com

Jan 8, 2013

If you were busy trying to breakdown Mike D'Antoni's gameplan, which consisted of the coach determining subs by using "Eeny, meeny, miny, moe," you might've missed out on James Harden. He was only the best player on the floor by a mile in Housto

Share Tweet

Ricky Rubio's Behind the Back Pass Leads to Three-Pointer

dimemag.com

Jan 8, 2013

One of the NBA's finest passers, Ricky Rubio, had an amazing behind the back dime to Derrick Williams who knocked down the three-point jumper in tonight's matchup between the Minnesota Timberwolves and Atlanta Hawks.

Share Tweet

Pekovic, Wolves Hold Off Hawks

Jan 8

Nikola Pekovic's double-double, 25 points and 18 boards, leads Timberwolves to 108-103 win over Hawks.