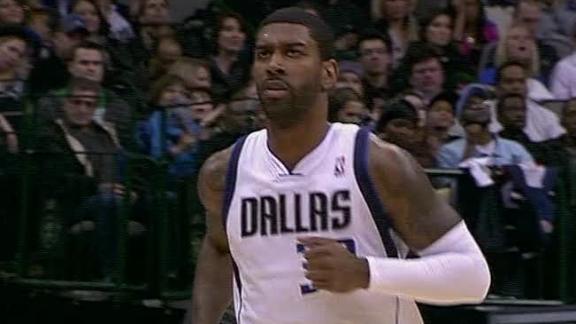 Mavericks win 3rd straight behind Collison
Updated Jan 14
Share
Tweet
Darren Collison led six players in double figures with 23 points and the Dallas Mavericks matched their season high with a third straight win in a 113-98 victory against the Minnesota Timberwolves on Monday night.
Source:
ESPN.com
Ready to come home: Wolves-Mavs Preview

Updated Jan 14

Share Tweet

JJ Barea returns to Dallas. This time to actually play Where: American Airlines Arena, Dallas, TX When: 7:30 pm See It: FSN Hear It: WCCO AM 830 The Wolves can't be more excited to be over with this dreadful road trip. Trying to avoid a four-game los

Updated Jan 14

Share Tweet

Kevin Love goes under the knife tomorrow The Minnesota Timberwolves report that Kevin Love is undergoing surgery tomorrow to repair the third and fourth metacarpals on his right hand that he injured over a week ago in Denver. Recovery time is estimated …

Updated Jan 14

Share Tweet

Manu Ginobili, who got hurt, demonstrates how easy it is to get into the lane against the Wolves Two Positives: Jonah: For starters, JJ Barea got himself back on the court after sitting the last two games with a bad back. He's the only spark off the be

Minnesota Timberwolves 88 — San Antonio Spurs 106

Updated Jan 14

Share Tweet

Get ready for one of the seediest recaps you will ever see on this site.  I'm a Seahawks fan and they lost a heartbreaker earlier today.  Now, I have to watch the Twolves at half strength play the Spurs, who are coming off a bad loss to the Grizzlies.

Source:

timberpups.com

Mavs Win Third Straight

Jan 14

Mavericks hand the Wolves their fourth straight loss 113-98.