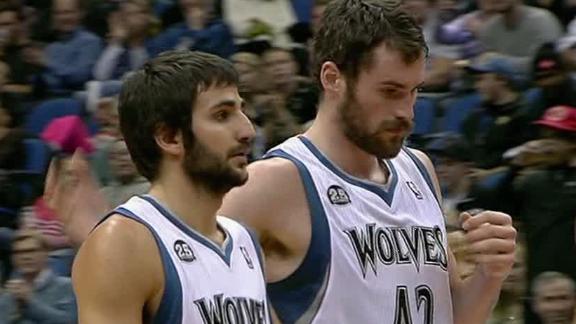 Mavericks at Timberwolves Preview: What WHAT

howlintwolf.com

Nov 8, 2013

Somehow, all of us at Howlin T-Wolf are a little busy tonight, so in lieu of a real preview, here's exclusive footage of the Mavericks locker room before every game. Very important: Dirk Nowitzki's thong sandals and untucked jersey. GUESS what DAY IT is…

Share Tweet

J.J. Barea Accompanied By Super Mario Bros. "Invincibility" Music

dimemag.com

Nov 8, 2013

Widdle 'Wolves guard J.J. Barea is an NBA champion, and used to date a former Miss Universe, so he's got a good life. But is he invincible? After a writer suggested watching all of J.J. Barea's on-court action accompanied by the Super Mario Bros. "Invin…

Share Tweet

Gorgui Dieng shows flashes as a rim defender

howlintwolf.com

Nov 8, 2013

Gorgui Dieng is an afterthought for most Wolves fans at the moment. That's probably fair. After all, the three scenarios in which he receives minutes at the moment are 1) The Wolves are up by 20 late in the game, 2) Ronny Turiaf is injured, Pek needs a …

Share Tweet

Love Powers Wolves Past Mavs

Nov 8

Kevin Love scored 32 points and grabbed 15 rebounds in the Timberwolves' 116-108 win over the Mavericks.

Ready for the NBA?

Nov 8

ESPN NBA Insider assesses some big-name rookies, and whether they are ready to contribute in the NBA right now.