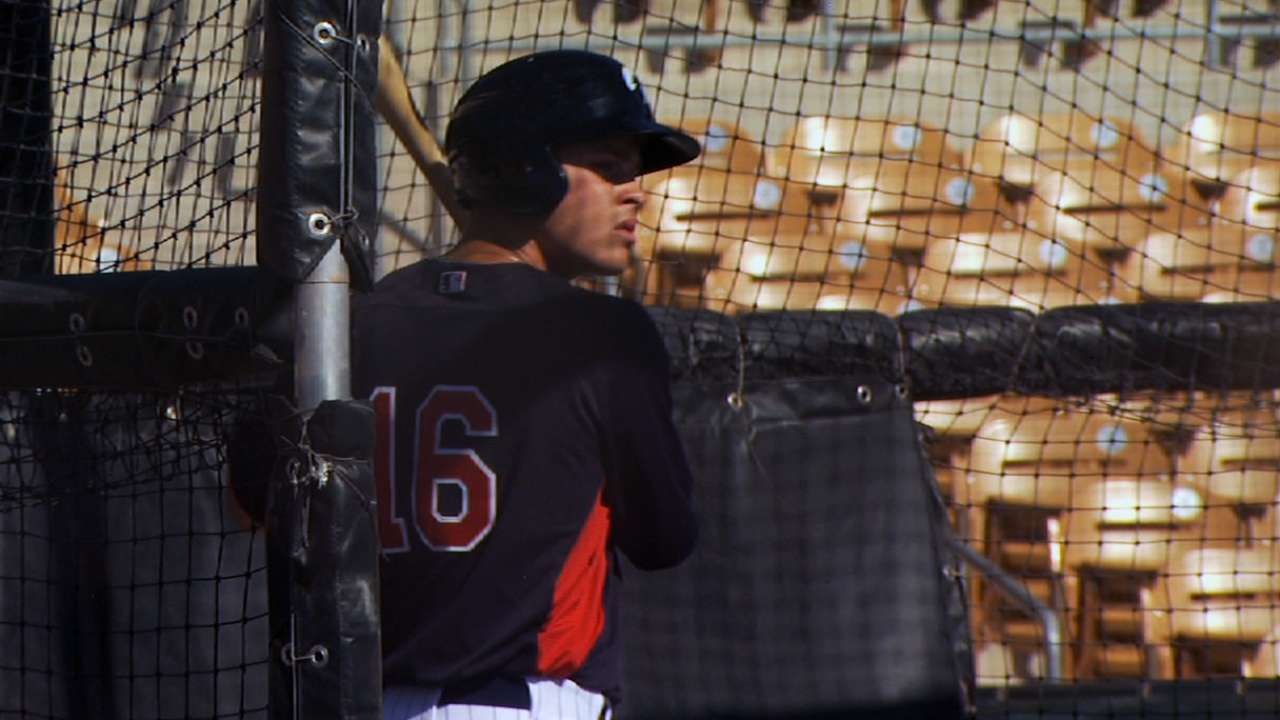 Pitchers unfazed by 20-second clock in third test run

MLB.com

Oct 18 (6 days ago)

In the third test run of the 20-second pitch clock at the Arizona Fall League, there were no violations of the time-saving measure as Peoria and Salt River played to an 11-inning, 3-3 tie Friday night. Twins prospect Eddie Rosario shined for Salt River,…

Upvote Share Tweet

Twins' Buxton gets bat going in Fall League action

MLB.com

Oct 13

Buxton, an outfielder in the Twins organization, put his entire arsenal of tools on display Monday as he led the Salt River Rafters to a 7-4 victory over the Surprise Saguaros.

Upvote Share Tweet

Avid collector Neshek rolling in baseball cards

MLB.com

Oct 8

Dating back to his rookie year with the Twins, in 2006, Pat Neshek has had a deal with the fans: Send him a card of anyone who has played in the history of Major League Baseball, and he'll send back a Pat Neshek card. To date, Neshek estimates that he h…

Upvote Share Tweet

Major League Baseball Roundup

nytimes.com

Oct 7

Bench coach Chip Hale was granted permission from the Oakland Athletics to interview for managerial openings with the Minnesota Twins and Arizona Diamondbacks.

Upvote Share Tweet

Ryan has strong internal pool, but will also look outside

MLB.com

Oct 6

When Twins general manager Terry Ryan described his ideal candidate to replace Ron Gardenhire as manager, he left the door open on bringing in a fresh voice from outside of the organization. But he also hinted that finding a manager from within the orga…

Upvote Share Tweet

Molitor, Twins meet to talk about manager job

ESPN.com

Oct 1

Paul Molitor is expected to meet with the Minnesota Twins about their vacant managerial job, the Star Tribune reported.

Upvote Share Tweet

nytimes.com MLB.com ESPN.com yahoo.com

Sep 30

In each of the last four years, Minnesota lost at least 92 games under Gardenhire, who had the second-longest active tenure in the major leagues.

Upvote Share Tweet

GM Ryan back with Twins; Gardy mulls future

MLB.com

Sep 29

Terry Ryan confirmed he'll be back as Twins general manager next season, but Ron Gardenhire's future with the organization still remains undecided after being offered an undisclosed job with the Twins despite being dismissed as manager on Monday.

Upvote Share Tweet

Twins, Ryan open up managerial search

MLB.com

Sep 29

The Twins have lost at least 92 games in four straight seasons, but with a loaded farm system on the way and the emergence of several young players, general manager Terry Ryan believes it'll still be an attractive job. He said he'll look both inside and…

Upvote Share Tweet

Former Twins manager Kelly suffers stroke

ESPN.com

Sep 29

The Minnesota Twins say former manager Tom Kelly is recovering after suffering what the team calls a minor stroke last week.

Upvote Share Tweet

Twins pitcher Ricky Nolasco says he wishes he still played for Dodgers

yahoo.com

Sep 29

They say honesty is the best policy. In the case of Minnesota Twins right-hander Ricky Nolasco, they are full of baloney. Nolasco, who just finished the first season of a four-year, $49 million contract, mentioned overnight on Twitter that he'd rather b…

Upvote Share Tweet

MLB.com yahoo.com nytimes.com ESPN.com

Sep 28

The Tigers are American League Central champs after defeating the Twins, 3-0, on Sunday afternoon at Comerica Park. Detroit's win, its 90th victory of the season, made Kansas City's result in Chicago against the White Sox irrelevant, as it locked up the…

Upvote Share Tweet

ESPN.com

Sep 28

Tigers outfielder Rajai Davis is out of the lineup Sunday against Minnesota because of a sprain around his midsection.

Upvote Share Tweet

Not Top Plays

Oct 3

Catch the best and worst plays from "SportsCenter".

Molitor, Twins To Discuss Manager Job

Oct 1

Twins beat writer La Velle Neal discusses the news that Paul Molitor is expected to meet with the Twins about their vacant managerial job.

Gardenhire Takes The Fall For Twins' Woes

Sep 29

Eric Karabell and David Schoenfield discuss the Twins' firing of longtime manager Ron Gardenhire.

Tigers Clinch AL Central

Sep 28

David Price struck out eight batters over 7 1/3 innings in the Tigers' 3-0 win over the Twins, clinching the AL Central division title.