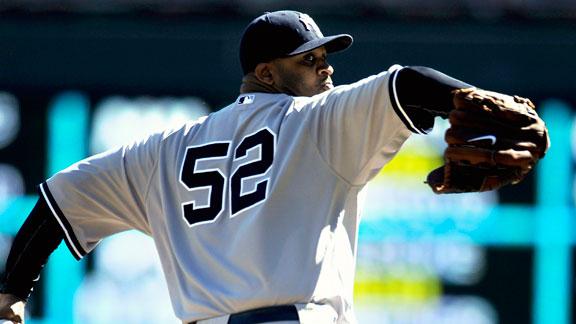 nydailynews.com
ESPN.com
Updated Sep 26, 2012
All around the Yankee clubhouse, there was no mistaking the vibe. CC Sabathia was on his game again and you could practically feel what it meant to this ballclub, with the postseason looming.
Share
Tweet
Jeter's hit streak ends at 19 games

MLB.com

Sep 26, 2012

Derek Jeter's season-long hit streak came to an end at 19 games on Wednesday. Jeter went 0-for-4 with a walk and strikeout in New York's 8-2 win over the Twins at Target Field.

Share Tweet

MLB.com

Sep 26, 2012

Alex Rodriguez was not in the Yankees' starting lineup for Wednesday's game against the Twins after taking a foul tip off his foot on Tuesday.

Share Tweet

State of the Race: Overmanaging or Bad Luck?

nytimes.com

Sep 26, 2012

Yankees Manager Joe Girardi made a pitching move on Tuesday night that was a no-brainer for him, but it backfired.

Share Tweet

ESPN.com

Sep 26, 2012

The Yankees missed a chance to go up 2 1/2 games on Baltimore in a 5-4 loss to the Twins on Tuesday night.

Share Tweet

Sabathia Strikes Out 10 As Yanks Cruise

Sep 26

CC Sabathia struck out 10 and allowed two runs over eight innings and the Yankees scored six runs in the third inning to beat the Twins 8-2.