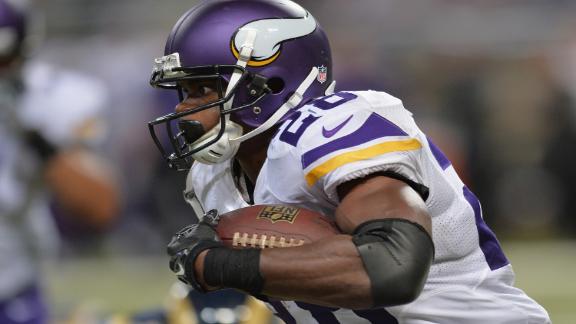 startribune.com
profootballtalk.com
ESPN.com
nytimes.com
deadspin.com
yahoo.com
Updated 31 minutes ago
The Star Tribune's Matt Vensel joins CineSport's Brian Clark to discuss what Thursday's ruling means for Adrian Peterson's future with the Vikings.
Upvote
Share
Tweet
profootballtalk.com

10 hours ago

Adrian Peterson's win in Judge David Doty's courtroom today isn't just a win for the Vikings running back. Other players who were stuck in commissioner's exempt limbo caught a break as well. A league source tells PFT that Panthers defensive end Greg Har…

Upvote Share Tweet

startribune.com

14 hours ago

Brandon Bostick, the tight end whom the Vikings claimed off waivers last week, has shared an interesting first-person piece for MMQB.com about his emotions and experiences in the aftermath of that botched attempt at recovering an onside kick late in las…

Upvote Share Tweet

Vikings mock draft roundup: now in Waynes' world?

startribune.com

14 hours ago

The NFL scouting combine is now a few days behind us, which means the draftniks have had sufficient time to update their mock drafts to reflect what was learned in Indy. It is still more than two months until the actual draft, and future events — none b…

Upvote Share Tweet

Some NFL free agency 'don'ts'

startribune.com

Feb 25 (yesterday)

A week from Saturday, NFL teams and agents for players who will become unrestricted free agents are allowed to begin negotiating. But they can't sign off on a deal until 3 p.m. CT on March 10, three days later. This, of course, causes concern among thos…

Upvote Share Tweet

ESPN.com

Feb 24 (2 days ago)

MINNEAPOLIS -- Any football department run by a general manager as meticulous as the Minnesota Vikings' Rick Spielman -- who rates draft prospects down to the thousandth of a point -- is going to have a fairly high view of information gathering. Before …

Upvote Share Tweet

NFL combine recap: Vikings takeaways, winners, losers

startribune.com

Feb 24 (2 days ago)

The NFL scouting combine is over, and the GMs, coaches, scouts, agents and pesky reporters have vacated Lucas Oil Field, the fancy hotels and expensive steakhouses where their business is done. So what did we learn? Who helped themselves? Who hurt thems…

Upvote Share Tweet

Nothing decided on Matt Cassel's status with Vikings

profootballtalk.com

Feb 24 (3 days ago)

The Vikings know who their starting quarterback is going to be in 2015 after watching Teddy Bridgewater make 12 starts as a rookie, but they aren't willing to commit to bringing Matt Cassel back as their backup. Cassel, whose 2014 ended early because of…

Upvote Share Tweet

Judge Rules In Favor Of Peterson, NFL To Appeal

Feb 26

Adam Schefter discusses a federal judge's ruling for Adrian Peterson, and what comes next with the NFL's decision to appeal.

Onside Kick Miscue Resulted In Death Threats

Feb 26

ESPN Packers reporter Rob Demovsky discusses how the botched onside kick recovery in the NFC Championship Game has affected the life of tight end Brandon Bostick.

Can Relationship Between Vikings, Peterson Be Saved?

Feb 26

Louis Riddick and Herm Edwards discuss how they would mend the relationship between the Vikings and Adrian Peterson.

Judge Rules Against NFL In Peterson's Appeal

Feb 26

ESPN Vikings reporter Ben Goessling discusses the news that a federal judge has ruled against the NFL in Adrian Peterson's appeal, and the appeal of his suspension now goes back to the arbitration process for a decision.