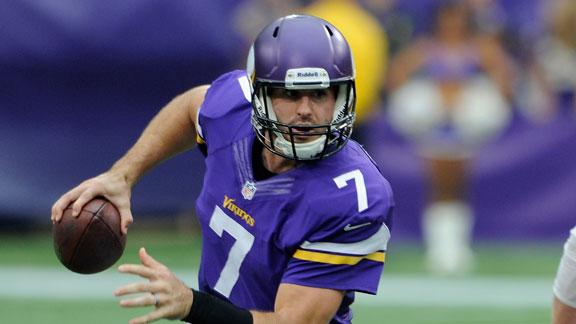 startribune.com
ESPN.com
profootballtalk.com
Updated Sep 25, 2013
Will he play Sunday or won't he? Christian Ponder returned to practice with a newly disclosed rib injury.
Upvote
Share
Tweet
Chewing the Cud Week 3.5

vikingsgab.com

Sep 25, 2013

After going 5-1 in one score games last year, it seems as if the time has come to pay the piper. Bummer. A common theme in Vikings games this year have been turnovers, both take- and giveaways. Some of the former have been lucky (aka bad decisions by Ja…

Upvote Share Tweet

Hartman: Vikings, stadium authority near deal

An announcement on financial arrangements could come as soon as Friday, and the digging could begin.

Upvote Share Tweet

Mark Wilf vows appeal, says $84.5 million verdict won't halt stadium

Vikings president Mark Wilf said the family will appeal a judge's damage award

Upvote Share Tweet

startribune.com ESPN.com

Sep 25, 2013

The Steelers quarterback and Pittsburgh coach Mike Tomlin talked about the Sunday matchup with the Vikings.

Upvote Share Tweet

Vikings GM Rick Spielman says he continues to monitor roster moves overseas In a rare appearance with the media Wednesday.

Upvote Share Tweet

VikesCentric: QB drama jumps up a notch

The drama surrounding the Vikings' quarterback situation jumped up a notch on Wednesday.

Upvote Share Tweet

Just about everyone was surprised when the Browns turned in a great effort on Sunday and upset the Vikings in Minnesota. Among those who were the most surprised was the daughter of Vikings running back Adrian Peterson. Peterson wrote on Twitter that whi…

Upvote Share Tweet

Jared Allen on British food (and more)

Defensive end Jared Allen talks about what he will (and won't) eat while the Vikings are in London.

Upvote Share Tweet

Cassel: 'I don't know the situation'

Matt Cassel talked about the Vikings quarterback situation after practice on Wednesday.

Upvote Share Tweet

Browns punter Spencer Lanning had a memorable day on Sunday. He became the first NFL player since 1968 to punt, kick an extra point and throw a touchdown pass in the same game during Cleveland's 31-27 victory over the Vikings. It's little surprise, then…

Upvote Share Tweet

Steelers coach Mike Tomlin said Tuesday that rookie running back Le'Veon Bell is on track to make his regular season debut in London against the Vikings this week, a return that some are looking to as a way for the Steelers running game in gear after th…

Upvote Share Tweet

Sean Gilbert announces plans to run for NFLPA executive director

In the 1990s, former Vikings coach Dennis Green wrote a book outlining his plans to eventually obtain ownership of the team. Now, one of the players who rose to prominence in the 1990s has written a book outlining his plans to run for the position of ex…

Upvote Share Tweet

Brady: Cassel may start this week

Sep 25

New England Patriots quarterback Tom Brady explains his close relationship with former teammates Brian Hoyer and Matt Cassel, and hints that Cassel might start this week for the Minnesota Vikings.