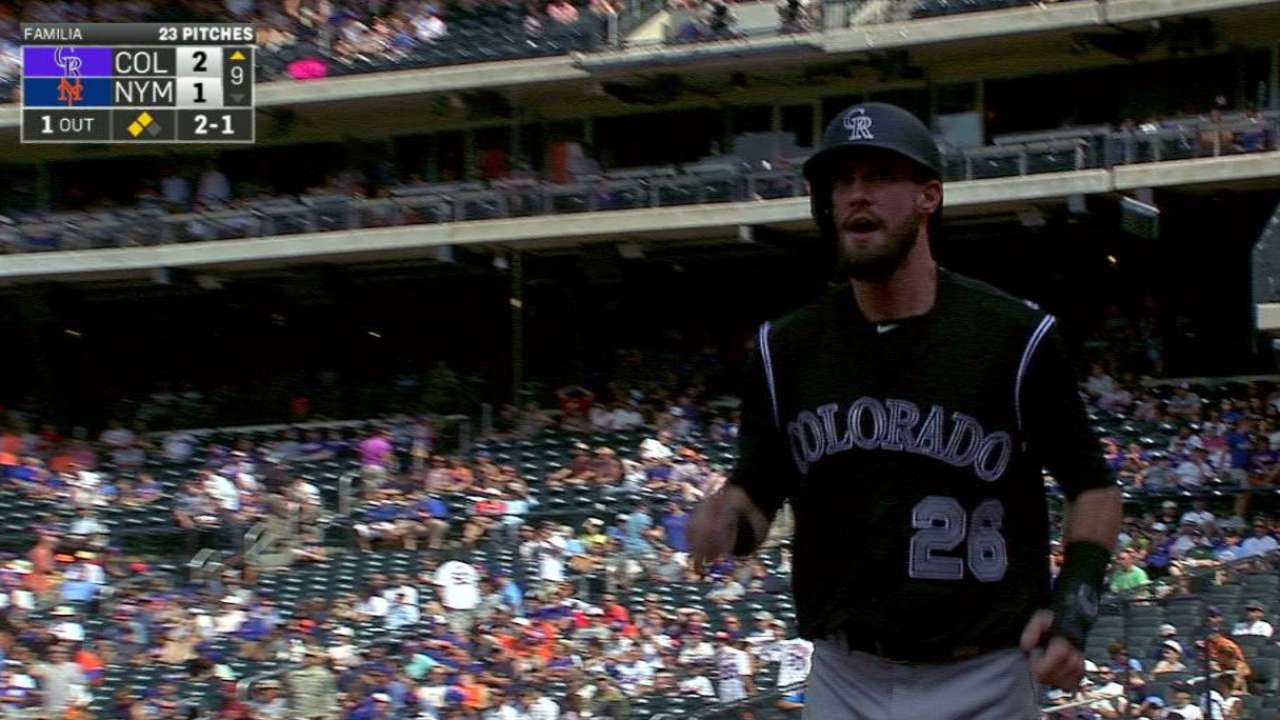 MLB.com
Updated 46 minutes ago
A Mets team that has not won consecutive games in three weeks is reeling. A Rockies club looking to establish itself as a postseason contender was more than happy on Thursday to take advantage. The Rockies scored the game-tying run on a fielding error a…
Share
Tweet
Brewers' bats outlast Ray's K's in finale win

MLB.com

1 hour ago

D-backs left-hander Robbie Ray may have set a career high with 11 strikeouts, but it was the Brewers who came away with a 6-4 win on Thursday afternoon as they took three out of four games in the series at Miller Park.

Share Tweet

Cespedes' quad injury flares up, keeps him out

MLB.com

1 hour ago

A day after crushing a go-ahead, two-run homer off the facing of Citi Field's second deck in left field, Yoenis Cespedes was out of the lineup with the same right quad injury that has affected him since before the All-Star break.

Share Tweet

Hamilton expects Rangers return in spring

MLB.com

2 hours ago

Josh Hamilton said he expects to be 100 percent and be back with the Rangers by Spring Training.

Share Tweet

yahoo.com

3 hours ago

Your browser does not support iframes. Miguel Sano went 1-for-5 and drove in two runs Wednesday night in a loss to the Atlanta Braves. Not a banner night by any means, but hardly the kind of performance you might expect to upset him. But Sano was angry …

Share Tweet

MLB.com nytimes.com yahoo.com ESPN.com

3 hours ago

Dee Gordon, who returned to the Marlins on Thursday after serving his 80-game suspension for testing positive for a performance-enhancing substance, issued a video apology before rejoining the team.

Share Tweet

Here is why the Trade Deadline in baseball is always great: Every year there are a couple of teams, and sometimes more than that, thinking if they can just get lucky, they can win the lottery. And end up winning it all.

Share Tweet

nytimes.com MLB.com

4 hours ago

The White Sox have activated ace Chris Sale from the suspended list following his jersey-tearing incident ahead of his start against the Cubs in Chicago's crosstown rivalry.

Share Tweet

Jonathan Lucroy Has A Quirk When He Bats

deadspin.com

5 hours ago

Many MLB players have odd routines at the plate. Ichiro draws his bat out in front of himself like a bow. David Ortiz takes approximately five hours to adjust his gloves. Jonathan Lucroy touches his shoulders. The Brewers catcher's habit isn't as elabor…

Share Tweet

Ranking top 10 teams with prospects to trade

MLB.com

5 hours ago

Guessing what other prospects could get dealt is a bit of a fool's errand, but there are teams who are better positioned than others to be buyers for big league talent. Below is a top 10 of teams in the playoff hunt, ranked according to talent and depth…

Share Tweet

Trade rumors swirl around evolving Davis

MLB.com

6 hours ago

Could the Royals trade Wade Davis? If so, teams will have to figure out what pitcher they're getting, because Davis is still preventing runs, but he's striking out fewer and walking more, while using his fastball very differently.

Share Tweet

Today's starting lineups: July 28

MLB.com

7 hours ago

Every lineup, every day, as they are made public by the clubs.

Share Tweet

On Baseball: Call it Selling. Call it 'Rearranging.' For Yankees, What Matters Is Whom and How Many?

nytimes.com

8 hours ago

The Aroldis Chapman trade was a start, but the Yankees must keep building. Trading the All-Star reliever Andrew Miller would bring back the biggest haul.

Share Tweet

yahoo.com

8 hours ago

Tragic is really the only way to describe what happened to the Milwaukee Brewers in the first two innings of Wednesday night's game against the Arizona Diamondbacks. Two players, right fielder Kirk Nieuwenhuis and shortstop Jonathan Villar, committed a …

Share Tweet

David Ortiz's retirement tour: One last trip to Anaheim

ESPN.com

8 hours ago

David Ortiz's retirement tour: One last trip to Anaheim

Share Tweet

Aroldis Chapman looks like a game-changer in his Cubs debut

Share Tweet

MLB.com

16 hours ago

The Twins wanted to commemorate the 25-year anniversary of their dramatic victory over Atlanta in the 1991 World Series, but Freddie Freeman and the Braves decided to crash the party with a 9-7 victory.

Share Tweet

ESPN.com

16 hours ago

Five things we learned Wednesday: The Astros will catch the Rangers

Share Tweet

MLB.com

17 hours ago

Royals rookie Raul Mondesi has another reason to remember his first Major League hit -- it helped win a game on his 21st birthday. Mondesi's bunt single helped trigger a four-run seventh that rallied the Royals to a 7-5 win over the Angels on Wednesday …

Share Tweet

The Art Of Pitch-Framing

Mar 21

Brewers catcher Jonathan Lucroy explains the finer points of pitch-framing

Kershaw Struck By Liner, Loses Part Of Tooth

Mar 20

Clayton Kershaw was hit by Andy Parrino's broken-bat liner in the bottom of the third inning in the Dodgers' 3-2 loss to the A's. Kershaw remained in the game.

Miguel Montero Excited For New Rotation

Mar 20

Cubs catcher Miguel Montero is ready to work with the new rotation for the team and explains what needs to be worked on in spring training.

Ellsbury Confident He'll Be Ready For Opener

Mar 19

Wallace Matthews discusses Jacoby Ellsbury's oblique injury and when he could return to the Yankees.