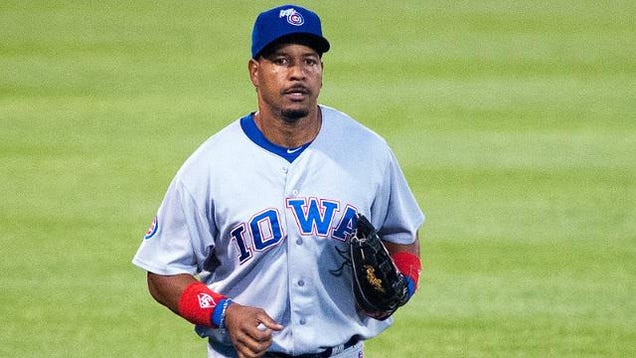 Manny Ramirez Was A Huge Success As A Player-Coach
deadspin.com
Updated 28 minutes ago
The grand Manny Ramirez experiment has come to an end. After three months as player-instructor for the triple-A Iowa Cubs, Ramirez's season ended on Friday with a knee injury. The 42-year-old was rarely healthy and can't really hit anymore, but Ramirez'…
Upvote
Share
Tweet
deadspin.com yahoo.com

1 hour ago

Marlins outfielder Marcell Ozuna, who has previously made good throws , was attempting to throw home on David Wright's two-run single with the bases loaded yesterday. It was not good. Read more...

Upvote Share Tweet

Oddsmaker won't even let you bet on Clayton Kershaw winning Cy Young

yahoo.com

1 hour ago

Los Angeles Dodgers left-hander Clayton Kershaw is running away (pitching away?) with the National League's Cy Young race, say gamblers who make their living on that kind of thing. Bovada.lv apparently believes that Kershaw is such a lock for Cy Young t…

Upvote Share Tweet

MLB.com

2 hours ago

Every lineup, every day, as they are made public by the clubs.

Upvote Share Tweet

yahoo.com

3 hours ago

Wrigley Field gave Chicago Cubs rookie Jorge Soler a sunny and warm ovation before his first home at-bat Monday afternoon, and he responded with a double to right field in the bottom of the second. In doing so, Soler became the third player since 1914 t…

Upvote Share Tweet

Loyal to the Royals, Hoping for a Renaissance

nytimes.com

4 hours ago

The Kansas City Royals entered September clinging to first place in the A.L. Central and aiming for their first playoff spot since they won it all in 1985. Will their patience finally be rewarded?

Upvote Share Tweet

No. 1 prospect Norris, eight others joining Blue Jays

MLB.com

4 hours ago

The Blue Jays made a series of moves to expand their roster on Tuesday, recalling the club's No. 1 prospect -- lefty Daniel Norris -- from Triple-A and reinstating first baseman Dan Johnson and right-hander Brandon Morrow from the disabled list.

Upvote Share Tweet

yahoo.com

4 hours ago

Denard Span's teammates on the Washington Nationals got right to the point Monday night after he connected for his second home run of the game. Span came in with two home runs in 574 plate appearances all season, but he has been on an unholy tear for a …

Upvote Share Tweet

Cardinals move struggling Masterson to pen

ESPN.com

5 hours ago

Justin Masterson is no longer part of the St. Louis Cardinals rotation, instead moving to the bullpen as his struggles since joining the team continued.

Upvote Share Tweet

At least for now, Cards back where they belong

The Cardinals awoke Tuesday exactly where so many of us expected them to be this season: Alone in first place in the National League Central. It could be just for the day, or maybe it'll be for the rest of the month, but one gets the sense that the Card…

Upvote Share Tweet

Central casting: Division produces great races

It's September. It's officially pennant-race season. And have we got some drama in the Central divisions this year. In 20 years of Central races, where might the upcoming September thrillers stack up? Only time will tell. In the meantie, here's a look 1…

Upvote Share Tweet

It's September, the best time to be a fan

Labor Day is behind us, and we've got September ahead for the next 29 days of relevant, dramatic, thrilling regular-season baseball with the crisp air of the postseason looming. It's the best time of year to be a fan of the game.

Upvote Share Tweet

Many converted catchers find success at new positions

Joe Torre started out as a catcher for the Milwaukee Braves in 1961. By the time he retired, Torre had started more games at both first and third than behind the plate. In 1971, playing third, Torre led the league in hitting and won the NL MVP Award. As…

Upvote Share Tweet

Pipeline preview: Postseason action set to heat up

Right-hander Tyler Glasnow will take the mound as Class A Advanced Bradenton hosts Fort Myers in the Florida State League playoffs in one of Tuesday's Minor League playoff matchups.

Upvote Share Tweet

The curious case of Giants rookie Andrew Susac's 'first' MLB hit

yahoo.com

11 hours ago

Great Scott! Andrew Susac, the rookie catcher for the San Francisco Giants has altered the timeline of his rookie season, rewriting both the date of his MLB game and his first hit. It's going to take a full 1.21 gigawatts to explain this curious case of…

Upvote Share Tweet

nytimes.com yahoo.com

12 hours ago

The biggest number for Cole Hamels after six innings wasn't the zero in the hits allowed column but the 108 pitches thrown by the Philadelphia Phillies' starter.

Upvote Share Tweet

nytimes.com

12 hours ago

The Houston Astros are looking toward the future, and they decided there is no time like the present to get going on that.

Upvote Share Tweet

yahoo.com

12 hours ago

For the first time this season, the St. Louis Cardinals are alone in first place in the NL Central. That might seem untrue, since we've grown so accustomed to these modern Cardinals as the class of the division, but this year hasn't been a gimme by any …

Upvote Share Tweet

Back tightness has Nats' LaRoche day to day

MLB.com

13 hours ago

Nationals first baseman Adam LaRoche left Monday night's 6-4 victory over the Dodgers in the top of the seventh inning because of lower back tightness and was replaced by Kevin Frandsen.

Upvote Share Tweet

Dodgers put prospect Pederson right into fire

MLB.com

14 hours ago

Joc Pederson had the stage, had the drama, had family in the stands, had everything he needed Monday to make his first Major League at-bat the stuff of legend -- a true Hollywood debut.

Upvote Share Tweet

MLB.com

14 hours ago

Roberto Hernandez allowed four home runs in 4 1/3 innings pitched as the Dodgers dropped the series opener to the Nationals, 6-4, on Monday night. L.A. is two games up on San Francisco in the NL West after the loss.

Upvote Share Tweet

After a three-game dry spell and one very wet suspended game, the Royals got back in the win column. Salvador Perez knocked in three runs with a home run and a double as Kansas City worked on a 4-3 Labor Day victory over the Texas Rangers on a 75-degree…

Upvote Share Tweet

ESPN.com

15 hours ago

David Price bounced back from an alarming start and Miguel Cabrera homered twice, hitting one of Detroit's three homers off Cleveland's Corey Kluber, as the Tigers rolled to a 12-1 win on Monday to slow the Indians' climb in the standings.

Upvote Share Tweet

MLB Daily Download: Tuesday

Sep 2

Antonietta Collins recaps Monday's action from around the league, including Miguel Cabrera doing something he hasn't done in 27 games, Adam Dunn making a good first impression with the A's and Matt Holliday continuing his hot streak.

Rockies Walk Off With Win

Sep 1

Charlie Blackmon's RBI single in the bottom of the ninth lifted the Rockies past the Giants 10-9.

A's Crush Mariners

Sep 1

Adam Dunn homered in his first at-bat for Oakland in the A's 6-1 win over the Mariners.

Tigers Trounce Indians

Sep 1

Miguel Cabrera hit two home runs and David Price struck out eight batters to lead the Tigers past the Indians 12-1.