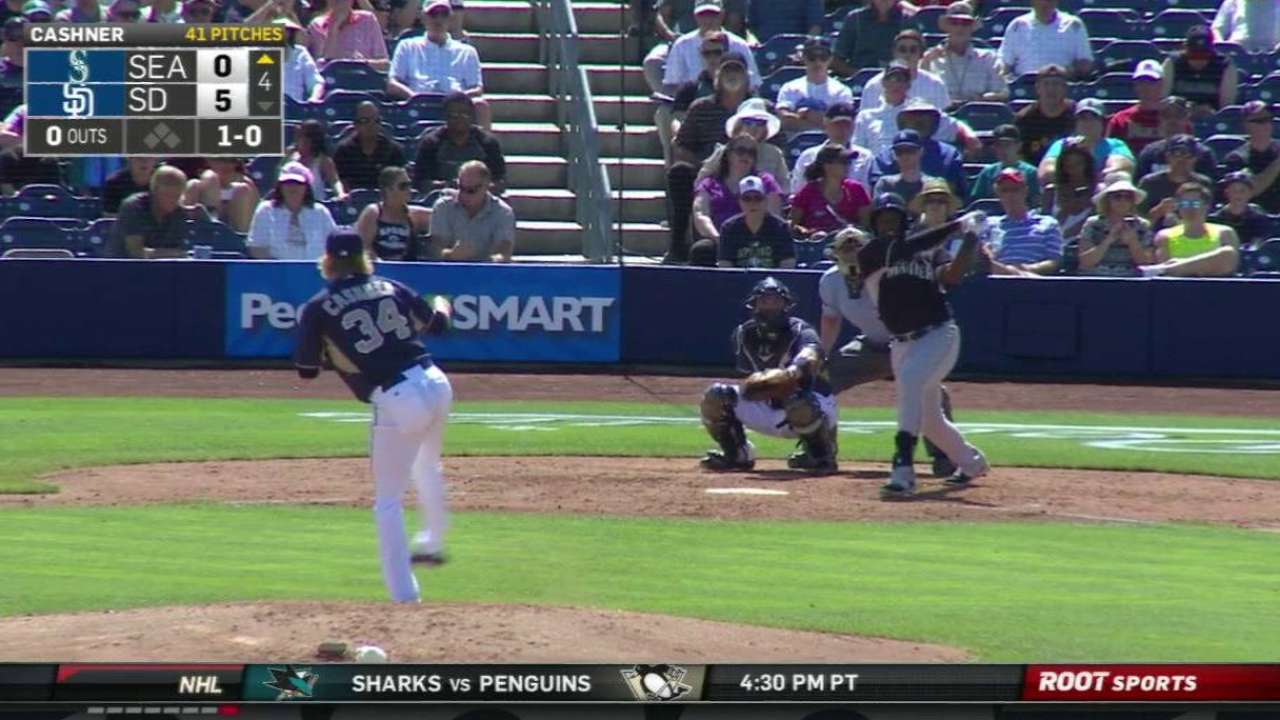 ESPN.com nytimes.com

18 minutes ago

Despite losing Zack Wheeler to a ligament tear that required Tommy John surgery, the New York Mets still may trade right-hander Dillon Gee within the month, an organization source told ESPNNewYork.com.

Share Tweet

nytimes.com

7 hours ago

A look at what's happening around spring training in Florida and Arizona today:

Share Tweet

What to watch for in today's games

MLB.com

10 hours ago

The first game of the regular season is now less than a week away, and Spring Training has entered the home stretch. Teams are trimming rosters and pondering final decisions, while players are running out of chances to make a good impression or tune up …

Share Tweet

nytimes.com

11 hours ago

Zach McAllister and T. J. House earned the final two jobs in the Cleveland Indians' starting rotation.

Share Tweet

Kemp Homers as Padres Beat Mariners 8-5

nytimes.com

12 hours ago

Matt Kemp and Wil Myers homered, leading Andrew Cashner and the San Diego Padres to an 8-5 exhibition win against the Seattle Mariners on Sunday.

Share Tweet

Bronx Son of Yankees Fans Rekindles Father's Dream With the Mets

nytimes.com

12 hours ago

Johnny Monell Jr., a catcher who grew up a Yankees fan, has impressed the Mets this spring and has a chance to make the team, a dream his father once pursued as well.

Share Tweet

Jackson Helps Cubs Blank Royals 7-0

nytimes.com

13 hours ago

Edwin Jackson arrived at the ballpark in time for a solid spring start with the Chicago Cubs.

Share Tweet

MLB.com

13 hours ago

Brandon Magee has already played 17 games in the National Football League. At some point this year, he might play his first baseball game professionally at one of the Minor League affiliates for the Boston Red Sox.

Share Tweet

Matt Cain gave up three runs in four innings, Buster Posey and Angel Pagan each had two hits and drove in two runs and the San Francisco Giants beat a Los Angeles Dodgers split-squad 11-9 on Sunday.

Share Tweet

Rockies Beat Diamondbacks 11-10 in Mexico

Matt McBride homered twice and drove in four runs, helping the Colorado Rockies beat the Arizona Diamondbacks 11-10 in a split-squad game on Sunday.

Share Tweet

Mesoraco relieved after quad cramp diagnosis

MLB.com

14 hours ago

Reds All-Star catcher Devin Mesoraco felt relieved Sunday afternoon after being diagnosed with a left quadriceps cramp. Mesoraco felt his quad tighten running the bases and worried it was serious when he exited the game vs. the Angels.

Share Tweet

Daniel Hudson looked strong in a short outing, showing both sides of the argument on whether he should start or relieve for the Arizona Diamondbacks in their 2-1 loss to the Colorado Rockies in a split-squad game Sunday.

Share Tweet

MLB.com nytimes.com

14 hours ago

Kendall Graveman has looked like a very emphatic answer this spring in why the A's were willing to trade Josh Donaldson. Graveman has pitched his way into the A's rotation, where at the moment, he is penciled into the No. 4 spot.

Share Tweet

So Far, So Good: Alex Rodriguez Has Been on His Best Behavior

Fan reaction to Rodriguez has been mixed this spring, with a good helping of boos greeting his at-bats — even at Steinbrenner Field, where he has mostly been well received.

Share Tweet

Herrera to start in center field, Revere in left on Opening Day

MLB.com

15 hours ago

Phillies manager Ryne Sandberg announced that Odubel Herrera will be the team's Opening Day center field and Ben Revere will start in left field.

Share Tweet

Robertson throws sharp inning in return to mound

MLB.com

15 hours ago

David Robertson threw a scoreless inning of relief during the White Sox 4-1 victory over the Indians Sunday at Goodyear Ballpark.

Share Tweet

Rollins Helps Dodgers Beat Rangers 10-5

Jimmy Rollins hit a leadoff double in Los Angeles' five-run third inning, and a split-squad of Dodgers beat the Texas Rangers 10-5 in spring training on Sunday.

Share Tweet

Castillo Throws Out Runner, Scores as Red Sox Top Rays 3-2

Rusney Castillo made a sliding catch in the 10th inning and threw out the potential tiebreaking run at the plate, then singled and scored in the bottom half to lead the Boston Red Sox to a 3-2 victory over the Tampa Bay Rays on Sunday

Share Tweet

Marquis Solid, Cron Hits 3rd HR as Reds Beat Angels

Cincinnati right-hander Jason Marquis continued his strong comeback with six good innings in the Reds' 8-6 victory over the Los Angeles Angels on Sunday.

Share Tweet

Miller hopes to take recent success into regular season

MLB.com

16 hours ago

Shelby Miller produced his most dominant outing of the spring as he limited the Pirates to one hit over six innings on Sunday afternoon at Champion Stadium.

Share Tweet

Hamels named Phillies' Opening Day starter

MLB.com

17 hours ago

Cole Hamels will start for the Philadelphia Phillies on Opening Day, followed by Aaron Harang.

Share Tweet

A-Rod Debut at First Base as Yanks Beat Astros 7-0

nytimes.com

17 hours ago

Alex Rodriguez played first base for the first time in his professional career Sunday, handling three chances in three innings during the New York Yankees' 7-0 win over the Houston Astros.

Share Tweet

Miller Solidifies Braves' Spot in 4-2 Loss to Pirates

nytimes.com

17 hours ago

Shelby Miller is settling in quite nicely with his new team.

Share Tweet

Harper Hits 1 of 7 Homers as Nationals Beat Marlins 11-7

Bryce Harper homered for the second straight day and Jose Lobaton hit a three-run drive run in the eighth, one of seven home runs on a windy afternoon as the Washington Nationals beat the Miami Marlins 11-7 Sunday.

Share Tweet

Nolasco Allows 4 Runs as Twins Beat Orioles' Split Squad 6-5

Ricky Nolasco allowed four runs in six innings as the Minnesota Twins beat a Baltimore Orioles' split squad 6-5 on Sunday.

Share Tweet

Utley Homers Twice for Phillies in 4-4 Tie With Tigers

Chase Utley hit his first two home runs of spring training and drove in three runs for the Philadelphia Phillies in a 4-4 tie against the Detroit Tigers on Sunday.

Share Tweet

Jimenez Sharp as Orioles' Split-Squad Beats Blue Jays 4-2

Ubaldo Jimenez pitched six solid innings, leading a split-squad of Baltimore Orioles to a 4-2 victory over the Toronto Blue Jays on Sunday.

Share Tweet

ESPN.com

18 hours ago

Left-hander pitcher Roenis Elias has been optioned by the Seattle Mariners to Triple-A Tacoma, a decision that likely means right-hander Taijuan Walker will be the Mariners' fifth starter.

Share Tweet

Union workers gather at spring training to support underpaid minor leaguers

yahoo.com

19 hours ago

Hoping to bring awareness to the conditions under which minor-league players work, and more specifically the wages they earn, which often falls below minimum wage, the United Food and Commercial Workers' union and its allies are gathering at four differ…

Share Tweet

The Art Of Pitch-Framing

Mar 21

Brewers catcher Jonathan Lucroy explains the finer points of pitch-framing

Kershaw Struck By Liner, Loses Part Of Tooth

Mar 20

Clayton Kershaw was hit by Andy Parrino's broken-bat liner in the bottom of the third inning in the Dodgers' 3-2 loss to the A's. Kershaw remained in the game.

Miguel Montero Excited For New Rotation

Mar 20

Cubs catcher Miguel Montero is ready to work with the new rotation for the team and explains what needs to be worked on in spring training.

Ellsbury Confident He'll Be Ready For Opener

Mar 19

Wallace Matthews discusses Jacoby Ellsbury's oblique injury and when he could return to the Yankees.