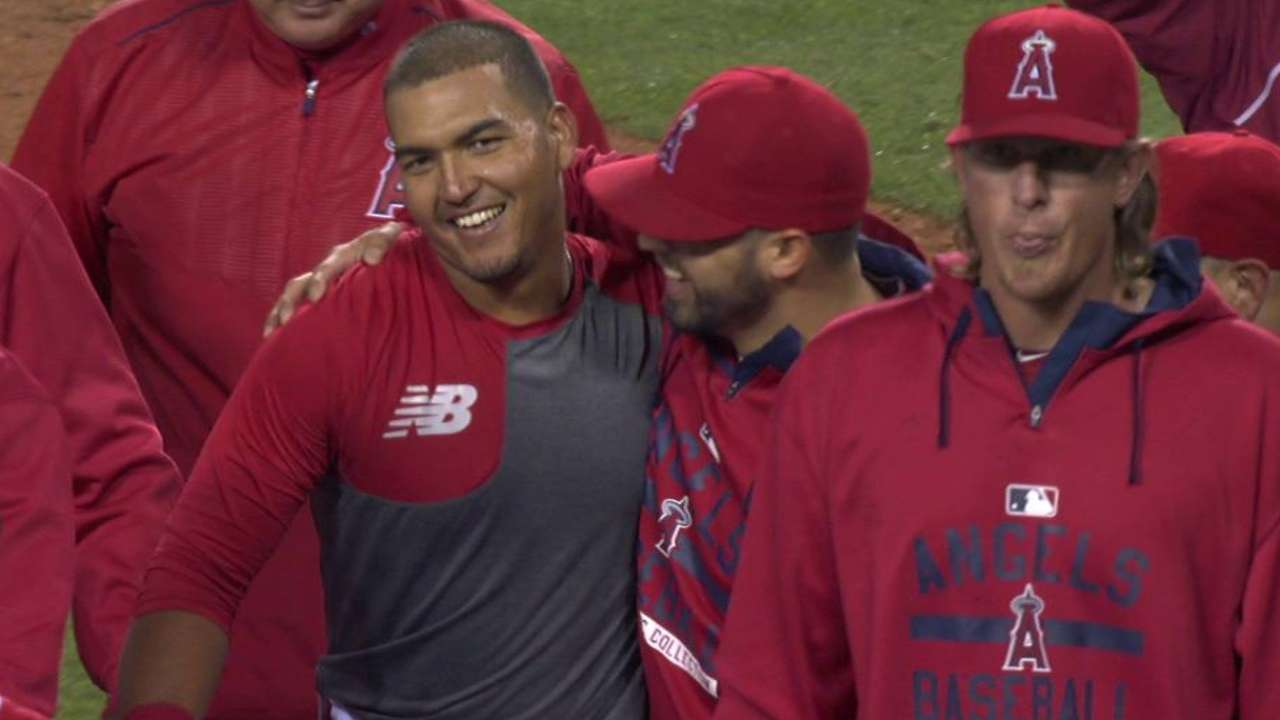 yahoo.com
MLB.com
nytimes.com
Updated 7 hours ago
Getting the call to the majors is a dream come true for many players. Given the level of talent in the bigs, it can also be incredibly intimidating. Some rookies respond by showing nerves in their first taste of the big leagues. Los Angeles Angels rooki…
Share
Tweet
nytimes.com

6 hours ago

A look at what's happening all around the major leagues today:

Share Tweet

yahoo.com nytimes.com

6 hours ago

Take a look around the league with Big League Stew's daily wrap up. We'll hit on all of the biggest moments from the day that you may have missed, while providing highlights, photos and interesting stats. Atlanta Braves pitcher Shelby Miller is starting…

Share Tweet

Joe Maddon, Kyle Hendricks search for answers after Chicago Cubs' loss

ESPN.com

7 hours ago

Joe Maddon, Kyle Hendricks search for answers after Chicago Cubs' loss

Share Tweet

Off to their best start (through 26 games) in modern franchise history, the Cardinals scored another come-from-behind victory -- this one a 7-4 win over the Cubs at Busch Stadium -- to run their winning streak to eight on Tuesday. It's the longest winni…

Share Tweet

Ryan Vogelsong Pitches Surging Giants to 6-0 Win Over Padres

nytimes.com

7 hours ago

Ryan Vogelsong threw seven innings of three-hit ball, Joe Panik homered and the San Francisco Giants won their fifth consecutive game by beating the San Diego Padres 6-0 Tuesday night.

Share Tweet

Wandy picks up first win since '13 with gem

On Tuesday, Rangers pitcher Wandy Rodriguez earned his first Major League win since May 26, 2013, when he was pitching for the Pirates against the Brewers. He did so pitching against the Astros, his original organization and the team he played for from …

Share Tweet

Eric Hosmer belted a go-ahead three-run homer and finished with four RBIs, while Jason Vargas fired six quality innings to lead the Royals to a 5-3 win over the Indians on Tuesday night at Kauffman Stadium. Cleveland starter Danny Salazar had nine strik…

Share Tweet

MLB.com

8 hours ago

Mat Latos worked 6 1/3 innings for his first win with the Marlins, who held off the Nationals, 2-1, Tuesday night. Washington starter Stephen Strasburg was hit with the loss, exiting in the third inning after he battled through a shoulder issue from the…

Share Tweet

yahoo.com

8 hours ago

The best teammates are the ones who pick you up when you're down. Los Angeles Dodgers outfielder Yasiel Puig may not be able to flip his bat now that he's on the disabled list, but that's OK, because Zack Greinke is happy to oblige. Greinke was able to …

Share Tweet

Marlon Byrd homered and drove in four runs, and Todd Frazier also homered to back Michael Lorenzen's first Major League victory, a 7-1 final over the Pirates on Tuesday night.

Share Tweet

MLB.com

8 hours ago

Mark Teixeira homered, Jacoby Ellsbury went 3-for-5 with a pair of runs scored and Michael Pineda tossed eight scoreless innings in the Yankees' 6-3 victory over the Blue Jays on Tuesday night at Rogers Centre.

Share Tweet

The Art Of Pitch-Framing

Mar 21

Brewers catcher Jonathan Lucroy explains the finer points of pitch-framing

Kershaw Struck By Liner, Loses Part Of Tooth

Mar 20

Clayton Kershaw was hit by Andy Parrino's broken-bat liner in the bottom of the third inning in the Dodgers' 3-2 loss to the A's. Kershaw remained in the game.

Miguel Montero Excited For New Rotation

Mar 20

Cubs catcher Miguel Montero is ready to work with the new rotation for the team and explains what needs to be worked on in spring training.

Ellsbury Confident He'll Be Ready For Opener

Mar 19

Wallace Matthews discusses Jacoby Ellsbury's oblique injury and when he could return to the Yankees.