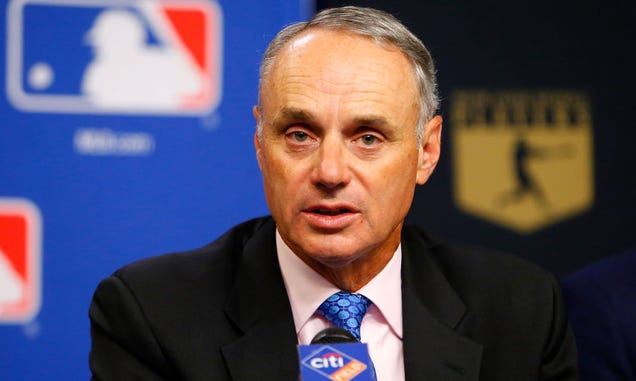 MLB Argues That Minor Leaguers Are Creatives, Like Artists And Musicians
deadspin.com
Updated 42 minutes ago
This morning, the author of the "Save America's Pastime Act" disavowed the bill as a wrongheaded attempt to stifle already inadequate wages. Congresswoman Cheri Bustos did a complete 180 and wrote that, "I believe that Major League Baseball can and shou…
Share
Tweet
Streaking Indians Win 13th Straight, Beat Blue Jays 4-1

nytimes.com

46 minutes ago

Carlos Carrasco struck out a season-high 14, Jason Kipnis and Rajai Davis hit solo home runs and the Cleveland Indians matched a franchise record by winning their 13th consecutive game Thursday night, beating the Toronto Blue Jays 4-1.

Share Tweet

Collins won't reveal NL All-Star Game starter

ESPN.com

1 hour ago

Collins won't reveal NL All-Star Game starter

Share Tweet

Heaney to undergo Tommy John surgery

Andrew Heaney, one of the Angels' most promising young starting pitchers, has relented to season-ending Tommy John surgery, a procedure that will likely keep him out until the start of 2018, the team announced Thursday.

Share Tweet

Matheny ejected after overturned double play

Cardinals manager Mike Matheny was ejected in the sixth inning of Thursday night's game after taking exception to a delayed replay request by the Royals. It was his first ejection since Sept. 18, 2015, and the first of a Cardinals player/coach this seas…

Share Tweet

On Baseball: Joe Maddon's Zaniness Keeps the Game Fun for His Cubs

nytimes.com

1 hour ago

Tuesday's game against the Reds, in which three Chicago relievers played left field, was the latest example of the manager's creativity.

Share Tweet

College World Series goes Coastal

After years of Gary Gilmore wondering if his team ever would break through and reach the College World Series, his Chanticleers did more than just make it to Omaha this June. They won the school's first national championship in any sport by beating Ariz…

Share Tweet

Maddon being cautious with Heyward

Jason Heyward did not start on Thursday for the second straight game because of some soreness on his left side, which he felt during a throw in the Cubs' last game in Miami, on Sunday. He is expected back on Friday.

Share Tweet

Jennings exits with hamstring injury

Rays center fielder Desmond Jennings left Thursday's game against the Tigers at Tropicana Field in the third inning with a tight left hamstring.

Share Tweet

Hamilton passes concussion protocol

MLB.com

2 hours ago

Reds center fielder Billy Hamilton received clearance to be in the starting lineup for Thursday's series opener vs. the Nationals after passing concussion protocol testing.

Share Tweet

Piscotty, Diaz still nursing bumps, bruises

MLB.com

2 hours ago

Ailing Cardinals position players Stephen Piscotty and Aledmys Diaz remained out of the lineup on Thursday, but manager Mike Matheny noted that both would be available bench players for the team's I-70 Series finale against the Royals.

Share Tweet

Dodgers know it will take a village without Clayton Kershaw

Share Tweet

Bryant's tear continues with homer off Matz

Kris Bryant didn't waste any time on Thursday getting the Cubs on the board against the Mets in their first meeting since the National League Championship Series. Bryant belted his team-leading 22nd home run of the season on the sixth pitch of the game …

Share Tweet

Moya not concerned about playing on turf

Steven Moya remembers dreaming about playing in a Major League game at Tropicana Field a couple years ago. He was playing a Spring Training game at Tropicana Field at the time.

Share Tweet

Bruce open to waiving no-trade clause

Just over a month away from the Aug. 1 non-waiver Trade Deadline, right fielder Jay Bruce and the Reds are in a similar situation to last year. Bruce is central to trade rumors, the club will likely field offers and he will watch and wait to see if some…

Share Tweet

Arrieta focused on starts, not All-Star Game

Jake Arrieta was not happy to hear that the Dodgers' Clayton Kershaw was placed on the disabled list because of a back injury, and on Saturday he will get a chance to pitch in front of the person who will decide who starts for the National League team i…

Share Tweet

Tribe weighs trade options with Brantley progressing

The Indians are growing increasingly optimistic about adding a bat before the non-waiver Trade Deadline, but Cleveland does not feel help necessarily needs to come from outside the organization.

Share Tweet

nytimes.com MLB.com

3 hours ago

After struggling in April, Zach Davies has been one of the few bright spots in the starting rotation for the Milwaukee Brewers over the past two months.

Share Tweet

Tigers map out plan for Fulmer's innings

The first stage of the Michael Fulmer innings conservation plan ends Friday night, when the rookie right-hander takes the mound in a game for the first time in eight days. The second step begins next week.

Share Tweet

Yankees see progress with series split against Texas

ESPN.com

4 hours ago

Yankees see progress with series split against Texas

Share Tweet

ESPN.com

4 hours ago

Marlins add needed pitching depth in Fernando Rodney

Share Tweet

Shuck's RBI Single in 8th Lifts White Sox Over Twins 6-5

nytimes.com

5 hours ago

Since racing to a 23-10 start, nothing has been easy for the Chicago White Sox.

Share Tweet

nytimes.com

6 hours ago

Michael Pineda struck out 12 in six innings before Chase Headley broke a 1-1 tie by scoring on a passed ball in the ninth.

Share Tweet

Fort Bragg: Baseball's best neutral sites

MLB.com

6 hours ago

The Braves and Marlins will cast aside home-field advantage to pay tribute to the nation's armed forces during Independence Day Weekend. The National League East clubs will add to Major League Baseball's history of neutral-site games on Sunday night at …

Share Tweet

MLB.com

7 hours ago

Every lineup, every day, as they are made public by the clubs.

Share Tweet

Phillies Prospect Loses Eye In Freak Injury

deadspin.com

7 hours ago

Last Friday, Phillies minor-league pitcher Matt Imhof suffered a serious eye injury in an absolutely freakish accident. He was stretching using a rubber resistance band anchored to a wall when the metal base broke, and a piece struck him in the eye. Doc…

Share Tweet

Pederson only has bruise, but may go on DL

MLB.com

7 hours ago

Yasiel Puig bounced off the outfield fence at Miller Park on Wednesday night and was back in the lineup Thursday, but fellow Dodgers outfielder Joc Pederson was still unavailable after crashing into a wall, with a disabled-list stint still on the table.

Share Tweet

The Art Of Pitch-Framing

Mar 21

Brewers catcher Jonathan Lucroy explains the finer points of pitch-framing

Kershaw Struck By Liner, Loses Part Of Tooth

Mar 20

Clayton Kershaw was hit by Andy Parrino's broken-bat liner in the bottom of the third inning in the Dodgers' 3-2 loss to the A's. Kershaw remained in the game.

Miguel Montero Excited For New Rotation

Mar 20

Cubs catcher Miguel Montero is ready to work with the new rotation for the team and explains what needs to be worked on in spring training.

Ellsbury Confident He'll Be Ready For Opener

Mar 19

Wallace Matthews discusses Jacoby Ellsbury's oblique injury and when he could return to the Yankees.