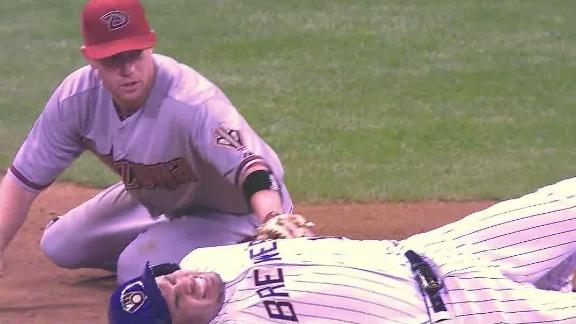 D-backs spoil Lohse's debut with Brewers
ESPN.com
Updated Apr 5, 2013
Wade Miley and Kyle Lohse were locked into a pitching duel through six innings before the Arizona Diamondbacks spoiled Lohse's debut with Milwaukee by scoring two runs on a wild pitch off Michael Gonzalez in the seventh for a 3-1 win on Friday night.
Share
Tweet
Marlins down Mets for Redmond's first win

Alex Sanabia won for the first time in more than two years and the Miami Marlins gave Mike Redmond his first victory as a major league manager, beating the New York Mets 7-5 Friday night.

Share Tweet

Todd Frazier and Zack Cozart each homered twice, and the Reds hit six in all -- including Xavier Paul's pinch grand slam -- while sending the Washington Nationals to their first loss of the season, 15-0 on Friday night.

Share Tweet

Cozart, Frazier each drill two homers to down Nats

Using a barrage of six home runs, Zack Cozart's five RBIs and a solid effort by starter Homer Bailey, the Reds rolled over the Nationals with a 15-0 win during Friday night's three-game series opener at Great American Ball Park.

Share Tweet

Minor baffles Cubs in victorious season debut

Mike Minor was brilliant in his first start of the season, allowing one run on five hits in 7 1/3 frames, striking out seven Cubs without allowing a walk in the Braves' 4-1 victory on Friday.

Share Tweet

Rays place Niemann on 15-day disabled list

The Tampa Bay Rays have put right-hander Jeff Niemann on the 15-day disabled list because of soreness in his pitching shoulder.

Share Tweet

Back in Majors, Pitcher Maine Denies Lying to Mets in 2010

nytimes.com

Apr 5, 2013

John Maine, whose Mets career ended with shoulder surgery three years ago, insists he was upfront about his health with team officials.

Share Tweet

Moore sharp over 6 as Rays blank Indians

Matt Moore pitched six sharp innings and Ben Zobrist drove in three runs to lead the Tampa Bay Rays over the Cleveland Indians 4-0 on Friday night.

Share Tweet

The Detroit Tigers offense could only muster eight runs and three extra-base hits (all doubles) while dropping two out of three to the Minnesota Twins at Target Field this week. They only needed one game in the comfortable surroundings of Comerica Park …

Share Tweet

>Barry Zito saved San Francisco's season by beating the Cardinals last fall in the NLCS, then delivered again with a 1-0 victory over St. Louis on Friday as the Giants celebrated their latest World Series title throughout the home opener.

Share Tweet

Woman goes a little crazy after boyfriend catches Ian Kinsler's foul ball (video)

Josh Hamilton didn't expect to get a warm reception in his return to Texas on Friday afternoon (and he was right), but the response was much more favorable for one Rangers fan who not only made his own day by grabbing Ian Kinsler's foul ball (check the …

Share Tweet

From Friend To Foe: Josh Hamilton didn't get a warm welcome in his re…

Josh Hamilton didn't get a warm welcome in his return to Texas, but his defection to Anaheim should make the Rangers-Angels AL West rivalry that much hotter, writes Jay Jaffe.

Share Tweet

San Francisco Giants fly their World Series flag, show off their trophy at home opener (Gallery)

The San Francisco Giants started the season on the road, so Friday was their day to mark their 2012 World Series win in front of their fans at AT & T Park. Before Friday's game against the St. Louis Cardinals - who San Francisco not only beat in the pla

Share Tweet

Alex Gordon and Chris Getz each hit bases-loaded triples and the Kansas City Royals rallied to beat Philadelphia 13-4 Friday, spoiling the Phillies' home opener.

Share Tweet

BOSTON -- Boston Red Sox president Larry Lucchino stood in an empty Fenway Park to discuss the ballpark improvements for the upcoming season.

Share Tweet

Brewers outfielder Ryan Braun was scratched from Friday night's lineup against Arizona because of spasms on the right side of his neck.

Share Tweet

John Farrell knows by now that there's a large contingent of Toronto fans and media members who will never support his willingness to leave the Blue Jays after just two seasons so he could take his self-proclaimed dream job of managing the Boston Red So…

Share Tweet

Josh Hamilton returned to Texas for the first time as an opposing player, for the first time since he said Arlington was not a "baseball town." The fans' actions were pretty much as the new Angels outfielder envisioned.

Share Tweet

The city of Chicago and the Ricketts family that owns the Chicago Cubs are close to agreement on a $500 million overhaul of Wrigley Field, two people with knowledge of the negotiations said Friday.

Share Tweet

Chris Davis extended his torrid start with a grand slam and five RBIs, and the Baltimore Orioles used a five-run eighth inning to beat Minnesota 9-5 Friday in their home opener.

Share Tweet

Rockies trounce Padres behind sharp Francis

Wilin Rosario and Dexter Fowler homered, helping Jeff Francis and the Colorado Rockies beat the San Diego Padres 5-2 Friday in a festive home opener at Coors Field.

Share Tweet

BALTIMORE -- Second baseman Brian Roberts has been placed on the 15-day disabled list by the Baltimore Orioles with a strained right hamstring.

Share Tweet

Yankees recall Hughes off DL to start Saturday

Having lost three out of their first four games and with a team ERA of 6.43, the New York Yankees are recalling right-hander Phil Hughes from the disabled list to start Saturday's game against the Tigers.

Share Tweet

Washington Nationals manager Davey Johnson is being honored for something he did in Cincinnati 18 years ago.

Share Tweet

Chicago Cubs ignore Atlanta Braves GM when he tells them to clear field

Welcome to the family, Atlanta Braves GM Frank Wren. Now you know what it's like for Chicago Cubs fans, who have been ignored, frustrated and ticked off by their favorite Major League Baseball team for more than 100 years. Several reports from Atlanta's…

Share Tweet

Challenge answered: Your Crazy Bat Guy memes

Let's all have one more laugh about the Crazy Bat Guy from Tuesday's Toronto Blue Jays game before he becomes just an early footnote to the 2013 baseball season. In our latest reader challenge, we asked you to create and send us some crazy memes of Craz…

Share Tweet

Giants salute team effort in flag-raising ceremony

In a ceremony that joined players with fans in celebrating the Giants' 2012 accomplishment, the World Series championship banner was escorted into AT&T Park on Friday in the hands of lifelong Giants fans, who handed it off to manager Bruce Bochy and…

Share Tweet

Rockies celebrate 20th anniversary before opener

In a world short on rituals and passages, the Rockies' celebration of their 20th anniversary was a nice one, with Eric Young Sr. and his son, Eric Jr., acknowledging each other on the infield at Coors Field as the crowd cheered.

Share Tweet

Brett, Schmidt may skip Hall of Fame ceremonies

PHILADELPHIA (AP) -- Hall of Fame third basemen George Brett and Mike Schmidt both say they're undecided if they'll attend this summer's induction ceremonies at Cooperstown.

Share Tweet

Giants to don gold-themed uniforms for ring ceremony

Once again, the Giants will dress for the occasion, Sunday's World Series ring ceremony in this case, by donning jerseys and caps with gold lettering.

Share Tweet

MLB admits da Silveira not connected to PEDs

Major League Baseball admitted Friday that the league committed an error when it sued a "chemist" the league thought had a black-market performance-enhancing drug connection. The man is a salesman with no drug connections.

Share Tweet

Every lineup, every day, as they are made public by the clubs.

Share Tweet

Jose Bautista was forced to sit out Friday night's game against the Red Sox because of a twisted right ankle, suffered while attempting to beat out a double play in the eighth inning of Thursday's 10-8 win against the Indians.

Share Tweet

ESPN.com nytimes.com

Apr 5, 2013

New York Yankees pitcher Hiroki Kuroda threw 36 pitches in a bullpen session Friday morning and, barring a setback, is expected to make his next scheduled start on Monday against the Indians in Cleveland.

Share Tweet

Vladimir Guerrero has signed a one-year contract to play for the Long Island Ducks of the independent Atlantic League, his agent said Friday.

Share Tweet

What's blending? Brantly visits Fan Cave

Blending the right ingredients is what 2013 is all about for the Marlins. Their new everyday catcher, Rob Brantly, visited the MLB Fan Cave Friday before heading to Citi Field and the start of a three-game series against the Mets.

Share Tweet

It has only been three games, but Phillies manager Charlie Manuel likes the look of Ben Revere and Jimmy Rollins atop his lineup.

Share Tweet

DETROIT (AP) -- Derek Jeter may not return to the New York Yankees until next month and his replacement at shortstop, Eduardo Nunez, joined the team's long list of banged-up players.

Share Tweet

Big League Stew's Mascot Madness: And the winner is…

At last, we have a winner! Over 10 days, 32 mascots competed on the field of battle (a.k.a. the BLS Facebook page) and marshaled armies (a.k.a. you folks, the voters). From the shredded rainbows of flying polyester, a victor at last emerged. Would it be…

Share Tweet

Robinson's story emerges on big screen in '42'

Jackie Robinson's story of breaking baseball's color barrier by enduring racial abuse with the eyes of America watching and, in doing so, helping start the civil rights movement, emerges on the big screen in "42."

Share Tweet

Move in, already! Indianapolis' old Bush Stadium becomes new apartment complex

Living at the ballpark would solve a whole bunch of issues for me, and maybe you, too. And not in the sneaky way Rudy used to sleep on a cot at Notre Dame Stadium before he tried out for the football team. Come this summer, the wild and crazy dream of a…

Share Tweet

Are the St. Louis Cardinals releasing the worst baseball bobblehead ever?

This season the Oakland Athletics are giving away a Coco Crisp bobblehead that does the "Bernie Lean." The Cleveland Indians have one coming of Albert Belle flexing his muscles. And the St. Louis Cardinals ... they have a guy who's BFFs with t…

Share Tweet

Classic stars get back to regular-season mode

The World Baseball Classic was unforgettable for players and fans who took the ride to the exhilarating finish in San Francisco. Now it's back to the real world and grind of a long season, after what Edinson Volquez of the champion Dominican Republic re…

Share Tweet

Aging aces slowing down and may take teams with them

The season has barely begun but already some high-payroll teams have to be concerned about the low velocities and poor performances of former aces, writes Tom Verducci.

Share Tweet

Did The Rangers Leave Michael Young's Locker Open Out Of Respect, Or Does Ron Washington Just Think They Did?

deadspin.com

Apr 5, 2013

Our pal Drew Fairservice at Getting Blanked spotted this bit of weirdness concerning the status of Michael Young's former space in the Texas Rangers' locker room. This morning, baseball writer Bob Nightengale tweeted the following:Read more...

Share Tweet

Colorado Rockies teammates fight in front of fans: Edgmer Escalona, Juan Nicasio face no discipline

The Colorado Rockies are showing some fight so far this season, both during games and between them. Right-handed pitchers Edgmer Escalona and Juan Nicasio scuffled during stretching exercises Thursday with fans watching at Coors Field, and needed to be …

Share Tweet

Here's the deal: Free agency's role is changing

Free agency isn't really dying. But it is definitely changing, to the point that an increasingly significant percentage of the pool will be made up of short-term solutions and stopgaps, rather than franchise-altering superstars.

Share Tweet

The Juice returns for season No. 6! It's almost eligible for free-agency! Stop by daily for news from the action, along with great photos, stats, video highlights and more. Oh, these are the Toronto Blue Jays who are "built to score runs." The Jays - a

Share Tweet

ESPN.com nydailynews.com

Apr 5, 2013

Andy Pettitte pitched the Yankees to their first win of the season and Mariano Rivera made a successful return to the mound in New York's 4-2 victory over the Boston Red Sox on Thursday night.

Share Tweet

Minnesota Twins pitchers might have nightmares - of a big, bulging slugger wearing a No. 19 Baltimore Orioles jersey. The Twins are the next team to face Chris Davis of the Baltimore Orioles, the hottest hitter in baseball, who is destroying pitches at

Share Tweet

Pettitte-Rivera duo a treat to be savored as clock ticks

For the first time since July 8, 2010, in Seattle, Andy Pettitte and Mariano Rivera both pitched for the Yankees in a regular-season game. Just like Thursday night at Yankee Stadium, Pettitte started, Rivera finished, and the Yankees won, this time defe…

Share Tweet

Weird hats are just the capper in NY Mets' loss to San Diego Padres

nydailynews.com

Apr 5, 2013

After strafing San Diego Padre pitching for 21 hits and 19 runs in the first two games of the season, the Mets ensured they will not win 'em all by going down meekly, 2-1, at Citi Field on Thursday in a hail of 14 strikeouts and looking nothing like the

Share Tweet

Zito, Giants Blank Cardinals

Apr 5

Barry Zito struck out four batters over seven innings to lead the Giants past the Cardinals 1-0.

Hamilton Booed In Return To Texas

Apr 5

Angels star Josh Hamilton talks to Pedro Gomez about going 0-for-4 versus the Rangers and being greeted with boos in his first game back in Arlington.

Davis Powers Orioles Past Twins

Apr 5

Chris Davis homered in his fourth consecutive game lifting the Orioles over the Twins.

Rangers Spoil Hamilton's Return

Apr 5

Adrian Beltre homered in the 7th inning to tie the game and Ian Kinsler drover in the go-ahead run in the 8th to lift the Rangers.