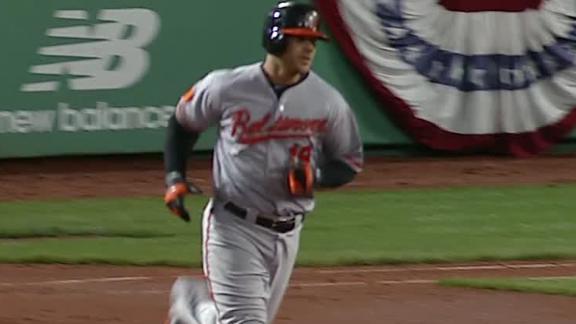 Boston Red Sox designated hitter David Ortiz stepped into a batter's box for the first time since Aug. 24 on Thursday

Share Tweet

Jones drives in winner to take another Fenway series

Timely hitting and lockdown relief pitching led the way in Thursday's 3-2 win against the Red Sox, and it centered on the middle-of-the-order bats of Adam Jones and Chris Davis.

Share Tweet

Nationals cap 3-game sweep of White Sox

Ryan Zimmerman delivered a two-run double after Bryce Harper was intentionally walked in the fourth inning, and the Washington Nationals beat the Chicago White Sox 7-4 on a windy Thursday night to cap a three-game sweep.

Share Tweet

For second straight night, Yanks-Tribe a wash

Thursday's game against the Yankees was postponed due to inclement weather, marking the second straight night that the clubs' game was washed away by rain. No makeup date has been announced, but there has been speculation that New York might return to C…

Share Tweet

Nats sweep White Sox behind Haren's first win

In his second outing of the season, right-hander Dan Haren pitched much better as the Nationals defeated the White Sox, 7-4, at Nationals Park on Thursday night. Ryan Zimmerman and Bryce Harper each had two RBIs.

Share Tweet

Early signs show Crawford feeling at home in LA

With the two most troubling years of his Major League career in Boston just behind him, Carl Crawford says he's again enjoying playing the game he loves.

Share Tweet

The Seattle Mariners have acquired pitcher Aaron Harang from the Colorado Rockies for a minor leaguer.

Share Tweet

Mariners put Saunders on 15-day disabled list

Michael Saunders' initial fear was that he'd broken his collarbone after crashing into the outfield wall.

Share Tweet

Yanks-Indians postponed

CLEVELAND (AP) The New York Yankees and Cleveland Indians have been postponed by rain for the second straight day.

Share Tweet

Grady Hatton, the former major league third baseman who managed the Houston Astros in the 1960s, has died. He was 90.

Share Tweet

Giants overcome 5-run deficit to beat Cubs

Pablo Sandoval hit a two-run double in a four-run fourth inning and the San Francisco Giants rallied from an early five-run deficit to beat the Chicago Cubs 7-6 Thursday.

Share Tweet

Huh? New study links home-run hitting to face size

Not to get all "Today" show on you, but there's a new study published by two scientists out of London linking a baseball player's ability to hit home runs with his face size. Hikaru Tsujimura and Michael J. Banissy, two researchers from the de…

Share Tweet

Mark Teixeira isn't dreading his next doctor's visit. He's actually excited about it.

Share Tweet

Crain not affected by limited spring appearances

Despite missing most of Spring Training with an injury, White Sox reliever Jesse Crain has pitched well during the first weeks of the season.

Share Tweet

Return in two weeks will be tough for Roberts

Orioles second baseman Brian Roberts (right hamstring strain) is walking without a limp, but manager Buck Showalter said it will be "a challenge" for him to be ready within two weeks.

Share Tweet

As much as Red Sox closer Joel Harnahan was eager to get back on the mound to erase the bitter taste of his blown save one night earlier, the righty will likely be rested for Thursday night's game against the Orioles.

Share Tweet

What was thought to be simple nerve irritation for White Sox second baseman Gordon Beckham turned out to be a fractured hamate bone in his left wrist, which will require surgery and sideline him for about six weeks.

Share Tweet

To spark offense, Trout batting second

In an attempt to get the offense going, Angels manager Mike Scioscia made a rather drastic change for Thursday's series finale against the A's, moving Mike Trout to the No. 2 spot of the batting order.

Share Tweet

Pagan, Panda persevere to back Vogelsong

Angel Pagan had two RBIs and played dazzling defense, and Ryan Vogelsong survived a four-run fourth inning Thursday as the Giants won their fourth consecutive game, a 7-6 decision over the Chicago Cubs.

Share Tweet

Mariano Rivera's 'farewell tour' proves he's one of baseball's class acts

I dare you. I dare you to say something bad about Mariano Rivera. He's the New York Yankees closer - a team known to inspire hatred in the 29 other fanbases. But Rivera, their record-setting, soon-to-retire bullpen stalwart is showing all of baseball wh

Share Tweet

Given the soaring expectations that accompanied the Toronto Blue Jays into the 2013 season, their current 3-6 record qualifies as a surprise.

Share Tweet

deadspin.com yahoo.com

Apr 11, 2013

All fans who bother to show for Reds-Pirates tomorrow night will receive this handsome A.J. Burnett T-shirt. Need any more of an incentive? How about this promo featuring A.J. Burnett wearing the shirt, which the gang at Getting Blanked kindly gif'd for…

Share Tweet

Jackie Robinson breaking our national pastime's rigid color barrier in 1947 is without debate one of MLB's most significant historic events. Celebrating the 50th anniversary of that moment remains a cherished event in our national pastime's timeline.

Share Tweet

Rookie backup Adams batting .643 for Cardinals

ST. LOUIS (AP) -- Jake Westbrook waited patiently by his locker, placed on hold by a nearby media throng surrounding the St. Louis Cardinals' unlikely rookie star. Minutes earlier, Westbrook put the finishing touches on his first shutout in nearly seven…

Share Tweet

Young takes step forward; rehab stint nearing

Phillies outfielder Delmon Young played a full seven-inning extended spring game in right field Thursday and planned to do so again Friday, setting him up for a rehab assignment that could begin as early as this weekend.

Share Tweet

Cabrera, Fielder lead Tigers' offense in rubber game

By the late innings of the Tigers' chilly, rainy 11-1 win over the Blue Jays at Comerica Park, the only suspense left was whether the weather would allow them to get in nine innings. The lead was insurmountable.

Share Tweet

The Texas Rangers have put left-hander Matt Harrison on the disabled list with a sore back.

Share Tweet

deadspin.com ESPN.com

Apr 11, 2013

The Red Sox's 10-year sellout streak, which never actually existed, was finally dispatched with a press box announcement. Over the loudspeaker came the number: 30,862. And that was it. It was the sound of the streak getting a bullet behind the ear in so…

Share Tweet

All hail Barry Zito, winner of games, hitter of balls, hero of men

No, you haven't stumble upon a post from 2002 - it's 2013 and we're talking about Barry Zito, who is, statistically speaking, at this very early juncture, one of the best pitchers in baseball. Did anybody ever think they'd be reading that sentence again

Share Tweet

Top prospects no longer waiting to hit bigs

Teams have made a habit in recent years of putting top prospects in the minors at the start of the season. As these young stars prove, that's no longer the case, writes Joe Lemire.

Share Tweet

In the end, it doesn't matter who was promised what. All that matters is that Nolan Ryan has decided to remain with the Texas Rangers. To the millions of fans who care about this franchise, it's a day to celebrate and to be reminded how good they've got…

Share Tweet

Selig won't meet San Jose mayor about A's

San Jose Mayor Chuck Reed's request to sit down with Major League Baseball Commissioner Bud Selig to discuss the Oakland A's pursuit of a San Jose ballpark has been rejected, a newspaper reported.

Share Tweet

Defense a Ray of light early for Tampa Bay

An area of weakness in 2012, the Rays' defense has helped to keep them afloat despite struggles at the plate and on the mound.

Share Tweet

Major League Baseball has created a task force that will study how to increase diversity in the game, especially among black players.

Share Tweet

Country star Pride's path inspired by Jackie

Charley Pride was honored by the Negro Leagues Baseball Museum in Kansas City on Wednesday night, when he was presented the Jackie Robinson Lifetime Achievement Award.

Share Tweet

'42' does justice to an American hero

As the new movie "42" on Jackie Robinson shows, if you are going to tell a story everyone already knows, this is how you tell it: behind the scenes, with revealing insets of the big picture that break down a historical seminal episode to its b…

Share Tweet

deadspin.com yahoo.com

Apr 11, 2013

Not a ton of excitement in last night's loss to the Astros. Right now on the team site, the highlights are "Kelly Shoppach's first home run as a Mariner," "Bobby LaFromboise strikes out two in his major league debut," and "Micha…

Share Tweet

Photos: Marlins Park Is Satisfyingly Empty

deadspin.com

Apr 11, 2013

Well, what do you know? It turns out Jeffrey Loria and David Samson were lying when they said the Marlins needed a new ballpark to draw. Maybe they need a new owner.Read more...

Share Tweet

Vin Scully asks: 'What in the world is hashtag?'

Your browser does not support iframes. That's the question, isn't it? Legendary Los Angeles Dodgers broadcaster Vin Scully, who makes everything sound better, especially baseball, also can make the word "hashtag" sound like some kind of illega…

Share Tweet

X-rays on Erick Aybar's left heel came back negative and manager Mike Scioscia said his switch-hitting shortstop is "walking much better."

Share Tweet

Season-long format gives Interleague new twist

Some tout the benefits of MLB's new season-long Interleague Play format, while traditionalists yearn for the old days.

Share Tweet

Yonder Alonso switches from first base, to second, to third, and back to second base in ninth inning for San Diego Padres

Yonder Alonso should consider changing his name to Wander Alonso after what he was asked to do for the San Diego Padres on Wednesday night. A first baseman (and occasional outfielder) by trade, Alonso went from first base to second to third and back to …

Share Tweet

Chicago Cubs prospect Jorge Soler was suspended five games and fined an undisclosed amount for an incident Wednesday in which he approached the opposing team's dugout wielding a bat during a Single-A game in Daytona Beach, Fla.

Share Tweet

Moss' five-RBI night fuels A's seventh straight win

First baseman Brandon Moss, who was a double shy of hitting for the cycle, matched a career high with five RBIs in Oakland's seventh straight win.

Share Tweet

Rick Ankiel, Chris Carter and Marwin Gonzalez each went deep, giving the Astros eight homers in two days as they powered to their first series victory of the season. Carter finished the set in Seattle 8-for-15 with three long balls and five RBIs.

Share Tweet

Butler, Francoeur home runs aid Royals' sweep

Billy Butler and Jeff Francoeur hit long home runs while starter Wade Davis went five scoreless innings with six strikeouts for the win, as the Royals completed a sweep of the Twins with Wednesday night's 3-0 victory at The K.

Share Tweet

Dodgers' blasts back sharp Billingsley in return

Chad Billingsley came off the disabled list to throw six solid innings with home run support from Carl Crawford and A.J. Ellis as the Dodgers beat the Padres, 4-3, on Wednesday night at Petco Park.

Share Tweet

A Shot at Redemption Is Washed Away

nytimes.com

Apr 11, 2013

Ivan Nova was looking forward to getting back on the mound Wednesday to help erase the memory of a poor outing in his last game, on Friday, but rain washed away the chance.

Share Tweet

Bird-Flipping Red Sox Fan Is Less Than Impressed By Chris Davis's Homer

deadspin.com

Apr 11, 2013

The Red Sox are surprising fans and pundits with their quick start in the AL East, though the Orioles cut into that lead thanks in part to a ninth inning Chris Davis homer that sparked a five run rally. Davis's performance so far this season has been im…

Share Tweet

Chris Davis and Manny Machado went deep as the Orioles rallied for five runs in the ninth inning to secure an 8-5 win over the Red Sox on Wednesday night.

Share Tweet

Gerry Davis hit yet another career milestone, when he umpired his 4,000th career game Wednesday night in Anaheim.

Share Tweet

Nationals Sweep White Sox

Apr 11

Bryce Harper drives in two runs in the Nationals' 7-4 win over the White Sox.

Giants Win Fourth Straight

Apr 11

The Giants hold off the Cubs 7-6.

Fielder Powers Tigers To Rout Of Jays

Apr 11

Prince Fielder had four RBIs and Doug Fister allowed one run over eight innings as the Tigers rolled past the Blue Jays 11-1.

Cubs Prospect Soler Charges Dugout

Apr 11

Cubs manager Dale Sveum reacts to the news that Cubs prospect Jorge Soler was ejected from his Class A team's game after approaching the opposing team's dugout wielding a bat.