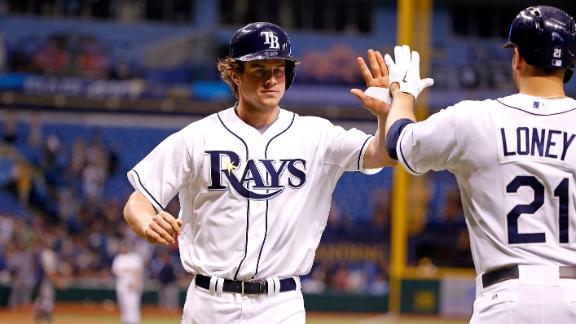 Alex Cobb pitched five strong innings in his first big league game since being hit in the head by a batted ball two months ago and the Tampa Bay Rays beat the Seattle Mariners 7-1 on Thursday night.
Share
Tweet
The St. Louis Cardinals will purchase the contract of one of their top prospects, second baseman Kolten Wong, from Triple-A Memphis prior to Friday's game at the Chicago Cubs.

Share Tweet

nydailynews.com MLB.com

Aug 15, 2013

With about a year and four months left in his commissionership, Bud Selig is taking care of all the remaining family business — with a firm and even hand.

Share Tweet

Pinch hitter Mark DeRosa hit a tiebreaking sacrifice fly in the seventh inning, Mark Buehrle pitched seven innings to win his fourth straight decision and the Toronto Blue Jays beat the Boston Red Sox 2-1 on Thursday night.

Share Tweet

Votto backs Cingrani as Reds win fifth straight

Tony Cingrani threw 6 1/3 solid innings and Joey Votto launched a go-ahead solo home run Thursday to keep the Reds rolling with a 2-1 win over the Brewers at Miller Park.

Share Tweet

Holland makes transition to veteran on and off field

Right before our eyes, Rangers starter Derek Holland has grown up. From young and fun, to more mature and serious. He's a veteran. In many ways.

Share Tweet

Major League Baseball announced intentions to expand the use and style of its instant replay system on Thursday, and big league players and managers -- for the most part -- offered a collective vow of support.

Share Tweet

Prince Fielder homered for the first time in three weeks, hitting a two-run shot in the first inning to help the Detroit Tigers to a 4-1 victory over the Kansas City Royals on Thursday night.

Share Tweet

Slugger Reynolds agrees to deal with Yanks

Mark Reynolds has agreed to a deal with the New York Yankees, general manager Brian Cashman confiremed.

Share Tweet

Carlos Gomez paid a price for his latest highlight-reel catch, exiting the Brewers' game against the Reds on Thursday night at Miller Park with a right knee sprain after banging into the center-field wall.

Share Tweet

Beckham pulled in fourth with right quad strain

Second baseman Gordon Beckham left Thursday night's series opener with the Twins early due to a right quadriceps strain.

Share Tweet

With Matt Holliday's RBI single to center in the 12th inning, the Cardinals earned a 6-5 win over Pittsburgh to salvage a series victory -- their first of the year against the Pirates -- to creep back within two games of the division lead.

Share Tweet

Nate Freiman delivered a four-hit game and drove in four in the A's 5-0 win over the Astros, who couldn't manage a single run off first-year starter Sonny Gray on Thursday in Oakland.

Share Tweet

Korean slugger's next-level home run celebration includes a 360-degree spin

In Major League Baseball, if a hitter takes too long to admire a home run or flips his bat in celebration, there's a good chance he's going to pay the price. Ain't that right, Bryce Harper?Makes you wonder what would happen to an MLB player if he finish…

Share Tweet

Brewers' Weeks has surgery on torn hammy

Brewers second baseman Rickie Weeks had surgery Thursday to repair his torn left hamstring.

Share Tweet

Pinch-hitter Sanchez blasts Giants past Nats

Pinch-hitter Hector Sanchez hit a three-run homer with two outs in the ninth inning, helping the San Francisco Giants beat the Washington Nationals 4-3 on Thursday.

Share Tweet

Sweep the leg! Eric Sogard taken out by a broken bat moments after catching a line drive

Can we all agree a shortstop should not have to contend with both a flying ball and a flying bat on the same play? Tell that to Eric Sogard, the Oakland Athletics shortstop who found a broken bat flying at him Thursday afternoon moments after he had cau…

Share Tweet

Padres place C Hundley on paternity leave

The San Diego Padres have placed catcher Nick Hundley on paternity leave and called up catcher Chris Robinson from Triple-A Tucson.

Share Tweet

Baseball commissioner Bud Selig stood by his decision to issue a 211-game suspension to New York Yankees third baseman Alex Rodriguez, calling it "eminently fair."

Share Tweet

Halladay makes rehab start, future still uncertain

Share Tweet

Everything Happens To Reds Catcher Ryan Hanigan On This Play

deadspin.com

Aug 15, 2013

This is from yesterday at Wrigley. It's another reminder that the importance of wearing a cup when playing baseball cannot be overstated. It's also a reminder that playing catcher has its own unique set of on-the-job hazards.Read more...

Share Tweet

Chris Nelson hit his first two home runs of the season, including a grand slam against his former team, to send C.J. Wilson and the Los Angeles Angels past the New York Yankees 8-4 on Thursday.

Share Tweet

The union of the snake was on the climb at Tropicana Field on Thursday, because the Tampa Bay Rays invited a 20-foot python named Asia into the home clubhouse. Sounds like a Joe Maddon-Luke Scott collaboration, doesn't it? Between Maddon's progressive m…

Share Tweet

yahoo.com deadspin.com

Aug 15, 2013

Major League Baseball players who don't wear protective cups, guys like New York Mets right-hander LaTroy Hawkins, must know they are taking a calculated risk. They do it for physical comfort because, even in this day and age of advanced engineering, cu…

Share Tweet

Infielder Elliot Johnson was the player dropped by the Royals on Thursday as newly acquired infielder Emilio Bonifacio reported to the club.

Share Tweet

deadspin.com CNNSI.com yahoo.com ESPN.com

Aug 15, 2013

The expanded use of instant replay in MLB that was reported yesterday has officially been announced, and we now know exactly will trigger a review. It'll come down to manager challenges, and not everyone's happy about that.Read more...

Share Tweet

deadspin.com yahoo.com

Aug 15, 2013

A real, winged bat flew onto the field in the middle of last night's Phillies-Braves game. If you've seen this story by now, you probably think that the batboy scooped the bat from shortstop Paul Janish's glove and then ran, cradling it, to the Braves d…

Share Tweet

Watch this — a baseball fan bikes to all 30 MLB stadiums for a good cause

Jacob Landis certainly isn't the first baseball fan who set out on a summer journey to visit all 30 stadiums. But he very well could be the first who has done it on a bicycle with the goal of raising $1 million to help people who need cochlear implants …

Share Tweet

Cubs stock up with bumper international crop

The stars, the talent, the rules and the resources all aligned this year for the Cubs to spend in the international market.

Share Tweet

Fielder filed for divorce earlier this season

Detroit Tigers slugger Prince Fielder, who has been mired in a prolonged slump, filed for divorce from his wife of eight years this past May.

Share Tweet

Close Cy Young race in AL, but Kershaw running away with NL honor

The NL Cy Young race is all but over; the AL leader comes down to how voters feel about an old stat.

Share Tweet

This is a time for evaluation. Phillies general manager Ruben Amaro Jr. sat on a couch in the manager's office inside the visitors' clubhouse Wednesday at Turner Field and discussed some of the assessments and discussions that are taking place these day…

Share Tweet

Nationals promote Storen from Triple-A

Drew Storen spent almost three weeks in the Minor Leagues as a result of poor performance, but the Nationals are ready to give him another chance as they attempt to climb above .500 and into playoff contention.

Share Tweet

In offseason, Halos will re-emphasize pitching

The Angels entered Thursday ranked 11th in the American League in starting-pitcher ERA (4.54) and 13th in relief-pitcher ERA (4.42). This offseason, the team's focus will be simple: Pitching, pitching, pitching.

Share Tweet

The St. Louis Cardinals activated All-Star catcher Yadier Molina from the 15-day disabled list after he was sidelined with a right knee sprain.

Share Tweet

Indians duo struck by rare middle finger sprain

Corey Kluber and Zach McAllister have both been sidelined this season by middle finger sprains, an unusual baseball injury that also impacted Tribe hurlers in the past.

Share Tweet

Affable Villanueva not sweating lack of wins

Carlos Villanueva has not won a game he started since April 18, and now it appears he can only get another victory out of the bullpen. The Cubs right-hander, whose only win since April came in a relief appearance on June 29, does have an idea as to how …

Share Tweet

Denard Span saves game for Nationals with diving catch against Giants

The Washington Nationals entered play on Wednesday with a four-game winning streak and a chance to climb to within one game of the .500 mark. Not exactly the position many of us envisioned for the Nationals back in March, but that's where they are. All …

Share Tweet

Nats reach deal with Dominican Franco

The Nationals have come to an agreement with international free agent Anderson Franco, an athletic 16-year-old who projects as a powerful right-handed hitter with a strong arm from third base. According to a baseball source, the deal is worth $900,000.

Share Tweet

With protection in the order thanks to Alfonso Soriano and Alex Rodriguez, Robinson Cano is finally getting pitches to hit.

Share Tweet

Yanks bring up Huff for 'pen help; option Betances

Left-handed reliever David Huff was recalled from Triple-A Scranton/Wilkes-Barre before Thursday's series finale against the Angels. Reliever Dellin Betances was optioned to Scranton to make room for Huff.

Share Tweet

For the second night in a row, Oakland A's outfielder Chris Young missed a game-winning home run by the slimmest of margins. On Tuesday night, Young's ninth inning drive down the left-field line came so close to nicking the foul pole, the umpiring crew …

Share Tweet

deadspin.com

Aug 15, 2013

Francisco Liriano threw a four-hit complete game last night, helping the Pirates end a four-game losing streak. His performance kept scores of nervous Yinzers, panicked at the possibility of another late-season Pirates collapse, from racing to the Rober…

Share Tweet

Every lineup, every day, as they are made public by the clubs.

Share Tweet

Dodgers delivering wins but Braves, Tigers still hold down top spots

The Dodgers just keep delivering wins but it's not yet enough to dislodge these teams from the top two spots.

Share Tweet

Deep Marlins system has arms ready, if needed

If the Marlins shut down any of their young starters in September, the club has plenty of options in the Minors, including lefty Brian Flynn.

Share Tweet

Extra special: More games going over nine frames

With a mid-August flurry and a pace continuing to trend toward the historic, extra-inning games are helping define the 2013 Major League season as one with a flair for the dramatic.

Share Tweet

Dodgers streaking to history

Sports Illustrated senior writer Tom Verducci takes a look at the Los Angeles Dodgers' great second half performance and how that sets them up going into the playoffs.

Share Tweet

Red Sox blunders turn Rajai Davis grounder into Little League home run

The Little League World Series is set to begin on Thursday afternoon, but with 16 of the best teams from around the world converging on Williamsport, PA, the odds we'll see a play like the one the Boston Red Sox completely botched on Wednesday night are…

Share Tweet

Ethier cracks pinch-HR after avoiding scare

Dodgers outfielder Andre Ethier was not in the Dodgers' starting lineup Wednesday night because of a left calf issue, but he delivered a pinch-hit, two-run homer in the ninth inning to tie the game before the Dodgers went on to beat the Mets, 5-4.

Share Tweet

Dodgers shortstop Hanley Ramirez was back in the starting lineup Wednesday for the first time since injuring his right shoulder chasing a popup into the stands Aug. 4 in Chicago.

Share Tweet

The Juice returns for season No. 6! It's almost eligible for free-agency! Stop by daily for news from the action, along with great photos, stats, video highlights and more. After getting locked in with two home runs and a career-high six RBIs in the Yan…

Share Tweet

Yasiel Puig hit a one-out double in the 12th inning, then scored on Adrian Gonzalez's two-base hit, lifting the Los Angeles Dodgers to a 5-4 victory over the New York Mets on Wednesday night that extended their winning streak to eight games.

Share Tweet

Alex Rodriguez has added another high-profile attorney to his legal team.

Share Tweet

Owners scoff at report that Alex Rodriguez is planning to sue MLB

nydailynews.com

Aug 15, 2013

The report that Alex Rodriguez and his handlers are now planning a federal lawsuit against Major League Baseball, claiming he is being persecuted by commissioner Bud Selig and his drug-enforcement authorities, was greeted with both skepticism and bemuse…

Share Tweet

Rangers rally from early hole with three-run seventh

Matt Garza allowed a pair of homers in 5 2/3 innings to put the Rangers behind, but Ian Kinsler's two-run single capped a three-run rally in the seventh inning to give the Rangers a 5-4 win over the Brewers on Wednesday.

Share Tweet

grantland.com

Aug 15, 2013

For a pitcher who's been in the majors fewer than five seasons, Brett Anderson has had a pretty eventful career. Anderson made the Show as a 21-year...

Share Tweet

The Tragic, Meaningless Collapse of the San Francisco Giants

grantland.com

Aug 15, 2013

Let's get one thing out of the way up front: I'm not trying to diminish the significance of winning two World Series in three years. It's a tremendous...

Share Tweet

Myers Powers Rays Past M's

Aug 15

Wil Myers drove in four runs in the Rays' 7-1 win over Mariners.

Tigers Roll Royals

Aug 15

Prince Fielder homered for the first time in three weeks to help the Tigers past the Royals 4-1.

Python Visits Rays Clubhouse

Aug 15

Rays manager Joe Maddon brought a 20-foot python into the Rays clubhouse for "a little bit of motivation within the clubhouse."

Pinch-Hit Homer Lifts Giants

Aug 15

Hector Sanchez's three-run homer in the ninth propelled the Giants to a 4-3 win over the Nationals.