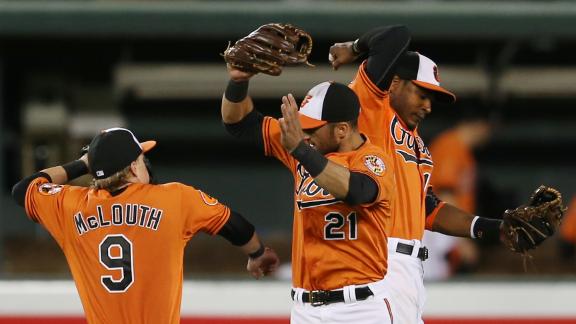 O's churn out 7-run 3rd to roll past Rockies
ESPN.com
Updated Aug 17, 2013
Brian Roberts and Manny Machado both hit two-run doubles during a seven-run third inning fueled by Colorado miscues, and the Baltimore Orioles defeated the Rockies 8-4 Saturday night to end a four-game losing streak.
Share
Tweet
Roy Halladay threw a bullpen session on Saturday to follow up Thursday's rehab start with the GCL Phillies, and pitching coach Rich Dubee deemed both outings "fine."

Share Tweet

A hobbled Miguel Cabrera hit a tiebreaking solo homer in the ninth inning, lifting the Detroit Tigers to a 6-5 win over Kansas City on Saturday night, hours after Royals infielder Miguel Tejada was suspended for at least the rest of this season for test…

Share Tweet

Clayton Kershaw pitched eight dominant innings and the seemingly unstoppable Los Angeles Dodgers won their 10th straight Saturday night, beating Philadelphia 5-0 to keep the Phillies scoreless in two games under new manager Ryne Sandberg.

Share Tweet

The Red Sox seem to have survived a foul ball scare as Dustin Pedroia's left foot is sore but checked out OK in preliminary tests.

Share Tweet

Jays' Happ wins 1st game since skull fracture

J.A. Happ won in his first game at Tropicana Field since a scary injury three months ago and the Toronto Blue Jays beat the Tampa Bay Rays 6-2 on Saturday.

Share Tweet

ESPN.com MLB.com CNNSI.com yahoo.com deadspin.com

Aug 17, 2013

The lawyer for Alex Rodriguez alleged that MLB will not have enough proof to uphold Rodriguez's 211-game performance enhancing drug violation in part because its star witness will not be around to testify.

Share Tweet

Cain, two-out hits lift Giants in Miami

Another stellar outing from a resurgent Matt Cain and one split-second decision made by Marlins first baseman Logan Morrison changed the Giants' fortunes in a 6-4 win on Saturday night in front of 24,653 at Marlins Park.

Share Tweet

Yovani Gallardo gave up three hits in 6 1/3 innings and Logan Schafer had a two-run double to lead the Milwaukee Brewers to a 2-0 win over the Cincinnati Reds on Saturday.

Share Tweet

Left-hander Chris Sale hit a rough patch during a three-run third inning, but the White Sox ace settled in and Dayan Viciedo hit a three-run, game-changing homer in the fourth on the way to an 8-5 victory over the Twins on Saturday night at Target Field…

Share Tweet

Young exits after second with sore left ankle

Phillies third baseman Michael Young left Saturday's game against the Dodgers after the second inning because of a sore left ankle.

Share Tweet

Athletics pitcher Bartolo Colon is headed to the 15-day disabled list with a strained left groin.

Share Tweet

Red Sox shut down Yanks, stay in first place

Jacoby Ellsbury had three hits, David Ortiz homered and John Lackey held down New York's resurgent offense as the Boston Red Sox broke a three-game skid by beating the Yankees 6-1 on Saturday.

Share Tweet

Two-out attack propels D-backs past Pirates

The D-backs banged out seven consecutive hits en route to a six-run inning and a 15-5 win over the Pirates on Saturday afternoon in front of a sold-out crowd at PNC Park.

Share Tweet

The New York Mets have promoted catcher Travis d'Arnaud from Triple-A and put him into the starting lineup for his major league debut.

Share Tweet

Yadier Molina hit a two-run homer, Joe Kelly threw six scoreless innings and the St. Louis Cardinals beat the Chicago Cubs 4-0 on Saturday.

Share Tweet

Lackey limits Yankees as bats best Kuroda

There remains just one team in the Majors that hasn't endured a four-game losing streak this season -- the Boston Red Sox. John Lackey made sure of that on Saturday afternoon at Fenway Park when he put together his best performance in a few weeks, snapp…

Share Tweet

With six scoreless innings, Joe Kelly helped the Cardinals to a 4-0, series-evening win over the Cubs on Saturday. A two-run homer by catcher Yadier Molina and heads-up baserunning by Jon Jay punctuated the victory in front of 41,981 fans at Wrigley Fie…

Share Tweet

The Colorado Rockies have activated right-handed reliever Rafael Betancourt from the 15-day disabled list.

Share Tweet

Reyes likely out a few days with sore knee

Toronto Blue Jays shortstop Jose Reyes is expected to be sidelined for a few days because of soreness in his right knee.

Share Tweet

Korean taekwondoist performs incredible flip before throwing out first pitch

Maybe we're doing it wrong here in America, because our ceremonial first pitches just don't have the same flair as those in Korea. The latest evidence of this came before Saturday's Korean Baseball Organization game featuring the Doosan Bears. On this o…

Share Tweet

Rays place Scott on DL due to back spasms

The Tampa Bay Rays have put designated hitter Luke Scott on the 15-day disabled list because of lower back spasms.

Share Tweet

Bryce Harper is out of the Nationals' lineup against the Braves due to a bruised triceps.

Share Tweet

Texas Rangers right-hander Alexi Ogando had an injection on Saturday morning and will not make his scheduled start on Monday against Houston.

Share Tweet

Longtime Boston Red Sox broadcaster Jerry Remy says he cannot describe his disgust and remorse after his son pleaded not guilty to stabbing his girlfriend to death.

Share Tweet

In what might be the most depressing photos we'll see all season, former Philadelphia Phillies manager Charlie Manuel was spotted leaving Ciitzens Bank Park with a plastic bag from Wawa — presumably containing a lunch or dinner he was unable to enjoy — …

Share Tweet

Nationals put Jordan on DL with back strain

The Washington Nationals have placed right-hander Taylor Jordan on the 15-day disabled list with a right lower back strain.

Share Tweet

Fox Sports Really Wants Bill Simmons To Watch The Red Sox Today

deadspin.com

Aug 17, 2013

The low-key Bill Simmons-Fox Sports Twitter spat has been one of the more amusingly dumb things in sports media in this long summer. Today, we learned that there's only one Simmons — but there are tons of Fox Sports accounts that can correct him.Read mo…

Share Tweet

Australian baseball player picks up 7-10 bowling split with baseballs

I feel very confident that what you see in the video isn't one-hundred percent authentic. It almost couldn't be due to the incredibly difficult nature of the tricks involved. But the visual is incredible and the execution is still worth checking out and…

Share Tweet

D-backs activate Cahill for Saturday start

Diamondbacks right-hander Trevor Cahill has been activated from the 15-day disabled list and is scheduled to start against the Pittsburgh Pirates.

Share Tweet

ESPN.com MLB.com deadspin.com yahoo.com

Aug 17, 2013

Kansas City Royals infielder Miguel Tejada has been suspended 105 games after testing positive for an amphetamine in violation of Major League Baseball's drug program.

Share Tweet

Your browser does not support iframes. If baseball's unwritten rules were actually written down somewhere, I'm sure the first one on the list would be to always keep your eye on the ball. It's a good rule, too, though maybe a little difficult to obey be…

Share Tweet

Every lineup, every day, as they are made public by the clubs.

Share Tweet

The Cardinals on Saturday recalled left-hander Tyler Lyons from Triple-A Memphis and optioned fellow lefty Sam Freeman to Memphis.

Share Tweet

Terrible Person Grabs Foul Ball Away From Young Boy At Fenway

deadspin.com

Aug 17, 2013

While much of the focus on last night's Yankees-Red Sox game landed on the Fenway faithful's treatment of A-Rod, the true villain in attendance was this gent who celebrated the achievement of grabbing a foul ball away from a little kid.Read more...

Share Tweet

When the New York Yankees reacquired Alfonso Soriano in a trade with the Chicago Cubs back on July 26, they did so hoping the 37-year-old veteran would give them the presence they had been sorely lacking from the right side of the plate. For a little pe…

Share Tweet

Former major league outfielder Chad Curtis, 44, was found guilty on Friday of sexually assaulting three teenage girls while serving as a substitute teacher and weight-room coach at their Lakewood, Mich high school. According to Michigan Live, a Barry Co…

Share Tweet

The Juice returns for season No. 6! It's almost eligible for free-agency! Stop by daily for news from the action, along with great photos, stats, video highlights and more. The race in the National League East is all but decided at this point, but the A…

Share Tweet

If Alex Rodriguez did rat out Francisco Cervelli, he will lose respect of everyone

nydailynews.com

Aug 17, 2013

A couple of minutes after 5 p.m., Alex Rodriguez bounded up the steps from the clubhouse, saw the media swarm waiting for him and laughed a bit nervously. "Is that for me?" he asked, and then called out to Yankees' PR director Jason Zillo, standing near…

Share Tweet

Lucroy solves Chapman, lifting Crew to walk-off win

Brewers catcher Jonathan Lucroy had struck out in all five of his at-bats against Reds closer Aroldis Chapman before connecting for a two-run, walk-off home run in the ninth for a 7-6 win Friday night at Miller Park.

Share Tweet

Seager's clutch HR backs Iwakuma's strong start

Kyle Seager ripped a two-run home run off reliever Neal Cotts in the eighth inning and Justin Smoak added a solo shot in the ninth as the Mariners pulled out a 3-1 victory over the red-hot Rangers on Friday.

Share Tweet

Sogard protects A's Wild Card lead with clutch double

Eric Sogard's two-out RBI double in the seventh inning broke a 2-2 tie against the Indians and paved the way for the A's 3-2 win at O.co Coliseum on Friday. Yoenis Cespdes hit his 20th homer in the first inning.

Share Tweet

With Alex Rodriguez dominating the headlines following his return to the field and the announcement that he would be allowed to continue playing until the appeals process began for his 211-game suspension is head, the name of Ryan Braun has quietly of f…

Share Tweet

Kershaw, Dodgers Dominate Phillies

Aug 17

Clayton Kershaw pitched eight shutout innings to help the Dodgers beat the Phillies 5-0 and earn their 10th straight win.

Diamondbacks Crush Pirates

Aug 17

Paul Goldschmidt hit his 30th home run in the Diamondbacks' 15-5 win against the Pirates.

Cardinals Blank Cubs

Aug 17

Joe Kelly pitched six shutout innings and Yadier Molina homered to help the Cardinals beat the Cubs 4-0.

Report: Braun To Admit Using PEDs

Aug 17

T.J. Quinn reacts to the news that Ryan Braun is planning to publicly apologize and admit using performance-enhancing drugs during the 2011 season.