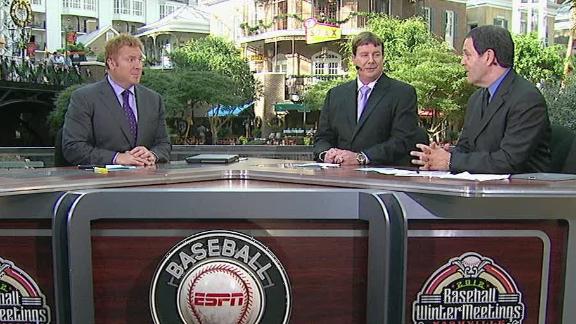 nydailynews.com
CNNSI.com
ESPN.com
deadspin.com
nytimes.com
yahoo.com
MLB.com
Updated Dec 3, 2012
So this is what the Yankees hope, going into a season that might not start for Alex Rodriguez until he has turned 38: That the reason he looked as washed up as he did in the postseason of 2012 was because he now has two old-man hips instead of one.
Share
Tweet
Espinosa not bothered by trade speculation

Nationals second baseman Danny Espinosa said Monday night that he is not bothered by the trade rumors that have him linked to the Rays.

Share Tweet

SAN FRANCISCO (AP) -- The San Francisco Giants and free agent center fielder Angel Pagan have reached agreement on a four-year contract.

Share Tweet

Melvin happy to keep strong outfield corps intact

A's general manager Billy Beane is adamant about keeping all of his starting pitchers rather than dangling them as trade bait. The plan, as it currently stands, is similar in regard to his surplus of outfielders, and manager Bob Melvin expects all to be…

Share Tweet

Ned Yost wants Royals to swing for fences in 2013

NASHVILLE, Tenn. - These might not be your grandpa's Kansas City Royals anymore. Known during their golden era as speed freaks who pumped their legs in order to get around the bases, the Royals want to slug their way into contention in 2013 and going fo

Share Tweet

Auction: Win guitar lesson from Reds' Arroyo

Fans can win a round of golf with Arizona pitcher Ian Kennedy, a day of batting practice with the Cleveland Indians and a 30-minute guitar lesson from Cincinnati Reds pitcher Bronson Arroyo as part of a charity auction this week benefiting Stand Up To C…

Share Tweet

Not that anyone was keeping score, but the Padres might well have struck the first deal of the 2012 Winter Meetings in Nashville.

Share Tweet

On the first day of his first Winter Meetings as general manager, Rick Hahn didn't experience much different from past years in the White Sox contingent.

Share Tweet

The Phillies have some interest in Rangers infielder Michael Young, and there are other clubs looking for a third baseman. The Yankees are among those teams now that Alex Rodriguez will miss at least the first three months of the season because of left …

Share Tweet

This free-agent market requires taking gambles

The signings of Angel Pagan, Melky Cabrera and Mike Napoli underscore the slim pickings for teams in search of run producers.

Share Tweet

Potential roster turnover doesn't faze Maddon

Turnover is a part of any Major League team. Rays manager Joe Maddon might be more familiar than other managers with the concept of having to bid farewell to familiar faces to make way for new faces in the spring.

Share Tweet

(AP) -- Triple Crown winner Miguel Cabrera is going to play for Venezuela in the upcoming World Baseball Classic.

Share Tweet

On the injury front, Phillies feel Yankees' pain

If anybody could empathize with the news that broke that Yankees third baseman Alex Rodriguez is expected to miss the first three months of the season recuperating from surgery to repair a torn labrum in his left hip, it's Phillies general manager Ruben…

Share Tweet

CNNSI.com MLB.com ESPN.com grantland.com

Dec 3, 2012

NASHVILLE, Tenn. (AP) -- A person familiar with the negotiations says catcher Mike Napoli and the Boston Red Sox have agreed to a $39 million, three-year contract.

Share Tweet

Indians feeling out other clubs at Nashville Meetings

At the Winter Meetings, Cleveland is weighing the benefit of acquiring younger talent -- preferably top pitching prospects -- while also trying to fill holes via free agency.

Share Tweet

While roster may change, Collins' focus does not

Though he attends team meetings and sometimes dispenses advice, Mets manager Terry Collins notes often that his job is to worry about the 25 players on his active roster -- and nothing else.

Share Tweet

Colletti calm, but knows he has work to do

The Dodgers have the highest payroll in the Major Leagues at $198.3 million, having pushed the Yankees down from their perennial perch, and Los Angeles doesn't appear to be finished spending.

Share Tweet

With no need or desire to go after this winter's top crop of available free agents, the Cardinals remained under the radar during a relatively quiet Day 1 at the Winter Meetings on Monday.

Share Tweet

Rockies seek proven pitchers in trade talks

It will take no less than established starting pitching to pry either Dexter Fowler or Michael Cuddyer from the Rockies' outfield.

Share Tweet

There is speculation at the Winter Meetings that the interest in free-agent outfielder Josh Hamilton is not as high as people expected. Rangers manager Jon Daniels doesn't buy it.

Share Tweet

Sources: Unlikely replay ready for Opening Day

It's been only a month and a half since commissioner Bud Selig told the Los Angeles Times that baseball will expand its use of replay "for sure" by next season. But the sport has made so little headway since, it's not so "for sure" anymore.

Share Tweet

A's well-armed to continue run of success

How can the Oakland Athletics stage a suitable encore of their amazing 2012 season? The literal answer to that comes in three parts -- pitching, pitching and pitching.

Share Tweet

While talk continues to circulate at the Winter Meetings that the Mariners are pushing for a significant trade to upgrade their offense, general manager Jack Zduriencik didn't pull the trigger on anything Monday.

Share Tweet

Sandy Alderson insists the Mets are not leaning toward trading R.A. Dickey, but the general manager's actions Monday spoke volumes to the contrary. By late afternoon of his first day at the Winter Meetings, Alderson had met with "several" club…

Share Tweet

Angels' list of targets doesn't end with Greinke

The Angels are staying open-minded about their ongoing efforts to improve their pitching, but Zack Greinke tops their wish list as the Winter Meetings get under way in Nashville, Tenn.

Share Tweet

Yunel Escobar's tenure with the Marlins may be shorter than expected. According to an MLB source, Miami is actively shopping the 30-year-old infielder. At least two teams have been in contact with the Marlins, with one believed to be the A's.

Share Tweet

Bowa talks about Team USA in Classic

Larry Bowa made it plain in a lengthy interview with MLB.com what kind of Team USA his group would like to put together: young, eager and energetic.

Share Tweet

It was clear on a quiet Day 1 of the Winter Meetings that Brewers general manager Doug Melvin prefers to remain quiet about his pursuit of free-agent starting pitcher Ryan Dempster.

Share Tweet

Giants unveil 37-game Spring Training slate

Variety highlights the Giants' 2013 exhibition schedule announced Monday, as the World Series champions will face each of their Cactus League brethren at least once at home.

Share Tweet

Duke agrees to 1-year deal to stay with Nats

Left-hander Zach Duke has agreed to a one-year contract to stay with the Washington Nationals.

Share Tweet

MLB, Having Given The Orioles' Owner Control Over Nats TV, Begs Fox To Buy Him Out

deadspin.com

Dec 3, 2012

Tucked away in this Sports Business Daily article about Fox's ongoing quest to amass an empire of regional sports networks is this nugget, concerning Fox's attempts to buy MASN, the network that broadcasts Orioles and Nationals games, from Orioles owner…

Share Tweet

Free-agent reliever Joakim Soria is close to agreeing on a contract with the Texas Rangers, a source confirmed.

Share Tweet

'Let them play!': Bob Watson fondly recalls 'Bad News Bears' movie filmed at Astrodome

NASHVILLE - Bob Watson has held many roles during his life in baseball. He was an MLB vice president, a World Series-winning GM of the Yankees and he hit 184 home runs over a 19-year career that includes time with the Astros, Yankees and Braves. One of

Share Tweet

Jeter: No doubt I'll be in Opening Day lineup

Yankees shortstop Derek Jeter replied in the affirmative as to whether he'll be ready to play on Opening Day.

Share Tweet

Done Deals: Ben Revere trade to Philly caps winter meetings activity

We kept a running list of trades and signings that went down during the winter meetings. Thanks for reading and come back for more signings and trades as the offseason continues! Thursday Twins send Ben Revere to Phillies for Vance Worley, Trevor May Fo…

Share Tweet

DeWitt set for less stressful Winter Meetings

In stark contrast to last year, Cardinals owner Bill DeWitt Jr. welcomed the opportunity to be seen and chat up media members on Monday, the first official day of the 2012 Winter Meetings.

Share Tweet

Jack Morris says his career is more than just Game 7 of the 1991 World Series

NASHVILLE - Having downed a carton of milk for breakfast before doing his show for MLB.com at baseball's winter meetings, possible Hall of Famer Jack Morris took a moment to discuss where he stands regarding Cooperstown. After not breaking 25 percent of

Share Tweet

CNNSI.com grantland.com

Dec 3, 2012

The Red Sox added Mike Napoli. The Yankees suddenly need a third baseman. And the game's top two free agents remain up for grabs. Jay Jaffe analyzes the week's key questions.

Share Tweet

One Of The Mets' New Minority Owners Has Been Accused Of Consumer Fraud. He'll Fit Right In.

deadspin.com

Dec 3, 2012

Will the Mets ever be anything but an incorporated facepalm of a team? The latest addition to the team's ever-growing portfolio of pathetic missteps comes courtesy of The New York Times, which points out today that one of the team's new minority owners …

Share Tweet

NASHVILLE, Tenn. (AP) -- Former New York Yankees owner Jacob Ruppert, longtime umpire Hank O'Day and barehanded catcher Deacon White have been elected to the baseball Hall of Fame for their excellence through the first half of the 20th century.

Share Tweet

Indians selling SportsTime network to Fox Sports

The Indians are in the process of selling their SportsTime Ohio television network to Fox Sports Ohio, MLB.com has confirmed.

Share Tweet

Kruk replacing Francona in ESPN Sunday booth

John Kruk is following Bobby Valentine and Terry Francona into ESPN's Sunday night baseball booth.

Share Tweet

Free agent first baseman James Loney has agreed to a one-year, $2 million contract with the Tampa Bay Rays pending a physical exam, said a baseball source.

Share Tweet

NASHVILLE, Tenn. - The Juice has taken a short break from its offseason hibernation as Big League Stew's David Brown is on the scene of baseball's winter meetings in Nashville. Stop back on Tuesday and Wednesday to preview what's ahead at the biggest ma

Share Tweet

Let's get it on! Baseball's winter are starting down in Nashville and there's plenty of action about to take place. You're going to want to follow it all, so use this handy-dandy tracker to keep tabs on the action as the first day at the Opryland Hotel …

Share Tweet

Bobby Valentine joins Brian Cashman in rappelling down 22-story Connecticut building

In what has become a yearly tradition, New York Yankees general manager Brian Cashman prepared for the Winter Meetings by donning an elf suit and rappelling down the side of the 22-story Landmark Building in downtown Stamford, Conn. Only this time, in a…

Share Tweet

White Sox Winter Meetings Update

Dec 3

ESPNChicago.com's Doug Padilla with the latest on John Danks, the trade market for White Sox pitchers, new GM Rick Hahn, and their response to the Tigers.

Source: Red Sox Interested In R.A. Dickey

Dec 3

ESPNNewYork.com's Adam Rubin on the teams interested in R.A. Dickey if the Mets can't reach an extension this offseason.

Needs For Phillies, Twins & Royals

Dec 3

Jerry Crasnick and Keith Law discuss the Phillies' needs in center field, pitching options for the Twins and the Royals' lack of starters.

Mattingly, Dodgers Excited For Fresh Start

Dec 3

Dodgers manager Don Mattingly talks about the importance of spring training, his plans for Hanley Ramirez, and free agent Zack Greinke.