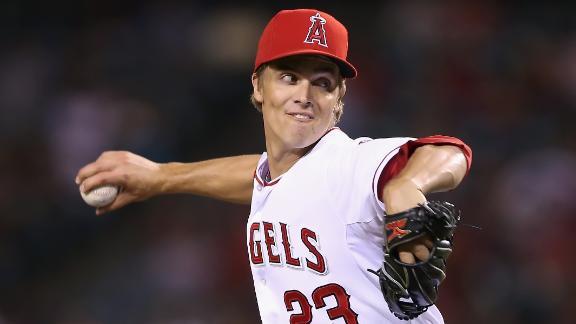 Scioscia looks to fill void left by Torii

Mike Scioscia is comfortable with the Angels' outfield alignment despite Torii Hunter's free-agent departure, but replacing the veteran in the No. 2 spot in the lineup is a tall task.

Share Tweet

NEW YORK (AP) -- Derek Jeter cheerily posed with four student leaders from his Turn 2 Foundation who were wearing Yankees jerseys and elf hats and asked a question to the group of photographers snapping away.

Share Tweet

The Chicago Cubs and free agent outfielder Nate Schierholtz reached an agreement on a one-year, guaranteed $2.25 million major-league contract Wednesday, according to a baseball source.

Share Tweet

Barry Larkin wants to keep baseball's most exclusive club clean.

Share Tweet

San Diego Padres pitcher Andrew Cashner cut a tendon in his right thumb during a hunting accident and probably will start the season on the disabled list.

Share Tweet

Sources: Cubs, free agent Dempster talk deal

ESPN.com

Dec 5, 2012

The agent for free-agent pitcher Ryan Dempster has had conversations with the Cubs on a possible return to Chicago, according to major league sources.

Share Tweet

Indians seeking bat while pitching market unfolds

The Indians have been involved in numerous discussions at the Winter Meetings to fill their holes at first base and in the outfield.

Share Tweet

As Tigers officials and Scott Boras talked around the same time Wednesday afternoon under the same roof at the Gaylord Opryland Hotel, they couldn't have sounded much further apart -- not just financially, but philosophically. It wasn't about starting p…

Share Tweet

White Sox plan to explore utility infielder options

If the 2013 season started this week, then Minor Leaguers Carlos Sanchez or Tyler Saladino stand as the prime utility infield candidates under White Sox control. Of course, the season does not start in early December, giving general manager Rick Hahn ti…

Share Tweet

Leyland preparing for 50th season in pro ball

If manager Jim Leyland can get the Tigers through the last postseason step during his 50th season in baseball, he'll have one more memory that will trump all the others.

Share Tweet

Free agent left-hander Jeff Francis has agreed to a one-year contract with the Colorado Rockies pending a physical exam, a baseball source said Wednesday.

Share Tweet

CNNSI.com nytimes.com MLB.com ESPN.com

Dec 5, 2012

NEW YORK (AP) -- A person with knowledge of the negotiations says the Arizona Diamondbacks and infielder Eric Chavez have agreed to terms on a $3 million, one-year contract.

Share Tweet

Much in flux as busy Meetings head into last day

While the top of the market remained on a steady simmer, the fringes of free agency continued to feed the hunger for news as the Winter Meetings worked through a third day Wednesday in relatively quiet fashion, at least when it comes to big-name deals.

Share Tweet

Texas Rangers general manager Jon Daniels said he met with Josh Hamilton's agent, Mike Moye, but that nothing has changed in terms of negotiating a deal with the former American League MVP.

Share Tweet

The Mets went a long way toward securing the future of the franchise by signing David Wright on Wednesday. And with that step, there's hope that the best is yet to come.

Share Tweet

Bo discusses upcoming documentary

Royals fans watching the video clips at Kauffman Stadium last season saw Bo Jackson hitting monster home runs, climbing an outfield wall and making The Throw in Seattle. At times, the two-sport star seemed like Superman as he played baseball for the Roy…

Share Tweet

As the hours dwindled down on the Winter Meetings, Royals general manager Dayton Moore was sharpening his focus on his primary target: A top-of-the-rotation starting pitcher.

Share Tweet

A tight-lipped Dodgers general manager Ned Colletti said he spoke Wednesday to Casey Close, agent for top free-agent target Zack Greinke, but wouldn't say if he made an offer, adding that he didn't have "any idea" when a Greinke deal might occ…

Share Tweet

Trading Yunel Escobar was the Marlins' primary objective heading into the Winter Meetings, and they were able to pull that off late Tuesday night. All day on Wednesday, the organization was weighing possible candidates to take over at third base.

Share Tweet

Jim "Jimbo" Leyland Was The Most Popular Boy At His High School 50 Years Ago

deadspin.com

Dec 5, 2012

Jim Leyland held court for the media today at baseball's winter meetings, and by all indications, he put on quite a show. Craig Calcaterra over at Hardball Talk has all of the highlights-Leyland on the World Baseball Classic: "I support it because the C

Share Tweet

Payroll-cutting Yankees face temptation

The Yankees are used to overindulging in the finest of free-agent players, but they have paid the price for their extravagances and claim they aren't going to do it anymore.

Share Tweet

Red Sox meet with Hamilton, plan to keep Ellsbury

MLB.com confirmed that general manager Ben Cherington and manager John Farrell did meet with Josh Hamilton in person at some point during the Meetings. In other news, Cherington disputed the notion that he's motivated to trade Jacoby Ellsbury.

Share Tweet

At some point soon -- by the end of the winter, by the end of the week or maybe even by time you're done reading this article -- something big is bound to go down in the American League West.

Share Tweet

Phillies manager Charlie Manuel wants a lot of things, but he said Wednesday he mostly wants a center fielder.

Share Tweet

For the second time in recent weeks, Mets chief operating officer Jeff Wilpon insisted that the organization may ultimately let R.A. Dickey pitch for New York next season, during the knuckleballer's walk year.

Share Tweet

Excited Redmond ready to change Marlins' culture

Building a winning culture will be among the biggest challenges for Mike Redmond, but it is something the new Marlins manager is certainly familiar with.

Share Tweet

The Atlanta Braves have exercised their 2014 option on the contract of manager Fredi Gonzalez.

Share Tweet

Jocketty: Ludwick talks continuing amid quiet scene

The Reds' efforts to re-sign free-agent left fielder Ryan Ludwick continued on Wednesday during the third day of the Winter Meetings. But a deal wasn't quite in reach yet.

Share Tweet

Fowler a trade target, but Rockies' price high

The Winter Meetings have thrust center fielder Dexter Fowler's name into the forefront of trade speculation, but multiple sources said Wednesday the Rockies are making it clear that that the price for such a player is high.

Share Tweet

Left-handed reliever Randy Choate has agreed to sign with the St. Louis Cardinals, a source told ESPN.

Share Tweet

Phillies Reporter In Trouble With The Government After Five Babies Died In The Baby Recliner She Invented

deadspin.com

Dec 5, 2012

Leslie Gudel was Philadelphia's first full-time female sports anchor, spending more than a decade with Comcast SportsNet. A couple of years ago she left the desk to report on the Phillies, where she continues to this day. But in her spare time, she crea…

Share Tweet

Counsell: Not 'right time' to leave Milwaukee

Brewers special assistant Craig Counsell cited family considerations for last week's decision to withdraw his name from consideration for the hitting coach position in Boston. The Red Sox subsequently hired Greg Colbrunn.

Share Tweet

NASHVILLE, Tenn. (AP) -- A person familiar with the contract tells The Associated Press that versatile infielder Jeff Keppinger has reached agreement with the Chicago White Sox on a $12 million, three-year contract.

Share Tweet

NASHVILLE, Tenn. (AP) A person familiar with the deal tells The Associated Press that free agent outfielder Jason Bay has reached a one-year contract with the Seattle Mariners.

Share Tweet

A person familiar with the deal tells The Associated Press that free agent outfielder Nate McLouth has rejoined the Baltimore Orioles with a one-year contract worth $2 million.

Share Tweet

SAN FRANCISCO (AP) -- Second baseman Marco Scutaro is staying in San Francisco, right where he wanted to be.

Share Tweet

Ron Gardenhire at crossroads with Twins

NASHVILLE, Tenn. - Ron Gardenhire and the Minnesota Twins parting ways? Say it ain't so! OK, it ain't so. At least not yet. Gardenhire has been a fixture with the Twins since taking over for Tom Kelly in 2002. His teams have finished first six times. An

Share Tweet

Former Toronto Blue Jays announcer Tom Cheek has won the Ford C. Frick Award for excellence in baseball broadcasting.

Share Tweet

deadspin.com CNNSI.com

Dec 5, 2012

Baseball's winter meetings haven't been a huge source of excitement so far this year. The Nationals made a splash by signing Dan Haren, but the big names like Josh Hamilton and Zack Greinke are still waiting to be snapped up, and no blockbuster trades h…

Share Tweet

The Juice: A three-team megatrade involving Justin Upton sure would liven things up

NASHVILLE, Tenn. - The Juice has taken a short break from its offseason hibernation, and Big League Stew's David Brown is on the scene of baseball's winter meetings. Thanks for visiting and see you again next spring. Do something! (Or don't): Sadly, the

Share Tweet

Welcome back! Baseball's winter meetings continue down in Nashville today and hopefully there will be a bit more action than there was on Monday and Tuesday. You're going to want to follow it all when it does go down, so use this handy-dandy tracker to …

Share Tweet

Indians, D-backs talk Asdrubal-for-Bauer swap

The Indians and D-backs have discussed the framework of a deal that centers around Tribe shortstop Asdrubal Cabrera and Arizona right-hander Trevor Bauer, an industry source said early Wednesday.

Share Tweet

CNNSI.com

Dec 5, 2012

ASHVILLE, Tenn. (AP) -- Free agent pitcher Dan Haren and the Washington Nationals are close to completing a one-year deal for $13 million, a person familiar with the talks told The Associated Press.

Share Tweet

Red Sox Latest News

Dec 5

Gordon Edes and Joe McDonald take a look at the Red Sox offseason.

Winter Meetings: Free Agent Update

Dec 5

ESPN's Keith Law on where big name free agents such as Zack Greinke, Josh Hamilton and Nick Swisher may land.

Kurkjian One On One With Gonzalez

Dec 5

ESPN's Tim Kurkjian sits down with Fredi Gonzalez and discuss losing Chipper Jones and the addition of B.J. Upton.

Wright Thrilled To Be A Met

Dec 5

David Wright talks to Tim Kurkjian about how his new deal came to fruition and the R.A. Dickey negotiations.