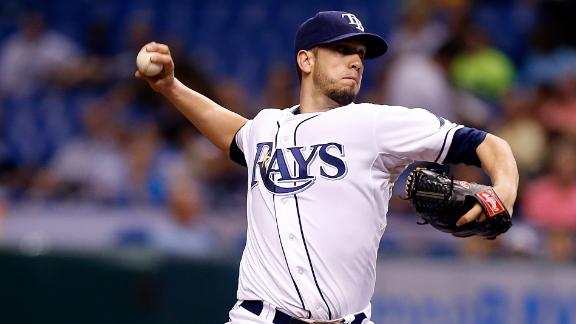 The Cleveland Indians have agreed to a one-year contract with free agent slugger Mark Reynolds, a person familiar with the negotiations told The Associated Press.

Upvote Share Tweet

The Dodgers signed Korean left-hander Hyun-Jin Ryu shortly before a Sunday deadline, wrapping up a productive weekend in which they may have acquired their No. 2 and 3 starting pitchers.

Upvote Share Tweet

CNNSI.com

Dec 9, 2012

Report: Rangers offer top prospect Olt for Dickey

Upvote Share Tweet

Lindblom, Bonilla bring power arms to Rangers

The Rangers got two quality pitchers in a trade that was approved by Major League Baseball on Sunday. Josh Lindblom should be a part of the bullpen and prospect Lisalverto Bonilla adds to their collection of strong arms in their farm system.

Upvote Share Tweet

Japanese phenom Otani to stay in Japan

Japanese pitcher Shohei Otani might sign with a Major League team at some point, but it won't happen this year. The 18-year-old right-hander announced on Sunday that he will start his professional career with Japan's Nippon Ham Fighters.

Upvote Share Tweet

Hometown hero Rizzo hosts 'Walk Off for Cancer' 5K

Sunday was Anthony Rizzo Day, as the city honored the Cubs first baseman who hosted his first "Walk Off for Cancer" fundraiser at Pine Trails Park.

Upvote Share Tweet

The Philadelphia Phillies have acquired seven-time All-Star infielder Michael Young from the Texas Rangers for two relief pitchers.

Upvote Share Tweet

MLB seeking to ID at-risk players, sources say

ESPN.com

Dec 9, 2012

The Jovan Belcher murder-suicide motivated Major League Baseball to gather information last week for behavioral profiles that could enable teams to ID players who may need assistance or intervention, sources say.

Upvote Share Tweet

In the end, Greinke is ending up where most everyone thought he'd end up. In the end, it's the Dodgers, baseball's destination event for whom petty cash is no object.

Upvote Share Tweet

Rays Trade James Shields To Royals

Dec 9

Jerry Crasnick breaks down the Rays trading James Shields and Wade Davis to the Royals for prospect Wil Myers.

Sports Columnists

Don Banks: Falcons, Bears on downward spirals as postseason nears; more Sn…

Dec 9

LANDOVER, Md. -- Musings, observations and the occasional insight from a less-than-artistic Week 14 in the NFL.

Don Banks: Even with RGIII injury, 'Skins' special season stays on playoff…

Dec 9

LANDOVER, Md. -- The Washington Redskins became relevant again that moment in early March when they swung the blockbuster trade for the St. Louis Rams' No. 2 draft pick, making the Heisman-winning Robert Griffin III a dream come true in burgundy.