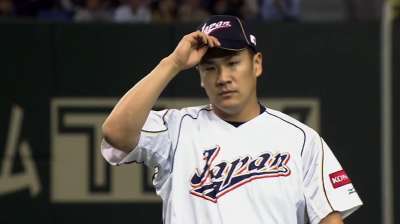 The starting-pitching market has focused on Japanese right-hander Masahiro Tanaka, whose recent posting opened up what is sure to be a hotly contested bidding war. The 25-year-old is expected to command at least $17 million per season, according to Bob …
Share
Tweet
nytimes.com yahoo.com

Dec 27, 2013

Perhaps the finest outfielder of his era, Mr. Blair was known for his speed and grace, and for his ability to read a hitter's swing and make a quick break on a fly ball.

Share Tweet

The Angels' one-year contract with Raul Ibanez became official Friday, when the 41-year-old outfielder/designated hitter passed his physical. Ibanez will be paid a base salary of $2.75 million, plus another $2.25 million in incentives.

Share Tweet

nytimes.com MLB.com yahoo.com ESPN.com

Dec 27, 2013

The Texas Rangers say they signed South Korean outfielder Choo Shin-soo to a hefty contract for his versatility and will use him mostly as their lead-off hitter and in left field.

Share Tweet

The Angels plan to release right-hander Chris Volstad from his Minor League contract so he can pursue an opportunity to pitch in Korea. Meanwhile, buzz begins to build around Halos-target Mark Mulder's potential return to baseball.

Share Tweet

Carl Crawford gets engaged to reality TV star Evelyn Lozada, gives her $1.4 million ring

yahoo.com

Dec 27, 2013

What's that rule? A man should spend the equivalent of three months' salary on an engagement ring? Well, if Los Angeles Dodgers outfield Carl Crawford had done that, his bride-to-be might not be able to lift her hand.Crawford, who made $20 million last …

Share Tweet

Chicago Cubs agree to one-year deal with Veras

CNNSI.com

Dec 27, 2013

CHICAGO (AP) -- The Chicago Cubs say they have agreed to a one-year contract with reliever Jose Veras that includes a club option for 2015.

Share Tweet

Schumaker discusses life away from field

New Reds utility man Skip Schumaker talked to MLB.com's Meggie Zahneis about his life away from the field.

Share Tweet

Twins announce 2014 Minor League coaching staff

The Twins announced their Minor League managerial and coaching staff on Friday, with only one major change from last season.

Share Tweet

Remembering Paul Blair

Dec 27

Jerry Crasnick discusses the death of eight-time Gold Glove-winning center fielder Paul Blair.