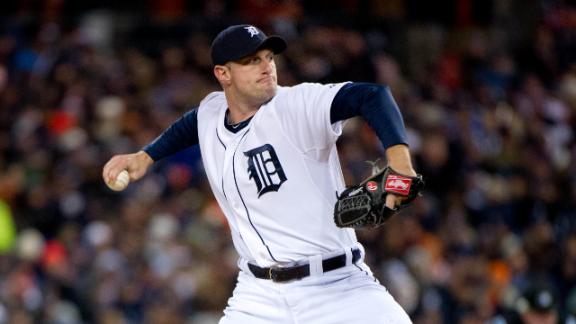 Former Major Leaguers keep playing in Caribbean ball

The Caribbean Series is a stage where ex-Major Leaguers, holding onto baseball dreams by the skin of their teeth, remind us that there are other ways to make a living playing this game. And this year, Fernando Tatis and Karim Garcia help personify that.

Share Tweet

Yankees weighing options in center field

The Yankees are waiting until they arrive in camp to decide if Brett Gardner or Curtis Granderson will be their best option in center field.

Share Tweet

Yankees closer Mariano Rivera is preparing for a rare on-time arrival at Spring Training this year.

Share Tweet

NEW YORK (AP) -- Yankees general manager Brian Cashman will wait for Major League Baseball to sort out "some very nasty" allegations about Alex Rodriguez, and manager Joe Girardi says there's no way to tell whether the third baseman will regai…

Share Tweet

Urban Invitational returns to Houston

The Astros will once again play host to the Urban Invitational, a college baseball tournament at Minute Maid Park that features four historically black colleges and universities -- Alabama State, Southern, Prairie View A&M and Texas Southern.

Share Tweet

Updating a legal item, San Francisco Giants closer Sergio Romo will not face criminal charges stemming from his New Year's Day run-in with a Transportation Security Administration official. This new comes courtesy of TMZ, who first reported the Clark Co

Share Tweet

Rockies to have a development supervisor at each level

In an innovative move to oversee player development practices at every level of the Minors, the Rockies' 2013 Minor League staff will include a development supervisor for each of the six Minor League affiliates.

Share Tweet

The Astros acquired power-hitting first baseman Chris Carter, starter Brad Peacock and catching prospect Max Stassi from the A's on Monday in exchange for Jed Lowrie and Fernando Rodriguez.

Share Tweet

Royals farmhand comes up big for Puerto Rico

Royals prospect and Puerto Rico native Rey Navarro picked a good time to come alive in this Caribbean Series. At Estadio Sonora on Monday, his team one loss away from being mathematically eliminated and facing an undefeated Dominican Republic powerhouse…

Share Tweet

Heralded prospect Wil Myers is among seven minor leaguers the Tampa Bay Rays have invited to major league spring training this month.

Share Tweet

A-Fraud, More Fully Revealed

CNNSI.com

Feb 4, 2013

As a PED bombshell rocks baseball, Tom Verducci reports on the specifics of Alex Rodriguez's alleged doping program and how MLB is turning up the heat in its investigation.

Share Tweet

Candlestick Park to be demolished within year

Candlestick Park in San Francisco famously shook for about 15 seconds in 1989, when the Loma Prieta earthquake disrupted Game 3 of the World Series. That didn't kill The 'Stick, but a 30-second implosion will. Plans were announced today to blow up the 5…

Share Tweet

Three judges selected to hear Bonds' appeal

ESPN.com

Feb 4, 2013

Barry Bonds' felony obstruction of justice conviction is in the hands of three federal appeals court judges who were each appointed by a different Democratic president.

Share Tweet

Phillies sign 12 players to big league contracts

The Phillies agreed to terms with 12 players on Major League contracts, including six pitchers, two catchers and four outfielders.

Share Tweet

Rowand's connection to White Sox unbroken

Aaron Rowand's legacy on Chicago's South Side embodies the organization's philosophy and still resonates with White Sox fans.

Share Tweet

Fifty-year baseball vet lends experience to Rockies

Rene Lachemann will provide the perfect amount of experience on Walt Weiss' first-year Colorado staff as he enters his 50th season in a professional baseball uniform.

Share Tweet

Tale of Rondon's velocity to be told during spring

The legend of the Bruce Rondon fastball is already building, like something out of folklore or a tall tale that gets bigger each time it's retold.

Share Tweet

'Hungry' Orioles ready to follow Ravens to championship

January was tough on Baltimore. Earl Weaver died. Prop Joe died. February, so far, is looking a lot better, thanks to that Super Bowl trophy. The Baltimore Ravens triumph, of course, comes after a surprising and exciting playoff run by their baseball-pl…

Share Tweet

The classic baseball film "A League of Their Own" immortalized the life of Lavonne "Pepper" Paire-Davis, though you might not have made the connection at first. Paire-Davis, the inspiration for the character played by Geena Davis, di…

Share Tweet

Brandon Webb, the 2006 National League Cy Young Award winner and one of the most dominant starters in the game during a five-year stretch with the Arizona Diamondbacks, is officially retiring from baseball, according to his agents at Millennium Sports.

Share Tweet

Lugo will likely retire following Caribbean Series

Julio Lugo -- who played 12 Major League seasons, was the Red Sox's starting shortstop when they won the World Series in 2007 and was a part of seven organizations -- is expected to hang up the cleats when the Caribbean Series comes to an end on Friday.

Share Tweet

Orioles re-sign Hendrickson, add Pineiro for depth

Baltimore agreed to terms with Mark Hendrickson and Joel Pineiro, who each had previous experience in the Orioles organization.

Share Tweet

TAMPA, Fla. (AP) -- Yankees captain Derek Jeter plans to wait until teammate Alex Rodriguez addresses his latest off-the-field controversy before commenting on the matter.

Share Tweet

Cherington expects Papi to be ready for Opening Day

Red Sox general manager Ben Cherington visited David Ortiz in the Dominican Republic last week, and he expects the designated hitter to be good to go for Opening Day.

Share Tweet

The new guy: Mike Oz joins Big League Stew

It feels a little like the first day of school for me. I kinda couldn't sleep last night, so I stayed up late organizing my Twitter feeds, which I suppose is what bloggers do when they're feeling fidgety. So let's just cut to it: Hi, I'm the new guy her…

Share Tweet

Pirates get trucking to Spring Training home

In the frigid early February dawn, bats, balls, helmets and the other tools of summer were loaded onto the truck for the annual trip to Bradenton, Fla. When that truck returns to PNC Park in eight weeks, it will be packing spring.

Share Tweet

Stewart appreciates Cubs' show of support

Rehabbing from wrist surgery, Ian Stewart began training with Hall of Famer Rod Carew in California -- many miles from his North Carolina home. Mrs. Strewart gave Ian the green light to go.

Share Tweet

Eyes On The Ball: The Giants haven't done very much this offseason,…

CNNSI.com

Feb 4, 2013

The Giants haven't done very much this offseason, but after winning two of the past three World Series, we should trust their strategy more than ever before, writes Jay Jaffe.

Share Tweet

The first Spring Training workout dates, subject to change, both for pitchers and catchers and full squads of the 30 Major League clubs.

Share Tweet

Managerial mix includes fresh and lined faces

The face of the Major League manager underwent quite a makeover the last few years, with several iconic figures posting lineup cards for the final time and a deluge of switches at the helm reaching historic proportions.

Share Tweet

Top 10 lineups: Angels the cream of the crop

While the Tigers, Cardinals and Brewers will also field elite offenes this year, the Angels, led by Mike Trout, Josh Hamilton and Albert Pujols, have the best lineup in the Major Leagues as the season approaches.

Share Tweet

ESPN The Mag: MLB Superstars As Devo

Feb 4

Go behind the scenes with Evan Longoria, Giancarlo Stanton, Shane Victorino, Brandon Phillips and Justin Upton as they prepare for their shoot as Devo for the upcoming ESPN The Magazine music issue.