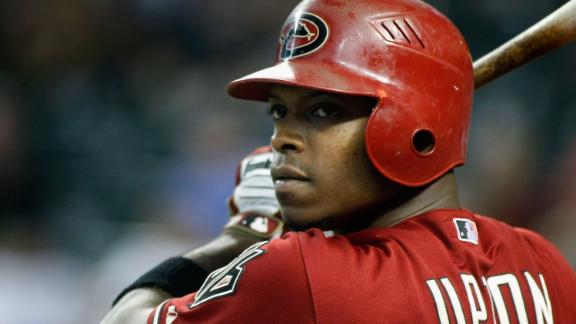 Your browser does not support iframes. Despite falling short of reaching the 75 percent needed to earn entry into the Baseball Hall of Fame, Houston Astros great Craig Biggio has managed to keep a positive attitude and a strong sense of humor. Not that …

Share Tweet

Pete Rose recently went to Cooperstown to film an episode of his upcoming reality television show. His fiancee got choked up when baseball's career hits leader had to watch the Parade of Legends and other Hall of Fame festivities as just another face in…

Share Tweet

Healthy Sizemore set to help wherever A's need him

Scott Sizemore feels normal again. Translation: The A's infielder is fully healthy, just as he was a year ago. That was before he suffered a torn ACL on the first day of spring workouts, underwent a lengthy rehab on his surgically repaired left knee and…

Share Tweet

Reds second baseman Brandon Phillips gave an indication via Twitter on Thursday evening that he might be representing Team USA in the World Baseball Classic this spring.

Share Tweet

MLB.com Sells An NBA Headband For Cheaper Than NBA.com Does

deadspin.com

Jan 10, 2013

Reader Zachary had a desire for an NBA logo headband, because he's cool like that. He looked it up at the NBA Store, and found it for $7.99. Then he found it at the MLB Shop, and it's a dollar cheaper. Why? We don't know. Why does MLB.com sell NBA stuff…

Share Tweet

Cherington hopeful about Napoli but exploring options

Although general manager Ben Cherington expressed hope that Mike Napoli will be signed, until that happens, he must keep his eyes open to other options.

Share Tweet

PARADISE VALLEY, Ariz. (AP) -- Paul Dolan has been approved by Major League Baseball as the controlling owner of the Cleveland Indians, taking over from his father Larry.

Share Tweet

Injured Chris Narveson agrees to $840k deal with Brewers

MILWAUKEE (AP) -- Left-hander Chris Narveson and the Milwaukee Brewers have agreed to an $840,000, one-year contract.

Share Tweet

Luis Valbuena, Chicago Cubs agree to $930,000 deal

CHICAGO (AP) -- Infielder Luis Valbuena has agreed to a $930,000, one-year contract with the Chicago Cubs, nearly double the $495,200 he made last year.

Share Tweet

Right-hander Chris Resop has agreed to a $1.35 million, one-year contract with the Oakland Athletics.

Share Tweet

PITTSBURGH (AP) -- Free agent pitcher Francisco Liriano injured his right (non-throwing) arm over the holidays and his deal with the Pirates is on hold.

Share Tweet

Bryce Harper campaigns for MLB 13 cover with a good impression of 'The Bachelor'

We hate to spoil the surprise, but Big League Stew has already found the Valentine Day's card for all those we'll choo-choo-choose next month. Yes, it's the screen cap that DC Sports Bog's Sarah Kogod took from Bryce Harper's campaign video for the upco…

Share Tweet

Selig reflects on progress of drug testing program

Commissioner Bud Selig is looking forward to the implementation of the enhanced drug testing programs that were announced Thursday at the quarterly Owners Meetings at the Sanctuary Resort.

Share Tweet

Soria targets June return from elbow surgery

Texas Rangers reliever Joakim Soria has targeted late May or early June for a return to the big leagues following the second Tommy John surgery of his career.

Share Tweet

Blue Jays claim Hottovy off waivers from Rangers

The Blue Jays claimed left-hander Tommy Hottovy off waivers from the Rangers on Thursday afternoon.

Share Tweet

Nats sign Ohlendorf, Mann to Minor League deals

The Nationals signed pitchers Ross Ohlendorf and Brandon Mann to Minor League contracts, MLB.com has confirmed.

Share Tweet

PARADISE VALLEY, Ariz. (AP) -- Major League Baseball will test for human growth hormone throughout the regular season and will step up efforts to track the use of artificial testosterone.

Share Tweet

Dodgers prospect Lee focused on future in baseball

Zach Lee is well into his third year of insisting he doesn't regret becoming a professional pitcher instead of a major college quarterback, even if it means he doesn't have a beauty queen for a girlfriend.

Share Tweet

Greg Maddux, Frank Thomas & Tom Glavine will be among next year's first-timers

Share Tweet

All-Rejects team vs. Hall of Famers

The Baseball Hall of Fame has become utterly absurd. We have completely lost the purpose of it. It is designed to honor the best players in the history of the game, and that is not happening.

Share Tweet

It's Complicated: After a year of debate, the BBWAA didn't elect an…

After a year of debate, the BBWAA didn't elect anyone to the Hall of Fame. That shouldn't be a problem next year, writes Jay Jaffe, but the 2014 ballot has its own challenges.

Share Tweet

Sammy Sosa didn't make the Hall of Fame, but he does have a popular Pinterest page

What a world we live in. Sammy Sosa didn't garner many headlines on Wednesday for only winning 12.5 percent of the vote in his first time on the Hall of Fame ballot - a staggeringly-low total that almost guarantees he'll never see induction over the nex

Share Tweet

In-season HGH testing to begin this year

Commissioner Bud Selig announced Thursday significant modifications in MLB's drug testing program, by which players will be tested during the season for human growth hormone.

Share Tweet

Braun heads wide array of guests to attend fanfest

All-Star outfielder Ryan Braun and all three of the Brewers' new relievers were among 50 current, former and future players confirmed Thursday to attend the team's annual "On Deck" event later this month.

Share Tweet

A 148-year-old team photo of the amateur Brooklyn Atlantics, which the Library of Congress calls "the first dated baseball card," might fetch $100,000 or more when it goes up for auction next month in Maine. Problem is, nobody knows exactly ho…

Share Tweet

Beck, Nen or Wilson? You make the call

With three outs to go and the game on the line, which closer gets the nod -- Rod Beck, Robb Nen or Brian Wilson? Here's your chance to decide.

Share Tweet

Upbeat Hosmer motivated to bounce back in 2013

First baseman Eric Hosmer will be an integral part of the revamped Royals' revitalized hopes for the coming season.

Share Tweet

Amaro assures Hamels' throwing shoulder is fine

Phillies general manager Ruben Amaro Jr. said Thursday left-hander Cole Hamels' shoulder is fine. CSNPhilly.com reported Hamels had some shoulder soreness late in the season and in the offseason.

Share Tweet

New York Times sports page goes blank to reflect lack of Hall of Fame news

The New York Post and Daily News usually corner the market with it comes to buzzy front pages that make national news. The New York Times, however, got into the act on Thursday morning by making a statement with the front page of its sports section. Ado…

Share Tweet

Hall of Famers glad Bonds, Clemens denied

Nobody was happier about the Hall of Fame shutout than the Hall of Famers themselves.

Share Tweet

Price featured on cover of 'MLB 2K13'

David Price has been selected as the cover athlete for MLB 2K13.

Share Tweet

If shy Bauer can fit in, he'll be just fine in Cleveland

For Trevor Bauer, the baseball talent that came so naturally to him stands in stark contrast to the social and interpersonal skills that have often eluded him.

Share Tweet

MLB Notebook: Verlander, Scherzer duo dominated

When it comes to raw strikeout totals in relation to the league leaderboards and strikeout rates in relation to history, the combination of Justin Verlander and Max Scherzer in 2012 had few peers.

Share Tweet

Jerry Dipoto offers encouragement, reassurance on Mike Trout's future in latest letter to fan

It was around this time last winter when Jerry Dipoto, who was in the midst of an aggressive rookie offseason as general manager of the Los Angeles Angels, impressed us by taking time from his busy schedule to write a legitimate and sincere response to …

Share Tweet

Mint Condition: Memorabilia Market Hurt By No New HOFers

Jan 10

Tristar Productions president Jeffrey Rosenberg joins Michele Steele to discuss the financial impact on the sports memorabilia market of having no new Baseball Hall of Famers in 2013.

Buster Blog: Hall Of Fame Tipping Point

Jan 10

Buster Olney blogs that Jeff Bagwell and Mike Piazza's Hall of Fame candidacies represent a tipping point for the Hall of Fame and performance-enhancing drugs.

Source: Justin Upton Rejects Trade To Seattle

Jan 10

ESPN.com senior MLB writer Jerry Crasnick has the latest on Diamondbacks outfielder Justin Upton, who exercised his no-trade clause in his contract to reject a proposed deal that would have sent him to the Mariners.