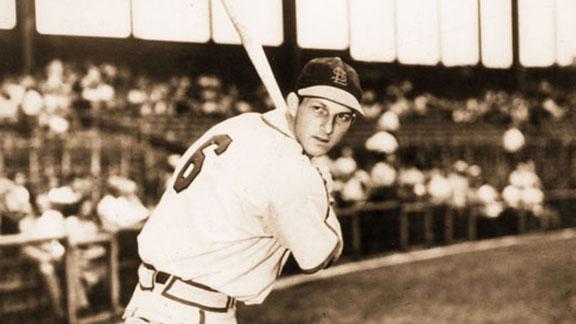 CNNSI.com
MLB.com
ESPN.com
yahoo.com
deadspin.com
Updated Jan 19, 2013
St. Louis Cardinals reliever Mitchell Boggs was at a party back home in Georgia for his sister's wedding when the gathering suddenly turned somber.
Upvote
Share
Tweet
Dodgers infielder Justin Sellers was arrested Saturday for driving recklessly in a West Sacramento residential neighborhood, police told a local television station.

Upvote Share Tweet

Rockies have Minor League deal with Batista

The Rockies have agreed to a Minor League deal with veteran right-handed pitcher Miguel Batista and invited him to Spring Training, ESPN Deportes reported on Saturday night.

Upvote Share Tweet

The Boston Red Sox on Saturday reached agreement with their final arbitration-eligible player, striking a two-year, $6.25 million deal with lefthanded reliever Craig Breslow, according to a baseball source.

Upvote Share Tweet

Cubs owner Tom Ricketts has proposed a $300 million renovation of Wrigley Field.

Upvote Share Tweet

Former ump Palermo treasures run-ins with Weaver

Earl Weaver, the Orioles' Hall of Fame manager who was notorious for his run-ins with umpires, was remembered fondly by one of his former adversaries, Steve Palermo.

Upvote Share Tweet

Orioles draw huge raves during FanFest

Saturday was a bittersweet day for Orioles fans, who mourned the passing of Hall of Famer Earl Weaver and also showed their support for the resurgence of Baltimore baseball.

Upvote Share Tweet

Wainwright keeps contract thoughts close to chest

Adam Wainwright sidestepped a lot of specifics regarding his contract status at the Cardinals' Winter Warm-Up, but repeatedly gushed over his love for playing in St. Louis.

Upvote Share Tweet

White Sox add free-agent reliever Lindstrom

The White Sox bullpen looks complete before Spring Training has even begun following the reported addition of free-agent right-hander Matt Lindstrom as confirmed to MLB.com by a Major League source on Saturday evening.

Upvote Share Tweet

New-look rotation is a hit at Royals FanFest

James Shields was dressed in black and fighting the flu, but the right-hander seemed like a healthy ray of sunshine to the folks attending Saturday's Royals FanFest.

Upvote Share Tweet

Carpenter, Garcia looking ahead to spring tests

The messages from Chris Carpenter and Jaime Garcia were nearly the same Saturday at the Cardinals' Winter Warm-Up event. Both relayed positive reports about how their arms have responded to offseason work, but also cautioned against conclusions.

Upvote Share Tweet

Ron Darling, Gary Cohen and Keith Hernandez will play major roles on SNY's expanded NY Mets pregame

nydailynews.com

Jan 19, 2013

Those viewers wanting more of Keith Hernandez , Ron Darling and Gary Cohen will have their wish fulfilled this season. Well-embedded moles say SportsNet New York will be adding a new "pre" pregame studio show prominently featuring the three crooners.

Upvote Share Tweet

Fan excitement is palpable at Tribe Fest

The excitement for Indians baseball was apparent on Saturday at Progressive Field, where fans were taking in this winter's Tribe Fest.

Upvote Share Tweet

Washington Nationals spending what it takes to make sure National League-era of D.C. baseball is a winning one

nydailynews.com

Jan 19, 2013

In its first two baseball incarnations, as "Old Fox" Clark Griffith's "on the shoestring" Senators from the '20s to the '50s, and then as their incompetently-run expansion successors from 1961-71, Washington was said to be "first in war, f

Upvote Share Tweet

Drive A Legendary Cincinnati Sportswriter To Reds Games, Get Free Reds Tickets (And Gas Money, Too)

deadspin.com

Jan 19, 2013

Hal McCoy, one of the go-to baseball writers on the Pete Rose investigation, the man that nicknamed the Reds the "Big Red Machine," and a winner of the J.G Taylor Spink Award (the highest that the BBWAA gives to its members) could use a favor: More »

Upvote Share Tweet

Managerial greats live on after Weaver's passing

With the passing of Earl Weaver on Saturday at age 82, baseball lost another of the greatest managers ever to set foot on the dugout steps. But there remain many managerial greats among us.

Upvote Share Tweet

30 Seconds With Tommy John

nytimes.com

Jan 19, 2013

John, who was named the National League's comeback player of the year in 1976, retired in 1989. He had 288 victories and a 3.34 earned run average in his 26-year career.

Upvote Share Tweet

Indians nearing deal with utility man Raburn

The Indians are nearing a deal with free-agent utility player Ryan Raburn in an effort to strengthen their bench.

Upvote Share Tweet

MLB.com CNNSI.com deadspin.com ESPN.com

Jan 19, 2013

News spread quickly Saturday about the loss Hall of Fame manager Earl Weaver, as those in the baseball family expressed sorrow through statements and social media.

Upvote Share Tweet

Gomes hopes to regain form with back healthy

Wearing his No. 47 jersey and khaki shorts, Brandon Gomes spent a few hours of his Saturday doing the kind of work not often associated with Major League pitchers.

Upvote Share Tweet

Iwakuma, Morse join Mariners' FanFest lineup

New Mariners acquisition Michael Morse and starting pitcher Hisashi Iwakuma have been added to the Mariners FanFest lineup, bringing the total number of participating players to 11 for the two-day event at Safeco Field.

Upvote Share Tweet

deadspin.com

Jan 19, 2013

Is there anything worse than a local baseball franchise that hasn't been competitive in four seasons, telegraphs its plans to stay non-competitive by carrying almost no payroll, and is widely expected to occupy the basement of its new league when they s…

Upvote Share Tweet

Kemp: Shoulder healing 'ahead of schedule'

Matt Kemp, in town to serve as grand marshal at Saturday's 28th Kingdom Day Parade in South Los Angeles, said his surgically repaired left shoulder is healing "ahead of schedule" and he's optimistic he will be ready for Opening Day.

Upvote Share Tweet

Davey ready to deal with surplus of bullpen 'aces'

Manager Davey Johnson was in Africa when he received a text message from general manager Mike Rizzo earlier this week that the Nationals had signed closer Rafael Soriano to a two-year, $28 million contract.

Upvote Share Tweet

Marlins close to inking Downs to Minors deal

More infield depth with big league experience could be joining the Marlins in Spring Training. Miami is close to signing Matt Downs to a Minor League contract with an invitation to big league camp.

Upvote Share Tweet

yahoo.com

Jan 19, 2013

Shortly after being named manager of the St. Louis Cardinals in November 2011, the St. Louis Post-Dispatch reported on Mike Matheny's financial and legal troubles that ended up costing his family their dream house and forced them to move in with his in-

Upvote Share Tweet

Mets swap salary proposals with Davis, Murphy

The Mets swapped 2013 salary proposals with first baseman Ike Davis and second baseman Daniel Murphy, the club's lone remaining arbitration-eligible players, ahead of Friday's deadline to do so.

Upvote Share Tweet

Contract settled, Wieters enjoys DVD premiere

Orioles catcher Matt Wieters agreed to a $5.5 million deal for 2013 on Friday afternoon, avoiding a potentially contentious arbitration hearing and allowing him to enter Spring Training without his contract status hanging over his head.

Upvote Share Tweet

Looking Back On Musial's Hall Of Fame Career

Jan 19

Jerry Crasnick discusses Stan Musial's "extraordinary record of achievement."

Remembering Stan Musial

Jan 19

Stan Musial, one of baseball's greatest hitters and a Hall of Famer with the St. Louis Cardinals for more than two decades, died Saturday. He was 92.

Biographer Vecsey Remembers Stan Musial

Jan 19

George Vecsey, writer of "Stan Musial: An American Life" looks back on the life of "Stan the Man."

Dempsey Comments On Weaver's Passing

Jan 19

Former Orioles catcher Rick Dempsey comments on the passing and legacy of Earl Weaver.