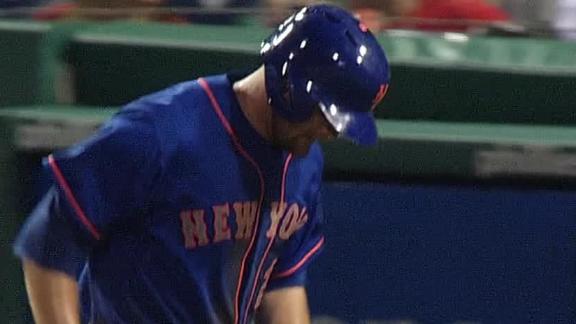 Juan Lagares hit a go-ahead double, Jeremy Hefner pitched six effective innings and the New York Mets beat the Philadelphia Phillies 4-3 Friday night.
Share
Tweet
Peralta finds Miller Park magic with dominant outing

Wily Peralta gave up two hits in seven scoreless innings in the Brewers' 2-0 win over the Braves on Friday night. Jean Segura went 3-for-4 with a solo homer.

Share Tweet

Shane Victorino homered and hit three singles, driving in five runs to lead the Boston Red Sox to a 10-6 win over the Detroit Tigers on Friday night.

Share Tweet

Hector Santiago shut down the Royals' punchless offense for a career-best eight innings, and the Chicago White Sox roughed up Kansas City starter Jeremy Guthrie in a 9-1 rout Friday night.

Share Tweet

Angels place Vargas on DL with blood clot

Left-hander Jason Vargas went on the Los Angeles Angels' 15-day disabled list Friday after a blood clot was found in his left armpit.

Share Tweet

Rajai Davis singled home the winning run with two outs in the bottom of the ninth inning and the Toronto Blue Jays rallied for their ninth straight win, 7-6 over the Baltimore Orioles on Friday night.

Share Tweet

As a free agent following a respectable, but not dominate 2012 season (35 saves, 3.78 ERA in 71 appearances), veteran closer Jose Valverde drew very little interest on the open market over the winter. The interest was so minimal, in fact, he eventually …

Share Tweet

Zoilo Almonte provided much-needed pop in his first major league start, homering and adding two singles Friday night that led the New York Yankees over the Tampa Bay Rays 6-2.

Share Tweet

Stephen Strasburg struck out nine over seven innings, Ian Desmond homered in the seventh to help give the righty his first win in June and the Washington Nationals beat the slumping Colorado Rockies 2-1 on Friday night.

Share Tweet

Kipnis lifts Tribe over Twins for third straight win

Kipnis lifts Tribe over Twins for third straight win

Share Tweet

Kazmir ends rocky streak with dominating start

Scott Kazmir fanned seven and allowed just one run in seven innings of work as the Tribe beat the Twins, 5-1, on Friday night at Progressive Field.

Share Tweet

Depleted Yanks get infielder Lillibridge from Cubs

CHICAGO (AP) -- The New York Yankees have acquired minor league infielder Brent Lillibridge from the Chicago Cubs on Friday for a player to be named or cash.

Share Tweet

Sneaky Good: Ace pitchers are the rock stars of baseball right…

Ace pitchers are the rock stars of baseball right now, but they can't throw every day. There are a number of unappreciated hurlers worth applauding this season, writes Jay Jaffe.

Share Tweet

Price enjoys competing in first rehab outing

Reigning American League Cy Young Award winner David Price, on the disabled list since May 16 with a left triceps strain, said he felt "great" after his first Minor League rehab start on Friday for Class A Advanced Charlotte at McKechnie Field.

Share Tweet

Matt Garza went eight-plus innings and the Cubs hit three home runs as Chicago beat the Astros, 3-1, on Friday at Wrigley Field.

Share Tweet

Former All-Star outfielder Carlos Lee has retired from baseball, ending a 14-year career in the major leagues.

Share Tweet

ST. LOUIS (AP) -- St. Louis Cardinals cleared pitcher Chris Carpenter to resume rehabbing from a lower back injury on Friday after the team got outside medical opinions about his comeback from nerve issues.

Share Tweet

Andrew McCutchen becomes first MLB player to get custom Beats by Dre Pro headphones

You must, by now, know about Beats by Dr. Dre headphones. They are the headphones of choice to celebrities, star athletes and teenagers in malls and high schools across the country. LeBron James wears them. Michael Phelps wears them. Shaun White wears t…

Share Tweet

Intercostal strain lands Tuiasosopo on disabled list

Matt Tuiasosopo was poised to become a bigger member of the Tigers' starting lineup, earning more playing time against right-handed pitchers in addition to the lefties he has been pummeling all year. Instead, with a bad swing in the batting cage, he bec…

Share Tweet

Fowler in pain, but returns to starting lineup

Dexter Fowler's finger is still ailing him, but he returned to the starting lineup on Friday.

Share Tweet

The Boston Red Sox named Koji Uehara their closer Friday, replacing the struggling Andrew Bailey.

Share Tweet

The Mets placed Jonathon Niese on the 15-day disabled list Friday after the left-hander had to leave Thursday night's win in Atlanta with a partial rotator cuff tear in his left shoulder.

Share Tweet

The Sky Above Wrigley Field Today Was Spectacularly Haunting

This afternoon's Astros-Cubs game finally got started a little while ago after a rain delay that lasted for 3 hours, 18 minutes. This photo might have been doctored a bit by MLB's Instagram or HDR filter, but still: Who knew those eerie, dark clouds tha…

Share Tweet

Upset! Upset! Upset! Atlanta Braves stuck with Glass Joe Title after losing series to New York Mets

It sure has been an exciting and unlikely week in the life of Big League Stew's Glass Joe Titles, which throw shame on getting a series KO. The Atlanta Braves — a first-place team in their division — have turned the Glass Joe rankings upside down after …

Share Tweet

Matt Holliday hits home run with his fly down

Your browser does not support iframes. Matt Holliday has been slugging away in the major leagues for nearly 10 seasons, but he committed a rookie mistake Thursday night when he hit career home run No. 240. He went to the plate with the zipper on his pan…

Share Tweet

Former three-time All-Star Lenny Dykstra was released from a California prison. The former Mets and Phillies outfielder was serving time for a series of offenses that included bankruptcy fraud and grand theft auto.

Share Tweet

Mariano Rivera honored on special New Era cap marking his retirement

Mariano Rivera, in the middle of his MLB "farewell tour," has been receiving gifts from opposing teams when his New York Yankees visit. Rivera's final stop in cities has earned him prizes such as a surfboard and a gold record. Cap maker New Er…

Share Tweet

Zombies took over Petco Park last night, right from ceremonial the first pitch. It was The Walking Dead Night, and it had nothing to do with the Dodgers being in town.Read more...

Share Tweet

Why Baseball Needs Troy Tulowitzki

On Monday night, the Colorado Rockies lost to the Blue Jays. Despite getting a strong effort from starter Jorge De La Rosa, the Rockies just couldn't muster any offense—they went 0-for-8 with runners in scoring position—and eventually fell 2-0. Tuesday,…

Share Tweet

Cincinnati Reds third baseman Todd Frazier did on Thursday what a good Jersey boy should do — and paid tribute to actor James Gandolfini, who died on Wednesday. Frazier changed his at-bat song to the theme from "The Sopranos," the show in whic…

Share Tweet

The Texas Rangers activated first baseman Mitch Moreland from the 15-day disabled list on Friday and he'll be in uniform for Friday's interleague series opener at St. Louis.

Share Tweet

Yankees Using Mark Teixeira's Sweat To Sell Pricey Legends Seats

The sales world is full of creepy pitches, but this one we got from a Yankees ticket rep hawking $1,000 Legends suite seats is especially weird. Have you ever wanted to be so close you could floss Robinson Cano's smile? (No.)Read more...

Share Tweet

Discomfort delays Soler's return to Class A Daytona

Cuban outfielder Jorge Soler, eligible to come off the disabled list Friday after being sidelined with a sore left shin, was still experiencing some discomfort, and he is not expected to return to the Class A Daytona lineup for a few more days.

Share Tweet

Doc makes house call to Chatting Cage

Mets pitching legend Dwight Gooden stopped by the MLB.com studios in New York on Friday to answer questions from fans.

Share Tweet

Manny Ramirez terminated his contract in the Taiwan professional baseball league this week without a deal in place to play anywhere else, yet the former All-Star remains hopeful that he will receive an offer to either once again play in the Major League…

Share Tweet

Josh Hamilton's exploded bat hits Danny Farquhar during Mariners double play

He's OK, folks. He's OK. Seattle Mariners right-hander Danny Farquhar tried his darnedest to get out of the way of a sharp piece of bat schrapnel — jumping in the air like he just don't care — but the half-barrel still hit him on the left shin before he…

Share Tweet

Pitching staff's turnaround the key for Red Sox

The Red Sox lead the Major Leagues in runs scored. But the primary reason that they are a first-place team now, as opposed to the last-place team they were in 2012, can be found in the transformation of their pitching staff.

Share Tweet

Dan Uggla produced above-average stats, particularly for a second baseman, for the first six seasons of his career with the Miami Marlins and Atlanta Braves. He continued to hit well for the first two months of the 2012 season, his second with the Brave…

Share Tweet

Dominican outfielder, 16, prize of international crop

Eloy Jimenez, the latest crown jewel of Dominican Republic baseball, is ranked No. 1 on MLB.com's list of Top 30 International Prospects. He has an ideal profile for an outfielder and is widely regarded as the prize of this year's class, which can begin…

Share Tweet

A new generation of star first baseman has taken over

A new generation of young first basemen has quietly taken over the position, and they're ready to invade New York for next month's All-Star Game, writes Tom Verducci.

Share Tweet

Former major leaguer C.J. Nitkowski uses family dog to instruct young son on sliding (video)

Former major leaguer C.J. Nitkowski has pitched for 17 different organizations in four countries, most notably with the Detroit Tigers. At this point in his life, at age 40, he's probably more likely to be invited to a Yankees' Old-Timers' day than to m…

Share Tweet

Last year's Deadline deals bring lasting impressions

Looking back a year to the 2012 non-waiver Trade Deadline -- and the historic waiver deal that followed it -- there aren't any better examples of 2012 midseason deals working out than can be found in the clubhouse of the defending World Series champions…

Share Tweet

Penguins! Penguins waddle to mound at Rangers Ballpark for ceremonial first pitch

Your browser does not support iframes. Penguins! Dressed in their finest Tennessee Tuxedoes, a pair of African penguins from the Dallas Zoo visited Rangers Ballpark on Thursday and were on the mound for a ceremonial first pitch before the Texas Rangers …

Share Tweet

O's agree to terms with first-round pick Harvey

A day after inking No. 37 overall selection Josh Hart, the Orioles have agreed to terms with the No. 22 pick, right-hander Hunter Harvey.

Share Tweet

Every lineup, every day, as they are made public by the clubs.

Share Tweet

These Diamondbacks fans have 99 problems, but custom jerseys aren't one

If you're having custom jersey problems, this couple feels bad for you, son. The Arizona Diamondbacks spotted this pair at a game recently — presumably a guy and his ladyfriend, presumably Jay-Z fans — and shared their photo via Instagram. It's a nod to…

Share Tweet

The Juice returns for season No. 6! It's almost eligible for free-agency! Stop by daily for news from the action, along with great photos, stats, video highlights and more. This was a welcome role change for the Detroit Tigers — it wasn't their closer o…

Share Tweet

Down 7-0 in the third inning and facing Mariners ace Felix Hernandez, the Angels mounted the largest comeback of the season for a 10-9 victory on Thursday night at Angel Stadium.

Share Tweet

Pedro Ciriaco tripled in the go-ahead run in the seventh inning and hit a two-run homer in the eighth to lead the San Diego Padres to a 6-3 victory against the Los Angeles Dodgers on Thursday night.

Share Tweet

Pinch hitter Marcell Ozuna's two-run single gave Tom Koehler his first victory in nine career starts, and the Miami Marlins rallied past the San Francisco Giants 2-1 on Thursday night.

Share Tweet

"Man, that was eerie," Toronto pitcher J.A. Happ told ESPN Thursday night about seeing footage of Tampa pitcher Alex Cobb take a shot to the head at Tropicana Field five weeks after he did.

Share Tweet

Lance Lynn earned his 10th victory to tie for the NL lead, Matt Holliday homered and drove in two runs, and the St. Louis Cardinals beat the Chicago Cubs 6-1 on Thursday night.

Share Tweet

Very often, we highlight walk-offs — the game-winning homer or the well-placed single that brings home a go-ahead run. What happened in Thursday's Texas Rangers-Oakland Athletics game was the anti-walk-off. And, in fact, it was far more exciting. The Ra…

Share Tweet

Outfielder Angel Pagan, who has been absent from the Giants' lineup since May 25 with a strained left hamstring, had a setback during the first game of his rehab assignment with Class A San Jose at Stockton. Pagan was unable to run out a grounder to sec…

Share Tweet

North Carolina ousts rival N.C. State in Omaha

Top-seeded North Carolina rebounded from a previous loss to North Carolina State in Omaha, Neb., by defeating the Wolfpack, 7-0, in an elimination game at TD Ameritrade Park.

Share Tweet

Felix Hernandez wears Angels memorial patch for Dr. Lewis Yocum

Los Angeles Angels players mourn the loss of team doctor Lewis Yocum, who died May 28, in part by wearing a patch on their uniforms that honors him. A circle shape stitched to the jersey, just above the heart, the patch is dark blue and says "Dr. L…

Share Tweet

Oswalt solid but drops debut vs. Nationals

On Thursday in his first Major League start of the season, Roy Oswalt fanned 11 -- the most by a Rockies starter this season. However, he also gave up four runs on nine hits, and the Rockies lost their fourth straight, 5-1, to the Nationals.

Share Tweet

Zimmermann limits Rox as bats come up big

Jordan Zimmermann dominated the No. 2 offense in the National League, striking out nine and allowing just six hits and one unearned run in a 5-1 win Thursday night.

Share Tweet

The MLB Weekend Top 10: Beautiful, Soaring Cardinals

grantland.com

Jun 21, 2013

We suffered through a bit of a downer last weekend, but the rebound is looking great. I forcefully recommend watching every minute of each game listed...

Share Tweet

Strasburg Leads Nationals Past Rockies

Jun 21

Stephen Strasburg struck out nine over seven innings in the Nationals' 2-1 win over the Rockies.

Blue Jays Walk Off Against Orioles

Jun 21

The Blue Jays rallied to beat the Orioles 7-6.

Kershaw, Dodgers Fall To Padres

Jun 21

Clayton Kershaw surrendered four runs over six innings in the Dodgers' 5-2 loss to the Padres.

Goldschmidt, D-backs Crush Reds

Jun 21

Paul Goldschmidt hit two home runs as the Diamondbacks captured their third straight win with an 11-5 victory over the Reds.