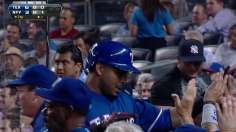 Pettitte still scuffling as Yankees fall to Rangers
Share
Tweet
Source: Dodgers, Marlins talk Nolasco trade

The Los Angeles Dodgers are deep into trade talks with the Miami Marlins about pitcher Ricky Nolasco, a source confirmed Wednesday.

Share Tweet

The Indians surrendered a lead in the eighth after Scott Kazmir near no-hitter, but two RBI forceouts brought home the game-winning runs in a 4-3 win over the Orioles on Wednesday night.

Share Tweet

Mark Teixeira is done for the year with a wrist injury, and the Yankees' in-house replacements aren't great. Is Paul Konerko a solution? Jay Jaffe explores New York's 1B options.

Share Tweet

A key fourth inning, during which Cardinals starter Lance Lynn seemingly lost sight of the strike zone while a patient Astros lineup waited him out, erased a few early struggles by veteran lefty Erik Bedard and led Houston to a 4-3 win Wednesday night o…

Share Tweet

Shaun Marcum twirled eight pristine innings in a 3-0 win over the White Sox on Wednesday night, earning his first victory of the season and an Interleague-series split for the Mets at U.S. Cellular Field.

Share Tweet

Trout, Angels net 8th straight win vs. Tigers

Mike Trout homered and drove in three runs, and Erick Aybar's two-run shot gave Los Angeles the lead for good as the Angels beat Detroit 7-4 on Wednesday night for their eighth consecutive win over the Tigers.

Share Tweet

'Pen delivers big as Halos keep Tigers caged

On Wednesday night at Comerica Park, when the circumstances were rather dire, the Angels' relief corps came together to help capture an improbable 7-4 victory over the Tigers.

Share Tweet

Gyorko leaves rehab game with leg tightness

Second baseman Jedd Gyorko, who is on a Minor League rehabilitation assignment with Double-A San Antonio, left Wednesday's game as a precaution after feeling tightness in his right leg.

Share Tweet

The impact bat the Nationals have been waiting for made an appearance on Wednesday, when Bryce Harper played his second rehab game at Potomac. The possibility of wet weather, which never materialized, limited Harper to DH after he'd played three innings…

Share Tweet

The Commission on Chicago Landmarks will give the Cubs the go-ahead to extend the right- and left-field walls outward at Wrigley Field, build a new entrance, and remodel the dugouts, but it will not make a decision on outfield signs at a meeting on Thur…

Share Tweet

NEW YORK -- Speedy Billy Hamilton is among 50 players picked for the July 14 Futures game ahead of the All-Star game at Citi Field.

Share Tweet

Price puts 'best foot forward' in rehab start

As far as David Price is concerned, he is ready to return to the Rays' rotation. And he made a convincing argument on Wednesday, when he breezed through five innings of two-hit shutout ball, striking out eight and walking one in his second rehab start.

Share Tweet

Nearly unhittable after first, Zimmermann wins 11th

Jordan Zimmermann won his National League-leading 11th game of the season as the Nationals edged the D-backs, 3-2, at Nationals Park on Wednesday night.

Share Tweet

Using a new shipment of bats, Michael Cuddyer hit a sixth-inning homer to extend his hitting streak to 23 games Wednesday afternoon.

Share Tweet

BALTIMORE -- Dylan Bundy's frustrating season ended before it started.

Share Tweet

Brandon League began the season as the Dodgers' closer, but after his latest rough outing, manager Don Mattingly said he would try to avoid using League in high-leverage situations.

Share Tweet

ESPN.com nytimes.com

Jun 26, 2013

Alex Rodriguez believes the New York Yankees do not want him to return this season, and perhaps ever again, a source told ESPNNewYork.com.

Share Tweet

Pirates win despite King Felix's 11 strikeouts

Jordy Mercer hit a go-ahead single with two outs in the ninth inning and the Pittsburgh Pirates beat the Seattle Mariners 4-2 on Wednesday.

Share Tweet

Los Angeles Angels pitcher Tommy Hanson was scratched from his start against the Detroit Tigers on Wednesday night.

Share Tweet

John Lackey struck out a season-high 12 over seven strong innings and Daniel Nava drove in two runs, leading the Boston Red Sox to a 5-3 victory Wednesday and a sweep of the two-game series against the Colorado Rockies.

Share Tweet

Less than 24 hours after Alex Rodriguez's seemingly innocent rehab update on Twitter angered Yankees general manager Brian Cashman enough to drop the "Alex should just shut the (expletive) up" line in front of the New York media, cooler heads and m…

Share Tweet

On Wednesday, the Pirates again won a Jeanmar Gomez start, topping Felix Hernandez and the Mariners, 4-2, with two tiebreaking runs in the ninth. The Bucs are now tied for first place in the division after the Cardinals lost, 4-3, to the Astros on Wedne…

Share Tweet

A.J. Griffin pitched a two-hitter for his first win in more than a month, Josh Donaldson hit a three-run homer and the Oakland Athletics beat the Cincinnati Reds 5-0 on Wednesday for a sweep of their two-game series.

Share Tweet

yahoo.com deadspin.com

Jun 26, 2013

It was a crucial moment on Tuesday night: The bottom of the ninth of a 4-3 game, with runners at second and third and two outs. Alex Gordon was up to bat for the Kansas City Royals with a chance to tie or win the game.That's a situation when a team reli…

Share Tweet

Citizens Bank Park: A local's guide to enjoying a road trip to the home of the Philadelphia Phillies

Have a baseball road trip coming up? Well, in a bid to help you with your upcoming journeys, Big League Stew has solicited the help of the locals. That's right, we've been hitting up our usual guest blogger crew to feature 10 tips for enjoying each of t…

Share Tweet

Throwing off a mound for the first time in nearly 20 days, Red Sox starter Clay Buchholz cut short his bullpen session after 15-18 pitches because of discomfort in his trapezius muscle.

Share Tweet

Giants coach Tim Flannery says Dodgers 'failed in the humanity department'

San Francisco Giants third base coach Tim Flannery had some harsh words for the Dodgers after Tuesday's game, but they had nothing to do with the action on the field. Before the game, 10-year-old Dodgers fan Casey Johnstone threw out the first pitch. He…

Share Tweet

Placido Polanco and Jeff Mathis each connected on two-run homers to rally the Marlins to a 5-3 win over the Twins on Wednesday afternoon at Marlins Park.

Share Tweet

Indians activate Cabrera from disabled list

Indians shortstop Asdrubal Cabrera was determined to return to the field as fast as possible. Cabrera made good on that goal on Wednesday, when he was activated from the 15-day disabled list by Cleveland.

Share Tweet

R.A. Dickey pitched a two-hitter for his first complete game of the year, Jose Reyes went 0 for 4 in his return from a two-month layoff and the Toronto Blue Jays beat the Tampa Bay Rays 3-0 Wednesday for their 12th win in 14 games.

Share Tweet

The Seattle Mariners aren't shying away from the most controversial topic in the country right now — they're flying a gay pride flag at Safeco Field during Sunday's game with the Chicago Cubs. The decision actually isn't a response to Wednesday's pro-sa…

Share Tweet

St. Louis Cardinals draw Christian cross into pitcher's mound at Busch Stadium

Does a symbol for Jesus Christ belong next to a rubber on a pitcher's mound inside of a Major League Baseball park? The St. Louis Cardinals apparently say, yes, it does. In a bold but probably well-meaning affirmation of the Christian faith that many of…

Share Tweet

Hicks begins rehab assignment at Triple-A

The Twins have no set timetable for the return of Aaron Hicks, who began his rehab assignment on Tuesday night with Triple-A Rochester. He finished 3-for-4 with a double and two singles for the Red Wings.

Share Tweet

Astros prospect George Springer homered twice and drove in three runs in the Texas League All-Star Game on Tuesday night, taking home MVP honors as he makes his way to Triple-A.

Share Tweet

Reyes returns to lineup, batting leadoff

Jose Reyes resumed his spot at the top of the Blue Jays' lineup after he was officially activated off the 60-day disabled list prior to Wednesday afternoon's game against the Rays.

Share Tweet

Baseball in middle of another shortstop renaissance

The league is starting to load up at shortstop again. The established stars are there or will soon be. But there's a new crop of young players showing remarkably versatile skill sets.

Share Tweet

Cuba's Jose Fernandez has a future just as bright as Puig's

CNNSI.com

Jun 26, 2013

Yasiel Puig isn't the only Cuban having a breakout 2013. Possibly nobody in baseball has a story -- or arm -- as great as that of Marlins pitcher Jose Fernandez, Albert Chen writes.

Share Tweet

'Sneaky' Trade Deadline candidates to watch closely

In the spirit of a Trade Deadline in which it's often the less-glamorous swaps that wind up looking awfully shrewd come October, here are guys whose performances are perhaps overlooked.

Share Tweet

Every lineup, every day, as they are made public by the clubs.

Share Tweet

Momentous White Sox error makes Mets broadcaster Gary Cohen's voice crack

The error itself, coming Tuesday night on a routine popup that someone on the Chicago White Sox infield should have caught, was funny enough. But nobody in the world could stop from laughing after New York Mets broadcaster Gary Cohen screamed "It F…

Share Tweet

Dynamic No. 2 hitters packing pop like never before

Nowhere is the philosophical drift away from small ball in the Major Leagues more evident than in the evolving role of the No. 2 hitter in the lineup. What we're seeing now are bangers with speed in the table-setting slot, driving balls through gaps and…

Share Tweet

The Juice: Ichiro power! Suzuki hits walkoff homer for Yankees win

The Juice returns for season No. 6! It's almost eligible for free-agency! Stop by daily for news from the action, along with great photos, stats, video highlights and more. No matter that ace right-handers Yu Darvish and Hiroki Kuroda were on the mound,…

Share Tweet

Report: Former Cub Wood finds body in harbor

Kerry Wood discovered a man's body floating in Chicago's Belmont Harbor while the former Chicago Cubs pitcher was paddle boarding on Monday morning, according to a Chicago Tribune report.

Share Tweet

Walker fires six shutout innings in Triple-A debut

Taijuan Walker, the top prospect in the Mariners organization, lived up to the billing in his much-hyped Triple-A debut. Walker tossed six scoreless innings for the win on a rainy Tuesday night.

Share Tweet

Ramirez delivers walk-off single; Sale K's 13

Alexei Ramirez singled in the winning run in the bottom of the ninth after Chicago committed a costly

Share Tweet

Brown blasts 20th homer to back Kendick in win

One day after Cliff Lee and the Phillies' bullpen blew a three-run lead in the ninth inning against the Padres in what might have been the team's worst loss of the season, the Phillies bounced back on Tuesday with a relatively easy 6-2 victory at Petco …

Share Tweet

Domonic Brown hit his 20th home run and tied a career high with four RBIs as the Philadelphia Phillies beat the San Diego Padres 6-2 Tuesday night.

Share Tweet

Early surge helps A's stave off Reds

Josh Donaldson singled and scored in the A's two-run second inning and a two-run homer in a four-run third as Oakland jumped on Cincinnati's Bronson Arroyo early and held on for the win despite left-hander Tommy Milone only lasting 4 2/3 innings.

Share Tweet

Right-hander Nick Vander Tuig tossed eight shutout innings and the Bruins' offense had its best showing of the postseason to lead UCLA to an 8-0 win over Mississippi State on Tuesday at TD Ameritrade Park to secure the program's first national champions…

Share Tweet

Locke, five homers key Bucs' fifth straight win

Young lefty Jeff Locke continued to impress with seven strong innings as the Pirates erupted on offense to down Seattle, 9-4, to run their winning streak to a season-high five games.

Share Tweet

J-Hey powers Braves to first victory at The K

Jason Heyward capped his 11th multihit game this month with a seventh-inning go-ahead solo homer that backed Kris Medlen's seven-inning effort and helped the Braves earn a 4-3 win over the Royals on Tuesday night at Kauffman Stadium.

Share Tweet

White Sox Blow Lead In Ninth; Hawk Harrelson Goes Silent

deadspin.com

Jun 26, 2013

This isn't a new reaction from Hawk, but it's still fun. With a man on second and two outs in the ninth, the White Sox coughed up a one-run lead against the Mets Tuesday night, sending Hawk spiraling down to the bad place. Read more...

Share Tweet

Dustin Pedroia drove in four runs and had three of Boston's season-high 20 hits, and Ryan Dempster took advantage of an early cushion that kept getting bigger for the Red Sox in their 11-4 victory over the Colorado Rockies on Tuesday night.

Share Tweet

All that mattered to Matt Moore was that he earned his 10th win, even if it wasn't very pretty.

Share Tweet

Trade Deadline Preview: NL West Edition

grantland.com

Jun 26, 2013

It wasn't supposed to be this way. After yet another spending spree that included a $147 million splurge on Zack Greinke, the Dodgers were expected t...

Share Tweet

Derek Jeter's Diary: #IStandWithCashman

grantland.com

Jun 26, 2013

The baseball season is a long and lonely road. To preserve his sanity, Yankees shortstop Derek Jeter keeps a diary. These are excerpts from The Captai...

Share Tweet

Sushi being rolled at Yankee Stadium

Jun 26

How a sushi chef creates a roll from start to finish at the Yankee Stadium sushi stand

Lackey Leads Red Sox To Win

Jun 26

John Lackey struck out a season-high 12 in the Red Sox's 5-2 win over the Rockies.

A's Blank Reds

Jun 26

A.J. Griffin pitched a complete game and struck out seven in the A's win over the Reds.

The GM's Office: Outfielders On The Block

Jun 26

Jim Bowden breaks down potential outfielders who could be on the move before the trade deadline.