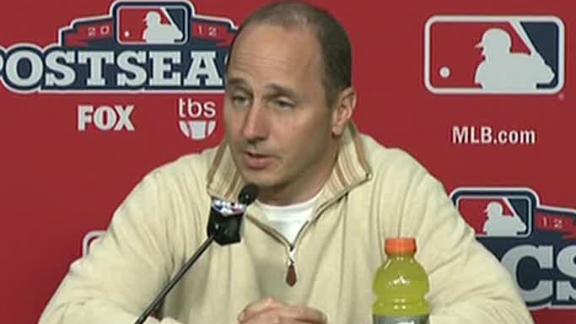 ESPN.com
deadspin.com
CNNSI.com
nydailynews.com
yahoo.com
MLB.com
Updated Mar 4, 2013
New York Yankees general manager Brian Cashman broke his leg and dislocated his ankle on a parachute jump.
Share
Tweet
Brayan Villarreal was sitting at a Red Lobster restaurant when he was texted by his mother that there was danger at his home in Venezuela.

Share Tweet

Brandon McCarthy pitched three innings in his second start, allowing a home run in the first inning to Zack Cozart, and the Arizona Diamondbacks took advantage of some sloppy Cincinnati play to beat the Reds 7-2 Monday.

Share Tweet

Not Getting His Due: Short service time means Mike Trout will only mak…

Short service time means Mike Trout will only make $510,000 in 2013. Teammate Albert Pujols will earn that paltry sum in just 5.2 games. Jay Jaffe puts it all in perspective.

Share Tweet

Warning: Hunter Pence singing and dancing in his car might terrify you

Hunter Pence warned us. He tweeted that this is "what happens when I don't play." And then he posted videos of himself singing and dancing in his car. We're all guilty of such shenanigans. None of us sound or look as good as we think we do. Lu…

Share Tweet

Morneau knows Canada has a lot riding on Classic

While the Canadians have Reds first baseman and 2010 National League MVP Joey Votto and plenty of young talent on their side, Justin Morneau is their greatest asset.

Share Tweet

Robinson Foundation Scholars display strong bond

The Jackie Robinson Foundation Scholars visited the MLB.com office Monday, and they seemed right at home.

Share Tweet

Vogelsong brings passion for Classic to Team USA

To Ryan Vogelsong, baseball remains synonymous with America. That's more than just a feeling for the Giants right-hander. It's a conviction.

Share Tweet

Bobby Crosby says he's sorry this story isn't better, that he wishes he could pinpoint the moment at which he decided to try a comeback. He really can't even identify the month. It might have been just before Thanksgiving. Anyway, the important thing is…

Share Tweet

Adrian Beltre made his spring debut Monday and finished 1-for-3 with a double in the Rangers' 5-4 victory over the San Diego Padres.

Share Tweet

Source: Rangers inquire about Tigers' Porcello

ESPN.com

Mar 4, 2013

The Texas Rangers, still trying to determine a No. 5 starter for their rotation, inquired Monday about Detroit Tigers right-hander Rick Porcello, a source told ESPNNewYork.com's Adam Rubin.

Share Tweet

Flamethrowing Pryor taking it slow this spring

Drafted out of relatively unknown Tennessee Tech in 2010, Mariners reliever Stephen Pryor went from Low Class A ball to Safeco Field in what felt like, for him, the time it takes for one of his high-90s fastballs to leave his fingertips and hit the back…

Share Tweet

Minor league team will permanently leave seat vacant to honor missing troops

Here's a seat you won't be able to buy on Stubhub: It's Section 107, Seat 1, Row 1 inside Hank Aaron Stadium in Mobile, Ala., where the Mobile BayBears play their games. The BayBears - the Double-A affiliate of the Arizona Diamondbacks - are making th

Share Tweet

Cueto slims down but plans to regain weight

Reds ace Johnny Cueto has looked leaner than he has in past camps, and it's apparently for good reason.

Share Tweet

The results weren't nearly as crucial as the process for John Danks, who really took his most significant step in his recovery from arthroscopic shoulder surgery with two-plus innings on Monday.

Share Tweet

Right-hander Jarred Cosart stuggled in his first spring start on Monday against the Tigers. It was an opportunity to take a step forward in the race to make the club, but Cosart isn't making too much of one rough outing.

Share Tweet

Allen looking to make mark in Indians' bullpen

Cody Allen's rise to the Major Leagues was meteoric, and the 24-year-old right-hander has shown up to camp on a mission to make sure the Majors is where he stays. He has come out firing this spring, putting him right in the thick of the race for the han…

Share Tweet

Reds first baseman Joey Votto will go ahead and play for Canada in the World Baseball Classic, pleased with the way his knee has handled the first two weeks of spring training.

Share Tweet

Stults takes inside track to spot in rotation

San Diego manager Bud Black said Monday that while left-hander Eric Stults might not be guaranteed a spot in the starting rotation, he has an advantage over the rest of the competition based on his showing last season.

Share Tweet

Leyland shoots down idea of Valverde reunion

A couple of days after a rumor floated that Tigers manager Jim Leyland was interested in bringing back free-agent closer Jose Valverde, Leyland denied any interest in a reunion with Detroit's former closer.

Share Tweet

Trout goes 3-for-3, Wells homers against A's

Mike Trout had three hits, Vernon Wells hit a three-run homer and Jason Vargas tossed two scoreless innings in his Angels debut during a 13-5 loss to the A's on Monday at Phoenix Municipal Stadium.

Share Tweet

Making his spring debut, Texas third baseman Adrian Beltre went 1-for-3 with a run scored, and Yu Darvish threw three no-hit innings, as the Rangers rallied for a 5-4, walk-off victory over the Padres on Monday at Surprise Stadium.

Share Tweet

Robinson Cano's father says he expects the New York Yankees to re-sign their All-Star second baseman rather than let him leave through free agency after the season.

Share Tweet

Prospect Venditte proud to compete for Italy

In 27 years of life, Pat Venditte has only been to Italy once. In fact, the pitcher only speaks a bit of Italian, but that does not mean he isn't dedicated and committed to playing for Italy in the World Baseball Classic.

Share Tweet

PROVIDENCE, R.I. (AP) -- Former Boston Red Sox pitcher Curt Schilling asked a Rhode Island judge to dismiss a state economic development agency's lawsuit over its $75 million loan guarantee for his now-defunct video game company, calling claims he and f…

Share Tweet

Big Unit visits camp, offers insight to pitchers

It was the first time Randy Johnson had appeared at Spring Training for the D-backs since his retirement from baseball following the 2009 season, and judging by the way it went, it won't be the last.

Share Tweet

It was easy for manager Joe Maddon on Monday to imagine highly touted prospect Wil Myers trotting onto the field to play against the Red Sox at Fenway Park, and not just because the Rays were, in fact, playing the Sox and Myers started in right field at…

Share Tweet

Team Mexico's prospects for advancing past the first round in the World Baseball Classic were enhanced measurably with the appearance on Monday of Brewers ace Yovani Gallardo, who is recovering from a strained groin.

Share Tweet

Dungy delivers pre-workout speech to Pirates

Tony Dungy delivered an impassioned pre-workout locker room speech to the Bucs in the morning, and his inspirational and motivational message can still have a delayed effect on the club.

Share Tweet

The World Baseball Classic runs through March 19 with 16 teams hoping to rule the baseball world. Since international baseball brings new players and storylines, Big League Stew is helping you get ready this worldly clash with previews of each team. Ita…

Share Tweet

Turning The Corner: Jose Altuve became a cult hero in Houston last se…

Jose Altuve became a cult hero in Houston last season. Can he have an even better 2013? Jay Jaffe breaks down his 'boom' and 'bust' second basemen for the season to come.

Share Tweet

MLB Network, Army Reserve team up for soldiers

Sgt. Dennis DePrisco and Spc. Christopher Tobey are the first two employees in a one-year paid apprenticeship program initiated by MLB Network and the U.S. Army Reserve Employer Partnership Office (EPO).

Share Tweet

Dickey to start USA's opener against Mexico

U.S. manager Joe Torre announced Monday that knuckleballer R.A. Dickey will start the team's opener on Friday at 9 p.m. ET against Mexico at Chase Field in Phoenix.

Share Tweet

Chinese baserunner commits embarrassing blunder during WBC loss

There was a whole lot of beatdown handed to China in its early Monday morning World Baseball Classic game against Cuba. Team China lost 12-0, enacting the tournament's mercy rule and getting pummeled with a six-run fifth inning that included a grand sla…

Share Tweet

Dutch, Aussies clash, eye second-round berth

The Kingdom of the Netherlands will need its sluggers re-energized Tuesday if it wants to overpower Australia in both teams' final game of the first round of the 2013 World Baseball Classic.

Share Tweet

With Nieuwenhuis on Crutches, Mets' Outfield Prospects Grow Dimmer

nytimes.com

Mar 4, 2013

The Mets' already weak outfield took another hit Sunday when Kirk Nieuwenhuis left the game against the Marlins after banging his knee while sliding on the basepaths.

Share Tweet

Camp thankful to suit up for Cubs

Getting released by the Mariners last spring may have been the best thing to happen to Shawn Camp. And the Cubs. And Jaye Chapman. And Blake Parker.

Share Tweet

Ready For His Close-up

Wil Myers has become a must-see player this spring, wowing onlookers with long home runs. But when will he play in the majors? He's just waiting for the call, says Albert Chen.

Share Tweet

Papi takes step forward by running bases

You can count Monday as an encouraging day in David Ortiz's comeback from a right Achilles injury.

Share Tweet

Weiner visits Red Sox camp

Michael Weiner, the executive director of the Major League Baseball Players Association, made the rounds at Red Sox camp on Monday, briefing the club on a number of issues.

Share Tweet

With A's, the right environment for Melvin to flourish

Given a third shot at managing by the Oakland A's, it's been a charming turn of events for Bob Melvin.

Share Tweet

Secure in ability, Vargas has Angels' confidence

When a team reworks 60 percent of its rotation, the questions and comparisons are inevitable. But Jason Vargas trusts the Angels' rotation will spin capably, and the team appreciates his presence.

Share Tweet

Giolito progressing with Tommy John recovery

One thing Nationals right-hander Lucas Giolito has is patience, and he will need it if he wants to get back on the mound by July. He is currently recovering from Tommy John surgery and already has made progress.

Share Tweet

Segura a talented player with tremendous upside

Brewers shortstop Jean Segura will be 23 years old on March 17. He has already played 45 Major League games. He really can't be considered a prospect anymore.

Share Tweet

X-rays negative on Sizemore's bruised hand

Oakland A's infielder Scott Sizemore, who was hit by a pitch during Sunday's game against the Rockies, was relieved Monday morning upon learning that X-rays taken on his bruised left hand came back negative.

Share Tweet

Legendary pitcher turned CEO Nolan Ryan could be leaving the Texas Rangers, according to a Fort Worth Star Telegram report that paints Ryan as the odd man out in a power shift atop the Rangers organization. It was announced over the weekend that general…

Share Tweet

Baseball officials set to study replay at WBC

ESPN.com

Mar 4, 2013

Several Major League Baseball officials will travel to World Baseball Classic games in Miami this month to explore potential options for an extensive expansion of instant replay, baseball people familiar with the trip told ESPN.com.

Share Tweet

After wins over Australia and the Kingdom of the Netherlands, Chinese Taipei faces Korea on Tuesday with the goal of sweeping through Pool B on its way to the second round.

Share Tweet

The Nationals Wouldn't Pay Out Dead Prospect's Signing Bonus Until His Family Promised Not To Sue Them

deadspin.com

Mar 4, 2013

The circumstances surrounding the death of Yewri Guillén-an 18-year-old Dominican prospect who had been signed by the Washington Nationals-remain murky. But a piece in the latest issue of Mother Jones reveals they weren't so murky that the Nationals

Share Tweet

Young settling into everyday role at third base

Michael Young brought three gloves to Phillies camp, the same three he carried everywhere the last two years. There's only one difference: He's only had to use one of them this spring.

Share Tweet

Hip strain forces Canada's Crain out of Classic

White Sox reliever Jesse Crain will not play for Team Canada in the World Baseball Classic, pulling out of the tournament Monday due to a strained right adductor.

Share Tweet

Strained hip flexor sidelines Mariners' Hultzen

Scheduled to make his third appearance of the spring Monday, Mariners pitching prospect Danny Hultzen was scratched from his outing because of a mild right hip flexor strain.

Share Tweet

Cuba 12, China 0 (7 inn): Cuba's offense unloaded against China after a sleepy first game at the World Baseball Classic in Fukuoka, Japan on Monday morning. Jose Abreu slugged a grand slam against left-hander Xin Li to cap a six-run fifth inning for Cub…

Share Tweet

Now, finally, in his fifth big league season, Colby Rasmus can be an afterthought. Toronto brought in a slew of stars this winter, and suddenly Rasmus is just another player on a team filled with big names. He's the starting center fielder, but not the …

Share Tweet

Long-toss routines gaining traction across MLB

Assuming such a program is followed properly, long-toss devotees are entering an industry increasingly open-minded about the practice, even as debates rage about its benefits.

Share Tweet

The Week Ahead: Classic action reaches U.S. soil

The retooled Team USA roster is set to take the field for the first time in the 2013 World Baseball Classic, opening play Friday night against Mexico at Chase Field.

Share Tweet

Spring headlines: Ryan Howard's comeback soaring; Rafael Furcal and Matt Garza stalled

Ryan Howard is looking like a beast this spring - with a ridiculous home run Sunday sure to add to the whispers that the big slugger might be back. The Philadelphia Phillies first baseman, whose career started so high by winning Rookie of the Year and M

Share Tweet

nytimes.com

Mar 4, 2013

Johan Santana, who disappointed his general manager by showing up in camp not ready to pitch, is still likely to miss the start of the season.

Share Tweet

Tampa Bay Rays prospect Wil Myers has big bat, looks to follow path of Mike Trout, Bryce Harper with early callup to Majors

nydailynews.com

Mar 4, 2013

The best power-hitting prospect in baseball is standing against a cinder-block wall outside the Tampa Bay Rays' spring clubhouse, talking about comparisons and the future and The Trade. You ask him about the greatest moment of his nascent ballplaying ca

Share Tweet

Matheny On Cards' Season Outlook

Mar 4

Cardinals manager Mike Matheny talks to Tim Kurkjian about St. Louis' plethora of young players and the status of the pitching rotation heading into 2013.

BBTN Bus Tour: St. Louis Cardinals

Mar 4

Tim Kurkjian thinks the middle infield is the Cardinals' biggest concern and Curt Schilling thinks Adam Wainwright's health is the best news for the Cardinals.

Wainwright On Cards' Pitching Staff

Mar 4

Adam Wainwright talks with Tim Kurkjian about the Cardinals season outlook and the young arms they have on the pitching staff.

Newcomers Homer In Braves' Win

Mar 4

Justin Upton and Chris Johnson both homered in the Braves' 4-2 win over the Mets.