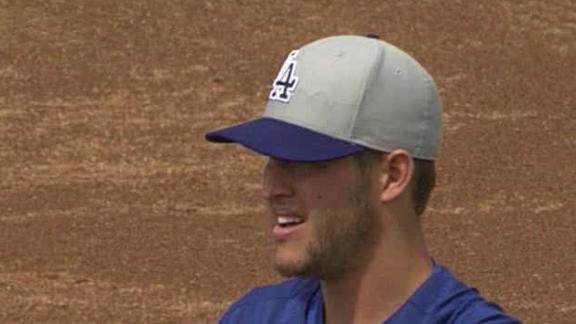 Updated Mar 5
Share
Tweet
Clayton Kershaw frustrated by lack of success early in spring training
Lackey continues comeback with solid outing

Updated Mar 5

Share Tweet

John Lackey likes how his comeback from Tommy John surgery is progressing.

Zambrano hopes Classic leads back to Majors

Updated Mar 5

Share Tweet

Carlos Zambrano is hoping that the World Baseball Classic will help propel him to an enticing offer from a Major League team. He got off to a decent start in that regard on Tuesday night.

Updated Mar 5

Share Tweet

Brewers right-hander Yovani Gallardo had his final tuneup for the World Baseball Classic on Tuesday night and said he feels ready to start against Team USA on Friday night.

Cashman has no regrets after skydiving injury

Updated Mar 5

Share Tweet

Brian Cashman arrived at George M. Steinbrenner Field in time for Tuesday's game, outfitted with a pair of hospital-issued scrub pants, a fresh hard cast and a new pair of crutches that will be by his side for the next eight weeks.

Aviles hopes Classic brings enthusiasm to homeland

Updated Mar 5

Share Tweet

Like many members of Team Puerto Rico, Mike Aviles hopes a strong showing in the Classic will rekindle enthusiasm for baseball in that country.

Updated Mar 5

Share Tweet

A big comeback for Korea at the World Baseball Classic was not big enough, and even though the Koreans beat Chinese Tapei 3-2 on Tuesday, they will not advance in the tournament. Korea came up with three runs in the bottom of the eighth inning against f…

Updated Mar 5

Share Tweet

Miguel Cabrera turned in a three-hit game against his former club, but the Marlins overcame the slugger's big night as Bryan Petersen hit a two-run walk-off triple in a 6-5 win over Team Venezuela in front of 2,719 at Roger Dean Stadium.

Updated Mar 5

Share Tweet

About three hours prior to the Venezuelan national team's exhibition game against the Miami Marlins, some much bigger news than baseball emerged from its home country. Hugo Chavez, president of the South American nation, died on Tuesday afternoon at 58.

Updated Mar 5

Share Tweet

Cole Hamels' third start of spring training looked more like batting practice for the Dominican Republic.

Detroit Tigers ace Justin Verlander says he 'wouldn't mind' a gay teammate

Updated Mar 5

Share Tweet

Gay athletes in pro sports is enough of a talking point these days that when baseball golden boy Justin Verlander sits down for a Barbara Walters-style interview with CNN, it's on the question list. Verlander's take? The star pitcher - and once MVP -

Updated Mar 5

Share Tweet

Yankees first baseman Mark Teixeira strained his wrist while taking batting practice in Arizona, ending his bid to play in the World Baseball Classic.

Sources:

nytimes.com ESPN.com yahoo.com CNNSI.com MLB.com

Updated Mar 5

Share Tweet

Albert Pujols hit a pair of groundouts and struck out in his first spring training appearance of the year for the Los Angeles Angels, a 6-4 win Tuesday over theCincinnati Reds.

Leg injury to keep Ross out 2-3 weeks

Updated Mar 5

Share Tweet

A lower left leg strain is expected to keep D-backs outfielder Cody Ross out of action for two to three weeks, manager Kirk Gibson revealed on Tuesday.

Updated Mar 5

Share Tweet

Hopes are high for Team Venezuela as the club approaches pool play in the World Baseball Classic, and if the crowd at Roger Dean Stadium on Tuesday night is any indication, so are expectations. The majority of the fans in attendance for the team's exhib…

Attendance and Revenue Fall at Citi Field

Updated Mar 5

Share Tweet

The Mets averaged 28,035 a game, down nearly 7 percent from the 2011, while revenue dropped over all, to $121.5 million from $126.9 million.

Source:

nytimes.com

Puig is next star for scout who landed Fernando

Updated Mar 5

Share Tweet

Mike Brito is the scout who teamed with Mexican colleague Corito Verona to discover and help acquire Fernando Valenzuela in 1979. Yasiel Puig's signing has now linked Brito with another budding Dodgers superstar.

Ortiz runs bases again without incident

Updated Mar 5

Share Tweet

As planned, Red Sox slugger David Ortiz had a shorter day of running on Tuesday than he did Monday, and he was encouraged after running home to first four times and home to second once. The significant part of the activity is that it marked the first ti…

The Public-Funding-For-Stadiums Hustle Comes To Spring Training

Updated Mar 5

Share Tweet

Every day, it seems, another team in another sport is begging local government to pay for its stupid stadium upgrades-luxury boxes, video boards, home-run whirligigs. And seemingly every other day, more or less, municipalities give into the bullying. Mo

Source:

deadspin.com

Baseball's postseason will air mostly on cable starting in 2014

Updated Mar 5

Share Tweet

Starting in 2014, you'll need cable if you want to watch most of baseball's postseason. Fox Sports 1, the new sports cable network launching in August, will join TBS in carrying the American League and National League Championships Series. In years past…

Polanco gets another day to rest sore back

Updated Mar 5

Share Tweet

As a precaution, Marlins third baseman Placido Polanco was given another day to rest his stiff lower back.

Hanson shakes off rust, feels good in debut

Updated Mar 5

Share Tweet

Tommy Hanson threw strikes on Tuesday, just not the kind of strikes he wanted. Hanson, making his first start for the Angels, was up in the strike zone with his fastball for most of his two-inning outing, but he said he was generally pleased with the wa…

Bond's future? He hopes it's with Giants

Updated Mar 5

Share Tweet

Brock Bond was born on Sept. 11, 1985, the date Pete Rose broke the all-time hits record. Consequently, Bond said that he patterns his intense playing style after Rose's maximum-effort approach.

Henderson, Axford close out win for Canada

Updated Mar 5

Share Tweet

Team Canada scored four times in the eighth inning against a wild Michael Gonzalez and Jim Henderson and John Axford shut down their Brewers teammates for a 7-4 exhibition win at Maryvale Baseball Park on Tuesday.

Updated Mar 5

Share Tweet

Cuba and Japan may have already qualified for the second round of the 2013 World Baseball Classic, but that doesn't take the shine off a matchup many fans have been waiting for since the pools were announced.

McCutchen takes new fame and runs with it

Updated Mar 5

Share Tweet

Gracing the cover of MLB '13 The Show, Pirates star Andrew McCutchen has another launch in the works -- leading with that same face. On Tuesday, he revealed that he plans to revive his running game by returning to the headfirst sliding style he used suc…

Stanton, Braun net Team USA a tie with White Sox

Updated Mar 5

Share Tweet

Giancarlo Stanton had three RBIs, including two in the eighth, and Ryan Braun had three hits in Team USA's 4-4 stalemate with the White Sox on Tuesday in Glendale, Ariz. Derek Holland allowed one run over three innings in his start.

Feliciano successfully pitches with heart monitor

Updated Mar 5

Share Tweet

JUPITER, Fla. (AP) New York Mets reliever Pedro Feliciano wore a heart monitor while pitching and reported no problems or discomfort during his first spring training outing.

Updated Mar 5

Share Tweet

We're still more than three weeks from the start of the MLB regular season, but that completely nonexistent heated rivalry between the Diamondbacks and the Reds is already starting to simmer. Yesterday, before their Cactus League cage match, managers Ki…

Source:

deadspin.com

Happ still preparing for season as a starter

Updated Mar 5

Share Tweet

Even though there aren't any jobs in the Blue Jays' rotation currently up for grabs, J.A. Happ is still preparing for life as a starter. Happ continues to be stretched out and made his second start of the spring Tuesday afternoon against the Orioles.

Where in the world is Brian Wilson?

Updated Mar 5

Share Tweet

Surely you remember Brian Wilson, right? The guy with the beard. No, not that guy with the beard. The guy before him. The "Fear the Beard" guy. No one would blame you too much if you forgot. He missed almost all of last season after an April e…

Gillaspie chasing baseball dream, storms

Updated Mar 5

Share Tweet

First and foremost, Conor Gillaspie is a baseball player trying to make the White Sox Opening Day roster. But studying weather runs a close second in terms of Gillaspie's passions.

Updated Mar 5

Share Tweet

As Nolan Ryan remains silent regarding his potential departure from the Texas Rangers, newly promoted president of baseball operations Jon Daniels said he hopes the Hall of Famer and CEO remains with the organization.

MLB again fails to gain cooperation from Galea

Updated Mar 5

Share Tweet

Investigators for MLB have struck out again in seeking cooperation from a Toronto-based sports doctor, as well as his former assistant, who previously injected pro athletes with HGH and other banned substances.

Updated Mar 5

Share Tweet

That would be Sidd Finch territory, if it was the speed of his fastball and not the speed of his pickup truck. More »

Sources:

deadspin.com yahoo.com ESPN.com MLB.com

Updated Mar 5

Share Tweet

Miami Marlins outfielder Kolby Copeland has been suspended for 50 games for refusing to take an offseason test under baseball's minor league drug program.

New faces in new places could be key for Reds

Updated Mar 5

Share Tweet

The Reds, despite winning the NL Central in 2012, will look different this season, with Todd Frazier taking over at third and Shin-Soo Choo moving into center field.

B.A.T. names March as Awareness Month

Updated Mar 5

Share Tweet

The Baseball Family always takes care of its own. The Baseball Assistance Team (B.A.T.), an organization dedicated to helping former players, scouts and employees of Major League Baseball who have fallen on hard financial times, has dedicated March as i…

Updated Mar 5

Share Tweet

In trying to pay his new manager a compliment, slugger Colby Rasmus strongly implied that his previous manager, John Farrell, was a horrible leader for the Toronto Blue Jays during the 2012 season. The Blue Jays have made some of the most noteworthy mov…

Once stars, several big names have something to prove in 2013

Updated Mar 5

Share Tweet

Tim Lincecum, Carl Crawford and Justin Upton have all arrived at Spring Training with something to prove. Cliff Corcoran writes that 2013 will be pivotal for key talents.

Bundy throwing despite minor groin issue

Updated Mar 5

Share Tweet

Right-hander Dylan Bundy was scheduled to take a work day on Tuesday, participating in the biomechanical testing visiting Orioles camp, and said the groin issue that kept him out of Sunday's game was minor.

Rendon's goal is to have camp Nats will remember

Updated Mar 5

Share Tweet

Third baseman Anthony Rendon is making a strong impression in Nationals camp. But Rendon, 22, knows he will not be with the big club very long.

Updated Mar 5

Share Tweet

Left-hander Erik Bedard has been limited to only two innings this spring because of a strained gluteal muscle. Astros manager Bo Porter said Bedard had been scheduled to pitch Saturday's game against the Braves, but he didn't pitch.

Team USA among eight Classic teams facing MLB clubs

Updated Mar 5

Share Tweet

While Team USA won't open play in the World Baseball Classic until Friday, fans will get their first look at the team today in a 3:05 p.m. ET exhibition game against the White Sox in Glendale, Ariz.

Furcal to visit Dr. Andrews about ailing elbow

Updated Mar 5

Share Tweet

Rafael Furcal will see Dr. James Andrews on Wednesday about his troublesome right elbow, according to St. Louis Cardinals general manager John Mozeliak, who also said it is unlikely the shortstop would be ready to be play by Opening Day.

Kemp set for first spring start in outfield

Updated Mar 5

Share Tweet

Matt Kemp on Tuesday will make his first start in the Dodgers' outfield since undergoing left shoulder surgery.

Updated Mar 5

Share Tweet

Ray Chang drove in two runs Tuesday and China rallied with five runs in the bottom of the eighth to beat Brazil 5-2 in Group A of the World Baseball Classic.

Updated Mar 5

Share Tweet

White Sox left-hander John Danks had a simple take on his first outing after having shoulder surgery: Phew, glad that's over. Danks threw 35 pitches, allowing a run, two hits and no walks in a 6-2 victory the Giants. He said, via the Associated Press: '…

A's announce 20-year agreement with city of Mesa

Updated Mar 5

Share Tweet

The Athletics announced on Tuesday a 20-year agreement with the city of Mesa, Ariz., that will bring the club back to the East Valley city for Spring Training starting in 2015.

Neck stiffness to keep Markakis out a few days

Updated Mar 5

Share Tweet

Nick Markakis said he will be out at least a few more days, as the O's right fielder is dealing with neck stiffness that has sidelined him since Sunday.

Netherlands tops Australia to advance in Classic

Updated Mar 5

Share Tweet

Orioles prospect Jonathan Schoop blasted a two-run homer to power the Kingdom of the Netherlands past Australia, 4-1, on Tuesday in Taiwan. With the win, the Dutch earned a spot in the second round of the World Baseball Classic.

NY Mets manager Terry Collins may have outfield envy when looking at Atlanta Braves' Justin Upton, B.J. Upton and Jason Heyward

Updated Mar 5

Share Tweet

This was cruel and inhuman punishment for Terry Collins. The "what outfield?" crisis for the beleaguered Mets manager has reached such proportions that, with Kirk Nieuwenhuis' knee injury, Collins has taken to roaming the clubhouse every morning loo

Source:

nydailynews.com

Indians starter hit in head, pitches three innings

Updated Mar 5

Share Tweet

Indians starter hit in head, pitches three innings

Two MLB Contenders Cause Their Own Problems

Updated Mar 5

Share Tweet

Martin Perez might be out until May with a broken left forearm, while Rafael Furcal has been shut down with lingering pain in his elbow, raising furth...

Source:

grantland.com

Kershaw, Dodgers Fall To Padres

Mar 5

Clayton Kershaw surrenders four runs in Dodgers' 7-3 loss to Padres.

Paul Konerko Talks White Sox Outlook For 2013

Mar 5

Pedro Gomez asks Paul Konerko about playing at 37 and how the White Sox will stack up against the AL Central.

BBTN Special: Nats Camp

Mar 5

Karl Ravech, Tim Kurkjian and Curt Schilling report from Nationals spring training.

Mark Teixeira Pulls Out Of WBC

Mar 5

ESPNNewYork.com's Andrew Marchand on Mark Teixeira pulling out of the WBC due to a wrist injury.

Sports Columnists

Peter King: Kuechly goes back to school; Chiefs break from Pioli's way; ma…

Mar 5

We interrupt the never-ending hype for NFL free agency (when, by the way, is the last time a great free agent class led a team deep into that season's playoffs?) to talk about 15 weeks that no one ever talks about. But people should.

NBA Coast to Coast - Western Conference playoff matchups we're wishing for

Mar 5

J.A. Adande runs down his list of playoff matchups he wants to see in the Western Conference.