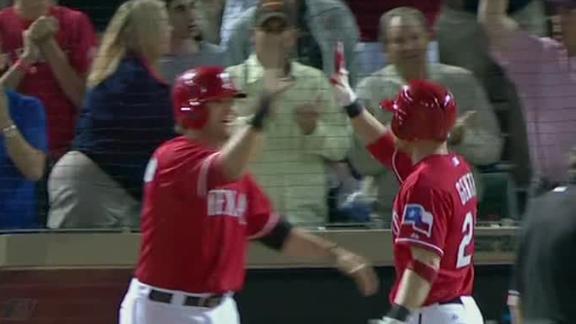 Jose Fernandez may have made his big league debut on April 7. But the 20-year-old phenom arrived on Saturday night.

Share Tweet

Ogando leads way in another strong pitching effort

For the second straight game, Texas' pitching put Boston's red-hot bats in the deep freeze Saturday and the Rangers iced the Red Sox, 5-1.

Share Tweet

Miguel Cabrera hit two home runs, finished 4-for-4 and tied a career high with six RBIs to lead the Detroit Tigers' 17-2 mauling of the Houston Astros on Saturday night.

Share Tweet

Jeremy Guthrie ran his unbeaten streak to a club record 17 consecutive starts with a four-hitter in the Kansas City Royals' 2-0 victory over the Chicago White Sox on Saturday night.

Share Tweet

Steve Pearce's RBI single with two outs in the 10th inning lifted the Baltimore Orioles to a 5-4 victory over the Los Angeles Angels on Saturday.

Share Tweet

Tampa Bay Rays shortstop Yunel Escobar left Saturday night's game against the Rockies after being hit on the left hand by a pitch from Colorado starter Jon Garland.

Share Tweet

In a bit of a surprise, closer Andrew Bailey, who has not pitched since April 28 with a biceps injury, was not available for Saturday's game against the Rangers.

Share Tweet

Posey shrugs off eventful night at home plate

A day after being involved in two important plays at the plate during the Giants' series-opening 2-1 win against the Dodgers on Friday, catcher Buster Posey offered insight into both.

Share Tweet

Rotation could get boost soon with Lewis, Perez

Not that Rangers pitching isn't more than holding its own, leading the American League with a 3.09 ERA heading into Saturday night's game against the Red Sox, but reinforcements are just around the corner if needed.

Share Tweet

Jon Jay homered and drove in the go-ahead run in the ninth and Allen Craig and Daniel Descalso each hit home runs to lead the St. Louis Cardinals to a 7-6 win over the Milwaukee Brewers on Saturday.

Share Tweet

Stephen Strasburg struck out eight in seven innings and the Washington Nationals won a game he started for the first time since opening day by beating the Pittsburgh Pirates 5-4 Saturday.

Share Tweet

Ryan Zimmerman led a double steal in the ninth inning and scored on Tyler Moore's sacrifice fly as the Nationals grabbed a 5-4 victory over the Pirates at PNC Park on Saturday. Stephen Strasburg allowed four runs, on a pair of two-run homers, and struck…

Share Tweet

Manuel weighs in on Dubee criticism

When former Phillies closer Mitch Williams criticized pitching coach Rich Dubee on Friday, right-hander Roy Halladay quickly came to his defense. Before Saturday night's game against the Marlins at Citizens Bank Park, it was Charlie Manuel's turn.

Share Tweet

Recovering Greinke appears ahead of schedule

Dodgers right-hander Zack Greinke, who is currently on the 15-day disabled list, appears to be ahead of schedule in his recovery from a broken collarbone after throwing a full bullpen session Saturday at AT&T Park, exactly three weeks after surgery.

Share Tweet

Los Angeles manager Don Mattingly doesn't expect injured shortstop Hanley Ramirez back from the disabled list any time soon.

Share Tweet

Corporan gets back-to-back starts behind the plate

Carlos Corporan was behind the plate again for the Astros on Saturday for his second consecutive start. But it isn't only because Lucas Harrell is the starting pitcher.

Share Tweet

Iwakuma rides power surge to comfy win in Toronto

Michael Saunders hit a pair of homers and Dustin Ackley belted his first grand slam to lift Hisashi Iwakuma and the Mariners to a comfortable 8-1 victory over the Blue Jays Saturday at Rogers Centre.

Share Tweet

Boston Red Sox are underdogs, but sit atop the AL East

nydailynews.com

May 4, 2013

With apologies to the great songwriter George Gershwin, who told us how "they all laughed at Christopher Columbus when he said the world was round. They all laughed when Edison recorded sound," they also all laughed when Larry Lucchino referred to the

Share Tweet

Metallica rocked AT&T Park with awesome national anthem on Friday night

More times than not it's the horrendously over-the-top or out of tune versions of the national anthem that get the most play in our world.I'd like to change that right now by drawing your attention to the incredible full metal rendition performed by M

Share Tweet

Kazmir gets rare win as Indians trump Twins

Scott Kazmir earned his first victory in three seasons, Nick Swisher homered in his first at-bat since missing three games with a sore shoulder and the Cleveland Indians beat Minnesota 7-3 Saturday for their sixth straight victory.

Share Tweet

Todd Frazier and Devin Mesoraco each had a sacrifice fly in Cincinnati's four-run eighth inning, and the Reds rallied for a 6-4 victory over the Chicago Cubs on Saturday.

Share Tweet

Hughes gets 1st win as Yanks double up A's

Phil Hughes pitched eight shutout innings of four-hit ball for his first win of the season, and the New York Yankees beat the Oakland Athletics 4-2 on Saturday.

Share Tweet

Ryan Howard delivers home run at request of blind young Phillies fan (video)

Your browser does not support iframes. Here's your feel good story of the weekend courtesy of Philadelphia Phillies first baseman Ryan Howard. On Friday night, the Phillies hosted Teacher Appreciation Night at Citizens Bank Park, which is a cool enough …

Share Tweet

It doesn't quite pack the historical punch of a Mickey Mantle corked bat, but a baseball stained in the blood of Chicago Cubs right-hander Jeff Samardzija could have been yours for a reasonable price had you placed a bid on it in a Cincinnati Reds aucti…

Share Tweet

SAN DIEGO (AP) Padres third baseman Chase Headley ran into club executive chairman Ron Fowler at Petco Park on Friday and explained why he doesn't want a contract extension to be negotiated during the season.

Share Tweet

The Oakland Athletics have placed Chris Young on the 15-day disabled list with a strained left quadriceps and recalled fellow outfielder Michael Taylor from Triple-A Sacramento.

Share Tweet

Athletics put OF Young on DL; Taylor replacement

CNNSI.com

May 4, 2013

NEW YORK (AP) The Oakland Athletics have placed Chris Young on the 15-day disabled list with a strained left quadriceps and recalled fellow outfielder Michael Taylor from Triple-A Sacramento.

Share Tweet

Every lineup, every day, as they are made public by the clubs.

Share Tweet

Darwin Barney survives violent crash into Wrigley Field bullpen bench (video)

How Darwin Barney walked away from his violent collision with the visiting bullpen bench at Wrigley Field without bruised or broken ribs is beyond me.The nasty spill happened as the Cubs hosted the Cincinnati Reds in rain soaked Chicago on Friday aftern…

Share Tweet

Despite efforts to rehab the tear in his ulnar collateral ligament without having to undergo a dreaded Tommy John operation, St. Louis Cardinals reliever Jason Motte is left with no choice after feeling continued discomfort in his elbow following a thro…

Share Tweet

The Juice: Clayton Kershaw dominates in emotional outing, Dodgers still fall on Buster Posey walkoff homer

The Juice returns for season No. 6! It's almost eligible for free-agency! Stop by daily for news from the action, along with great photos, stats, video highlights and more.Pitching with a heavy heart following the passing of his father, Clayton Kershaw …

Share Tweet

The Dodgers' injury epidemic reclaimed shortstop Hanley Ramirez Friday night, and the left-on-base epidemic continued, too, as they stranded 13 more and lost the series opener to the Giants on Buster Posey's walk-off homer leading off the bottom of the …

Share Tweet

Longoria, Johnson power Rays to extra-inning win

An RBI single from Evan Longoria and a two-run homer from Kelly Johnson gave the Rays a 7-4 extra-inning victory over the Rockies on Friday night.

Share Tweet

Troy Tulowitzki reported his legs felt "heavy," but indicated it wasn't serious. Still, manager Walt Weiss decided not to put Tulowitzki in the starting lineup for Friday night's game against the Rays. It would be Tulowitzki's third time out o…

Share Tweet

Vargas twirls shutout, holding Orioles to three hits

Jason Vargas pitched the first shutout for the Angels this season, limiting the Orioles to three hits and two walks and keeping a short-handed bullpen bored in a 4-0 win at Angel Stadium.

Share Tweet

Towers wants more from D-backs' bullpen

There may come a time when D-backs general manager Kevin Towers becomes sick and tired watching the work of his bullpen, but he's not there yet.

Share Tweet

nydailynews.com

May 4, 2013

You sure couldn't blame this loss on CC Sabathia. And yet even while surrendering only two runs over six innings to the A's, the big lefthander did give you more reason to wonder if he can continue to live up to his role as the Yankees' ace.

Share Tweet

Cabrera's Six-RBI Night

May 4

Miguel Cabrera tied a career high with six RBIs in the Tigers' 17-2 win over the Astros.

Guthrie, Royals Shut Out White Sox

May 4

Jeremy Guthrie's first career shutout leads the Royals to a 2-0 win over the White Sox.

Orioles Top Angels In 10

May 4

Steve Pearce's RBI single in the 10th lifted the Orioles to a 5-4 win over the Angels.

Remembering 'Fernandomania'

May 4

Former Cy Young winner Fernando Valenzuela looks back on his career and the "Fernandomania" craze of the early 1980s.