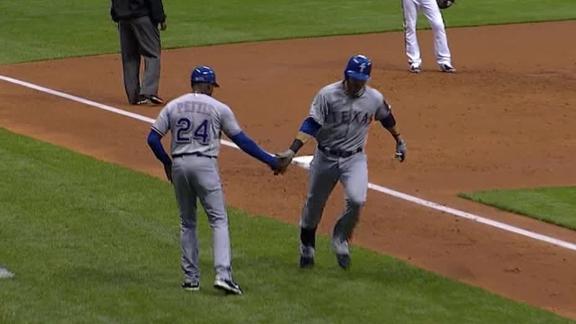 Umpire blows home-run call twice in Oakland's loss to Cleveland

A blown call in the ninth inning by umpire Angel Hernandez, which he missed on replays as well, cost the A's a game-tying home run against Cleveland in a 4-3 loss to the Indians.

Share Tweet

The A's thought Adam Rosales had homered off Indians closer Chris Perez, but the umpires ruled differently following a video review. Oakland manager Bob Melvin vehemently disagreed, resulting in his ejection.

Share Tweet

Pedro Florimon had a solo homer and a two-run double in Minnesota's season-high, seven-run second inning that carried the Twins to a 15-8 rout over the Boston Red Sox on Wednesday night.

Share Tweet

Bryce Harper hit a solo homer and drove in another run with a sacrifice fly, Jordan Zimmermann won his

Share Tweet

Werth remains out of lineup due to hamstring

Nationals manager Davey Johnson was hoping right fielder Jayson Werth would be back in the lineup on Wednesday, but Werth wasn't able to play because of right hamstring tightness.

Share Tweet

Matt Moore won his sixth straight decision to start the season, Evan Longoria

Share Tweet

Bud Norris twirled a gem and Chris Carter hit his eighth home run of the season as the Astros secured a series victory over the Angels with a 3-1 win on Wednesday night in Houston.

Share Tweet

Solid in return, Peavy gets plenty from bats

Jake Peavy returned to the mound with a stellar performance in Wednesday's 6-3 victory over the Mets at Citi Field, where Alejandro De Aza sparked the White Sox offense.

Share Tweet

An apparent game-tying homer by Oakland's Adam Rosales was ruled a double by umpires in the ninth inning, and the Cleveland Indians

Share Tweet

The Arizona Diamondbacks have placed closer J.J. Putz on the 15-day disabled list on Wednesday because of a right elbow strain and recalled reliever Will Harris from Triple-A Reno before the finale of a three-game series with the Los Angeles Dodgers.

Share Tweet

Giants recover from Phillies' rally, win in 10th

The Giants squandered a two-run, ninth-inning lead Wednesday but rebounded in the 10th inning on Andres Torres' two-out RBI single to outlast the Philadelphia Phillies, 4-3.

Share Tweet

Weeks dropped to seventh in Brewers' lineup

Brewers second baseman Rickie Weeks, who has batted second, fourth and fifth this season, entered Wednesday's game batting .193 with a .308 on-base percentage and .298 slugging percentage.

Share Tweet

Toronto Blue Jays pitcher J.A. Happ said he had a skull fracture behind his left ear that doctors believe will heal on its own, as well as a sore right knee that he tweaked when he dropped to the ground Tuesday night.

Share Tweet

Orioles' Roberts to have hamstring surgery

Orioles second baseman Brian Roberts will undergo surgery on his ailing right hamstring, a procedure that will add an extra six weeks to his time on the disabled list.

Share Tweet

David Phelps batted eighth on Wednesday night, the first Yankees starting pitcher to do so since Don Larsen on Aug. 28, 1957, and the first AL starting pitcher since the Royals' Zack Greinke on June 23, 2009.

Share Tweet

nytimes.com MLB.com CNNSI.com nydailynews.com yahoo.com

May 8, 2013

After his one-hit, nine-inning performance against the White Sox on Tuesday, the superlatives keep piling up for Matt Harvey.

Share Tweet

Casilla exits game with right knee injury

Giants right-hander Santiago Casilla left Wednesday's game against the Philadelphia Phillies during the eighth inning with an injured right knee.

Share Tweet

Middle-school teacher Maureen Oleskiewicz was pronounced dead Tuesday morning, two days after she had gone into cardiac arrest after choking on a hot dog at Wrigley Field.

Share Tweet

Lewis scheduled for 45-pitch target in first rehab start

Rangers right-hander Colby Lewis will begin his medical rehabilitation assignment on Thursday when he pitches for Triple-A Round Rock against Las Vegas.

Share Tweet

Red Sox manager John Farrell said medical tests showed no rib fracture for Will Middlebrooks in the aftermath of Tuesday night's collision with catcher David Ross.

Share Tweet

Walk-off warriors: Giants take out Phillies in 10th

Share Tweet

HOUSTON -- The Houston Astros have moved struggling starter Philip Humber out of the rotation and into the bullpen.

Share Tweet

CLEVELAND -- The Athletics are running out of healthy outfielders.

Share Tweet

Marquis outduels Nolasco as Padres top Marlins

Jason Marquis outpitched Ricky Nolasco, Yonder Alonso had a sacrifice fly in the sixth inning and San Diego Padres beat the Miami Marlins 1-0 on Wednesday to complete a three-game sweep.

Share Tweet

Felix, Mariners take battery-charged victory

A seventh-inning Jesus Montero homer was the difference as Felix Hernandez won a pitchers' duel in the Mariners' 2-1 victory over the Pirates on Wednesday. Hernandez struck out five in eight innings.

Share Tweet

Beltran, Jay wrap up Cards' win over Cubs

Carlos Beltran and Jon Jay drove in two runs apiece, and the St. Louis Cardinals capped an impressive trip with a 5-4 victory over the Chicago Cubs on Wednesday.

Share Tweet

Key DPs, timely hits cap Cards' winning trip

Capitalizing against a Cubs bullpen that has been nearly as unsettled as their own this season, the Cardinals escaped with a split of the brief two-game series on Wednesday. The victory capped a 5-1 road trip that was highlighted, in particular, by the …

Share Tweet

Dan Uggla hit a pair of solo homers and Juan Francisco added his first career grand slam as the Atlanta Braves recovered from a stunning last-swing loss by beating the Cincinnati Reds 7-2 Wednesday.

Share Tweet

The Nats game was rained out last night; it happens. Fans can exchange their unused tickets for tickets to a future game; as is standard. Unfortunately, that "future game" is very specifically Thursday afternoon's game, no substitutions. Read more...

Share Tweet

Hernandez dominant as Mariners trip Pirates

Felix Hernandez scattered six hits t to help the Seattle Mariners beat the Pittsburgh Pirates 2-1 Wednesday.

Share Tweet

Brandon McCarthy on pitching headgear: 'there is nothing acceptable out there'

Brandon McCarthy weighing in on pitching headgear after J.A. Happ's brutal liner-to-the-head Tuesday night is important for two reasons: (1) McCarthy is one of baseball's more thoughtful players. (2) He, too, was struck in the head by a line drive last …

Share Tweet

Phillies starter Roy Halladay will undergo surgery to repair a partially torn rotator cuff, frayed labrum and bone spurs in his right shoulder, but he is optimistic he can return to the mound this season.

Share Tweet

Need to protect pitchers now urgent for MLB

After yet another pitcher was beaned by a comebacker, Major League Baseball needs to ramp up its efforts to keep moundsmen safe from batted balls, writes Cliff Corcoran.

Share Tweet

Clay Buchholz: ERA of 1.60, SPF of 1,000

Yahoo! Sports' own Jeff Passan found out what Boston Red Sox right-hander Clay Buchholz was putting on his arm recently. It wasn't only rosin, as Buchholz claimed, and the reason it looks like sweat is because it goes on clear. And - depending on your d

Share Tweet

Here's a hilarious Kiss Cam break-up at a Triple-A game - but are you buying it?

This video of a Kiss Cam session gone awry has all the ingredients of a viral sensation: It's funny, it has a splash scene, there's a hero and a villain and even some social commentary. Are you too obsessed with our phones to even smooch it up with our …

Share Tweet

The Braves will fly to San Francisco for a four-game series with the Giants after Wednesday's series finale against the Reds. Jason Heyward, meanwhile, will fly to Atlanta.

Share Tweet

yahoo.com deadspin.com

May 8, 2013

Your browser does not support iframes.Welcome to the big leagues, Marcell Ozuna.Ozuna, a Miami Marlins rookie recently called up after Giancarlo Stanton's injury, has been hitting pretty well. But Tuesday night in the Marlins game against the San Diego …

Share Tweet

Cueto set to start rehab assignment Thursday

Reds ace Johnny Cueto will begin a rehab assignment Thursday with Class A Dayton, pitching a home game against Lansing. Cueto threw 25 pitches in the bullpen on Monday and felt no ill-effects in his oblique area.

Share Tweet

Dodgers can take heart in magic of past teams

The high-profile, high-payroll Dodgers are down, and their fans are out of sorts, if not hope. Perhaps they can take heart in history. There is this fascinating quarter-century anniversary matter that mystics, numerologists and eternal optimistics in th…

Share Tweet

Honorary Bat Girls for Mother's Day revealed

Major League Baseball on Wednesday announced the 30 winners of the 2013 Honorary Bat Girl Contest, which recognizes baseball fans who have been affected by breast cancer and demonstrate a commitment to eradicating the disease.

Share Tweet

Wild first pitch breaks glass at Citi Field

Your browser does not support iframes. This is why the New York Mets can't have nice things! Gary Green, a lifelong Mets fan who also happens to be CEO of the Class AAA Omaha Storm Chasers, got a chance to throw a ceremonial first pitch Tuesday night be…

Share Tweet

Ackley finds consistency at plate

Dustin Ackley has been on a tear for two weeks now, and his batting average has climbed from .145 in mid-April to .248 heading into Wednesday's action.

Share Tweet

Have a baseball road trip coming up? Well, in a bid to help you with your upcoming journeys, Big League Stew has solicited the help of the locals. Over the next month or so, we'll be hitting up our usual guest blogger crew to feature 10 tips for enjoyin…

Share Tweet

Miami Marlins closing upper deck of mostly empty new stadium for several dates

It didn't take long for a brand-new ballpark to start looking like the place the Miami Marlins used to call home. Because of weak attendance at Marlins Park, the club announced Tuesday it will be closing the upper deck for several upcoming home dates. T…

Share Tweet

Every lineup, every day, as they are made public by the clubs.

Share Tweet

White Sox Pitcher Hector Santiago Forgets His Turn To Bat

Hector Santiago pitched so well last night that the Mets' Matt Harvey didn't even get the win even though he took a perfect game into the seventh inning. But when he was due to hit with two outs in the sixth, Santiago was nowhere to be found. Stupid int…

Share Tweet

The Marlins Are So Bad, Businesses Don't Want To Open Nearby

Apologies if it seems that we're dwelling on the failures of Marlins Park-but there are oh so many of them, each more embarrassing than the last. This one's about that huge "economic impact" the new stadium was supposed to bring to the area. More than a

Share Tweet

The Juice: Cincinnati Reds home runs stun Atlanta's Craig Kimbrel in ninth-inning comeback

Your browser does not support iframes. The Juice returns for season No. 6! It's almost eligible for free-agency! Stop by daily for news from the action, along with great photos, stats, video highlights and more. One strike away from his 100th career sav…

Share Tweet

Kyle Kendrick has been pulling his weight since the season started, outpitching the more highly paid and highly touted Cliff Lee, Roy Halladay and Cole Hamels. His excellent season continued Tuesday in a 6-2 victory over the Giants at AT&T Park, whe…

Share Tweet

Paul Goldschmidt's two-run homer in the ninth led the D-backs past the Dodgers, 5-3, on Tuesday night at Dodger Stadium.

Share Tweet

The Brewers struck for five runs in the first and got six solid innings from Wily Peralta en route to a 6-3 win over the Rangers on Tuesday at Miller Park.

Share Tweet

The All-MLB Network Pitching Staff

grantland.com

May 8, 2013

A couple weeks ago, I posted a starting lineup of the most entertaining players in baseball, and Jonah Keri objected to my including only one pitcher,...

Share Tweet

White Sox Double-Up Mets

May 8

Jake Peavy went 6 2/3 innings to lead the White Sox to a 6-3 win over the Mets.

A's Edge Indians After Controversial Call

May 8

After a controversial call in the ninth inning, the Athletics beat the Indians 5-4.

Inside the ESPN Production truck

May 8

MLB - Inside the ESPN Production truck during the Twins-Red Sox on Wednesday Night Baseball

Orioles Top Error-Prone Royals

May 8

J.J. Hardy homered and the Orioles took advantage of three Royals errors in a 5-3 win.