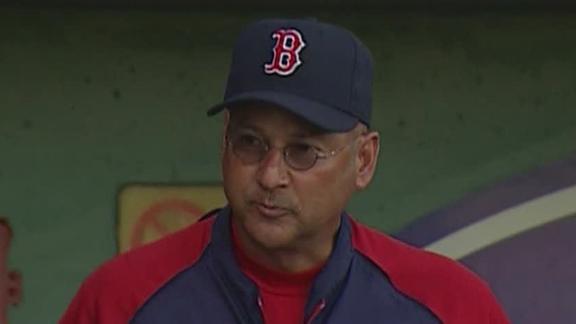 MLB.com
CNNSI.com
ESPN.com
yahoo.com
deadspin.com
Updated Oct 6, 2012
For Terry Francona, the relationship with the men who make the Indians' personnel decisions began on a hotel treadmill at the Winter Meetings many years ago.
Share
Tweet
Johnny Cueto left the game after eight pitches with back spasms, but that did not derail the Reds. Brandon Phillips and Jay Bruce both homered as Cincinnati beat the Giants 5-1 in Game 1.

Share Tweet

In a lot of ways, Doug Fister and Tommy Milone are mirror images of one another. Neither has a blazing fastball. Neither throws it more than half the time most games. Instead, they're a reminder that pitching is still about movement, location and changi…

Share Tweet

This was one of those nights when Justin Verlander reminded the world that he's about as good anyone has ever been.

Share Tweet

On another night and against another pitcher, it very well could have ended up being the biggest hit of a big victory.

Share Tweet

Cincinnati's Johnny Cueto has left his Game 1 start against the San Francisco Giants with back spasms.

Share Tweet

Alex Smith's loyalty to his favorite baseball team was never in question, but until recently, few knew his allegiances came close to costing him a small fortune.

Share Tweet

Belt tumbles over railing to make amazing grab

In the second at-bat of Game 1 of the NLDS, Reds shortstop Zack Cozart popped a ball into foul territory down the first-base line, and the Giants' Brandon Belt made the catch as he went head over heels into a premium seating area.

Share Tweet

Justin Verlander shut down Oakland after a leadoff homer, and Alex Avila went deep in the fifth inning to lift the Detroit Tigers over the Athletics 3-1 in the opener of their AL playoff Saturday night.

Share Tweet

Huff's improvement afforded Giants extra pitcher

Manager Bruce Bochy's satisfaction with first baseman Aubrey Huff's mobility proved to be a primary factor in the shaping of the Giants' Division Series roster.

Share Tweet

O's 'pen lacking big names, but getting big outs

So you're wondering how they did it. How a team goes from 69-93 to 93-69 in the space of one season. How a team with a plus-seven run differential finishes with the seventh-best record in the Major Leagues.

Share Tweet

Lolich an ironman of a different era

Detroit's Justin Verlander is considered baseball's new ironman pitcher, leading the league in innings and pitches the past two seasons. But even for Verlander, it's nothing compared to what former Tiger Mickey Lolich threw in his career.

Share Tweet

In a small yet significant gesture, the A's will wear a "GJN" patch on their uniforms through the postseason to honor Gehrig John Neshek, the son of reliever Pat Neshek who passed away Wednesday, just 23 hours after being born.

Share Tweet

Renewed cries for more replay after disputed call

ATLANTA (AP) -- The NFL replacement refs are not there to kick around anymore.

Share Tweet

Chipper gone, Braves' offseason focus on 3B, CF

ATLANTA (AP) -- Item by item, Chipper Jones' shirts and pants were folded and stacked neatly for the final time in his Braves travel bag.

Share Tweet

Hard to say the Yanks are a Goliath vs. O's

The New York Yankees and the Baltimore Orioles were 9-9 in the 2012 regular season. It is difficult to see from those numbers which team is the obvious Goliath, which is the natural David.

Share Tweet

Cardinals, With Edge in Experience, Consider Themselves Underdogs

nytimes.com

Oct 6, 2012

Washington, making its first postseason appearance since the franchise was revived in 2005, faces defending champion St. Louis, which survived a play-in game to advance to the N.L.D.S.

Share Tweet

Chen, Gonzo tabbed to face Yanks in Games 2, 3

The Orioles will tab rookie starters Wei-Yin Chen and Miguel Gonzalez to start in Games 2 and 3, respectively, in the American League Division Series against the New York Yankees.

Share Tweet

Reliever Al Alburquerque has not pitched on consecutive days since August, but the right-hander may be put to that test during the Tigers' ALDS against the A's.

Share Tweet

Hammel healthy and ready for Game 1 start

Jason Hammel will make his first start in nearly a month on Sunday, as the Orioles will call on the right-hander for Game 1 of their American League Division Series clash against the Yankees in Baltimore.

Share Tweet

The New York Yankees will send the winningest pitcher in postseason baseball history to the mound for Game 2 of the ALDS against the Baltimore Orioles

Share Tweet

N.L.D.S. Preview: A Fractured Timeline From Senators to Expos to Nationals

nytimes.com

Oct 6, 2012

The Nationals, who won the N.L. East, will play the first postseason game in Washington since October 1933.

Share Tweet

Free agency decisions abound on bench, in 'pen

While much of the Braves' core remains under contract for next year, their bench players don't have the same assurances. Key members of the bench and bullpen including utility player Eric Hinske, outfielder Reed Johnson, catcher David Ross and right-han…

Share Tweet

nytimes.com MLB.com CNNSI.com

Oct 6, 2012

During the Orioles' 14 straight seasons of missing the playoffs, their opponents in the A.L. division series, the Yankees, made it 13 times and won 18 postseason series.

Share Tweet

With the 2012 postseason underway,  Alex Remington takes  a look at the statistics that might make a difference in each of the four first-round series. Next up is the NLDS featuring the NL West champion San Francisco Giants against the NL Central champi

Share Tweet

Yankees vs. Orioles ALDS: Derek Jeter enters another postseason on top of the world, and his game

nydailynews.com

Oct 6, 2012

A prominent member of the Yankees organization recently was sizing up the 2012 season, addressing a point about Derek Jeter's day-to-day brilliance that he thought would be best made anonymously.

Share Tweet

Yankees vs. Orioles ALDS: The window of opportunity is closing for Yankees, who need Robinson Cano to be the man now and in the

nydailynews.com

Oct 6, 2012

At 29, Robinson Cano is not only the Yankees' "man" now, he's also their "man" of the future. With A-Rod and Derek Jeter both in their late 30s, and Nick Swisher likely to be gone as a free agent this winter, the window of opportunity is rapid

Share Tweet

Answer Man: Gio Gonzalez talks getting traded, Cy Young, Strasburg shutdown and the Chevy Geo

It is likely that no major leaguer has more fun being a major leaguer than Gio Gonzalez of the Washington Nationals. Yes, he won 20 games for the team with the best record in the league and is a leading Cy Young contender in the NL. But beyond that, his…

Share Tweet

Seeding the 2012 postseason: Washington leads the way in a competitive field

With baseball's postseason now whittled to its usual eight teams, I asked my fellow Yahoo! Sports friends to help seed the field from top to bottom, regardless of league. The following are those results from the rankings of Jeff Passan, Tim Brown, Les C…

Share Tweet

Chipper Jones Predicted The Way The One-Game Playoff Would End Two Weeks Ago

deadspin.com

Oct 6, 2012

As many have noted, two weeks ago, The Atlanta Journal-Constitution asked Chipper Jones what he thought of the one-game playoff. He said he thought the new double-wildcard, play-in game system was "stupid," because it potentially puts the seco…

Share Tweet

Rick Porcello and Drew Smyly are on the roster for the Detroit Tigers for their AL division series against Oakland.

Share Tweet

yahoo.com deadspin.com

Oct 6, 2012

Your browser does not support iframes. When all the Turner Field trash throwing and Internet outrage had subsided on Friday night, MLB Network's Harold Reynolds offered a detailed and measured explanation of why he thought left field umpire Sam Holbrook…

Share Tweet

Anderson included on A's ALDS roster

The A's on Saturday morning released their American League Division Series roster, which notably includes starter Brett Anderson, a decision that reflects confidence in the team's belief that the lefty will indeed pitch in the series.

Share Tweet

10 numbers for the ALDS: Tigers vs. A's

With the 2012 postseason underway,  Alex Remington takes  a look at the statistics that might make a difference in each of the four first-round series. First up is the ALDS featuring the AL West champion Oakland A's against the AL Central champion Detro

Share Tweet

Facing Cain, Reds seek first playoff win since '95

Share Tweet

Booed Hamilton open-ended on free agency

Texas Rangers fans showered Josh Hamilton with boos during his 0-for-4 performance in what might have been the five-time All-Star's last game with the franchise.

Share Tweet

The opportunity was there for Josh Hamilton. In the very first inning, he was gift-wrapped a first and third situation that could have put himself and the Texas Rangers back on track to another extended postseason run. That crucial at-bat didn't last lo…

Share Tweet

Orioles-Yankees can't be viewed as mismatch

The central issue here becomes not whether this is an improbable meeting. The central issue is that there is reason to expect that Orioles vs. Yankees should be a terrific Division Series.

Share Tweet

LOS ANGELES (AP) -- Los Angeles Dodgers slugger Matt Kemp had surgery on his left shoulder on Friday and should be ready for opening day.

Share Tweet

Joe Saunders pitched effectively into the sixth inning, Adam Jones hit a tiebreaking sacrifice fly, and the Baltimore Orioles beat the two-time defending AL champion Texas Rangers 5-1 in the wild-card game playoff Friday night.

Share Tweet

Atlanta Braves third baseman Chipper Jones made a crucial throwing error and never hit a ball out of the infield Friday, his brilliant career ending with a 6-3 loss to the St. Louis Cardinals.

Share Tweet

Pat Neshek ends inning, taps arm

Oct 6

OAK@DET: Pat Neshek ends inning, taps sleeve

Infante scores on error

Oct 6

OAK@DET: Infante score go-ahead run on error

Verlander All Tigers Needed In Game 1

Oct 6

Terry Francona breaks down Tigers' 3-1 win over A's in Game 1 of ALDS.

Verlander, Tigers Shutdown A's

Oct 6

Justin Verlander strikes out 11 over seven innings to lead Tigers to Game 1 win over Athletics.