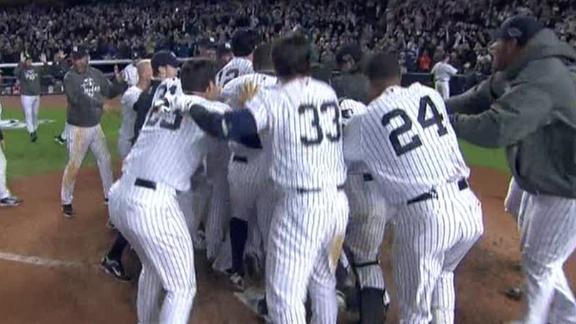 ESPN.com
yahoo.com
deadspin.com
CNNSI.com
Updated Oct 10, 2012
Raul Ibanez lined a ninth-inning home run while pinch hitting for Alex Rodriguez, then hit a leadoff homer in the 12th, giving the New York Yankees a stunning 3-2 win over the Baltimore Orioles on Wednesday for a 2-1 lead in their AL division series.
Share
Tweet
When appropriate, Big League Stew reviews key decisions in the postseason to see if the right one was made. The Issue: The immediate impact of Johnny Cueto's exit after eight pitches in Saturday's Game 1 of the NLDS was softened when Mat Latos and the C…

Share Tweet

The Rockies will interview Tom Runnells for their vacant manager's job on Thursday, the club said Wednesday.

Share Tweet

Hobbled by an apparent injury to his left foot, shortstop Derek Jeter was lifted for defensive replacement Jayson Nix in the top of the ninth inning of Game 3 of the American League Division Series on Wednesday.

Share Tweet

Behind three homers and a sweet relief from Tim Lincecum, the Giants beat the Reds 8-3 to force a Game 5. Lincecum earned the win and saved San Fran's season, writes Joe Lemire.

Share Tweet

Lefties shutting down Tigers' big bats

To those who have followed the Tigers for much of the year, seeing Detroit struggle against left-handed starting pitchers is not breaking news.

Share Tweet

Bochy finds relief with early move to bullpen

On Wednesday, skipper Bruce Bochy deployed his relievers earlier than usual to bridge the gap to Tim Lincecum, who silenced the Reds to force one final tilt in a series that has seen a dramatic shift in momentum.

Share Tweet

Rookies Flaherty, Machado hit historic homers

Entering Game 3 of the American League Division Series, no Orioles rookie had hit a postseason home run in the club's 58-year history. By the fifth inning, that stat went out the window -- twice -- as Ryan Flaherty and Manny Machado went deep.

Share Tweet

ESPN.com

Oct 10, 2012

The Boston Red Sox will interview Los Angeles Dodgers third-base coach Tim Wallach for their vacant managerial position by the end of the week, a source told ESPNLosAngeles.com's Ramona Shelburne.

Share Tweet

Cespedes is a playoff rookie in name only

If A's rookie Yoenis Cespedes acts like he has been in the playoffs before, it's because he has -- seven times with the world renowned Cuban national team.

Share Tweet

Bullpen in 'good shape' heading into Game 4

Engaging in yet another win-or-else game against the Tigers on Wednesday, the A's weren't planning on saving any bullets -- aside from maybe one.

Share Tweet

Pablo Sandoval homer lands in Kentucky* (Video)

*OK, maybe it only seemed like Kentucky. Pablo Sandoval's homer in the seventh inning actually landed in the right-field bullpen at Great American Ball Park about 422 feet from home plate. Had it cleared the park's walls and bounced into the Ohio River,…

Share Tweet

Montreal to name street, park after Gary Carter

MONTREAL (AP) -- Montreal will name a street and a park after Gary Carter, the Hall of Fame catcher who defined the golden era of a once-beloved franchise.

Share Tweet

Angel Pagan led off the game with a home run, Gregor Blanco and Pablo Sandoval connected later and Tim Lincecum came out of the bullpen to help the San Francisco Giants beat the Cincinnati Reds 8-3 on Wednesday, evening their NL division series at 2-all…

Share Tweet

Familiar tune sets up Mo's first pitch in Bronx

Metallica's "Enter Sandman" played earlier on Wednesday night at Yankee Stadium than in previous postseason games, as injured closer Mariano Rivera threw out the ceremonial first pitch prior to Game 3 of the American League Division Series aga…

Share Tweet

If Orioles pitchers Chris Tillman or Joe Saunders have been told who's starting Game 4 of the American League Division Series against the Yankees on Thursday, they didn't let on Wednesday afternoon.

Share Tweet

Much like a year ago, when the Cardinals also qualified for the postseason as a Wild Card team, St. Louis is starting to act like a championship beast right now.

Share Tweet

Phil Hughes will have a shot at redemption when he takes the mound for Game 4 of the American League Division Series against the Orioles on Thursday night at Yankee Stadium.

Share Tweet

Facing elimination, Nats might get aggressive

The Cards and Nats get together in Game 4 of the National League Division Series on Thursday afternoon at Nationals Park (4 p.m. ET on TBS) with similar styles and distinctly different incentives and agendas.

Share Tweet

Hammel would start possible Game 5 for Orioles

Orioles manager Buck Showalter said on Wednesday that, if necessary, Jason Hammel will start Game 5 of the ALDS on Friday at Yankee Stadium.

Share Tweet

Umpire Jim Joyce, made famous after his missed call at first base cost Armando Galarraga a perfect game in 2010, was back at the same spot in Game 3 of the NLDS on Wednesday and made a couple of close calls at first, including calling out Danny Espinosa…

Share Tweet

Litsch opts for free agency after coming off DL

The Blue Jays reinstated pitcher Jesse Litsch from the 60-day disabled list Wednesday and instead of accepting an outright assignment to the Minor Leagues, the right-hander opted for free agency.

Share Tweet

MLB.com CNNSI.com nytimes.com

Oct 10, 2012

The Yankees may not have much data on Orioles starter Miguel Gonzalez, but what little they do have told manager Joe Girardi that Eric Chavez should be in his lineup for Game 3 of the American League Division Series on Wednesday.

Share Tweet

NLDS Game 3: St. Louis spoils Washington's playoff party, takes series lead with 8-0 rout

Score and situation: The St. Louis Cardinals recorded an 8-0 blowout victory over the Washington Nationals on Wednesday afternoon to take a two games to one lead in the NLDS while winning the first postseason baseball game in D.C. since 1933. Leading la…

Share Tweet

Donald Trump demands that Alex Rodriguez be dropped in Yankees batting order

Of course he does. Donald Trump sent this communique on Twitter on Wednesday afternoon. It's not known whether he already had seen Joe Girardi's lineup for Game 3 of the ALDS, in which Alex Rodriguez stayed firmly in the No. 3 spot. Regardless, The Dona…

Share Tweet

Red contacts! Bryce Harper eyes different look

Is Bryce Harper the newest cast member in those "Twilight" movies? Nope, he's still a ballplayer. He just has red eyes now. Harper came into Game 3 of the NLDS with one hit and six strikeouts in 10 at-bats. No, he hasn't been overanxious at th…

Share Tweet

We're a little late to this, we know. But you deserve the chance to talk baseball. There's so much baseball today! Cards-Nats right now. Then Giants-Reds; Cincy has a chance to clinch. Then O's-Yanks, back in the Bronx, before Tigers-A's arrives as our …

Share Tweet

yahoo.com deadspin.com

Oct 10, 2012

Just when you thought that things couldn't get any worse for Josh Hamilton down in Texas, he's now being criticized for choosing to kick his chewing tobacco habit during the season instead of waiting until winter. And not just by any random loudmouth wi…

Share Tweet

Fans thrilled to have postseason back in DC

In front of a sold-out Nationals Park crowd, postseason baseball returned to the nation's capital on Wednesday for the first time since the Washington Senators reached the 1933 World Series.

Share Tweet

MLB.com yahoo.com grantland.com

Oct 10, 2012

For the first time in the National League Division Series, there were changes in manager Dusty Baker's lineup vs. the Giants in Game 4 on Wednesday.

Share Tweet

MLB.com nytimes.com

Oct 10, 2012

As was the case for much of the regular season, Hector Sanchez will be behind the plate for Barry Zito in Game 4 of the NLDS, with Buster Posey moving to first base in place of Brandon Belt.

Share Tweet

Playoff vet Matheny relishing first foray as manager

Mike Matheny is wearing a different hat -- only figuratively speaking -- in his newest role with the Cardinals, but the first-year skipper says playoff excitement remains the same as it was when he was playing for the Redbirds.

Share Tweet

Cardinals manager Mike Matheny said Wednesday that right-hander Lance Lynn would not be available out of the bullpen for Game 3 of the National League Division Series in Washington, but could still be used in the series.

Share Tweet

Romney Supporter Who Ran Onto The Field Before Last Night's NLDS Game Has History Of Bizarre Behavior

Cincinnati cops charged Rives Grogan with trespassing and resisting arrest after his stunt last night in which he ran onto the field at Great American Ball Park with a Mitt Romney sign that read "ABORTION IS SIN" on the other side. It turns ou…

Share Tweet

Concession Speech: 2012 Texas Rangers

With the regular season over, teams are facing an offseason filled with golf rounds and hot-stove strategy. But we're not going to let them get off that easy. No sir. No way. In an attempt to bring some closure between franchise and follower, we're givi…

Share Tweet

Future with Yanks uncertain, Swisher's time is now

Nick Swisher had barely unzipped his equipment bags upon reporting to Spring Training, and already the Yankees outfielder was talking about how last year had been "super stressful" for him and vowing that 2012 just wasn't going to be that way.

Share Tweet

What The Best Pitcher In Baseball Taught Me About Prep School, Socrates, And The Art Of Not Selling Out

At my old high school, Montgomery Bell Academy in Nashville, there is a large multi-purpose hall with high ceilings. The hall features large hanging glass panels that extend nearly from the ceiling to the floor, engraved with famous quotations and the i…

Share Tweet

Tight Division Series to provide action-packed day

Four Division Series are in full swing, and none have ended in sweeps. All eight teams are alive and kicking and set to play on Wednesday. All eight could still be alive into Thursday.

Share Tweet

Phil Taylor: A's extend party one more game

The A's are a party, declares Phil Taylor, and that party isn't over after a 2-0 win over the Tigers in Game 3. Unlikely hero Brett Anderson had company as their crazy season continues.

Share Tweet

Speech, speech! Hunter Pence gets rah-rah, rallies Giants for NLDS Game 3

For every motivational speech like the one Hunter Pence made Tuesday night, for every one that worked out where the team ended up winning and the speechmaker looked like a prophet, there are hundreds of failures. Speeches that either fell on deaf ears, …

Share Tweet

LOS ANGELES (AP) Outfielder Yasiel Puig, who signed a $42 million, seven-year contract with the Los Angeles Dodgers this summer, is recovering from a staph infection in the back of his right elbow.

Share Tweet

Given the chance to excel, Moss making an impact

After bouncing around the league, Brandon Moss and Josh Reddick have settled in Oakland and established themselves as very productive players.

Share Tweet

ALDS Game 3: A's ride pitching and great defense to victory, force Game 4 with Tigers

Score and situation: You didn't think the Oakland A's were going away that easily, did you? Thanks to a great pitching performance from Brett Anderson and a pair of highlight reel catches in the outfield, they lived to fight another day with their 2-0 v…

Share Tweet

Derek Jeter's Diary: The Real Season Begins

grantland.com

Oct 10, 2012

The baseball season is a long and lonely road. To preserve his sanity, Yankees shortstop Derek Jeter keeps a diary. These are excerpts from The Captai...

Share Tweet

grantland.com

Oct 10, 2012

The Cincinnati Reds just suffered one of the worst hard-luck playoff losses any team has experienced in years. Their number-one starter is hurt, won't...

Share Tweet

Sandoval crushes a two-run shot

Oct 10

CIN@SF: Sandoval launches a two-run homer

Lincecum Doing Whatever He Can To Help Giants

Oct 10

Tim Lincecum talks with Bob Holtzman about coming out of the bullpen and pitching 4 1/3 solid innings for the Giants.

Pagan Sets The Tone As Giants Even Series

Oct 10

Angel Pagan led off the game with a home run, and Pablo Sandoval added a massive two-run shot in the seventh as the Giants beat up on the Reds.

Tigers-Athletics Game 4 Preview

Oct 10

Doug Glanville breaks down the pitching matchup in tonight's Game 4 showdown between the Tigers and the A's.