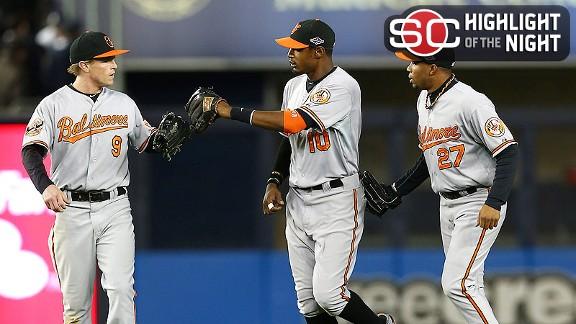 ESPN.com
deadspin.com
Updated Oct 11, 2012
New York Yankees reliever Joba Chamberlain has left Game 4 of the AL division series against the Baltimore Orioles in the 12th inning after being hit on the right elbow by a broken bat.
Share
Tweet
Harvey excited to be a part of Mets' future

Matt Harvey is excited to contribute to the future of the Mets after a strong showing in his rookie season.

Share Tweet

If the Athletics are going to advance, they'll have to get past Justin Verlander and the Tigers. The winner of tonight's Game 5 will advance to the AL Championship Series.

Share Tweet

Five keys for Nationals in Game 5

The Nationals will find themselves in another must-win contest when they take the field at Nationals Park late Friday night for Game 5 of the NLDS with a spot in the NL Championship Series against the Giants on the line. What must they do to keep their …

Share Tweet

MLB.com yahoo.com CNNSI.com deadspin.com ESPN.com

Oct 11, 2012

Nationals principal owner Mark Lerner was at a loss for words after Jayson Werth hit the game-winning home run to give Washington a 2-1 win in Game 4 of the National League Division Series.

Share Tweet

Matheny turns to Lynn in ninth with game tied

Wanting to save closer Jason Motte for a potential save situation in extra innings, Mike Matheny called on Lance Lynn in the ninth inning Thursday.

Share Tweet

Lohse does everything except get the win

Cardinals right-hander Kyle Lohse didn't get the win in Game 4 of the National League Division Series on Thursday at Nationals Park. For one thing, the score was tied when he exited the game after seven innings. For another, his team didn't win the game…

Share Tweet

Nats in the zone; Cardinals' lineup, not so much

After a few close calls at first base in the Cardinals' Game 3 win, players and managers took note of the wider-than-usual strike zone Jim Joyce called from behind home plate in Washington's 2-1 win in Game 4 on Thursday.

Share Tweet

Kerry Wood is just 35 years old, but he already has a field named after him. Or at least he will when it's done being built.

Share Tweet

The Reds need someone to blame, so let's blame the Sorry-Looking Broom from Game 3

We hate to tell the Cincinnati Reds fan who was waving around the Sorry-Looking Broom a few days ago that we told her so. But, well, we did tell her so. To recap, here's a list of some of the things that happened since she was wielding the broom with th…

Share Tweet

Human teddy bear witnesses thrilling Nationals victory in Game 4 (Photo)

At first I was, like, "Why did this dude bring a teddy bear to a baseball game?" I know the Washington Nationals are known for their Presidents Races, where Teddy Roosevelt has started to clean up of late, but c'mon. What kind of prop is that …

Share Tweet

Joe Saunders was asked to keep the Orioles' season alive on Thursday night with the team down, 2-1, in its matchup with the New York Yankees.

Share Tweet

Starting to jog, Rivera continues to improve

A day after he threw out the first pitch ahead of Game 3 of the American League Division Series, injured Yankees closer Mariano Rivera said that his right knee has healed well enough that running has entered the picture.

Share Tweet

MLB.com ESPN.com yahoo.com deadspin.com CNNSI.com

Oct 11, 2012

While they failed to take advantage of the opportunities in front of them in the National League Division Series, the Reds were not hard-pressed to give credit where credit was due.

Share Tweet

Posey's grand slam helps Giants advance to NLCS

CNNSI.com

Oct 11, 2012

With their 6-4 win, the Giants are the first team to lose the first two games of a best-of-5 and then win three straight on the road. Buster Posey's grand slam was the big blow.

Share Tweet

CNNSI.com nytimes.com

Oct 11, 2012

The Orioles and Yanks are in the 12th inning as they decide Game 4 in the Bronx. Nate McLouth's home run had given Baltimore the lead, but Robinson Cano and New York countered in sixth.

Share Tweet

Adjustments key as Wainwright gets pivotal start

Before he started the opener of the Cardinals' National League Division Series against the Nats, right-hander Adam Wainwright talked like a man who was just happy to be there.

Share Tweet

Ibanez's heroics prompt social media eruption

The bedlam that broke out in the Bronx on Wednesday with Raul Ibanez's pair of home runs to lift the Yankees to a 3-2 win in 12 innings over the Orioles in Game 3 of the American League Division Series spilled over into social media.

Share Tweet

O's will give ball back to Johnson in save situation

If the Orioles are in a save situation for Game 4 of the American League Division Series on Thursday night, closer Jim Johnson will get the ball.

Share Tweet

Sticking with Crawford pays off for Giants

Giants manager Bruce Bochy chose the steady Brandon Crawford over the hot Joaquin Arias at shortstop for Game 5, and Crawford rewarded that choice with two fine defensive plays and an RBI triple.

Share Tweet

MLB.com deadspin.com

Oct 11, 2012

Reds starter Mat Latos left no room for nuance when discussing the team's season-ending loss to the Giants in the National League Division Series.

Share Tweet

Oakland announced that the team will remove the tarps that covered the seats on the third deck of the main grandstand for Games 1 and 2, opening up 11,698 new seats for a potential ALCS matchup against the Yankees or Orioles.

Share Tweet

CNNSI.com ESPN.com nytimes.com MLB.com yahoo.com

Oct 11, 2012

NEW YORK (AP) -- Slumping Alex Rodriguez has been dropped to fifth in the New York Yankees' batting order and ailing Derek Jeter has been shifted to designated hitter for Game 4 of the AL division series.

Share Tweet

MLB.com nytimes.com deadspin.com CNNSI.com yahoo.com ESPN.com

Oct 11, 2012

In the relatively few words he spoke regarding his father -- who passed away last week -- and his mother, Joe Girardi showed a depth of feeling that many could not have otherwise seen. He was doing the very best a man could do in his job at Yankee Stadi…

Share Tweet

Backs against the wall, O's lean on experience

No team ever wants to be on the brink of elimination, but being there before -- and coming out alive -- certainly can't hurt should the situation arise again.

Share Tweet

yahoo.com nytimes.com CNNSI.com

Oct 11, 2012

Obviously humbled by his own performance in Game 4 of the ALDS and a devastating loss for the team, Detroit Tigers closer Jose Valverde reportedly answered every question sent his way by reporters. He was being a stand-up guy. But, as the audio above sh…

Share Tweet

The Reds' Season Ended With Scott Rolen Whiffing On A Hanging Slider

The Reds have officially crapped away the 2-0 series lead that they at one point held over the Giants, but only after the Giants almost crapped away the 6-0 lead they had throughout the majority of today's game. It's a tough way for the Reds' season to …

Share Tweet

"Now I Know What Chicks Feel Like," Tim Lincecum Responds After Being "Hit In The Fucking Face With A Fucking Cork"

It's standard to see baseball players celebrating a playoff win adorning scuba masks or swim goggles while spraying various beverages around the clubhouse. You know, because that stuff can mess your eyes up. Even worse, an errant champagne cork might fi…

Share Tweet

ESPN.com

Oct 11, 2012

The Red Sox will interview Tim Wallach and Brad Ausmus for their vacant managerial job.

Share Tweet

Indians outfielder Michael Brantley has had successful surgery to repair a sports hernia.

Share Tweet

Nationals manager Davey Johnson was not planning to let Game 4 of the National League Division Series get out of hand, and he said that right-hander Jordan Zimmermann was available out of the bullpen for the game against the Cardinals if starter Ross De…

Share Tweet

Postseason legend Stewart likes A's chances

Dave Stewart won three rings with three different clubs and made it to five Fall Classics. On Thursday, "Stew" came to the MLB Fan Cave in Greenwich Village as part of Major League Baseball's "Legends are Born in October" postseason marketing campaign.

Share Tweet

Bortnick using Fall play to prove he belongs

In his short life as a professional baseball player, Tyler Bortnick has learned nothing is a surprise.

Share Tweet

Four baseball games yesterday, four baseball games today. We all win! Game five of Reds-Giants is underway, with game four of Nats-Cards (4:07 p.m.), game four of O's-Yanks (7:37 p.m.), and game five of Tigers-A's (9:37 p.m.) scorching at you afterward …

Share Tweet

Boston will interview Ausmus for manager vacancy

New England native Brad Ausmus, who spent 18 seasons in the big leagues as a catcher, will interview for Boston's managerial opening, likely at some point next week.

Share Tweet

Miguel Cabrera draws criticism from teammate for not talking after Game 4"²s loss

When Albert Pujols blew off the media after a loss in the World Series last season, his supporters countered the criticism by saying the controversy was a media creation and that no one inside the clubhouse cared. Well, here's proof that some players do…

Share Tweet

Tim Lincecum probably threw his last pitch of the National League Division Series, but two of his fellow starters were deemed available as relievers by Giants manager Bruce Bochy as Thursday's Game 5 showdown with the Cincinnati Reds approached.

Share Tweet

Well, this is just depressing. While his on-the-brink Washington Nationals are facing pitching troubles in the NLDS, the only way shutdown ace Stephen Strasburg can get any press for his actual play this October is to grant an interview about his deep l…

Share Tweet

Bucs hitting coach Ritchie takes reins at GW

Gregg Ritchie, who was the Pirates' hitting coach the past two seasons, accepted the head coaching position at George Washington University on Thursday.

Share Tweet

Kobe Bryant Is Not Happy About Alex Rodriguez Being Yanked From Last Night's Game

So we all know the story by now. An embattled Alex Rodriguez gets pinch-hit for by a 40-year-old Raul Ibanez in the bottom of the ninth in a 2-1 game. Ibanez homers to tie the game, A-Rod does his part by looking joyous, and then Ibanez hits another hom…

Share Tweet

All The Other GMs Hate The Washington Nationals

Even though major-league general managers are grown men with facial hair, ugly shirts, and mistresses, we've always imagined them secretly behaving like a handful of high-school cliques. Anytime one commits a faux-pas-Chuck LaMar, late of the Tampa Bay

Share Tweet

MLB Notebook: Playoff home runs take center stage

Even though the first postseason leadoff home run came 46 years before the first postseason walk-off home run, there have now been exactly 44 of each.

Share Tweet

48 ours: Clinch me? Dream days 4 fans again

Following a 12-hour playoff bonanza that featured spectacular individual performances, two walk-off wins and two teams staving off elimination, Major League Baseball's postseason brings pretty much the perfect day Thursday.

Share Tweet

Adam Jones' bubble-blowing habit finally goes prime time -though not in a good way (Video)

It was easy on Wednesday night to tell the people who are new to watching the Baltimore Orioles from those of us who have watched their games the past few years. There were those who saw Adam Jones as he pursued Derek Jeter's triple in center field and …

Share Tweet

Leading Off: Coast to Coast, Comeback Fever

nytimes.com

Oct 11, 2012

Ninth-inning comebacks by the A's and the Yankees on Wednesday night provided sportswriters with many story lines.

Share Tweet

The MLB playoff coverage on TBS has suffered the arrows of critics for years, and it hasn't really shown any signs of improvement. How the same company that can produce the brilliant Inside the NBA drops the ball so terribly with MLB coverage is a myste…

Share Tweet

Grant Balfour rages to A's teammates before comeback: 'Believe it' (Audio)

Hunter Pence isn't the only major leaguer who can give a rousing speech that precedes a big win. Closer Grant Balfour of the Oakland Athletics didn't even play Wednesday night in his team's stunning 4-3 comeback victory against the Tigers in Game 4 of t…

Share Tweet

yahoo.com deadspin.com

Oct 11, 2012

Baseball comebacks like the one the Oakland Athletics pulled off Wednesday night are fun for players and for fans (of the winning side). For sportswriters working on a deadline, or for clubhouse workers anticipating a series clincher, games that suddenl…

Share Tweet

Something special is going on for the A's in 2012, and Coco Crisp is usually in the thick of it.

Share Tweet

ESPN.com

Oct 11, 2012

Manager Joe Girardi said right-hander Phil Hughes would start Game 4 against the Baltimore Orioles even if the New York Yankees were facing elimination.

Share Tweet

Ninth-inning rallies are nothing new to plucky A's

Down two runs going into the bottom of the ninth Wednesday night, their incredible season possibly down to their final three outs, the A's to a man weren't concerned or thinking the worst.

Share Tweet

Baltimore Orioles headed up by Dan Duquette and Buck Showalter may not have enough to beat Yankees, but they are on right track

nydailynews.com

Oct 11, 2012

When he was named Oriole GM a little less than a year ago - the last man standing after a half-dozen execs declined to be interviewed, and one, Toronto Blue Jays scouting director Tony LaCava, turned down the job - Dan Duquette knew what he had to do.

Share Tweet

CNNSI.com nydailynews.com

Oct 11, 2012

Pinch-hitting for A-Rod, Raul Ibanez forced extras with a homer. In the 12th, Ibanez struck again, lifting New York past Baltimore 3-2. And a Yankee legend was born, writes Ted Keith.

Share Tweet

Double walk-offs a rare feat in postseason play

More than 3,000 miles apart, Raul Ibanez and Coco Crisp walked off for their respective clubs on Wednesday night. They also walked off straight into the record books.

Share Tweet

ALDS Game 4: A's rally in ninth to stun Tigers, keep their amazing season alive

Score and situation: The Oakland A's Cinderella season continues thanks to an exhilarating ninth inning rally off Tigers closer Jose Valverde that resulted in a 4-3 victory. That forced a deciding Game 5 on Thursday night at the O.co Coliseum. Leading l…

Share Tweet

Loss ends Orioles' extra-innings win streak at 16

The Orioles entered the ALDS with a 74-0 record when leading after seven innings and, more appropriate for Wednesday night, as winners of 16 straight extra-inning games. Both streaks are now over.

Share Tweet

The Oakland A's Force Game 5 With An Epic, 9th-Inning Comeback Win Over Detroit

Coco Crisp's game-winning single in the bottom of the ninth capped off an incredible comeback Wednesday night, which doubled as a gut-wrenching collapse from Tigers closer Jose Valverde, who had nothing working in a game that could've sent the Tigers to…

Share Tweet

Rauuuuuuuuul times two! Ibañez goes deep twice, joins Yankees folklore

With just two swings of the bat in Game 3 of the ALDS, slugger Raul Ibañez turned in one of the greatest performances in postseason history and entered the immortal pantheon of New York Yankees folklore. And he didn't even enter the game until the nint…

Share Tweet

Jones 'not satisfied' that misplay cost O's run

Orioles center fielder Adam Jones said making excuses about missing Derek Jeter's RBI triple in Game 3 on Wednesday wouldn't be his style.

Share Tweet

Win deserved but elusive for strong Kuroda

It had been a week since Hiroki Kuroda last took the mound but more than a month since he delivered a performance like he did on Wednesday in the Yankees' 3-2 win in 12 innings over the Orioles in Game 3 of the American League Division Series.

Share Tweet

MLB Playoff Wrap: A Quadruple-Header for the Ages

grantland.com

Oct 11, 2012

Four games. Twelve hours of glorious playoff baseball. Here's what went down: THE BINDER GETS IT RIGHT If you ever want to drill down to the essence...

Share Tweet

About Last Night: Oakland Serves Up Hot Coco

grantland.com

Oct 11, 2012

In case you were out living a life of leisure, here's what you missed in sports on Wednesday. Trailing 3-1 in the ninth, the Oakland A's saved their...

Share Tweet

Werth The Hero

Oct 11

Jayson Werth talks to Tim Kurkjian after propelling Nationals to decisive Game 5.

Werth, Nationals Walk Off To Force Game 5

Oct 11

Jayson Werth's solo homer in the ninth lifts Nationals to 2-1 win over Cardinals.

Nationals Not Going Away

Oct 11

Doug Glanville breaks down the Nationals' Game 4 win and looks ahead to Friday.

Posey's grand slam

Oct 11

SF@CIN: Posey's grand slam

Sports Columnists

John Clayton's Last Call

Oct 11

Upsets. Crazy plays. Debatable play calls. Incredible kicks. Week 6 had it all, writes John Clayton.

Peter King: Week 6 Picks

Oct 11

Last week: 12-2, .857. Year to date: 43-34, .558 Pittsburgh 27, Tennessee 14. The talk in Pittsburgh will be about Ben Roethlisberger?s shot at breaking Terry Bradshaw?s record for career passing yards?he needs a 300-yard game in Nashville to do it?but …

Biggest NFL games of Week 6 -- John Clayton's First & 10

Oct 11

It's a crucial weekend for three slumping NFC teams, writes John Clayton.