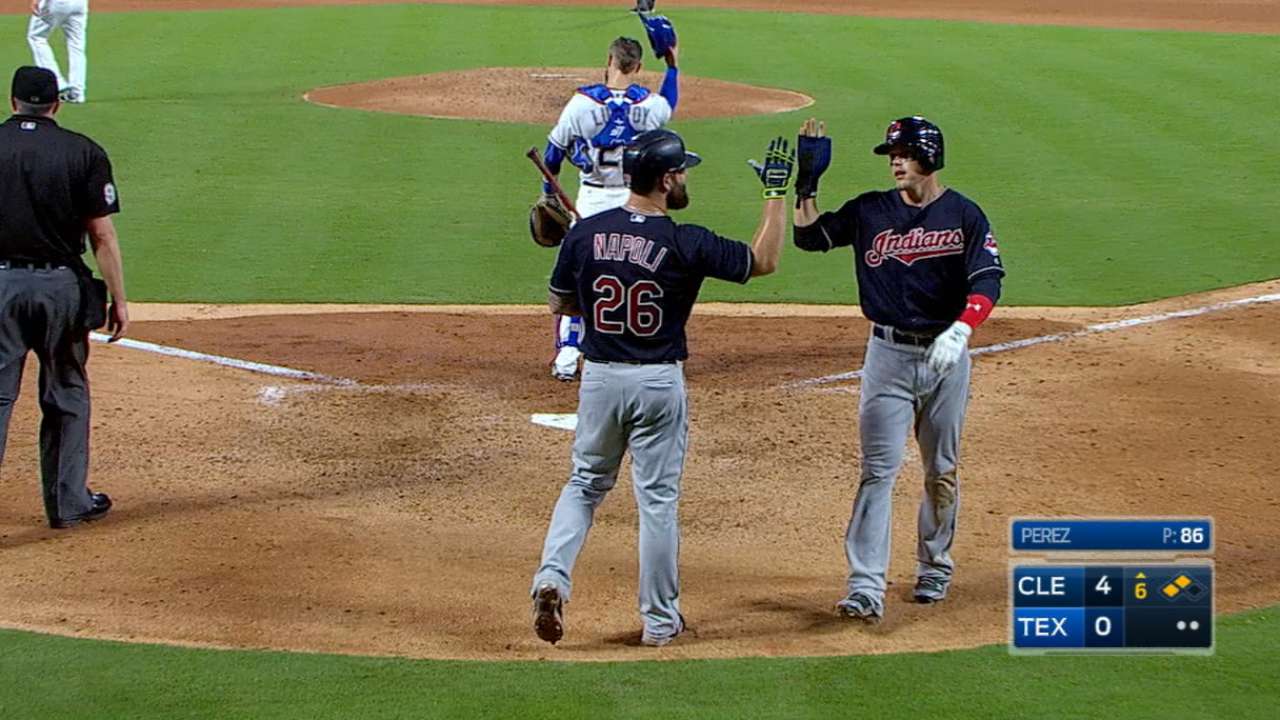 Tribe relentless in Texas to back Kluber

MLB.com

5 hours ago

The Rangers and Indians have each put their Cy Young candidate on display this series. On Friday night, it was Corey Kluber's turn to show why he belongs in the discussion, and he did just that in a 12-1 victory at Globe Life Park.

Share Tweet

ESPN.com MLB.com nytimes.com

5 hours ago

Tigers' Justin Verlander rises to occasion with playoff race heating up

Share Tweet

MLB.com nytimes.com

6 hours ago

The Blue Jays' offense finally came back to life on Friday, recording 15 hits in Toronto's 15-8 rout of the Twins.

Share Tweet

Best throwback jersey: Final four!

MLB.com

6 hours ago

The semifinals of the best throwback jersey voting pit the White Sox against the Nationals and the A's vs. the Astros.

Share Tweet

MLB.com nytimes.com

7 hours ago

Felix Hernandez is starting to look more like, well, Felix Hernandez these days. And it couldn't come at a better time for the Mariners as they rode their ace to a 3-1 victory over Chris Sale and the White Sox in a battle of two of the American League's…

Share Tweet

MLB.com

7 hours ago

The defending World Series-champion Royals look like a team that doesn't want to miss the thrill of another October. Inconsistent for much of the season, Kansas City has played terrific baseball of late, continuing with Friday night's 6-3 victory over t…

Share Tweet

Trio of Homers Lift Royals to 6-3 Win Over Red Sox

nytimes.com

7 hours ago

Eric Hosmer and Alex Gordon homered, and Ian Kennedy allowed one run through five innings as the Kansas City Royals continued their monthlong hot streak with a 6-3 victory over the Boston Red Sox on Friday night.

Share Tweet

Lucroy, Indians move on from near trade

MLB.com

9 hours ago

After Jonathan Lucroy reached second base in the second inning on Thursday night, Indians shortstop Francisco Lindor said something to the Rangers catcher before patting him on the back. If Cleveland fans thought Lindor had any harsh words for Lucroy, t…

Share Tweet

Royals' mighty 'pen putting them back in postseason race

MLB.com

19 hours ago

When the Kansas City Royals announced last month that they were placing, Wade Davis, baseball's best reliever, on the disabled list, virtually everyone in thought the same thing.

Share Tweet

Felix vs. Sale duel highlights MLB.TV slate

MLB.com

21 hours ago

Two American League pitching titans will share the mound today when Felix Hernandez and the Mariners take on Chris Sale and the White Sox in Chicago.

Share Tweet

MLB.com

Aug 26 (yesterday)

As far as the Mariners are concerned, they can't change the name of U.S. Cellular Field soon enough. A day after the White Sox announced they'll be renaming the facility Guaranteed Rate Field for next season, Seattle's struggles on the South Side contin…

Share Tweet

Harvey Tosses 2 Perfect Innings In Mets' Win

Mar 6

The Mets beat the Tigers 5-4 in Matt Harvey's return to the mound.

Royals Injury Update

Mar 4

ESPN injury analyst Stephania Bell discusses Royals outfielder Alex Gordon's recovery from offseason wrist surgery and pitcher Luke Hochevar's recovery from Tommy John surgery.

Price Excited For 2015 Season

Mar 3

Tigers pitcher David Price discusses the status of his contract situation in Detroit and what he did in the offseason to get better.

Cabrera, Tigers Focused On Title

Mar 3

Tigers first baseman Miguel Cabrera says the team is focused on winning a championship and discusses his performance during last season during an injury-riddled campaign, and the importance of DH Victor Martinez.