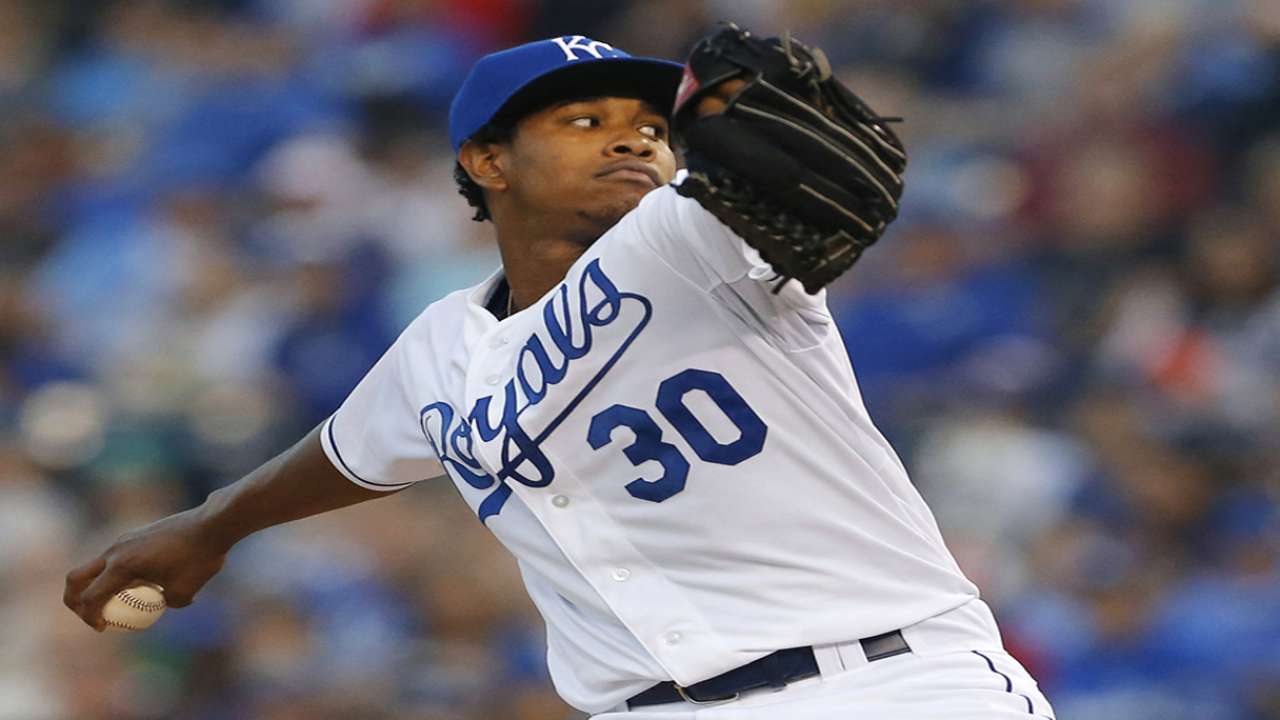 MLB.com
Updated 6 hours ago
Long before the 100-mph fastball, the dynamic 2014 season and the opportunity to start Game 2 of the World Series was a tryout in Guerra, the Dominican city that houses the Royals' academy on that baseball-rich island. It was the summer of 2008. Yordano…
Upvote
Share
Tweet
nytimes.com MLB.com yahoo.com nydailynews.com

6 hours ago

Win or lose, Jake Peavy is a treat to watch when he pitches.

Upvote Share Tweet

Ace in waiting Ventura may be Royals' wild card

Yordano Ventura, the 23-year-old with the triple-digit fastball is perfectly positioned to do what No. 1 starter James Shields could not as the Royals' rookie right-hander gets the ball for Game 2 of the World Series against the Giants tonight.

Upvote Share Tweet

Kansas City rapper Tech N9ne paid $6,000 for front-row World Series seats

yahoo.com

7 hours ago

Actor Paul Rudd isn't the only Kansas City celebrity reveling in the Royals' long-awaited return to the World Series. Another of Kansas City's famous entertainers — albeit in a very different field — was front and center at Game 1 of the World Series. T…

Upvote Share Tweet

SF's fast first frame KOs KC, quiets The K

If there's a formula for beating the Royals, the Giants found it. Actually, it's the formula baseball teams have been using for more than a century. First things first. The Giants put up three runs in the first inning and cruised to a 7-1 victory over t…

Upvote Share Tweet

Bumgarner is a Royal pain in Series opener

Madison Bumgarner padded what was already an impressive World Series resume in Game 1 on Tuesday night, allowing just three hits and one run in seven innings to lead the Giants to a 7-1 win over the Royals in Kansas City.

Upvote Share Tweet

Sandoval's October exploits becoming legendary

With a 2-for-5, two-RBI performance in the Giants' 7-1 Game 1 victory over the Royals, Pablo Sandoval improved his lifetime postseason batting average to .328. That moved him above Babe Ruth and just about everyone else on baseball's all-time list. Amon…

Upvote Share Tweet

Duffy shakes off rust, carries bullpen's burden

MLB.com

8 hours ago

After being absent from the mound for nearly the entire past three weeks, Danny Duffy tossed three-plus innings of relief for the Royals in their 7-1 loss to the Giants in Game 1 of the World Series.

Upvote Share Tweet

Royals Winning Blueprint Shredded Early By Giants

deadspin.com

9 hours ago

The Royals have concocted a simple formula for playoff success: solid starting pitching, lockdown relievers, and scratching out juuuust enough runs to win. With three relievers—Wade Davis, Kelvin Herrera, and Greg Holland—who had an ERA below 1.50 durin…

Upvote Share Tweet

Pence Shakes Up Royals With Homer in Series Opener

nytimes.com

9 hours ago

Hunter Pence most definitely found the right place.

Upvote Share Tweet

MLB.com

9 hours ago

The Giants jumped out to a 3-0 lead in the first inning of their victory over the Royals in Game 1 of the World Series, but it could have been worse were it not for an impressive relay between Nori Aoki and Omar Infante that cut down Buster Posey at hom…

Upvote Share Tweet

Veteran Against Young Fireballer in Game Two Match-Up

nytimes.com

9 hours ago

It will be the veteran against the youngster in Game Two of the World Series when San Francisco's Jake Peavy takes the mound against fireballing Yordano Ventura of the Kansas City Royals on Wednesday.

Upvote Share Tweet

MLB.TV streaming World Series for first time

MLB.com

10 hours ago

The first World Series to be streamed live in the U.S. began on Tuesday night with an MLB.TV subscription as the Giants topped the Royals in Game 1, 7-1, representing a milestone in Major League Baseball broadcast delivery and allowing fans to watch thi…

Upvote Share Tweet

Ticket Prices Through The Roof

Oct 21

Real Money takes a look at BCS Championship, NBA Finals and World Series ticket prices.

Your 2014 World Se...MLB Finals Preview

Oct 21

The World Series used to feature the pennant winners of the American and National Leagues. It doesn't anymore. Keith Olbermann explains.

Baseball Tonight At The World Series

Oct 21

Tim Kurkjian, Jayson Stark and Jim Bowden preview Game 1 of the World Series.

World Series Game 1 Preview

Oct 21

Tim Kurkjian previews the pitching matchup between Madison Bumgarner and James Shields in Game 1 of the World Series and how the extended layoff could impact both the Giants and Royals.