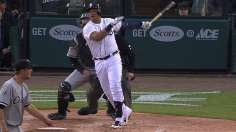 MLB.com
nytimes.com
Updated 6 hours ago
Miguel Cabrera homered during a five-run third inning and had three RBIs, Alex Avila had a three-hit night and the Tigers collected seven doubles to back Justin Verlander's seven strong innings as the Tigers evened their series against the White Sox wit…
Upvote
Share
Tweet
MLB.com nytimes.com

6 hours ago

Since joining the Royals, James Shields has become quite the happy traveling troubadour with a dozen victories away from Kansas City. His latest win came over the Indians, 8-2, with Mike Moustakas pounding a three-run homer on a chilly Tuesday night at …

Upvote Share Tweet

Price, DeJesus Key Rays' 7-3 Win Over Twins

nytimes.com

8 hours ago

David Price allowed six hits in his first complete game of the season, David DeJesus drove in three runs, and the Tampa Bay Rays beat the Minnesota Twins 7-3 on Tuesday night.

Upvote Share Tweet

Jackson gets first day off of regular season

MLB.com

10 hours ago

After 16 games and 144 1/3 innings, Austin Jackson had a game off. It's not exactly a Prince Fielder-like streak, but it's part of Tigers manager Brad Ausmus' plan to rest his center fielder some early so that he can play him every day late.

Upvote Share Tweet

Eaton wearing brace, return uncertain

MLB.com

11 hours ago

On Tuesday, White Sox center fielder Adam Eaton ran stairs, did some lunges and even ran some incline, during which everything went well. He declared himself at 95 percent, but still missed a third straight game because of the injury.

Upvote Share Tweet

yahoo.com ESPN.com MLB.com nytimes.com

20 hours ago

Because he's skinny and has an unorthodox-looking delivery, left-hander Chris Sale of the Chicago White Sox frequently is said to be walking a fine line between dominance and needing a new elbow ligament. So when Sale came up sore after his most recent …

Upvote Share Tweet

Danks pitches White Sox past Tigers in opener

John Danks allowed one run over over 6 1/3 innings in a duel with Detroit's Anibal Sanchez, and the White Sox tallied three runs in a review-filled seventh inning to secure a 3-1 victory over the Tigers on Monday in the opener of a four-game set at Come…

Upvote Share Tweet

Indians Slip Past Royals 4-3

nytimes.com

Apr 21 (yesterday)

Jason Kipnis and Michael Brantley hit two-run homers, powering the Cleveland Indians over the Kansas City Royals 4-3 Monday night when a fearless squirrel ran around Progressive Field and provided some extra entertainment.

Upvote Share Tweet

Brantley, Kipnis homers power Tribe past KC

Michael Brantley belted a two-run shot in the fourth inning and Jason Kipnis followed suit in the sixth to put the Indians in front to stay in a 4-3 win over the Royals on Monday night.

Upvote Share Tweet

Tigers call up power-hitting J.D. Martinez

The Tigers have called up hot-hitting Minor Leaguer J.D. Martinez from Triple-A Toledo, placed right-handed reliever Luke Putkonen on the 15-day disabled list and transferred outfielder Andy Dirks from the 15-day to the 60-day DL.

Upvote Share Tweet

nytimes.com ESPN.com MLB.com

Apr 21 (yesterday)

Jason Giambi pulled the red-and-blue block "C'' cap off the hook in his locker, slipped it on and worked the bill, bending it to his exacting standards.

Upvote Share Tweet

deadspin.com

Apr 21 (yesterday)

Every sports-themed cover of "Royals" is a no-good, stupid idea, but this one really takes the cake. What makes it so much worse than all the others? I'm gonna go ahead and say all of it.Read more...

Upvote Share Tweet

MLB Daily Download: Tuesday

Apr 22

Antonietta Collins recaps Monday night's action from around the league including, a couple of walk-offs, a superb outing from Cliff Lee, and a first for Bryce Harper and Mike Trout.

SweetSpot TV: Rapid Fire

Apr 22

Eric Karabell and David Schoenfield go around the league with a game of rapid fire.

Web Gems

Apr 22

Does Yangervis Solarte's barehanded scoop and throw to first base top Alcides Escobar's long run and sliding catch?

Rays Cruise Past Twins

Apr 22

The Rays tagged Kyle Gibson for seven earned runs over three innings en route to defeating the Twins 7-3.

Sports Columnists

2014 NBA playoffs - Chicago Bulls couldn't buy a basket in Game 2, need to…

Apr 23

Joakim Noah is a very worthy defensive player of the year, but he still needs to play alongside a true offensive star.

2014 NBA draft - ESPN Insider's 360-degree NBA draft prospect profiles

Apr 22

ESPN Insider's NBA draft experts offer a guide to their 20-plus prospect draft profiles.

NFL schedule to be released Wednesday night

Apr 22

The NFL schedule is going to be officially announced and released at 8 p.m. ET Wednesday.