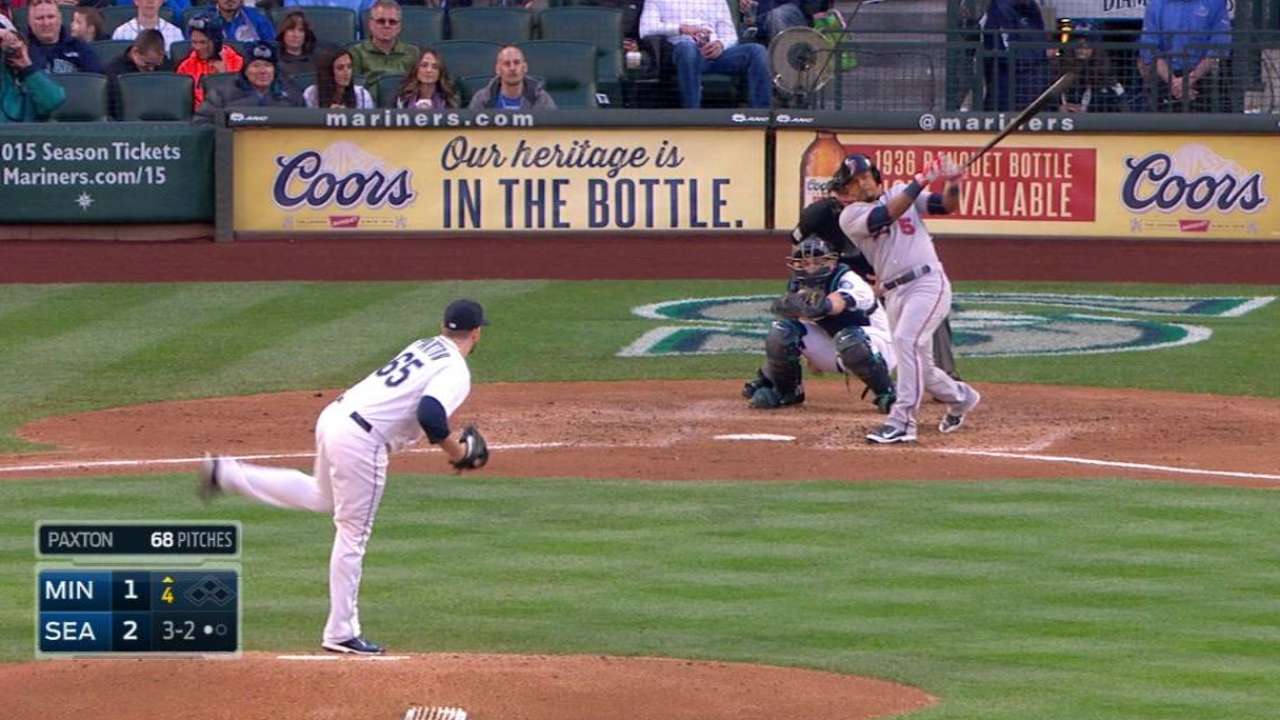 MLB.com
nytimes.com
Updated 16 hours ago
The Twins took advantage of shaky defense by the Mariners and made the most of their run-scoring opportunities to beat Seattle, 8-5, on Saturday night before 33,566 at Safeco Field. Minnesota knocked Mariners starter James Paxton out of the game in the …
Share
Tweet
Tigers Topple Indians 8-6

nytimes.com

19 minutes ago

Miguel Cabrera homered and drove in three runs and the Detroit Tigers beat the Cleveland Indians 8-6 Sunday.

Share Tweet

Garcia Leads White Sox Past Royals in Suspended Game

nytimes.com

2 hours ago

Avisail Garcia hit a tiebreaking RBI single with two out in the ninth inning, and the Chicago White Sox beat the Kansas City Royals 3-2 on Sunday in the resumption of a game suspended by rain.

Share Tweet

MLB.com

7 hours ago

Major League Baseball hopes Mother Nature cooperates better on Sunday than Saturday, which saw multiple postponements and several delays due to rain. The Subway Series continues in the Bronx, while the White Sox and Royals try once again to resume Frida…

Share Tweet

Simon, V-Mart team to tackle Tribe, end Tigers' skid

MLB.com

22 hours ago

Alfredo Simon became the first Tigers pitcher to win his first four starts in a season since Frank Tanana in 1988, delivering 6 2/3 innings of one-run ball to help the Tigers end a four-game losing streak with a 4-1 win over the Indians on Saturday afte…

Share Tweet

Brantley returning to All-Star form after back injury

MLB.com

23 hours ago

All-Star Michael Brantley churned out four hits in Saturday's 4-1 loss to the Tigers, providing more hope that the left fielder is getting over the lower-back issue that sidelined him for six of the first eight games this season.

Share Tweet

Victor Martinez Drives in 3 Runs, Leads Tigers Over Indians

nytimes.com

Apr 25 (yesterday)

Victor Martinez drove in three runs, taking advantage after Cleveland pitched around Miguel Cabrera, helping Alfredo Simon and the Detroit Tigers beat the Indians 4-1 Saturday.

Share Tweet

nytimes.com

Apr 25 (yesterday)

Six players were suspended and a seventh fined by Major League Baseball (MLB) on Saturday following Thursday's benches-clearing brawl between the Chicago White Sox and Kansas City Royals.

Share Tweet

Sale, Samardzija suspended following fracas

MLB.com

Apr 25 (yesterday)

White Sox starting pitchers Chris Sale and Jeff Samardzija each received five-game suspensions for their role in the on-field fracas taking place during the bottom of the seventh inning of the Royals' 3-2, 13-inning victory Thursday night at U.S. Cellul…

Share Tweet

deadspin.com nytimes.com yahoo.com MLB.com

Apr 25 (yesterday)

Major League Baseball has handed down suspensions for Thursday's benches clearing scuffle between the Royals and White Sox, and there are a bunch of them. Royals pitcher Yordano Ventura, whose taunting helped set-off the fight, was suspended the longest…

Share Tweet

MLB.com nytimes.com

Apr 25 (yesterday)

Felix Hernandez continued his long-running dominance of the Twins and Nelson Cruz and Logan Morrison backed The King up with home runs as the Mariners topped Minnesota, 2-0, on Friday at Safeco Field

Share Tweet

Harvey Tosses 2 Perfect Innings In Mets' Win

Mar 6

The Mets beat the Tigers 5-4 in Matt Harvey's return to the mound.

Royals Injury Update

Mar 4

ESPN injury analyst Stephania Bell discusses Royals outfielder Alex Gordon's recovery from offseason wrist surgery and pitcher Luke Hochevar's recovery from Tommy John surgery.

Price Excited For 2015 Season

Mar 3

Tigers pitcher David Price discusses the status of his contract situation in Detroit and what he did in the offseason to get better.

Cabrera, Tigers Focused On Title

Mar 3

Tigers first baseman Miguel Cabrera says the team is focused on winning a championship and discusses his performance during last season during an injury-riddled campaign, and the importance of DH Victor Martinez.