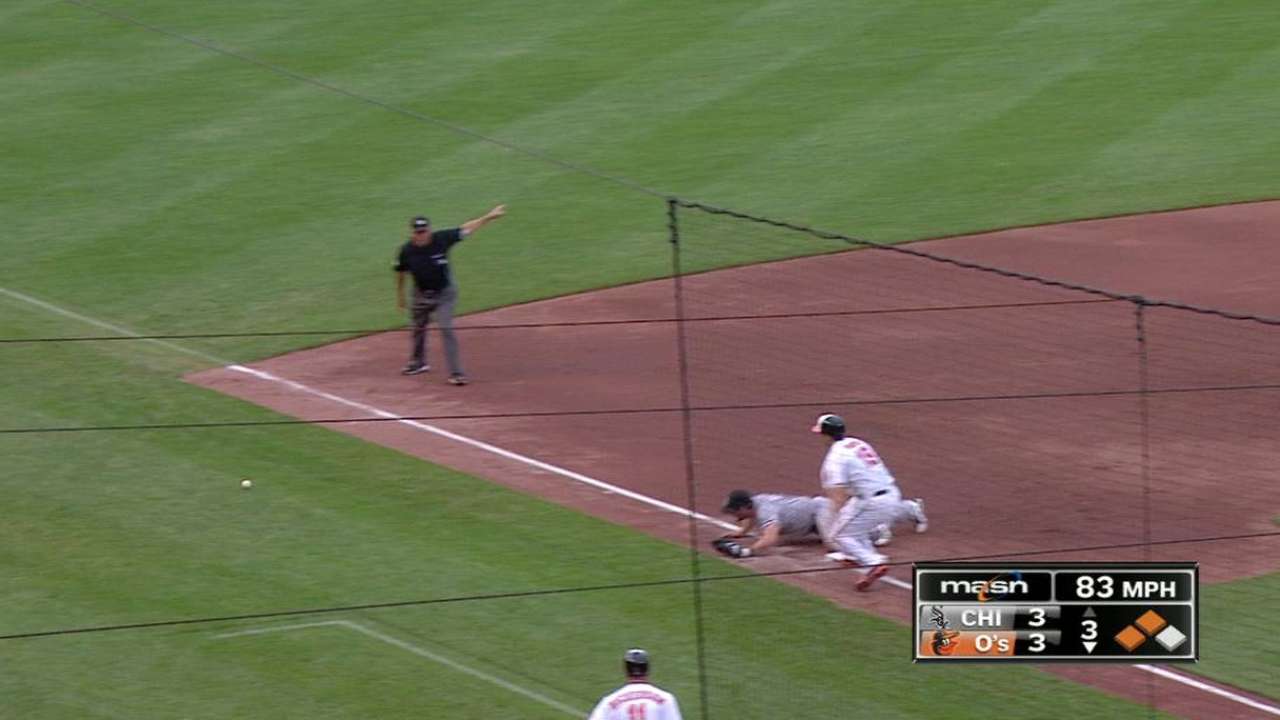 TV Sports: As Royals Fever Lifts Ratings, Announcers Enjoy the Buzz

nytimes.com

4 hours ago

Kansas City has fallen in love with its baseball team again, and while the announcers said they were never overwhelmed by the team's drought, they welcome the winning.

Share Tweet

MLB.com

5 hours ago

Chicago ace Chris Sale was dominant, spoiling Orioles rookie Tyler Wilson's impressive first Major League start and striking out 12 in the White Sox 3-2 Game 1 win over Baltimore on Thursday afternoon at Oriole Park at Camden Yards.

Share Tweet

Wilson deals, duels in promising first MLB start

MLB.com

5 hours ago

Rookie Tyler Wilson had an impressive first career Major League start. Wilson -- ranked by MLB.com as the Orioles' No. 8 prospect and recalled from Triple-A before the game -- went six solid innings, allowing two runs on five hits in the Orioles' 3-2 lo…

Share Tweet

Chisox Beat Orioles in Doubleheader Opener Caused by Riots

nytimes.com

6 hours ago

Chris Sale struck out 12 over 7 2-3 shutout innings and the Chicago White Sox defeated the Orioles 3-2 Thursday in the first game of a doubleheader caused by rioting in Baltimore last month.

Share Tweet

Struggles behind him, Moose can let loose

MLB.com

7 hours ago

It's been an incredible turnaround for Royals third baseman Mike Moustakas. A year after his demotion, Moustakas is on top of the world, hitting .329 with a whopping .876 OPS.

Share Tweet

Pipeline Inbox: White Sox eyeing arm at No. 8?

MLB.com

11 hours ago

Will the White Sox go for a college arm with the No. 8 pick? Will the Yankees target pitchers early in the upcoming Draft? Reporter Jim Callis answers these questions and more from fans.

Share Tweet

Paul Molitor has surprising Twins in tie for first in tough AL Central

yahoo.com

12 hours ago

You could make a pretty good case that the AL Central is toughest division in baseball right now. You've got the Tigers, a perennial powerhouse who have won the division four years in a row. You've got the Royals, the defending American League champions…

Share Tweet

Machado gets first Major League hit

Tigers shortstop Dixon Machado practiced his first major-league hit before actually accomplishing it in a game that counted. Machado lined a solid single into left field with two outs in the top of the sixth inning Wednesday against Athletics closer Sea…

Share Tweet

Left-hander Scott Kazmir exited Wednesday's start against the Tigers after three no-hit innings with left shoulder tightness, and the A's are holding out hope the All-Star pitcher is not their next disabled list victim.

Share Tweet

Cespedes' homer gives Tigers series win over A's

Tigers slugger Yoenis Cespedes blasted a three-run home run at his old stomping grounds Wednesday afternoon, leading Detroit to a series-winning 3-2 victory over his former A's club at the Coliseum.

Share Tweet

nytimes.com yahoo.com

May 27 (yesterday)

Cleveland Indians infielder Mike Aviles is touched by the show of support he's getting from teammates for his 4-year-old daughter, who was diagnosed with leukemia this month.

Share Tweet

nytimes.com MLB.com

May 27 (yesterday)

Alex Rodriguez hit a three-run homer to break Lou Gehrig's American League record for RBIs, and the New York Yankees beat the Kansas City Royals 4-2 Wednesday to finish a three-game sweep.

Share Tweet

Santana, Carrasco Lead Indians Past Rangers 12-3

nytimes.com

May 27 (yesterday)

Carlos Santana capped and eight-run third inning with a three-run homer, leading the Cleveland Indians past Texas 12-3 on Wednesday to end the Rangers' seven-game winning streak.

Share Tweet

MLB.com nytimes.com

May 27 (yesterday)

David Price pitched seven shutout innings and the Tigers took advantage of an early A's error to claim a 1-0 victory at the Coliseum on Tuesday night.

Share Tweet

Josh Donaldson hit a walkoff three-run homer in the bottom of the ninth inning to give the Blue Jays a 10-9 win over the White Sox on Tuesday night at Rogers Centre.

Share Tweet

ESPN.com

May 27 (yesterday)

With a chance to sweep Royals, Yankees have five signs of hope

Share Tweet

Harvey Tosses 2 Perfect Innings In Mets' Win

Mar 6

The Mets beat the Tigers 5-4 in Matt Harvey's return to the mound.

Royals Injury Update

Mar 4

ESPN injury analyst Stephania Bell discusses Royals outfielder Alex Gordon's recovery from offseason wrist surgery and pitcher Luke Hochevar's recovery from Tommy John surgery.

Price Excited For 2015 Season

Mar 3

Tigers pitcher David Price discusses the status of his contract situation in Detroit and what he did in the offseason to get better.

Cabrera, Tigers Focused On Title

Mar 3

Tigers first baseman Miguel Cabrera says the team is focused on winning a championship and discusses his performance during last season during an injury-riddled campaign, and the importance of DH Victor Martinez.