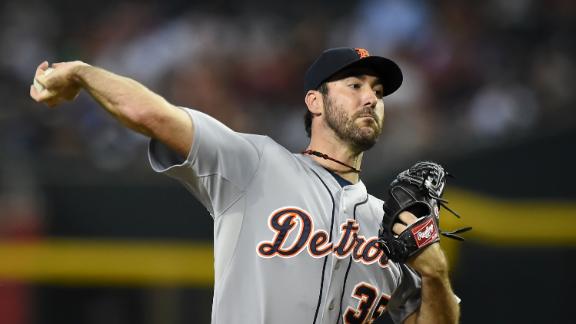 ESPN.com
MLB.com
nytimes.com
Updated 6 hours ago
Torii Hunter and Austin Jackson homered, Justin Verlander moved into third place on Detroit's career strikeout list, and the Tigers opened their interleague series in Arizona by beating the Diamondbacks 4-3 on Monday night.
Upvote
Share
Tweet
Guthrie fine with payback after hit by pitches

MLB.com

8 hours ago

There was a bit of baseball gamesmanship that, in the opinion of Royals pitcher Jeremy Guthrie, was handled quite properly. And he was the guy who set it off by hitting two batters early in Monday night's 3-1 loss to the White Sox.

Upvote Share Tweet

MLB.com ESPN.com nytimes.com

9 hours ago

Chris Sale fired seven strong innings with eight strikeouts, while Adam Dunn delivered a decisive two-run single in the first to help the White Sox earn a 3-1 win over the Royals on Monday night.

Upvote Share Tweet

MLB.com nytimes.com

9 hours ago

Reliever Casey Fien couldn't hold a one-run lead in the eighth, but Josh Willingham connected on a go-ahead solo homer in the bottom of the inning to lift the Twins to a 4-3 win over the Indians on Monday night at Target Field.

Upvote Share Tweet

Former D-back Scherzer returns to Chase Field

MLB.com

11 hours ago

Despite being traded in the three-team deal that sent Curtis Granderson to the Yankees, Max Scherzer doesn't hold any grudges toward the D-backs. Since he was dealt to the Tigers, he has blossomed from a prospect into a bona fide Major League ace.

Upvote Share Tweet

Cleveland Indians shortstop Asdrubal Cabrera left the game against the Minnesota Twins on Monday due to lower back spasms.

Upvote Share Tweet

Vargas eyes return to KC's rotation vs. Tribe

MLB.com

12 hours ago

Royals lefty Jason Vargas, who is out after having an appendectomy, will miss at least two turns of the rotation. But, if all goes well, he might return as soon as next Sunday against the Indians.

Upvote Share Tweet

Masterson to make another rehab start

Justin Masterson is going to make one more start at Triple-A Columbus before returning to the Indians.

Upvote Share Tweet

Royals' Hosmer scratched with bruised hand

ESPN.com

13 hours ago

Eric Hosmer has been scratched from the Kansas City Royals' lineup against the Chicago White Sox with a bruised right hand.

Upvote Share Tweet

Baines: La Russa made me a smarter player

White Sox assistant hitting coach Harold Baines, who finished his 22-year big-league career with 2,866 hits, 384 homers and 1,626 RBIs, credited Hall of Fame inductee Tony La Russa for making him a better player.

Upvote Share Tweet

Butler hoping to extend stay with Kansas City

Billy Butler has had a struggle this season and no one, including him, is sure when or if he'll come out of it. One thing Butler does know is that he'd like to remain with the Royals -- even if it means renegotiating his contract.

Upvote Share Tweet

Chamberlain's Arm and Beard Fitting in With Tigers

nytimes.com

18 hours ago

The Detroit Tigers have gotten a good return on their short-term investment in right-hander Joba Chamberlain.

Upvote Share Tweet

Tigers fan wins tug-of-war with Indians fan for Torii Hunter home run

yahoo.com

21 hours ago

Torii Hunter hit an otherwise unremarkable home run Sunday, one that extended a lead for the Detroit Tigers in a 5-1 victory against the Cleveland Indians. It was the struggle for the souvenir that was most notable about Hunter's two-run blast in the bo…

Upvote Share Tweet

Red Sox Sweep Royals

Jul 20

Jon Lester pitched eight scoreless innings and David Ross hit his sixth home run of the season in the Red Sox's 6-0 win over the Royals.

Hunter, Tigers Avoid Four-Game Sweep

Jul 20

Torii Hunter hit a two-run homer to power the Tigers to a 5-1 win over the Indians.

Price, Rays Shut Down Twins

Jul 19

David Price struck out nine batters over eight scoreless innings to lead the Rays past the Twins 5-1.

Napoli Homers Red Sox Past Royals

Jul 19

Mike Napoli's sixth-inning solo home run was the difference for the Red Sox, who beat the Royals 2-1.