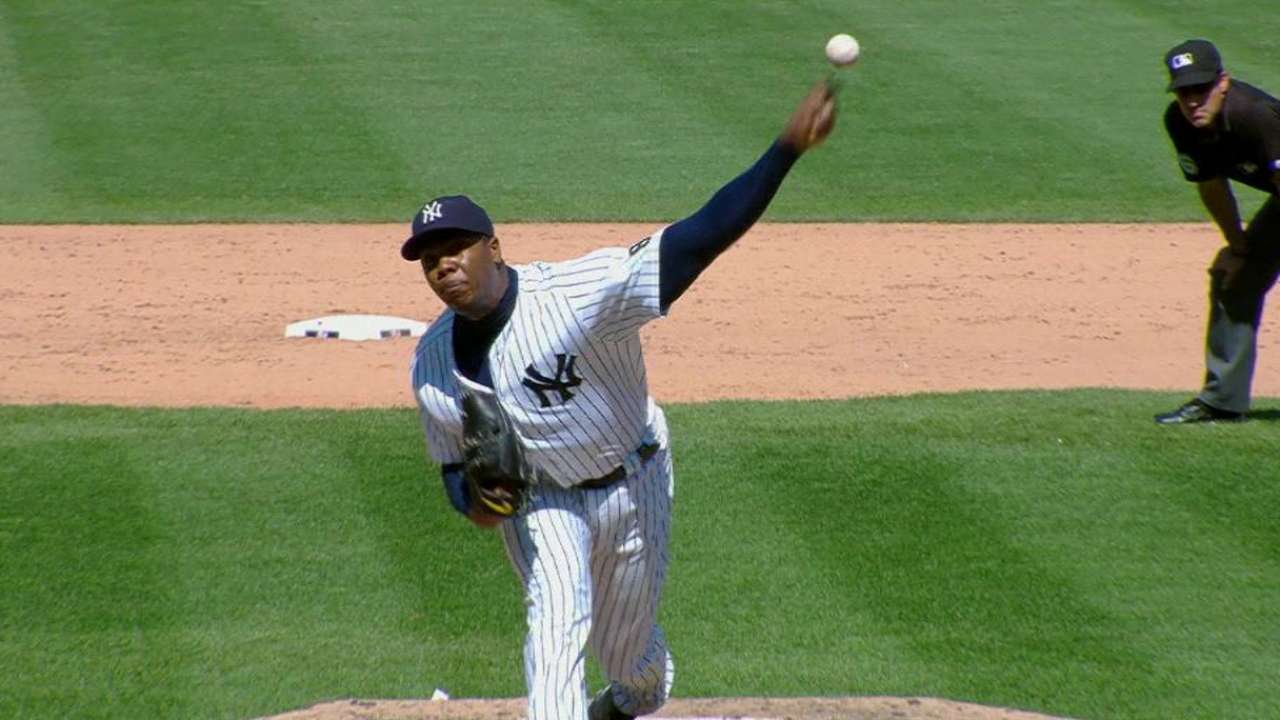 Yanks pounce on error as arms baffle Twins
MLB.com
Updated 41 minutes ago
Though the Yankees struggled to cobble together offense against the Twins on Saturday afternoon, they came away with a 2-1 win at Yankee Stadium after Eduardo Escobar booted a grounder off the bat of Starlin Castro in the eighth inning, allowing Aaron H…
Share
Tweet
nytimes.com

1 hour ago

Starlin Castro drove home the tiebreaking run in the eighth inning with a sharp one-hopper scored an error on shortstop Eduardo Escobar, and the New York Yankees edged the Minnesota Twins 2-1 Saturday with more dominant pitching from the back end of the…

Share Tweet

nytimes.com

1 hour ago

The first baseman, who tore cartilage in his right knee earlier this month, returned from the disabled list, going 0 for 3 in the Yankees' win.

Share Tweet

MLB.com

2 hours ago

Royals left fielder Alex Gordon likely will be back in the starting lineup on Saturday night against the Astros.

Share Tweet

yahoo.com MLB.com nytimes.com

4 hours ago

After starting the season with an AL-best 23-11 record, the Chicago White Sox have looked like a flawed and sometimes broken team ever since. In fact, since May 12, they've gone 14-26, going from first place with a five-game lead to fourth place with a …

Share Tweet

MLB.com

15 hours ago

George Springer had three hits and drove in five runs, and the Astros blitzed Royals starter Edinson Volquez for nine runs in the first inning in cruising to a 13-4 victory on Friday night.

Share Tweet

yahoo.com

17 hours ago

The Cleveland Indians have absolutely dominated the Detroit Tigers this season. Coming into Friday's game at Comerica Park, Cleveland had won each of the first six matchups. On top of that, Cleveland had won six straight games overall after sweeping bac…

Share Tweet

Geltz optioned to make room in TB for Arcia

MLB.com

18 hours ago

The Rays were busy with their roster following Friday night's 6-3 loss to the Orioles. Steve Geltz was optioned to Triple-A Durham. Taking his place on the 25-man roster is outfielder Oswaldo Arcia, whom the Rays acquired from the Twins on Friday. The t…

Share Tweet

Kipnis Triples Twice, Indians Beat Tigers 7-4

nytimes.com

19 hours ago

Jason Kipnis hit two of Cleveland's four triples and the Indians continued their season-long dominance of the Detroit Tigers with a 7-4 victory Friday night.

Share Tweet

Helped by 3 Errors, Yanks Beat Twins 5-3 to Get Back to .500

nytimes.com

19 hours ago

Dellin Betances, Andrew Miller and Aroldis Chapman combined for three innings of perfect relief for the second straight game, Rob Refsnyder hit a tiebreaking single and the New York Yankees took advantage of three errors to rally past the Minnesota Twin…

Share Tweet

Tribe wins 7th straight, now 7-0 vs. Tigers

MLB.com

19 hours ago

The Indians continued their taming of the Tigers on Friday night, using a pair of run-scoring triples from Jason Kipnis as part of a seven-run barrage against Jordan Zimmermann for a 7-4 win at Comerica Park.

Share Tweet

Hahn hopes White Sox positioned as buyers

Rick Hahn readily admits that calls have come into the White Sox front office from other Major League teams in pursuit of players from the South Side.

Share Tweet

Minor leg soreness keeps Abreu out of lineup

If manager Robin Ventura had his way, Jose Abreu would never be out of the White Sox lineup.

Share Tweet

Surgery a possibility for reliever Putnam

Zach Putnam had a second opinion concerning the ulnar neuritis in his right elbow that placed the White Sox reliever on the disabled list Tuesday. General manager Rick Hahn said the second opinion didn't tell them anything different from the first, and …

Share Tweet

Rays acquire outfielder Arcia from Twins

MLB.com

23 hours ago

The Rays acquired outfielder Oswaldo Arcia from the Twins for cash or a player to be named later on Friday afternoon.

Share Tweet

MVP! Indians righty Danny Salazar's changeup is MLB's Most Valuable Pitch

ESPN.com

Jun 24 (yesterday)

MVP! Indians righty Danny Salazar's changeup is MLB's Most Valuable Pitch

Share Tweet

LEADING OFF: Tigers Find Their Swag, McCutchen Struggling

nytimes.com

Jun 24 (yesterday)

A look at what's happening all around the majors today:

Share Tweet

Harvey Tosses 2 Perfect Innings In Mets' Win

Mar 6

The Mets beat the Tigers 5-4 in Matt Harvey's return to the mound.

Royals Injury Update

Mar 4

ESPN injury analyst Stephania Bell discusses Royals outfielder Alex Gordon's recovery from offseason wrist surgery and pitcher Luke Hochevar's recovery from Tommy John surgery.

Price Excited For 2015 Season

Mar 3

Tigers pitcher David Price discusses the status of his contract situation in Detroit and what he did in the offseason to get better.

Cabrera, Tigers Focused On Title

Mar 3

Tigers first baseman Miguel Cabrera says the team is focused on winning a championship and discusses his performance during last season during an injury-riddled campaign, and the importance of DH Victor Martinez.