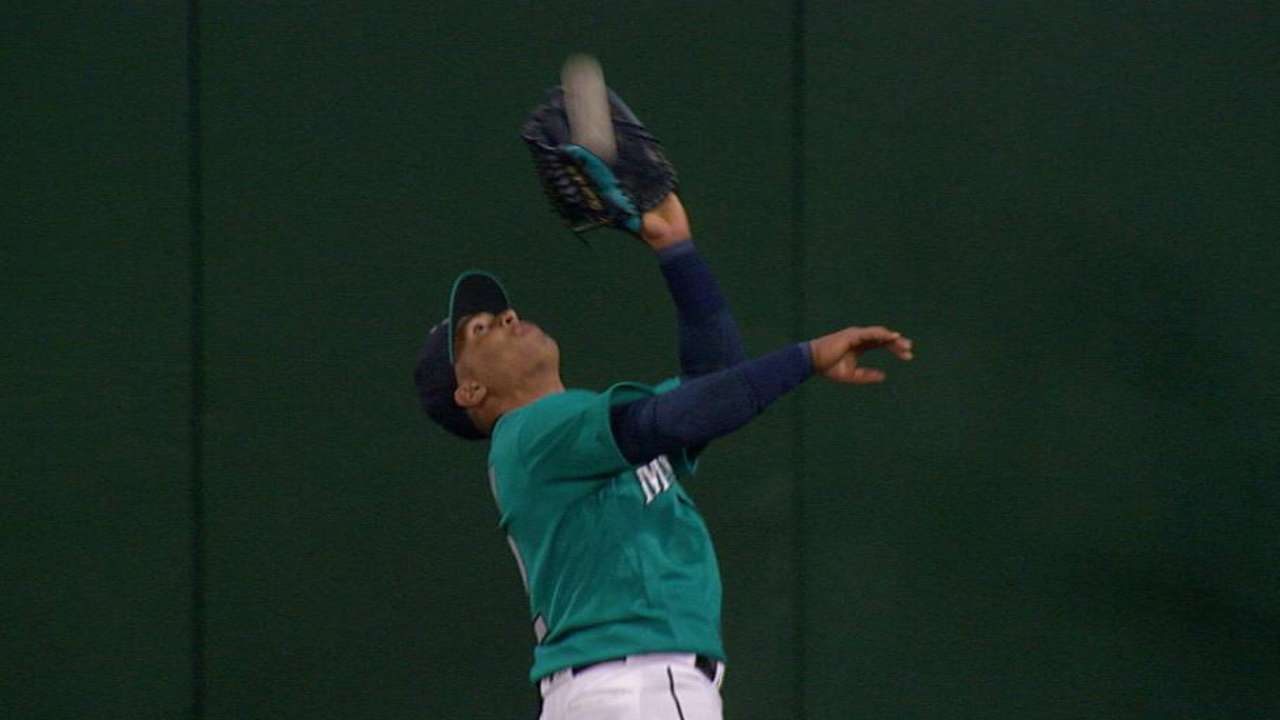 Martin goes 'wall' out for game-saving catch
MLB.com
Updated 2 hours ago
Leonys Martin said he knew he had it all the way. But 38,364 fans at Safeco Field -- not to mention his Mariners teammates and manager Scott Servais -- were holding their collective breaths as the center fielder tracked down a deep drive by the Royals' …
Share
Tweet
Reimold's HR, Wright's 6 K's pace O's in win

MLB.com

4 hours ago

The American League East-leading Orioles used Nolan Reimold's three-run homer to record a 6-3 win over the White Sox on Friday night at Camden Yards.

Share Tweet

Felix flusters Royals to tie Mariners' wins mark

MLB.com

4 hours ago

Felix Hernandez threw 7 2/3 scoreless innings and Seth Smith belted a decisive homer to give the Mariners a 1-0 win over the Royals in Friday night's series opener at Safeco Field.

Share Tweet

Hernandez Ties Mariners Win Record With 1-0 Decision Over KC

nytimes.com

4 hours ago

Felix Hernandez tied Jamie Moyer's franchise record for career victories at 145 in the Seattle Mariners' 1-0 victory over Kansas City on Friday night, the Royals' fourth straight loss.

Share Tweet

ESPN.com nytimes.com MLB.com

4 hours ago

Tigers, Michael Fulmer thrilled with top prospect's big league debut

Share Tweet

MLB.com

6 hours ago

Tigers right-hander Justin Verlander has been one of Major League Baseball's most outspoken players regarding positive tests for performance-enhancing drugs resulting in immediate suspensions and not allowing players to play while an appeal runs its cou…

Share Tweet

nytimes.com

6 hours ago

Ryan Howard led off the 11th inning with a home run, leading the Philadelphia Phillies to a 4-3 victory over the Cleveland Indians on Friday night.

Share Tweet

Royals think extra rest should benefit Davis

MLB.com

8 hours ago

Royals closer Wade Davis is doing his usual Wade Davis things this year. The problem is lately he hasn't been able to get in games.

Share Tweet

Manny Machado had a grand slam and a career-high five RBIs, leading the Baltimore Orioles over the White Sox 10-2 Thursday night and stopping Chicago's six-game winning streak.

Share Tweet

O's power up back home to rout White Sox

MLB.com

Apr 28 (yesterday)

The Orioles found familiar Camden Yards the remedy for their offensive woes Thursday night, as Manny Machado hit a grand slam and Baltimore snapped the White Sox six-game winning streak with a 10-2 victory.

Share Tweet

White Sox Place Closer Robertson on Bereavement List

Chicago White Sox closer David Robertson will miss at least three games after being placed on the bereavement list before Thursday's series opener at Baltimore because of the death of his father-in-law.

Share Tweet

Anthony Gose Doubles, Homers to Lead Tigers Over A's 7-3

Anthony Gose doubled and homered, Anibal Sanchez pitched through a wild outing and the Detroit Tigers beat Oakland 7-3 Thursday to take three of four in the series against the Athletics.

Share Tweet

Five Tigers knock in runs to thump A's

MLB.com

Apr 28 (yesterday)

Anthony Gose hit a two-run homer and scored on an Ian Kinsler double as part of an early-inning Tigers outburst, supporting Anibal Sanchez through a wild outing for a 7-3 win and a series victory over the A's Thursday at Comerica Park.

Share Tweet

Twins Minor Leaguer Suspended 80 Games for Positive Test

Minnesota Twins outfielder Reynaldo Rodriguez, an All-Star at Triple-A last year, has been suspended 80 games following a positive test under baseball's minor league drug program.

Share Tweet

nytimes.com yahoo.com

Apr 28 (2 days ago)

Robin Ventura remembers the excitement in New York when the Mets and Yankees faced off in the World Series, and he can imagine what it would be like in Chicago if both teams made it.

Share Tweet

MLB.com nytimes.com

Apr 28 (2 days ago)

Mike Trout, Yunel Escobar and Andrelton Simmons accounted for all of the Angels' offense on Wednesday, as each hit home runs in a victory over the Royals.

Share Tweet

Twins-Tribe Prince tribute a part of Rock Hall

MLB.com

Apr 28 (2 days ago)

The Twins turned Target Field purple on Monday, celebrating the life and music of Prince in a tribute game against the Indians. Now, there will be a bit of baseball history located inside the Rock and Roll Hall of Fame in Cleveland.

Share Tweet

nytimes.com

Apr 28 (2 days ago)

One day after Cleveland Indians closer Cody Allen gave up the game-winning hit in the bottom of the ninth inning, he found himself in another high leverage situation against the Minnesota Twins' best hitter.

Share Tweet

ESPN.com

Apr 28 (2 days ago)

J.D. Martinez, Justin Verlander propel Tigers to needed victory

Share Tweet

Harvey Tosses 2 Perfect Innings In Mets' Win

Mar 6

The Mets beat the Tigers 5-4 in Matt Harvey's return to the mound.

Royals Injury Update

Mar 4

ESPN injury analyst Stephania Bell discusses Royals outfielder Alex Gordon's recovery from offseason wrist surgery and pitcher Luke Hochevar's recovery from Tommy John surgery.

Price Excited For 2015 Season

Mar 3

Tigers pitcher David Price discusses the status of his contract situation in Detroit and what he did in the offseason to get better.

Cabrera, Tigers Focused On Title

Mar 3

Tigers first baseman Miguel Cabrera says the team is focused on winning a championship and discusses his performance during last season during an injury-riddled campaign, and the importance of DH Victor Martinez.