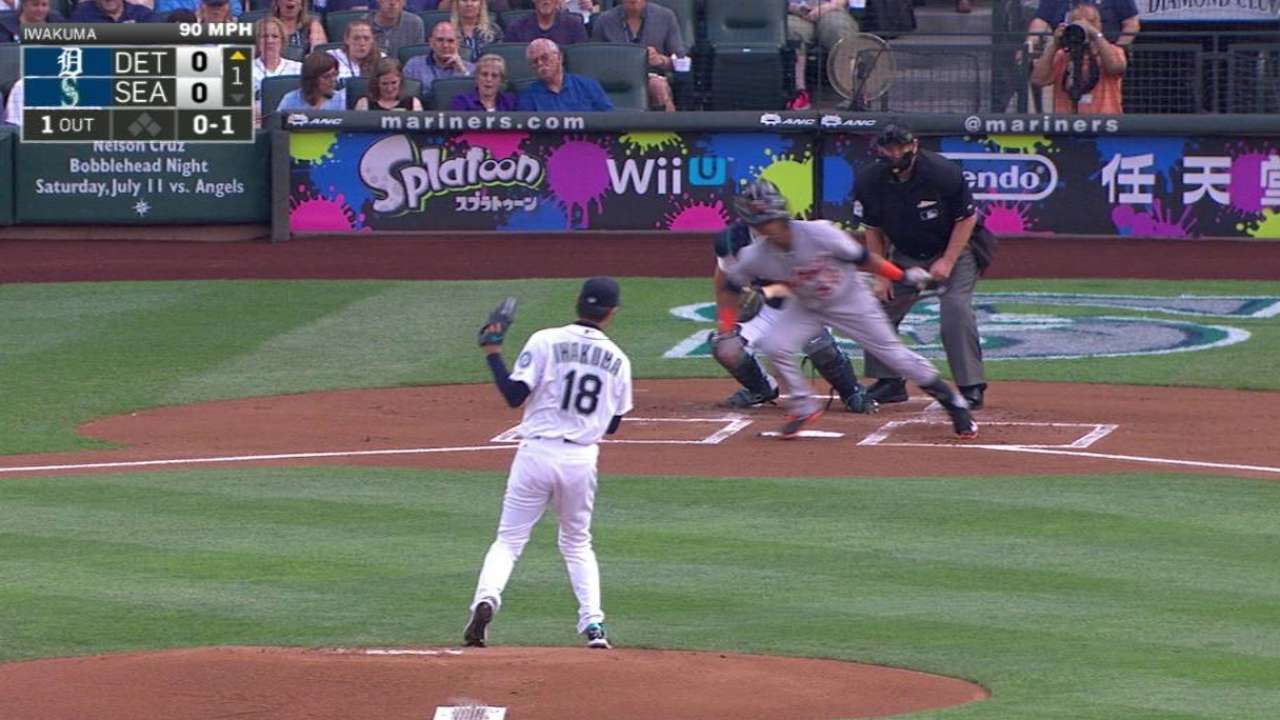 Iwakuma's return from DL marred by homers
MLB.com
Updated 1 hour ago
Hisashi Iwakuma on Monday left his first Major League start since April 24 disappointed he could not keep the Tigers in the ballpark in a 12-5 loss for the Mariners, but he was pleased with his health after the five-run, 68-pitch outing.
Share
Tweet
Tigers homer four times to rout Mariners

MLB.com

2 hours ago

The Tigers pounded out 19 hits and four home runs to earn a 12-5 series-opening win at Safeco Field on Monday night. Nick Castellanos had four hits and four RBIs and Victor Martinez added another four hits for a Detroit offense that scored 10-plus runs …

Share Tweet

Castellanos Has 4 RBIs, Tigers Win 12-5

nytimes.com

3 hours ago

Nick Castellanos hit a home run and drove in four runs to lead a 19-hit outburst from the Detroit Tigers in a 12-5 win over the Seattle Mariners on Monday.

Share Tweet

You know how many Royals were voted All-Stars starters by MLB players? Zero

yahoo.com

3 hours ago

The process by which we determine who starts the MLB All-Star game is completely up to fans. If you've been paying attention the last two months, you know this quite well. It was hard to miss all the handwringing about how many Kansas City Royals player…

Share Tweet

MLB.com

5 hours ago

Astros outfielder Preston Tucker celebrated his 25th birthday in style Monday night, setting a career high with four hits and finishing a triple shy of the cycle to pace a 16-hit attack in a 9-4 win over the Indians at Progressive Field.

Share Tweet

MLB.com nytimes.com

5 hours ago

Brian Dozier was left off the All-Star Game roster on Monday, but he proved why he's a worthy candidate, crushing a two-run blast in the 10th inning to lift the Twins to a 4-2 walk-off win over the Orioles at Target Field.

Share Tweet

Sale named AL All-Star, goes the distance

MLB.com

6 hours ago

A Major League record of nine straight games with double-digit strikeouts eluded All-Star left-hander Chris Sale during a 4-2 White Sox victory over the Blue Jays on Monday night at U.S. Cellular Field.

Share Tweet

nytimes.com MLB.com

6 hours ago

Dallas Keuchel, chosen for the American League All-Star team earlier Monday, allowed three runs in six innings in helping the Houston Astros defeat the Cleveland Indians 9-4.

Share Tweet

nytimes.com MLB.com yahoo.com

6 hours ago

Wins haven't come as easily as strikeouts for Chris Sale this season. That's why the left-hander had no regrets about losing his bid to break a strikeout streak record in one of the Chicago White Sox's more rousing wins.

Share Tweet

Yost stacks AL roster with elite talent, versatility

MLB.com

7 hours ago

Royals manager Ned Yost, who will be the American League's manager at next Tuesday's All-Star Game, said he had been sleeping really well until the last three or four days. And not so coincidentally, that's the time period when Yost started to make some…

Share Tweet

MLB.com

8 hours ago

The Royals placed third baseman Mike Moustakas on the bereavement/family medical emergency list on Monday and recalled infielder Cheslor Cuthbert from Triple-A Omaha to take his place on the active roster.

Share Tweet

MLB.com nytimes.com

9 hours ago

Monday night's game between the Royals and Rays at Kauffman Stadium scheduled for 7:10 CT was postponed due to rain.

Share Tweet

The Kauffman Stadium Dugout Flooded Pretty Badly

deadspin.com

9 hours ago

The sky just dumped an ungodly amount of rain on Kansas City. The region was under a severe thunderstorm warning, and sporadic tornados have been reported. The Royals were supposed to begin their game against Tampa Bay in about 30 minutes, but it has be…

Share Tweet

MLB.com

11 hours ago

The Pirates lost a key piece of their lineup Monday, placing infielder Josh Harrison on the 15-day disabled list with a left thumb injury. Harrison sustained the injury while sliding into second base during the seventh inning of the Pirates' 5-2 win ove…

Share Tweet

J.D. Martinez nets AL Player of Week honors

MLB.com

13 hours ago

Tigers right fielder J.D. Martinez has been named the American League Player of the Week after leading the Majors in slugging and total bases last week.

Share Tweet

MLB.com

18 hours ago

Royals manager Ned Yost, with the help of the player ballot, has plenty of spots to fill before Monday's announcement of the All-Star reserves. Here's one man's guess at how the rest of the AL roster will look.

Share Tweet

Harvey Tosses 2 Perfect Innings In Mets' Win

Mar 6

The Mets beat the Tigers 5-4 in Matt Harvey's return to the mound.

Royals Injury Update

Mar 4

ESPN injury analyst Stephania Bell discusses Royals outfielder Alex Gordon's recovery from offseason wrist surgery and pitcher Luke Hochevar's recovery from Tommy John surgery.

Price Excited For 2015 Season

Mar 3

Tigers pitcher David Price discusses the status of his contract situation in Detroit and what he did in the offseason to get better.

Cabrera, Tigers Focused On Title

Mar 3

Tigers first baseman Miguel Cabrera says the team is focused on winning a championship and discusses his performance during last season during an injury-riddled campaign, and the importance of DH Victor Martinez.