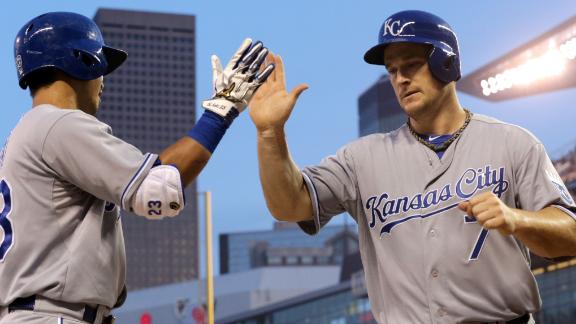 ESPN.com
nytimes.com
Updated Aug 15, 2014
Josh Willingham returned to Target Field and hit a bases-clearing double in Kansas City's five-run fourth inning, and the surging Royals hung on to beat the Minnesota Twins 6-5 on Friday night.
Upvote
Share
Tweet
nytimes.com

Aug 15, 2014

Mike Aviles homered leading off the 11th inning to give the Cleveland Indians a 2-1 win over the Baltimore Orioles on Friday night.

Upvote Share Tweet

nytimes.com MLB.com

Aug 15, 2014

Robinson Cano homered, James Paxton won his sixth consecutive decision to start his career and the surging Seattle Mariners beat the Detroit Tigers 7-2 Friday night in a matchup of American League playoff contenders.

Upvote Share Tweet

nytimes.com

Aug 15, 2014

The Toronto Blue Jays activated Edwin Encarnacion from the 15-day disabled list and sent outfielder Anthony Gose to the minors on Friday before their game at the Chicago White Sox.

Upvote Share Tweet

White Sox manager Robin Ventura said before Friday's start of af six-game homestand that Avisail Garcia could return to the club as soon as this weekend.

Upvote Share Tweet

A-Jax faces Tigers for first time as a Mariner

For the first time, Austin Jackson veered right toward the visitors' clubhouse, instead of left toward the Tigers' headquarters, when he reached the bowels of Comerica Park on Friday.

Upvote Share Tweet

Top prospect Byron Buxton, who sustained a concussion in an outfield collision on Wednesday, is scheduled to fly to Fort Myers, Fla., on Sunday, so the Twins can carefully monitor his progress.

Upvote Share Tweet

yahoo.com

Aug 15, 2014

The kids from the Jackie Robinson West league in Chicago have already established themselves as the Little League World Series darlings of 2014. They're getting nationwide attention based on demographics alone — they're an all-black team from Chicago's …

Upvote Share Tweet

The Indians are getting some speed back to help in their run at the playoffs.

Upvote Share Tweet

yahoo.com

Aug 15, 2014

For the first time in what seems like forever, the sun is shining on the Kansas City Royals. Sometimes, a little too brightly. The first-place team in the American League Central beat the Oakland Athletics 7-3 on Thursday for its 18th victory in 22 game…

Upvote Share Tweet

Minor-League Pitchers Combine To Finish Very Strange No-Hitter

deadspin.com

Aug 15, 2014

Logan Darnell of the Rochester Red Wings, a Triple-A affiliate of the Minnesota Twins, put the finishing touches on a no-hitter against the Durham Bulls Monday night. Darnell only pitched the last six innings of the game, though, and the man who origina…

Upvote Share Tweet

Mariners Cruise Past Tigers

Aug 15

The Mariners beat the Tigers 7-2 for their fifth straight win.

MLB Daily Download: Friday

Aug 15

Prim Siripipat recaps Thursday's action from around the league, including a dramatic finish in the Marlins-Diamondbacks game and Detroit's Max Scherzer and Milwaukee's Mike Fiers both setting personal marks by fanning 14 each.

Top 5 Pitches

Aug 15

We're counting down the top 5 most effective pitches in MLB.

Web Gems

Aug 15

Does Chris Taylor's diving stop and throw to first for the out top Ryan Raburn's diving catch in right.