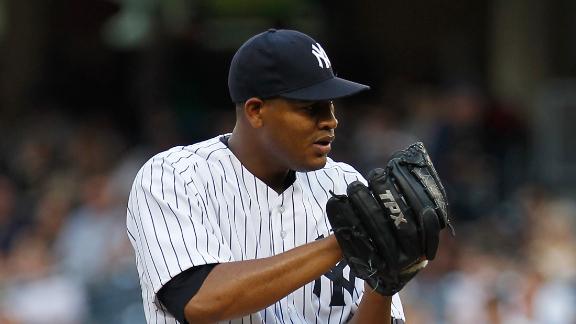 Alex Rios had six hits on Tuesday night to boost his already notable trade value. Jay Jaffe looks at the market for the White Sox' slugger as well as another outfielder of note.

Upvote Share Tweet

yahoo.com

Jul 10, 2013

"Yes, in the face!" — Prince Akeem in "Coming to America" Dark and domed conditions make playing the outfield at Tropicana Field in St. Petersburg, Fla. one of Major League Baseball's tougher tasks. So while it's funny and embarrassi…

Upvote Share Tweet

nydailynews.com

Jul 10, 2013

Thirty years later, George Brett has a good handle on the Pine Tar Game. He knows exactly what that bat meant to his Hall of Fame career, to his reputation, to his legend. Things couldn't have worked out better, in the end.

Upvote Share Tweet

Yankees Snap Three-Game Slide

Jul 10

Ivan Nova surrendered just one run over eight innings to help the Yankees to an 8-1 win over the Royals

Buster Blog: Tigers' Closer Status

Jul 10

Buster Olney makes the case that the Tigers should stand pat with their current bullpen rather than take on the massive contract of Jonathan Papelbon

Rays Walk Off With Win

Jul 10

Ben Zobrist's single in the bottom of the 13th lifted the Rays past the Twins 4-3.

Tigers Sink White Sox

Jul 10

Prince Fielder hit a two-run homer in the Tigers' 8-5 win over the White Sox.