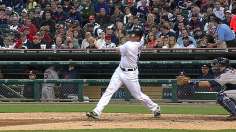 Updated May 14

Share Tweet

Kevin Frandsen and Domonic Brown both went deep, and Jonathan Pettibone gave up four hits and two runs in 6 2/3 frames in a 6-2 win over the Indians on Tuesday. John Mayberry Jr. went 3-for-4 with three RBIs.

Our favorite Swisher-isms from Nick Swisher's Yahoo! Music interview

Updated May 14

Share Tweet

If you told me that Nick Swisher had an IV of Rockstar Energy Drink that he sleeps with at night pumping energy into his veins, I'd believe it. Swisher, the new Cleveland Indians first baseman/outfielder, met up with Ben Lyons of Yahoo! Music recently a…

Source:

yahoo.com

Updated May 14

Share Tweet

Jose Altuve had already been questionable for Tuesday's game against the Tigers with a partially dislocated right jaw suffered Monday.

Updated May 14

Share Tweet

Astros starter Bud Norris remained sore on Tuesday after tweaking his back throwing warmup pitches prior to the sixth inning and exiting Monday night's game against the Tigers.

Bourn returns to Philly; wonders what might have been

Updated May 14

Share Tweet

The Phillies drafted Michael Bourn in the fourth round of the 2003 First-Year Player Draft, and the club inquired about signing him this offseason, but Bourn signed with the Indians for $48 million over four years.

Updated May 14

Share Tweet

The Minnesota Twins promoted 23-year-old Aaron Hicks to the majors this season because they thought he was ready to perform just like he did Monday night. Hicks not only leaped high to rob slugger Adam Dunn of what would have been a tying two-run home r…

Source:

yahoo.com

Butler serves up five RBIs in rout of Angels

Updated May 14

Share Tweet

Billy Butler, emerging from a nine-game period in which he'd batted just .114, belted five hits and had five RBIs on Monday night to lead the Royals over the Los Angeles Angels, 11-4, at Angel Stadium.

Scott Kazmir's Tightrope Walk

Updated May 14

Share Tweet

Before the season, I drafted in my head (but never published) a column on how the Cleveland Indians could win the AL Central this season. They've got ...

Source:

grantland.com

Web Gems

May 14

Does Ryan Braun's diving catch top Aaron Hicks' reigning Web Gem?

White Sox Double Up Twins

May 14

Adam Dunn homered in Chicago's 4-2 win over Minnesota.

Angels' Big Bats Get Going In Win Over Royals

May 14

Albert Pujols, Josh Hamilton and Mike Trout all homered in the Angels' 6-2 win over the Royals.

Cabrera Homers In Tigers' Win

May 14

The Tigers score six unanswered runs en route to a 6-2 win over the Astros.