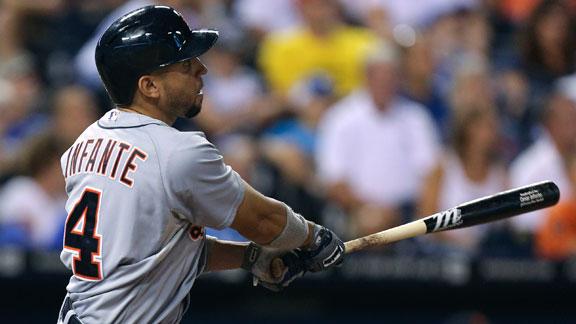 ESPN.com
Updated Sep 6, 2013
Omar Infante set career highs with five hits and six RBIs, Andy Dirks also went 5 for 5 and the Detroit Tigers pounded the Kansas City Royals 16-2 on Friday night.
Share
Tweet
Scott Kazmir struck out a season-high 12 in six innings, Nick Swisher hit a grand slam and the Cleveland Indians continued their playoff push with an 8-1 win over the New York Mets on Friday night.

Share Tweet

Chris Davis hit his major league-leading 48th home run, Scott Feldman pitched a five-hitter for his first career shutout and the Baltimore Orioles beat the White Sox 4-0 Friday night, extending Chicago's losing streak to eight games.

Share Tweet

Minnesota Twins catcher Joe Mauer has not cleared his concussion symptoms yet.

Share Tweet

Indians' Brantley goes home for birth of child

Indians outfielder Michael Brantley has returned to his home in West Palm Beach, Fla., to be with wife Melissa for the birth of their first child.

Share Tweet

Comeback falls short as A's slip into second place

MLB.com

Sep 6, 2013

The A's 3-2 loss to the visiting Astros in the opener of a four-game set, which came on the heels of a 9-4 stretch against the Orioles, Tigers, Rays and Rangers, set them back half a game behind the idle Rangers in the American League West.

Share Tweet

Kazmir, Indians Pound Mets

Sep 6

Scott Kazmir struck out 12 over six scoreless innings and Nick Swisher hit a grand slam in the Indians' 8-1 win over the Mets.

Tigers Pound Royals

Sep 6

Omar Infante had six RBIs in the Tigers' 16-2 win over the Royals.

Web Gems

Sep 6

Does Brian Roberts' fielding the ball after it bounced off the bag top Jose Iglesias' barehanded pick and flip to first for the out.

AL Wild-Card Impact Players

Sep 6

Nomar Garciaparra and Rick Sutcliffe pick their impact players from the AL wild-card contenders.